SPOTLIGHTS
The Rear Naked Column 09.02.11: A Tale of Two Legends
Posted by Samer Kadi on 09.02.2011

Hometown heroes Anderson Silva and Antonio Rodrigo Nogueira sent the Brazilian crowd home happy with two big knockouts at UFC 134! 411's Samer Kadi takes a look at both fighter's wins, their careers, and their impact on the sport!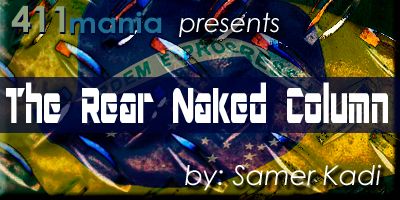 On August 7 2010, arguably the sport's greatest fighter, Anderson "The Spider" Silva, found himself on the wrong end of the beating of a lifetime. Then number one contender Chael Sonnen was in the process of backing up every single pre-fight trash talking word he uttered. For four-and-a-half rounds, he put on a surreal beat-down on the longtime middleweight champion and seemed to be on his way to bringing his title reign to a halt. Then, with a little under three minutes remaining, Silva pulled off one of the most sensational comeback victories this sport has ever seen. In many ways, it was reminiscent of a certain Brazilian legend; one that holds a special place in Silva's heart. To conclude his post-fight interview with Joe Rogan, Silva jubilantly yelled out: "Nogueira brothers…Jiu-Jitsu!"

While the dig was clearly directed at Sonnen, who had some very unflattering words to say about the men who gave Silva his black belt, it also made for an appropriate and fitting tribute to one of MMA's most iconic figures.

Having made a career out of snatching victory from the jaws of defeat, Antonio Rodrigo Nogueira is MMA's ultimate comeback kid. Whether he was sending the usually docile Japanese crowd into a frenzy following his submission of Bob Sapp, tapping out Mirko "Cro Cop" Filipovic with an armbar after taking his best shots for twelve minutes, or choking out Tim Sylvia to capture the UFC interim heavyweight title, the man they call "Minotauro" is responsible for some of the sport's greatest ever moments.

Silva credits Nogueira with saving his MMA career. After having a bit of a falling out with his old team, the legendary Chute Boxe academy, and with seemingly nowhere to fight, Silva contemplated retirement. However, Nogueira took the struggling fighter under his wing and helped him rejuvenate his prizefighting career. The rest, as they say, is history.




It would be difficult to find two elite fighters who, compared to one another, win fights in such distinctively contradicting ways. Anderson Silva is effortlessness personified. The grace and fluidity in which he moves inside the cage is without parallel. From his speed and power to the ease in which he's able to put his opponents away, Silva is the most skilled, most talented, and flat-out best fighter to ever grace the sport. Simply put, Anderson Silva makes it look easy.

Nogueira, on the other hand, does not. Even in his prime, he never had Silva's abilities. And while few, or more accurately, none do, "Minotauro" in particular is as stark a contrast from Silva as a fighter can get. Of course, Nogueira's grappling alone shows that the man is obviously not lacking when it comes to skill. However, speed, agility, athleticism and power have never been attributes that Nogueira particularly possessed. And yet, his status among the sport's all-time greats is untouchable. An iron chin, a heart of a lion, and some otherworldly durability helped Nogueira secure his place in history. For all his tremendous accomplishments, it is Nogueira's ability to produce truly epic moments that will always define who he is as a fighter. He may never have had Fedor Emelianenko's dominance or BJ Penn's natural talent, but he's been the catalyst for more inspiring MMA moments than the two of them combined.




Silva's submission of Chael Sonnen was his "Minotauro" moment, and it served as the perfect homage to his mentor. But last weekend at UFC 134 in Rio, it was Nogueira's time to return the favor. No, Nogueira's knockout of Brendan Schaub was not accompanied by some Silva-esque head movement, nor was the combination that put "The Hybrid" away quite evocative of "The Spider's" laser-like precision. However, none of that really matters when it managed to elicit this reaction among his teammates :



If there was ever a doubt as to just what kind of impact Nogueira has had on the sport, this video puts it all to rest. Sure, it is natural for his team to be happy for him, but would any other fighter in the world trigger such genuine passion? Antonio Rodrigo Nogueira forced Anderson Silva into tears. That's likely something no other person in the world can lay claim to. Of course, if you saw the main event -- and chances are you did -- you wouldn't believe that it was possible for a man to shrug off all those emotions and go out and perform like a cold-blooded assassin...but that's exactly what Anderson Silva did.

The masterpiece that Silva displayed against Yushin Okami is one that no living MMA fighter can replicate. It is worth remembering that Yushin Okami has been a top 3/top 5 middleweight for five years, and that his only losses in the UFC have come at the hands of former champion Rich Franklin, and former number one contender Chael Sonnen. Many may take it for granted, but Anderson Silva making yet another elite middleweight look like a rookie will never cease to be mind-boggling.

If I were forced to choose two fighters who best highlight the different faces of greatness of MMA, it would be Anderson Silva and "Minotauro" Nogueira. One shows what it is like to be so superior to your peers that you can embarrass other world-class fighters without breaking a sweat, while the other is a living proof that real life Rocky Balboas do exist. At UFC 134, Anderson Silva and Antonio Rodrigo Nogueira finally came full circle.




ANNOUNCEMENT: I haven't done one of them in a while, so next week will be Q & A week. Leave your questions in the comments section and I will be answering them in seven days.

REMINDER: Be sure to check out the latest edition of the 411 Ground and Pound radio show. Mark Radulich was doing his usual hosting duties and was joined by Scott Kuczkowski, Jeffrey Harris and yours truly to review UFC 134.



That will do it for another week of "The Rear Naked Column". As always, feedback is greatly appreciated. You can send in your comments, e-mails, or you can follow me on twitter right here for all things MMA, video games, sports, and other nonsense.
comments powered by