SPOTLIGHTS
The Rear Naked Column 09.10.11: Q & A Edition
Posted by Samer Kadi on 09.10.2011

Was putting Cain/JDS on Fox a good move? Should Dan Hardy have been fired? What does the future hold for the lightweight division? 411's Samer Kadi answers these questions and more…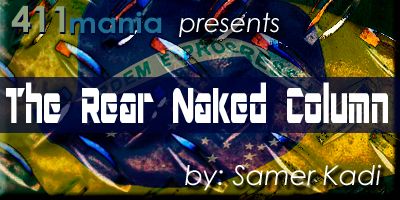 Welcome to another "Rear Naked Column" Q & A edition. As usual, I will be addressing your questions on all things MMA (and other nonsense that Jeremy Lambert forces me to answer every time I write one of these), and will finish things off with a major announcement. Let's get straight down to business.

As always, I will kick things off by taking on the boss' questions:

1) Will we see the 125-division in the UFC before 2013?

My guess is yes. Dana White said the UFC's intentions were to add a flyweight division by the end of this year, and while that is highly unlikely at the moment, I do think we will see the world's top 125'ers mesmerizing fans with some high quality action inside the Octagon at some point in 2012.

It is an idea that I'm in complete support of, as fans will finally get to see fighters like Alexis Villa, who is arguably the world's premier flyweight, in action. Additionally, a flyweight division gives fighters like Joseph Benavidez and Demetrious Johnson (should he lose to Dominick Cruz) the option of dropping down in weight and shine in the newly created weight class.

2) Would Shogun benefit by dropping to 185, or does he have a better chance at success by staying at 205?

Posted By: Larry Csonka

I'm not a fan of Rua dropping down in weight, and at this point, I don't see why he should. For starters, "Shogun" is not a small light heavyweight by any means, and we've seen him occasionally show up out of shape. With a potentially tough weight cut, this could well prove very costly.

Furthermore, Rua has only recently lost the title at 205, and has rebounded well by defeating a top 10 opponent. And while he has been inconsistent inside the Octagon, his results have been rather good. He avenged his debut loss to Forrest Griffin, beat Chuck Liddell, and beat Lyoto Machida to capture the title. The Mark Coleman fight was a disappointment, but it's a bout Rua won nonetheless, and the first Machida fight was one where he deserved to win.

This of course, leaves us with his loss to Jon Jones. The brutal nature of that beat-down makes it extremely hard to fancy Rua's chances in a rematch (which I don't think would go any differently), but let's keep in mind that Jones has yet to defend his title, and it would be very premature to call for Rua to drop down in weight due to his inability to beat the champion, seeing as said champion has yet to demonstrate the level of dominance over the division that would call for "Shogun" to drop down in weight in an effort to pursue his title aspirations.

Longtime reader "Last Rider" want some lightweight stability…

I think it's pretty clear the Lightweight division is the most chaotic right now. Assuming Frankie Edgar beats Maynard, and that's where my personal money is, do you think Edgar is really a stabilizing force in the division? If not, who has the best shot at beating him, and do you think Lightweight will get a dominant champion who holds onto the belt for a bit, or will it constantly bounce around like the Light Heavyweight belt has?

Posted By: Last_Rider

I don't think the lightweight division is chaotic per se. Obviously, the draw between Edgar and Maynard at the beginning of the year did kind of put the whole division on hold as every top contender awaited their rematch, only for each of them to get injured and force the title scene into further limbo.

The lightweight division's real "problem" is that it's too competitive for its own good. I've long called it the most stacked division in the sport (though welterweight gives it a run for its money), and we are seeing why. It is hard to put on a title shot-worthy winning streak as all the top fighters are so evenly matched that they just end up beating each other and trading wins without one guy really distinguishing himself and setting himself apart from the pack. This was further magnified by the UFC's uncharacteristically questionable match-making in the division. Typically, Joe Silva tends to try to avoid title eliminator bouts (though they obviously still take place) as he feels it limits the UFC's options. A prime example would be the welterweight division, where no title eliminator bout was put together to determine the number 1 contender. Instead, Nick Diaz was scheduled to fight St-Pierre. When Diaz was removed by the UFC, they simply replaced him with Carlos Condit. This would have been tougher to pull off had a number 1 contender earned his spot by winning an eliminator bout, as the replacement would have automatically felt like a letdown.

Therefore, Joe Silva's desire to employ the same approach at lightweight is understandable. However, in this case, it backfired. George Sotiropoulos, who last year was widely tipped to win his way to a title shot, was put in a risky bout with Denis Siver and lost. Evan Dunham suffered the same fate against Melvin Guillard, as did Jim Miller against Ben Henderson. Ironically, Maynard and Edgar's injuries bought the division some time to sort itself out. As a result, we're finally having a legit title eliminator between Ben Henderson and Clay Guida, which will hopefully crown an "undisputed" number one contender.

As far as Edgar creating stability by being a dominant champion is concerned, the lightweight division doesn't really suffer from that problem, as unlike the light heavyweight division where no champion seems to be able to defend his belt, BJ Penn actually put together quite a decent run by defending his title against Sean Sherk (which officially, was not a unification bout), Kenny Florian, and Diego Sanchez. Even Edgar himself has already defended his title (against BJ Penn last year). Whether "The Answer" will enjoy a dominant run remains to be seen, but looking at just how competitive that division is, it is tough to predict a long title reign for basically anyone.

I'd like to see you do a piece on underutilized MMA techniques. I've had this conversation with a few buddies and it can get pretty interesting.

Posted By: guest guest

I've addressed this topic in a previous Q & A. Here is what I had to say:

Without question, elbows to the body from guard. Just last March, we witnessed Jon Jones use them to great effect against Mauricio Rua. These days, fighters are good at defending themselves from the bottom. Whether they get wrist control, overhooks, or control their opponent's posture, it is rare to see a fighter suffering too much damage from full guard. Elbows to the body are the exception, as no matter how well the fighter on bottom is covering up, the man on top can simply bury his elbow in his opponent's liver or ribcage. Back in PRIDE, Quinton Jackson was a master at punishing opponents with elbows to the body; just ask Chuck Liddell.

In fact, body work in general is underutilized in MMA. We saw "Shogun" and Machida brutalize one another with kicks and knees to the body in their first matchup, and the effect it had on them was evident. Jon Jones' body work in the "Shogun" fight was fantastic. Chael Sonnen is someone who works the body very well from full guard. However, outside of those few examples, body work in MMA remains somewhat rare.

Grappling wise, I think armbars from the back are extremely underutilized (not to be confused with armbars from the bottom). Often times, you'll see a fighter getting his opponent's back and work for a rear naked choke for ages. However, fighters are becoming increasingly good defensive grapplers especially when it comes to controlling their opponent's wrists while he's in back mount, and we saw Jon Fitch do that to perfection against BJ Penn. Going for an armbar from the back takes the opponent off guard, and relatively speaking, it is not very difficult to pull off, although a fighter does risk losing position when going for it. Georges St-Pierre almost tapped out Dan Hardy with one, and it is also one of Rousimar Palhares' bread and butter moves. Most of all, they look cool as hell.




As always, former 411 writer Jeremy Lambert asks the questions that no Q & A column would be complete without…

1) Why is Georges St-Pierre so afraid of Anderson Silva

While I would pick St-Pierre to win that fight, I can't fault any man for being afraid of Anderson Silva…

2) How come all your tweets are replies?

Well, like Anderson Silva, I'm a counter-puncher at heart. I only reply when engaged.

3) Who would win a fight, Dustin James or Todd Bergman?

Bergman by sobriety…

4) WHERE YOUR ANSWERS AT PLAYBOY!?!?!

You bring great shame to my column banner by utilizing the derogatory term, "playboy."

Speaking of Anderson Silva, "Julio" wants to know if a date with an old foe is next for the world's greatest fighter…

Is Chael Sonnen next for Anderson Silva?

Posted By: julio




That would largely depend on the outcome of Sonnen's upcoming – presumably title eliminator – bout with Brian Stann. I do favor Sonnen in that fight, as despite his improvements, Stann doesn't have the defensive wrestling to deal with Sonnen, nor is he dynamic enough off of his back to polish him off with a submission. Stann's tremendous progress in his overall MMA game and especially his striking, is noteworthy. And it wouldn't shock me if he puts Sonnen away with a well-placed combo. However, Sonnen's chin has been historically solid, and his wrestling pedigree, speed, and explosive shot will likely be too much for the former marine to handle.

As such, I do think Sonnen will be next for Anderson Silva. And frankly, at middleweight, he is the only fighter who poses a serious threat to the champion. For all intents and purposes, Silva has cleaned out his division. But with neither a super-fight with St-Pierre or a move to the light heavyweight division looking likely in the near future, Chael Sonnen makes the most sense as Silva's next opponent…provided he gets past Stann of course.

Dana White always talks about the UFC becoming as big as the NFL and MLB one day. Personally I think that will never happen because of one major reason: Pay Per View. All the major sporting events, Super Bowl and World Series, are on free television. What are your thoughts on the UFC holding a big event like that of their own once a year? Mabey a one night tournament or something like that. What would they call it? Now that they are on Fox I could see them doing something like this in the future. What do you think?

Posted By: TimE

I don't think that PPV is the sole – or even main – reason why the UFC will never become as big as the MLB or especially, the NFL. Obviously, paying 60$ for every event isn't doable for a lot of people, and that is always going to be a drawback when compared to other sports. However, while Dana's dreams are admirable, MMA becoming the biggest sport in America, or better yet, the world, is just that. Football has and will always be the most popular sport in the US, and no amount of MMA growth will change that. Ask yourself this: would MMA be the most popular sport in the US if all the shows were free? I think the answer is no.

Let's face facts: fighting isn't for everyone. Sure, we can argue that Football can be more brutal and potentially more damaging than MMA, and a history of player concussions would help build a solid case, but in the eyes of your average person, seeing someone punch another man in the face can be too much to handle. Moreover, and for whatever reason, people seem more drawn into team sports in general.

As far as the UFC holding a free big event per year and make it their "Super Bowl", this is certainly more possible now that they've signed a deal with Fox and declared their intentions to put on big cards for their new partners. The recently announced Cain Velasquez/Junior Dos Santos fight is a start. However, on the whole, I can't see the UFC holding their biggest card of the year for free. Ultimately, and as Dana White himself said, they are in the business of selling PPV's. It is the real money-maker, and the main source of the UFC's income. They simply would be throwing away too many dollars by putting on some of their biggest fights of the year on free television. PPV powerhouses like Brock Lesnar and Georges St-Pierre should be utilized accordingly.

The idea is obviously appealing in theory, but from the UFC's perspective, the squeeze is just not worth the juice.

411's Todd Bergman picks up where Jeremy Lambert left off…

1) Who's vagina smells better: Arianny or Brittney Palmer?

Who would win in a fight: Ticky Ghosn or Donald Cerrone?

2) What male Brazilian Fighter would you make love to?

Paulo Filho. He'd forget what we're supposed to do and talk to Jesus instead.

3) Has the Dana White prelim scream session encourage you to buy a UFC PPV that you were previously on the fence about?

Well, I buy every UFC PPV anyway. However, I must admit, listening to Dana White and Joe Rogan scream their lungs into the microphone and declaring every fight to be a potential fight of the decade never gets old.

4) Since you are a soccer fan, who wins the NFL Super Bowl this year?

FC Barcelona.

5) Why do MMA fighters trash the media when they make stupid comments (I.E. King Mo and nearly everything he says)?

Posted by: Todd Bergman

For people who get punched in the face for a living, MMA fighters are awfully sensitive creatures. Without generalizing, many MMA fighters do not accept criticism. Worse yet, they interpret anything and everything as the media "hating" on them. Different opinions, constructive criticism, and objective assessment of a fighter's skills are simply grouped under the "hating" umbrella.

1) What do you think of the UFC's decision to have Cain/JDS on Fox and what are your predictions for that fight?

I love the idea, and it's probably the perfect fight for their Fox debut. Neither Velasquez nor Dos Santos are proven PPV draws. Meaning that unlike having someone like Brock Lesnar fight on Fox, the UFC isn't throwing away serious PPV revenue by putting this fight on free television. Granted, Velasquez/Dos Santos would have produced a decent buy-rate, especially with the appeal of the heavyweight title, but it likely would not have been anything earth shattering.

Velasquez has lost his momentum after capturing the heavyweight title due to being sidelined with an injury, while Dos Santos is simply not a draw (even his stint on TUF with Lesnar did poorly). On the long run, showcasing two fighters of the caliber of Dos Santos and Velasquez on Fox will pay dividends. Both fighters are fairly young and likely have many more years in the sport, and fighting in front of such a wide audience can do wonders for their careers, especially if the fight delivers; and deliver it should.

As far as my prediction is concerned, I'm sticking with Cain Velasquez due to the reasons I've discussed on multiple occasions in previous columns.

2) Thoughts on Overeem/Brock. Who wins?

Great fight, and a suitable title eliminator. Lesnar's layoff and the fact that he doesn't react well to being hit in the face makes me lean towards Overeem, who possesses great power and much superior stand-up. On the other hand, we've seen how pedestrian Overeem's striking looked in the Werdum fight, when he was worried about the Brazilian shooting for a takedown. Moreover, like Lesnar, Overeem himself does not take a punch properly, and he crumbles every time he's hit with a solid shot. Meaning that if Lesnar puts the Dutchman on his back and starts pounding away, "The Reem's" night might be over. That said, I do think Overeem will control distance and Brock will find it hard to set his takedowns up. Plus, should they find themselves fighting in close-quarters, then Overeem's clinch game and especially, knees to the body will be problematic for the former champion.

3) Was the UFC right in not releasing Dan Hardy? Why have other exciting fighters been released?

To start by answering the second part of your question, other exciting fighters have been released because they went on a losing streak, which is fair. Of course, the same happened to Hardy but he was kept. Every situation is different, and we can't simply bring up examples from the past where an exciting fighter was let go and cry foul (like say, Jorge Gurgel).

I'm not one to call for a fighter to lose their job and their ability to put money on the table and feed their families. However, I do take issue with the notion that Hardy is exciting. Unfortunately, this is a common misconception in MMA. If you're a striker with no takedown defense, you are still deemed as exciting, despite your inability to stop a shot. Why were GSP and Anthony Johnson blamed for the "boring" nature of their fights with Dan Hardy? Isn't it Hardy's fault for failing to develop some semi-decent defensive wrestling despite competing at the highest level? Furthermore, isn't Hardy's complete inability to offer anything off of his back (including scrambling back to his feet) a main reason for the "boring" nature of said fights?

4) Thoughts on MMA's spy-gate…

Posted By: Guest#6474

Really, what can anyone learn by spying on Quinton Jackson's training; a guy who is notoriously famous for being lazy and slacking in the gym? Moreover, everyone knows what to expect from Quinton Jackson. What can Jon Jones possibly find out from spying on Jackson that he wasn't aware of already?

And with that comes the end of the very last edition of "The Rear Naked Column." Unfortunately, I will be leaving 411 and joining Five Ounces of Pain. This has been by far one of the most difficult decisions I've ever had to take. The two-and-half-years I've spent here did not contain a single negative experience, which speaks volumes as to just how awesome this place is. I would like to thank the terrific 411 staff for continuing to deliver the goods here in the MMA zone. I would like to thank my radio co-hosts and especially, Mark Radulich for all the fun times we spent on air every Sunday Morning. I would also like to thank Christi Csonka for the fantastic banner that I wish I could have used for longer. And above all else, I would like to thank the great Larry Csonka for being the world's greatest boss and giving me the opportunity to write columns like this one. Finally, I thank you, the loyal readers, for tuning in every week, and hope that you can continue to enjoy my work at Five Ounces of Pain, where I'll be making my debut in about two weeks' time.

You can listen to me on the 411 Ground and Pound Radio show one last time this Sunday (actually it will only be the last time as an official co-host, since Mark is kind enough to have me on at some point in the future).

Follow me on twitter at twitter.com/SamerKadiMMA and please continue follow my work at 5OZ. It's been a pleasure.

comments powered by