SPOTLIGHTS
The View from the Cheap Seats 10.12.11: The UFC 136 Way Ahead
Posted by Scott Kuczkowski on 10.12.2011

Should Kenny Florian move back up to Lightweight? Does Chael Sonnen really deserve a rematch with Silva after only winning one bout? Are Jose Aldo's day's numbered as the UFC Featherweight Champ? 411's Scott Kuczkowski takes a look!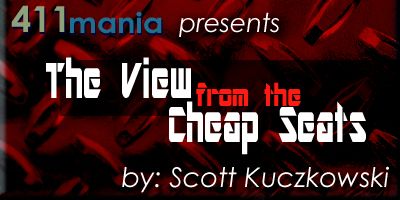 UFC 136: Edgar vs. Maynard II came to us live from Houston, Texas, this past Saturday night. The crowd appeared pretty hot and the action on the main card definitely delivered. The best part of this card was that we got a few surprises, some obvious future bouts to make, and we've seen the end of a year-long logjam of the 155 pound division. What more can a fan ask for? Let's take a look at the fights.

Preliminary Highlights:

Aaron Simpson looked great in his bout with Eric Schafer, but Simpson just hasn't found much success against anyone that will put him back on the main card. Obviously any win is good, but I wonder where he actually fits in the UFC Middleweight Division.

Darren Elkins gave Tiequan Zhang his first octagon defeat and really exposed his lack of ground game. Granted, Elkins is a decorated collegiate wrestler, but Zhang had nothing for Elkins outside of multiple guillotine choke attempts (which really just makes him the Chinese Cody Mckenzie).

Stipe Miocic looked great against Joey Beltran. The only thing Miocic has to work on is his cardio, especially considering he looked gassed despite dominating the majority of that fight.

SpikeTV Prelims:

The Matchup:
VS.



Anthony Pettis vs. Jeremy Stephens



The Action: The action in the first round was pretty even, with both guys landing shots and each getting takedowns. Pettis began to pull away in the second round, outstriking Stephens on the feet and outgrappling him on the ground. The third round was more of the same, with Pettis earning the decision win,

The Winner: Anthony Pettis, Split Decision.

The Way Ahead for Jeremy Stephen: Stephens never looked comfortable in this bout and for some reason initiated the grappling with a takedown in the first round when he probably would have done better on the feet. Unfortunately, Stephens' best wins have come over low to mid-level guys, which won't really keep him on TV. I would have Stephens face Sean Sherk when he returns in the fall or perhaps even George Sotiropoulos.

The Way Ahead for Anthony Pettis: Pettis needed this first UFC win, but I don't think he set many fans on fire with this performance, which was a little conservative. Frankly, just edging out Jeremy Stephens doesn't put a fighter in title contention, nor do I imagine Dana White would consider him "in the mix." I'd next match him up with Joe Lauzon or Jim Miller to see if he can climb back towards title contention.


The Matchup:
VS.



Demian Maia vs. Jorge Santiago



The Action: This fight was all over the place on the feet with Santiago landing the cleaner, more disciplined shots and Maia scoring the takedowns and maintaining positional advantages. Maia's striking looked particularly wild in this bout and his submission arsenal was nullified by Santiago's skills on the ground. Much of this bout was a stalemate and therefore not altogether exciting (which the crowd booed them for).

The Winner: Demian Maia, Unanimous Decision.

The Way Ahead for Jorge Santiago: This was Santiago's second loss in a row, which really puts him in a bad position considering this fight wasn't very exciting. Given this is his second UFC stint, with a combined UFC record of 1-4, Santiago may be the best example of the difference in the level of competition between UFC fighters and everyone else (he was 11-1 between UFC runs). I'd give Santiago one last chance and see if he can rebound against Dan Miller.

The Way Ahead for Demian Maia: This was a somewhat uninspiring performance for Maia, who needed to get back on the winning track. A bout with Yushin Okami would be a good way to sort out each man's place n the Middleweight Division. Having him fight Vitor Belfort might be fun too.


Main Card

The Matchup:
VS.



Melvin Guilliard vs. Joe Lauzon



The Action: Melvin came out aggressive and Lauzon caught him with a left that wobbled his legs. Lauzon sensed he was hurt and swarmed him, eventually finishing him with a rear naked choke.

The Winner: Joe Lauzon, Submission, Round 1.

The Way Ahead for Melvin Guilliard: This was a tough loss for Guillard, who apparently overlooked Lauzon (or at least appeared to in interviews). At this point, especially given the depth of the 155 pound division, Guillard is probably 3 or 4 wins out of title contention. I'd match him up next with Takanori Gomi or perhaps Mac Danzig, as both will produce good fights.

The Way Ahead for Joe Lauzon: This wins put Lauzon is a strange position, in that he's defeated a guy on the cusp of a title shot but also lost to the likes of Sam Stout and George Sotiropoulos. While Lauzon is an interesting addition to the names already hoping for a shot at UFC gold, where he actually belongs in the Lightweight Division is debatable. I'd like to see him face Anthony Pettis, Jim Miller, or Nate Diaz, as I think those are marketable opponents that will garner fan interest while still testing him.


The Matchup:
VS.



Leonard Garcia vs. Nam Phan



The Action: This was a Rock 'em Sock 'em Robots match from the start to the end. Garcia threw sloppy, winging punches while Phan stayed tight and disciplined. Both fighters scored throughout this bout but Phan scored more consistently and stayed more composed. Garcia seemed to come around in the third round, but he couldn't stop Phan's momentum.

The Winner: Nam Phan, Unanimous Decision.

The Way Ahead for Leonard Garcia: Garcia is 3-5-1 in his last 9 fights, but from Dana White's tone at the post-fight press conference, he doesn't have anything to worry about when it comes to staying employed by the UFC. The problem with being the "exciting" fighter is that while he might always get the FOTN bonus, it doesn't mean he won't get cut by the UFC eventually (just ask Jorge Gurgel). Garcia needs to get some wins under his belt or he's going to be putting on exciting fights on Facebook (or in Bellator). Fortunately for Garcia, the Featherweight Division is flush with competition, so he doesn't have to look far for a fight. I'd have him next face Josh Grispi or Matt Grice.

The Way Ahead for Nam Phan: Phan is another guy who is an exciting fighter, but his inability to win consecutive UFC bouts will almost always have him pitted against brawlers that will put on fun fights, but won't get him anywhere near title contention. Phan has gone 5-7 since December, 2006, which puts him way down the totem pole in the UFC Featherweight Division. The good news is that he doesn't have anywhere to go but up, so I'd have him face Jonathan Brookins or Rani Yahya next.


The Matchup:
VS.



Chael Sonnen vs. Brian Stann



The Action: Chael didn't waste any time, clinching with Stann and taking him to the ground the moment this fight started. Stann tried to defend on the ground, but Chael was too experienced and too crafty for him, forcing him to play catch-up throughout the bout. The second round was the same as the first, with Chael taking Stann down and landing in dominant positions, eventually finishing with a head and arm choke.

The Winner: Chael Sonnen, Submission, Round 2.

The Way Ahead for Brian Stann: This loss hurt Stann, who was once again exposed as having a poor ground game. Stann previously sought to train with Sonnen to improve his ground game, and this experience should pave the way for that to happen. A bout with Demian Maia or Tim Boetsch would be good matchups for him, or perhaps he could wait for the winner of the Wanderlei Silva/Cung Le bout, just to afford himself the chance to improve his wrestling.

The Way Ahead for Chael Sonnen: Chael stole most of The Rock's material and used it to cut a professional wrestling promo post fight and call out Anderson Silva. A lot of people think that is the fight to make, apparently forgetting Chael is only one fight removed from being submitted by Anderson Silva. While his win over Stann was impressive, and I can entertain the argument that he's earned another title shot with it, I think he's going to have to win another fight before he's given another crack at UFC gold. If I had to guess, I think Chael might have to face Vitor Belfort next. If Chael was incredibly unlucky, the UFC could pit him against Demian Maian or Rousimar Palhares, to whom he would lose via submission and be out of the title picture. Either way, Sonnen is winning again which means he'll continue to shoot off his mouth to whomever listens, which can be good or bad for business depending upon how you feel about him.


The Matchup:
VS.



Jose Aldo vs. Kenny Florian



The Action: Kenny Florian tried to pressure Aldo throughout the bout and take him down, but he just couldn't execute. Florian had the most success with this in the first round, but Aldo adjusted and won all the subsequent rounds. On the feet, Aldo landed the harder punches and Florian's face displayed the affects of those shots. When the fight did go to the ground, Aldo either scrambled to the feet or was able to stay on top of Florian and punish him, taking the decision win.

The Winner: Jose Aldo, Unanimous Decision.

The Way Ahead for Kenny Florian: This was Florian's third failed title fight bid, and I doubt he will get another. If I had to give Kenny career advice, I would advise him to move back up to 155 where the competition might be tougher but there are more marquee matchups for him. Many forget that Florian easily handled Clay Guida, so he isn't a slouch; he just hasn't been able to dethrone a champion. A move back up to Lightweight would allow him to face guys like Henderson, Pettis, or Miller. Florian played the spoiler for Takanori Gomi's octagon debut, so why not do the same for Gilbert Melendez? If Florian stays at Featherweight, he's sure to get fights; they just won't be against marquee names. I think he should move back up to his natural weight and be happy to finish out his career as a top UFC Lightweight.

The Way Ahead for Jose Aldo: Chad Mendes seems poised to challenge for Aldo's title next. Aldo looked good in this bout and his cardio appeared solid, which is a good thing if he does face Mendes next. The unfortunate part for Aldo is that for as much as he is touted as being a Pound for Pound great, this marks the second performance where he's looked awfully human and actually somewhat beatable. Perhaps I am used to seeing Aldo dominate his opponents and finish them in short order, but he just doesn't seem like the same fighter he once was. On the whole, Aldo looked somewhat worried with Florian's gameplan and this made him appear hesitant to establish his own. When forced to think, Aldo doesn't appear at all dynamic, which is something a smart fighter will take advantage of.


The Matchup:
VS.



Frankie Edgar vs. Gray Maynard



The Action: The first round of this fight was nearly identical to the first round of their second fight, with Maynard landing some big shots and having Edgar in a lot of trouble. Similarly, Maynard again couldn't finish Edgar, who survived to make it to the second round. The remainder of the fight was all Edgar, who outstruck and outmaneuvered Maynard, eventually rocking him with an uppercut in the fourth round and finishing him with strikes on the ground against the cage.

The Winner: Frankie Edgar, TKO, Round 4.

The Way Ahead for Gray Maynard: This was Gray's first loss, and while he looked good, he again failed to display the killer instinct that a top-level fighter needs when he has his opponent in trouble. I don't know if Maynard was worried he would tire himself out like the did in their second meeting or if he simply doubted his ability to put Edgar away, but none of that explains why he came out in the second round and didn't do anything to keep his momentum going. Maynard needs to work on his finishing skills, because his lack thereof has cost him the title twice. Having Maynard face Gilbert Melendez next would be a good bout if Frankie Edgar faces the winner of Clay Guida/Ben Henderson.

The Way Ahead for Frankie Edgar: Frankie looked awesome in this bout and was declared the #2 Pound for Pound fighter in the world by Dana White post-fight (for whatever that's worth). Logically, Frankie will face the winner of Clay Guida/Ben Henderson or perhaps even Gilbert Melendez if he's given a title shot for his first UFC bout. I guess the winner of the Dennis Siver/Donald Cerrone fight also has to be considered a potential challenger too. Either way, Frankie looked incredible in this bout and firmly established himself as the #1 Lightweight in the world.


And that, gentle readers, is a wrap on UFC 136. We have a potential rematch for the Middleweight Title, the continued dominance of the Featherweight Champion, an end of the logjam at the top of the Lightweight Division; not too bad for one event. That's all for this week; thanks for reading.

comments powered by