SPOTLIGHTS
The View from the Cheap Seats 10.18.11: Not All Roses
Posted by Scott Kuczkowski on 10.18.2011

The UFC on Fox means more people than ever will watch MMA, but are there any downside to having that many sets of eyes on the promotion? 411's Scott Kuczkowski takes a look 7 potential pitfalls that could come into play!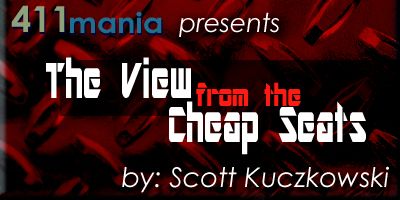 UFC on Fox: Velasquez vs. Dos Santos is going to happen on November 12, 2011, and I am expecting the event to be the most widely viewed MMA event in North American history. Currently, EliteXC's Primetime card, featuring Kimbo Slice vs. James Thompson holds the record for drawing 6.51 million viewers. Frankly, I think the UFC on Fox card will eclipse that record and will be a huge breakthrough for the UFC and MMA in general. And more exposure and greater numbers of eyeballs watching MMA is great, right? Isn't that what Dana White and the UFC have been craving? Isn't that what the fans want? MMA in the mainstream? UFC events sharing the stage with MLB and the NFL? There is no downside to this, is there? Well, maybe there is.

Currently, MMA enjoys being the little secret enjoyed by hardcore fans and the guilty pleasure of casual fans who know where and how to watch it. But the reality is that there is still a large portion of society that is completely clueless about MMA even though they may know that the UFC exists (at least it did until it was shut down for being too violent, right?). Mention UFC to a person on the street, and they can probably tell you it has something to do with ultimate fighting; mention MMA and you'll probably get a blank stare. My point is that the majority of you reading this article are "in the know" when it comes to MMA because you're probably a fan. Come November 12th, there is going to be a whole legion of viewers that won't know the difference between a knee bar and an arm bar, but those are the folks the UFC and Fox want to become regular viewers and fans. And more people watching is great for MMA, right? Sure; for the most part, but I think we're fooling ourselves if we don't think there could be some portions of MMA that aren't great for all viewers. I think there are some events that, if they happen on primetime TV, can stifle or even hurt MMA's mainstream growth. Most of us know these things happen because we "get it", but new fans might not be as magnanimous or understanding as we are. New fans, who are uneducated about what they're watching, might not realize that sometimes 'shit happens.' Having more viewers might not be all roses, and that's important for us to understand. And that's why I came up with this list of 7 Things That Can Hurt MMA on Primetime TV.


1. Bad fights. This is the simplest thing to bitch about but one of the toughest things for a promoter to do anything about. We know they happen despite the best booking decisions, but when they crop up we tend to dwell on them in excess. Anderson Silva vs. Thales Leites. Alistair Overeem vs. Fabricio Werdum. Mirko Cro Cop vs. Frank Mir. The list goes on and on. And we hate them because they can be a total buzz kill for what might have been an otherwise good night of fights. While hardcore fans understand that sometimes craptastic fights do occur, we also know they are anomalies and not overly representative of MMA as a whole. We understand that sometimes the wrong clash of styles can make a fight that is so terrible; we'd almost rather turn the channel than watch the abomination unfold in front of us. Still, we'll stick around to see the fight end and then hope the next one is better. Newer fans might not be as forgiving. The UFC and Fox are trying to persuade viewers, who probably already have a routine or show they currently follow, to change their minds and instead watch MMA. When that person tunes in to UFC on Fox and watches two guys clinched against the cage for minutes at a time with little or no action, they're going to change channels and return to whatever show they know they will like. The wrong fight can force a casual fan to change the channel and chalk up UFC on Fox as just a bad experiment. I'm willing to bet the UFC is going to very careful with their booking decisions for the first Fox TV shows, but as history has shown us, sometimes a really bad fight can occur when we least expect it. How the UFC and Fox manage issues like this will be interesting, because once the cage closes, both entities are powerless to influence what happens inside it.




2. Poor decisions. MMA judging has been in the crosshairs of fans, fighters, and promoters for quite a while, which means it will only be a matter of time before newer fans and viewers begin to question the logic behind the judge's decisions too. In fact, it may only take one particularly heinous decision to make new fans wonder if MMA is anything more than professional wrestling. To the uninitiated fan, why should they become invested in a sport where one person can clearly win while another clearly loses (at least from their limited viewpoint) but the judging is so awful in deciding the winner that even the announce team is decrying it? This is a very real issue that can instantly turn someone off to the sport, or at least make them question MMA's legitimacy. I guess the flip side is that increased exposure may also spurn athletic commissions to fix the problems with judging, but we will no doubt have to endure some difficult times before that actually happens.


3. Injuries and changes to fight cards. As unfortunate as an injury is, especially considering that the UFC is powerless when it happens, the subsequent changes that occur to the fight card (whether good or bad) can make or break the UFC on Fox. Granted, something like this is completely dependent upon the initial fight and the subsequent replacement, but the mere fact that it can (and most likely will) happen can really hurt. The UFC smartly maintains a very deep roster, so one fighter who pulls out due to injury can usually be replaced rather simply, but sometimes a fighter is pulled days prior to the event and locating a replacement is futile. Under the absolute worst circumstances, the injury affects the main event and has the potential to ruin the entire card. You're fooling yourself if you don't think Dana White will be sweating like a whore in church during the weeks leading up to the Velasquez/Dos Santos bout, because any changes to the main event will mean all the hype and advertisement for Velasquez and Dos Santos will have been for nothing. And frankly, if casual viewers begin to show an interest in an upcoming bout only to have it changed at the last minute for something less appealing, the UFC and Fox will have lost those people for future cards.




4. Post-fight antics. The Nashville brawl demonstrated what can happen when too many egos and too much testosterone collide in the cage. While the brawl certainly underlined how far things could go wrong during a live event, it thankfully never amounted to anything more than a couple of fines and a few suspensions. But that couldn't ever happen in the UFC, right? Don't fool yourselves; it basically did back at UFC 45 during some post fight drama between Tank Abbott and Cabbage Correira. For those of you unfamiliar with the event, the referee called the bout due a cut Abbott sustained on his forehead. Correira celebrated with his typical Cabbage Patch dance, which apparently angered members of Abbott's corner. A small brawl ensued, with the most prominent portion being Joe Rogan screaming across the commentary that "This bullshit doesn't belong in the UFC." If I recall correctly, Chuck Liddell was even in the octagon trying to break things up. My point is that the Nashville Brawl can happen again given the wrong circumstances. All the participants involved in the brawl are under Zuffa contract, so it's foolish to assume their paths couldn't cross again. But post-fight antics aren't restricted to pier six brawls; they can also include cheap shots after the bell (Paul Daley) and fights at the local hospital (Nick Diaz and Joe Riggs). While events like these were only previously witnessed by PPV viewers or were once only covered by MMA news sites, the inevitable increased popularity of MMA and fighters means these stories could be front page news in the future. Isn't it possible that some unfortunate event could make even the staunchest of supporters question whether or not MMA is ready for primetime television? And doesn't it provide ammo for opponents of seeing it regulated in New York? The possibility is there; we just have to cross our fingers and hope it doesn't happen.


5. Trouble with the law. Lee Murray. Jeff Monson. Quinton Jackson. Tito Ortiz. Chael Sonnen. Mike Whitehead. The list goes on and on, but I think you get the point. MMA fighters aren't any different than anyone else in the world with the exception that many of them are going to have to adjust to living under an even brighter spotlight. Professional athletes are a favorite target of the mainstream media; just ask Michael Vick or Mike Tyson. And the more colorful the athlete; the more the media is willing to highlight their legal transgressions. While Jeff Monson spray painting anarchist symbols on state capital buildings might not be headline news anytime in the near future, Tito's domestic squabbles with Jenna are certain to draw more attention as MMA draws more attention. The issue that MMA fighters will have to deal with (which other athletes do not) is that fighters are viewed as violent to begin with. "It's no wonder Tito beats Jenna; he's a fighter." "It's no wonder Quinton Jackson went on a vehicular rampage; he's a fighter." No one has ever said, "It's no wonder Tiger drove his wife away; he's a golfer." Fighters are violent people, so the crimes they commit are fed by their violence and rage (that's how the media will spin it). As fighters remain human and make human mistakes, there mere fact that they are fighters will be something that is held against them in the court of public opinion. The media loves a good scandal, and the wrong decision by a popular fighter can give them that.



6. Embarrassing interviews. While this one certainly isn't something I would be wringing my hands over, I decided to add this because some people are so damn sensitive they will make an issue out of nothing. Look – we all know that sometimes guys get on the microphone and they sort of lose their minds. And I'm not talking about Chael Sonnen's little rant after his last win; that was pretty tame. I'm talking about guys who can't give an interview without dropping an F-bomb or thanking Jesus for giving them the power to remove their opponent from consciousness. The fact is that some fighters get a little weird when they are interviewed and you don't ever know where that interview can go. While many of us laughed off Rampage talking about motor-boating Karyn Bryant's breasts, that same joke might not result in laughter if the wrong group of people hears it and gets upset about (or wrongly believes its representative of all fighters). The same could be said for Jacob Volkmann's comments about President Barack Obama; no one (including the Secret Service agents who interviewed him) really believed he was a threat to the President, but the mere fact that his comments upset somebody brought about an investigation and Volkmann's suspension from his position as an assistant wrestling coach. While these instances are minor and rather tame in comparison to some things on this list, they can still hurt MMA if the wrong people decide to get high and mighty about them.




7. Failed drug tests. Let me preface this by stating that I think MMA (through the state athletic commissions) does just about all it can to stem the use of illegal and performance enhancing drugs through the current drug testing program. I think the only way it could be more thorough is if they went to Olympic style drug testing, but I think the athletic commissions know that would be cost prohibitive, so they've delayed doing so. The debacle that MLB has gone through over the use of PEDs by players is apples to oranges in regards to drug testing in MMA, but I do think it is indicative of the public's feelings about the use of such substances. As the popularity of MMA increases, the outcry over a failed drug test will proportionally increase as well. This can become especially troublesome when it causes fight outcomes to be overturned and bouts ruled a no contest. The truth is that the UFC needs to turn their fighters into stars, but failed drug tests are the easiest way for a fighter's stock to plummet. The UFC has been fortunate in the past that most positive drug tests have been inconsequential to the promotion. Even Sean Sherk being stripped of his Lightweight Belt was fairly uneventful to the rest of the division. However, consider the fallout if the same thing happened today, especially to an athlete with a considerably larger public profile, such as Georges St. Pierre or Jon Jones. The backlash against the fighter and the UFC in general will be significantly greater with increased exposure. Again, the UFC is powerless to prevent this, but they will probably try to maintain their credibility by punishing the fighter beyond whatever the athletic commission imposes. This could mean fighters won't just get fined and suspended, but they'll also get fired.


And there you have them; 7 pitfalls the UFC and Fox will have to try to avoid as they traverse through their new television partnership. With luck, none of these issues will surface and things will be smooth sailing for their entire partnership, but given a long enough timeline, some of these things will happen.

And that's it for this week, loyal readers. Thanks for tuning it.
comments powered by