SPOTLIGHTS
The View from the Cheap Seats 10.25.11: UFC 137 Preview
Posted by Scott Kuczkowski on 10.25.2011

Nick Diaz and B.J. Penn will both square off to earn a shot at GSP's UFC welterweight title! Who will come out on top and will they leapfrog Carlos Condit in the process? 411's Scott Kuczkowski tackles these questions and more!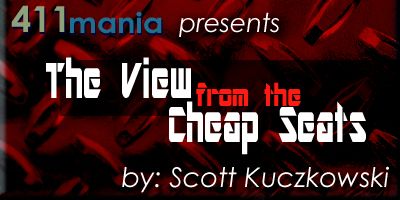 UFC 137: Penn vs. Diaz will come to us live this weekend, and I must admit that I am particularly unenthused about this fight card, especially since the exclusion of the Welterweight Title bout between Georges St. Pierre and Carlos Condit. I know that I'm not supposed to speak ill of a fight card until it actually happens, but I'm just not able to get up for a card headlined by one fighter who should have stayed at Lightweight and another who was gifted a title shot only to piss it away because of his own stupidity. However, because this bout will probably yield the next contender for the Welterweight Title, I thought it would be appropriate for me to break it down, much like I would have broken down the aforementioned title bout.

One interesting note is that Chael Sonnen mentioned on MMA Live that he thought the winner of this bout, especially if the he was particularly impressive, could actually challenge for the title before Carlos Condit. His reasoning was that Condit, as the #1 contender, isn't really guaranteed anything, whereas the winner of this bout could create enough buzz to leapfrog him into title contention (especially if GSP isn't able to return in a short-enough time frame). This logic intrigued me and I can't help but think Chael could be on to something, especially if GSP ends up being out for longer than expected and Condit decides to take a fight in the meantime.

Anyways, this bout became the main event after a number of auspicious happenings. Nick Diaz was supposed to receive an undeserving crack at GSP's Welterweight Title, but he was unable to fulfill his pre-fight promotional obligations. As such, he was unceremoniously replaced with Condit, who was originally slated to face Penn. With Penn without an opponent, the UFC decided Diaz would be a suitable substitute, and so they booked that fight. If none of that had occurred, the main event for this card would be Condit vs. Penn and Diaz would not doubt be bashing GSP in the media and claiming he was ducking him. Perhaps we are better for not having to listen to such nonsense, but I'm just speculating.

Without further adieu, let's take a look at this matchup.






B.J. Penn (#2 in LW Rankings) vs. Frankie Edgar (#1 in LW Rankings)



The Outcome: On August 28, 2010, at UFC 118: Edgar vs. Penn 2, B.J. Penn lost to Frankie Edgar via Unanimous Decision.
The Action: Edgar as able to outstrike and outwrestle Penn for 25 minutes to take a somewhat easy decision win. Penn tried to stay competitive in this bout, but Edgar was too fast too dynamic for him. Interestingly, Edgar willing stayed on the ground with BJ and tempted his grappling skills.
What it told me: This was the bout that sent B.J. back to the Welterweight Division in the hopes of winning another title. While losing to the champion (twice) isn't anything to be ashamed of, Penn apparently couldn't stand being second best in the division he once ruled. Whether or not this was a tactical error on his behalf is debatable.






B.J. Penn (#4 in LW Rankings) vs. Matt Hughes (#7 in WW Rankings)



The Outcome: On November 20, 2010, at UFC 123: Rampage vs. Machida, B.J. Penn defeated Matt Hughes via knockout.
The Action: Both Hughes and Penn came out swinging and 21 seconds later Hughes was unconscious and Penn was victorious.
What it told me: A win over this version of Matt Hughes isn't anything to write home about, but it still got Penn back on the winning track. Penn has always performed best when he's confident and on a roll, which is really all this bout allowed him to do.






B.J. Penn (#4 in WW Rankings) vs. Jon Fitch (#3 in WW Rankings)



The Outcome: On February 27, 2011, at UFC 127: Penn vs. Fitch, B.J. Penn fought Jon Fitch to a Majority Draw.
The Action: Penn came out and surprised Fitch in the first and second rounds by taking him down and forcing him to defend submission attempts. Like most fans, Fitch apparently expected Penn to stand and bang with him, so this gameplan seemed to surprise him and work to a degree. Fitch adjusted in the third round and was able to take Penn down and ground and pound him for the entire round.
What it told me: This was a great gameplan against one of the most accomplished wrestlers in the division. Unfortunately for Penn, his size and strength disadvantage caused him to tire in the third round and Fitch was able to have his way with him. Still, no other fighter besides GSP has been able to frustrate Fitch in this manner and force him to put on an exciting fight.



And now that we've looked at Penn's last three fights, let's take a look at Diaz's last three matchups.







Nick Diaz (#4 in WW Rankings) vs. K.J. Noons (#45 in LW Rankings)



The Outcome: On October 9, 2010, at Strikeforce: Diaz vs. Noons II, Nick Diaz defeated K.J. Noons via Unanimous Decision.
The Action: In a continuation of their grudge match from EliteXC: Renegade, this was 25 minutes of action on the feet. Diaz was able to stay ahead on all the cards, which was admirable given Noons' boxing skills, but difficult to assess given Noons is a natural Lightweight and didn't have to do anything to earn this title shot.
What it told me: In some ways it was refreshing to see Diaz finally settle the score with Noons, especially considering Noons had taunted him off the strength of his previous win due to a doctor's stoppage. On the other hand, I would have liked to see Diaz take Noons down and submit him, which probably would have been a smarter gameplan.






Nick Diaz (#6 in WW Rankings) vs. Evangelista Santos (#26 in WW Rankings)



The Outcome: On January 29, 2011, at Strikeforce: Diaz vs. Cyborg, Nick Diaz defeated Evangelista Santos via armbar submission.
The Action: Santos scored nicely with leg kicks in the opening stanza and actually had Diaz limping around the cage. Diaz was able to return fire with punches that had Santos in trouble towards the end of the first round. The second round was more of the same until Santos took Diaz down. Diaz seized this opportunity and submitted Santos with an armbar.
What it told me: Nothing; this was a fight Diaz should have won easily as a champion. Santos isn't a great fighter and he earned this title shot with a single Strikeforce victory over Marious Zaromskis, so Diaz winning this battle wasn't overly impressive.






Nick Diaz (#5 in WW Rankings) vs. Paul Daley (#8 in WW Rankings)



The Outcome: On April 9, 2011, at Strikeforce: Diaz vs. Daley, Nick Diaz defeated Paul Daley via TKO.
The Action: Both guys came out aggressive and swinging hard. Daley was surprisingly able to find Diaz's chin a few times and even looked like he had him in trouble at one point. Diaz stayed composed and finished Daley with strikes in the round's closing seconds.
What it told me: This was a really good bout for Diaz in that it demonstrated he could recover from some brutal shots but also outstrike a power-striker like Daley. More importantly, I think Diaz's cardio saved him towards the end of the round, where he was able to finish a visibly exhausted Daley. The troubling aspect of this bout is that Diaz could have conceivably won quicker and easier by taking Daley down (where he is weakest) and submitting him.


So how will this bout play out? Diaz should have an appreciable reach advantage, but whether or not he will choose to use that to his advantage is anyone's guess. Both of these guys are counter-strikers, which makes me worry that there will be a lot of posturing and waiting for the other guy to make the first mistake. Penn is notoriously tough on the feet and no one has ever really rocked him with punches. Diaz is also very durable and has a solid chin, so whether or not BJ will be able to hurt him remains to be seen.

Both of these guys are ground wizards, and I can't imagine either one having much of an advantage if they start fishing for submissions. I'll give the wrestling edge to Penn based solely on his ability to takedown the bigger, stronger Fitch in his last bout.

Cardio is the one area where Diaz will have a big advantage. Penn is often known for his distinct lack of cardio, especially when he is unable to dictate the pace of the fight. Diaz will probably be ready to go strong for all three rounds whereas Penn may be only good for two. If Penn can finish Diaz in those first two rounds, then this might be a non-issue, but if the fight is close going into the third round then Penn could be in trouble.

I see this fight being slow for the first round, particularly because neither fighter is going to want to make a mistake. Diaz might be the first to strike, figuring that pushing the pace might tire BJ out. Penn on the other hand might shoot on Diaz and make him wrestle off his back. If this fight ends early, it will be because Penn will finish Diaz. If this fight goes to decision, Diaz will probably take it on the judge's cards. If Penn loses, I think he'll drop back to Lightweight. If Diaz loses, he won't ever get a title shot in the UFC. I don't really have a feeling that one guy wants this more than the other, so I'll pick Diaz to take it by a not-so exciting decision.

That's all for this week. Thanks for reading.


Credit Fight Matrix for historical rankings.
comments powered by