SPOTLIGHTS
The View from the Cheap Seats 11.02.11: The UFC 138 Preview
Posted by Scott Kuczkowski on 11.02.2011

Who were the winners and losers from UFC 137? Does Nick Diaz really deserve to face GSP ahead of Carlos Condit? And who will walk out of UFC 138 with a win? 411's Scott Kuczkowski tackles these questions and more.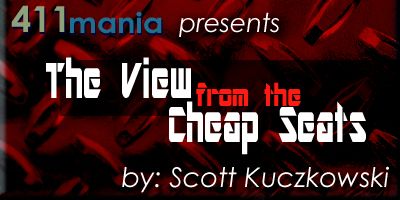 UFC 138: Leben vs. Munoz will come to us free from Birmingham, England this weekend, and I am pretty stoked to have some more free MMA to watch, especially with Bellator only running a recap show this weekend. However, before I tackle this weekend's card, I wanted to speak a bit about some of the fights from this past weekend at UFC 137.

Brandon Vera put on another typically boring display highlighted only by Elliot Marshall reportedly breaking his arm with a third round submission attempt. I don't know what annoys me more about Vera; the fact that he's supremely talented yet constantly underperforms or that he really thinks he's better than he actually is.

Bart Palaszewski made a triumphant UFC debut over the extremely heavy Tyson Griffin. This was a good win for Palaszewski, who looks like he could make an immediate impact in the UFC Featherweight Division. On the other hand, this could have been the final nail in Griffin's coffin. He's 1-4 in his past 5 fights and missing weight is almost always the death kiss with Dana White. It's a shame that someone who had such great fights with Frankie Edgar and Clay Guida could fall to this level.

Donald Cerrone steamrolled Dennis Siver and has firmly staked a claim as a legitimate contender for the UFC Lightweight Title. My only hesitation with Cerrone is that I am unsure how he will do against some of the bigger wrestlers that sit atop the 155 pound division. Cerrone will reportedly face Nate Diaz later this year. This was a tough break for Siver, but I think a lot of people expected him to lose against the division's better fighters. Siver is still a solid fighter, but I'm not sure he has the tools to be at the top of the Lightweight Division.

Hatsu Hioki continued the trend of foreign fighters entering the UFC and looking unimpressive. While George Roop is certainly no slouch, Hioki didn't look anywhere near as dominant as he did when he fought in Sengoku. I'm willing to give him the benefit of the doubt that it might have been octagon jitters, but I'm not holding my breath that he will challenge for the title anytime soon.

Roy Nelson will go down in history as the man who retired Mirko Cro Cop, but it might actually be more appropriate to say that Mirko fell to Father Time. While I was a big fan of MIrko in Pride, he hasn't been the same since he came to the UFC so I'm actually glad to see him step down.

Cheick Kongo and Matt Mitrione both went into the octagon and absolutely laid eggs when they should have been fighting. I thought this fight was terrible and destroyed any momentum Mitrione had behind him or any Kongo was hoping to gain from this win. These are the type of fights that make me wonder why the UFC ever bothers booking Heavyweight bouts on PPV cards unless they are title fights.

The Nick Diaz/BJ Penn bout unfolded almost exactly as I predicted in last week's column. I figured Penn would be in a lot of trouble if he couldn't finish things in the first round and I knew Diaz would be able to come on strong in the second and third rounds. While this is certainly a good win for Diaz, I haven't proclaimed him as the greatest thing since sliced bread just yet. BJ Penn isn't what I would consider a great Welterweight fighter. His only wins at 170 have been over Matt Hughes, and while he does hold the distinction of taking Hughes' belt from him in his prime, that was a long time ago and Penn never even defended that title. While Penn put on a good performance against Jon Fitch, he didn't score the win, so I can't count that as anything more than a valiant effort. Beyond that, I'm not convinced Diaz would have the same success against guys like Koscheck, Fitch, Ellenberger, or MacDonald. All this means that I'm not sold on him being able to be a top UFC Welterweight.

Of course, it was announced that Nick Diaz would get the next shot at Georges St. Pierre, which is something I also mentioned in my last article. While I completely understand the logic of this decision, I can't help but feel bad for Carlos Condit, who not only lost his own chance at GSP, but also lost the payday he should have gotten from this weekend. If Diaz hadn't screwed up and lost his first title shot, Condit could very well be knocking on GSP's door with a win over Penn. I find the notion that he simply stepped aside to be disingenuous, as I'm willing to bet Dana White made him an offer he couldn't refuse.

With UFC 137 in the books, it's time to turn our sites to UFC 138. While this card lacks the star power of a typical PPV card, I've begun to accept that these cards typically over deliver and end up being quite good. Whether it is because of my low expectation or that the fights are actually that good is unknown, but I typically enjoy the free cards.

Without further delay, let's get to the main event.






Chris Leben (#57 in MW Rankings) vs. Yoshihiro Akiyama (#14 in MW Rankings)



The Outcome: On July 3, 2010, at UFC 116: Lesnar vs. Carwin, Chris Leben defeated Yoshihiro Akiyama via submission (triangle choke).
The Action: The action for this fight was hectic and the pace set was brutal. Akiyama scored some good shots against Leben, but he hung tough and gave back as good as he got. Akiyama was gassed in the third round, and after scoring a takedown fell victim to a triangle choke.
What it told me: This was a great win for Leben, who actually took this fight on short notice and had defeated Aaron Simpson only two weeks prior. His willingness (and ability) to take fights like this on short notice and still perform is probably one of the reasons Leben still has a place in the UFC despite his brushes with the law and failed drug tests.






Chris Leben (#12 in MW Rankings) vs. Brian Stann (#40 in MW Rankings)



The Outcome: On January 1, 2011, at UFC 125: Resolution, Chris Leben lost to Brian Stann via TKO (knee and punches).
The Action: Lebe tried to go toe to toe with Stann like he'd done against many other opponents and learned the hard way that Stann punched harder and was more precise. Stann scored early and finished Leben after rocking him with some hard shots.
What it told me: Leben relied on his hard head previously, but that didn't work for him in this fight. Going forward, Leben will probably have to fight smarter instead of hoping his head is harder than his opponent's and that he can score first.






Chris Leben (#23 in MW Rankings) vs. Wanderlei Silva(Unranked in MW Rankings)



The Outcome: On July 2, 2011, at UFC 132: Cruz vs. Faber, Chris Leben defeated Wanderlei SIlva via knockout (punches).
The Action: Wanderlei waded in to trade punches with Leben, and Leben was able to catch him, put him down, and finish him with strikes in 27 seconds.
What it told me: This was a good win for Leben against a legend, but it probably made me realize that Wanderlei can't trade punches like he used to more than it told me anything about Leben's skills. Still, a win is a win, so good for Chris.


And now that we've looked at Leben's last three fights, let's take a look at Munoz's last three matchups.







Mark Munoz (#33 in MW Rankings) vs. Aaron Simpson (#49 in MW Rankings)



The Outcome: On November 20, 2010, at UFC 123: Rampage vs. Machida, Mark Munoz defeated Aaron Simpson via Unanimous Decision.
The Action: The action was back and forth in this bout, with each man's wrestling skills nullifying his opponent's. On the feet, Simpson had cleaner combos while Munoz packed more power. While each round was close, Munoz managed to take the win on the judge's scorecards.
What it told me: This was the continued evolution of Mark Munoz, as he was able to demonstrate his improved standup skills to go along with his wrestling pedigree. While this wasn't what I would consider an overwhelming performance, it was a good win.






Mark Munoz (#24in MW Rankings) vs. C. B. Dolloway (#30 in MW Rankings)



The Outcome: On March 3, 2011, at UFC Live: Sanchez vs. Kampmann, Mark Munoz defeated C. B. Dolloway via knockout (punches).
The Action: Dolloway scored a quick takedown, but Munoz got things back to the feet and started firing away, catching Dolloway. Dolloway went down and Munoz rained down punches until the ref stepped in.
What it told me: Munoz's hands looked good and he wasn't thrown off when Dolloway took him down. This was sort of a quick bout, so it is hard to say what this meant for Munoz.






Mark Munoz (#18 in MW Rankings) vs. Demian Maia (#8 in MW Rankings)



The Outcome: On June 11, 2011, at UFC 131: Dos Santos vs. Carwin, Mark Munoz defeated Demian Maia via Unanimous Decision.
The Action: The first round was Miai, as he clearly outstruck Munoz, who seemed to be asleep at the wheel. Munoz came alive in the second and third rounds, battering Maia and stopping all his offense. Munoz was able to outgrapple Maia and outstrike him to secure the decision win.
What it told me: Demian Maia is a tough fight for almost anyone, but Munoz handled him pretty easily. Munoz was never in danger of being submitted and his standup skills were sufficient to counter Maia's own rudimentary skills.


So, who wins this matchup? On the feet, Leben has the power to put Munoz to sleep and has the ability to eat most of Munoz's punches. Leben does get sloppy and may leave himself open to take shots he doesn't need to, but unless Munoz can find the same button that Stann did, then Leben should be fine. Munoz's standup skills are improving and he has some good power, but Leben will most likely be miles ahead of him.

The wrestling advantage has to go to Munoz, which is where he has the best chance to hurt Leben with his ground and pound. If Munoz can get a dominant position on Leben, especially against the fence, then Leben could be in a lot of trouble. Leben is a skilled grappler too, but I don't think he will be able to submit or outwrestle Munoz.

As far as cardio goes, both are able to go three hard rounds, but the big question will be how they handle themselves if this goes into the fourth or fifth round (this will be the first 5 round, non-title bout).

I see Munoz working the standup in the beginning to set up a takedown. If Leben can score and hurt Munoz at this point, he has the power and skill to finish Munoz. If Munoz can get Leben on the ground and stay in a dominant position, he should be able to hold him there and deliver some damage. Leben will have his best chance to win on the feet at the start of every round whereas Munoz does not want to trade punches with Leben and needs to get it to the ground as soon as possible. I think Munoz will play it smart and keep this fight where he is strongest – on the ground and take the decision win.

Credit Fight Matrix for historical rankings.
comments powered by