SPOTLIGHTS
The View from the Cheap Seats 11.9.11: UFC is Crazy...on Fox!
Posted by Scott Kuczkowski on 11.09.2011

Will Junior dos Santos unseat Cain Velasquez and capture the UFC Heavyweight Title on the UFC's debut Fox show? Or will Cain successfully defend the title after sitting on the sidelines for over a year? 411's Scott Kuczkowski takes a look!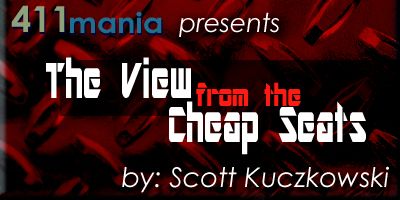 This Saturday, the UFC will put on what will be perhaps the biggest and most important bout ever, and Fox will host that bout. The fact that the bout will be on Fox is in and of itself, historic; that the bout will include two of the best heavyweight fighters in the world vying for the most coveted title is icing on the cake. The UFC Heavyweight Champion, Cain Velasquez, will attempt to defend his title for the first time from Junior Dos Santos.

Both men have vastly different and unique stories up to this point. Cain Velasquez was a collegiate wrestling standout before trying his hand at MMA. He started his fighting career in Strikeforce and Bodog before joining the UFC with only two professional fights on his record. Since that time, he's defeated a former IFL Champion, a former Pride Champion, and the UFC Heavyweight Champion. Only one fight has gone to the judge's scorecards and the other eight of his nine wins have come via TKO/KO.

Junior Dos Santos was reportedly a waiter before he began training with Antonio Rodrigo Nogueira. Dos Santos' UFC introduction came against Fabricio Werdum, in a fight heralded as one of the biggest upsets of 2008, when the previously unknown Dos Santos knocked out Werdum with a vicious uppercut in the first round. Since that time, Dos Santos has been perfect in the UFC; defeating a Pride Grand Prix Champion, a former IFL Champion, and an Interim UFC Heavyweight Champion.

So, how do these two guys stack up? That's what I'm here to find out. Let's start off with the challenger.






Junior dos Santos (#5 in HW Rankings) vs. Gabriel Gonzaga (#13 in HW Rankings)



The Outcome: On March 21, 2010, at UFC Live: Vera vs. Jones, Junior dos Santos defeated Gabriel Gonzaga via KO (punches) in the first round.
The Action: Gonzaga scored an early takedown, but he couldn't do anything with it. From that point on, Dos Santos scored repeatedly on the feet, eventually knocking Gonzaga down and putting him to sleep.
What it told me: Gonzaga is a tough, strong guy with great grappling credentials, but he couldn't even hold Dos Santos down for more than a few moments. Dos Santos was also the second fighter to ever put Gonzaga to sleep (Shane Carwin was the first). Dos Santos showed great instincts when he swarmed Gonzaga when he was down, never giving him a chance to get his bearings.






Junior dos Santos (#5 in HW Rankings) vs. Roy Nelson (#26 in HW Rankings)



The Outcome: On August 7, 2010, at UFC 117: Silva vs. Sonnen, Junior dos Santos defeated Roy Nelson via Unanimous Decision.
The Action: This fight was 15 rounds of action on the feet, dominated by Dos Santos. Nelson was able to score a few shots here and there each round, but Dos Santos' speed and strength was too much for him. Nelson attempted several takedowns but was never successful.
What it told me: This was the first time I'd seen Dos Santos go to a decision, and while he appeared a little tired, he looked like he could have gone two more rounds. Dos Santos easily defended all the takedown attempts and never allowed Nelson to get off first. Nelson's best chances in this bout were to get things to the ground where his grappling skills could come into play, but he just couldn't take Dos Santos down. This was a dominating performance over a very tough and versatile opponent.






Junior dos Santos (#4 in HW Rankings) vs. Shane Carwin (#6 in HW Rankings)



The Outcome: On June 11, 2011, at UFC 131: Dos Santos vs. Carwin, Junior dos Santos defeated Shane Carwin via Unanimous Decision.
The Action: Carwin scored an early takedown against Dos Santos, but he couldn't do anything with it and Dos Santos regained his feet. Towards the end of the first round, Dos Santos was unloading on Carwin and the fight was nearly stopped, but Carwin survived the round. The second and third rounds saw Dos Santos dominate Carwin on the feet to take the decision victory.
What it told me: Carwin is a power puncher with really good wrestling credentials, but he couldn't do anything to Dos Santos. Dos Santos took a few of Carwin's punches and seemed unfazed by them. Once Dos Santos found his range and his rhythm, he was able to score at will and gave Carwin a terrible beating. Carwin's boxing is solid, but he was too slow and just didn't have any pepper on his punches after getting beaten up in the first round.


And now that we've looked at Dos Santos' last three fights, let's take a look at Velasquez's last three matchups.






Cain Velasquez (#12 in HW Rankings) vs. Ben Rothwell (#29 in HW Rankings)


The Outcome: On October 24, 2009, at UFC 104: Machida vs. Shogun, Cain Velasquez defeated Ben Rothwell via TKO in round 2.
The Action: Velasquez overwhelmed Rothwell for the majority of this fight. Though Rothwell tried to land some big bombs, Cain was able to outgrapple him and control him and finish him in the second round with strikes. There was some griping about a possible early stoppage, but I don't think Rothwell had much of a chance in this bout. The referee actually probably saved Rothwell from taking more of a beating than he already took.
What it told me: I thought this was Cain's best win. While Rothwell isn't a world beater or anything like that, he is a solid fighter who can take a lot of punishment and still keep fighting. Cain beat Rothwell to each punch and took him down at will. Cain wasn't happy with his performance, but I don't know what more he expected. Cain mauled Rothwell and didn't leave him any room to recover or regroup, which is the type of relentless approach he's going to need.






Cain Velasquez (#8 in HW Rankings) vs. Antonio Rodrigo Nogueira (#3 in HW Rankings)


The Outcome: On February 21, 2010, at UFC 110: Nogueira vs. Velasquez, Cain defeated Big Nog via KO in the first round.
The Action: Nogueira was outstruck and outclassed by the younger, faster Velasquez in this bout.
What it told me: Cain is a rising star and comfortable being the Main Event. Plus he defeated an MMA legend. I don't wish to understate the outcome of this bout, but it didn't really tell me anything else I didn't already know. If Nogueira hadn't been finished by Frank Mir in a similar fashion 14 months prior, I might have been a little more overwhelmed, but that wasn't the case. Nogueira didn't stand a chance in this bout on the feet, and I think most people knew that. It was still a good win, but the best thing to come out of it was the title shot.






Cain Velasquez (#4 in HW Rankings) vs. Brock Lesnar (#1 in HW Rankings)



The Outcome: On October 23, 2010, at UFC 121: Lesnar vs. Velasquez, Cain Velasquez defeated Brock Lesnar via TKO in the first round.
The Action: Lesnar charged Velasquez at the start of the bout and tried to turn things into a brawl, even scoring a takedown in the process. Cain regained his footing and began to punish Lesnar on the feet, scoring his own takedown. From that point, Cain swarmed Lesnar and never allowed him to recover, forcing the ref to stop the fight.
What it told me: This was a dominating performance. Cain was able to regain his feet after he was taken down and was able to take Lesnar down when he wanted to. While Shane Cawin demonstrated that Brock was hittable, he didn't inflict anywhere near the damage that Cain did.


So, who wins this fight? Both guys have great standup skills and knockout power in their hands. Junior is more of a traditional boxer whereas Cain is more of a Muay Thai puncher, but whether or not that distinction comes into play is unknown. Both men have identical 77" reaches, so things on the feet will be very even.

Junior's ground game is a big mystery. While he's gotten back to his feet when he was taken down, he's never demonstrated any offensive ground skills. He trains with Antonio Rodrigo Noguiera, so the assumption is that he's skilled on the ground; the problem is he's never demonstrated those skills in a fight. Cain has extremely strong wrestling and has finished opponents with ground and pound. If Cain wants to take this fight to the ground, he should be able to do it. Neither man has any submission wins that appear relevant to this argument.

When it comes to cardio, I have to give the edge to Cain. He's always been a cardio machine and he trains very hard to maintain that. Junior has gone the distance in the past and he looked good doing so, but he was dominating his opponents in both of those bouts, so I don't know how his cardio would hold up if he was in a close war. Cain should maintain an edge as this fight goes on, especially if he's winning in the exchanges.

Cain has been out of action for over a year, so that layoff may have affected his cardio and his timing. Ring rust is a very real thing fighters have to deal with, so how he handles himself in the first few minutes may affect the overall outcome of the fight. While this issue would normally be problematic, Junior by comparison has only fought once in that time, so I don't know that he's going to be at any advantage.

This fight is HUGE for Fox and the UFC, so I am wondering what lingering injuries each fighter is hiding until after this bout. Normally, fighters would consider dropping out of a fight for certain injuries, but this is certainly no normal event, so both men may be fighting hurt.

I think this will be a very fast paced fight on the feet until Cain gets it to the ground. I think Cain will work to keep this fight on the ground and force Junior to continually fight back to his feet. If Junior can't get back to the feet, Cain may end this in the first round. As Junior tires, I think Cain will punish him and keep the pressure on him. On the other hand, if Dos Santos fights off every takedown, Cain may tire himself out and be at Junior's mercy. While Dos Santos' takedown defense is good, I think Cain will get things to the ground and tire Junior out with his pace. While the early round or two may be close, I think Cain will win this with strikes before they get into the championship rounds.

That's all for this week folks; thanks for reading.

Credit Fight Matrix for historical rankings.
comments powered by