SPOTLIGHTS
The View from the Cheap Seats 11.16.11: The UFC 139 Preview
Posted by Scott Kuczkowski on 11.16.2011

Was Dana White out of line with his criticism of the UFC on Fox main event? Did the UFC drop the ball by not showing Henderson/Guida? Who will come out on top in the UFC 139 Main Event? 411's Scott Kuczkowski tackles these questions and more!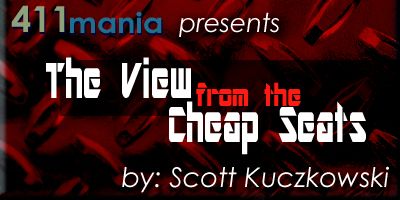 Greetings fight fans, and welcome to this week's edition of The View from the Cheap Seats. We have a lot to talk about so let's get right down to business.

UFC on Fox came to us live this past Saturday night and I thought the event went off pretty well. The production looked really good and everything seemed to go smoothly, even with the fight's quick ending. The only thing I found particularly annoying was the canned music that Fox used throughout the broadcast. I understand the music is the normal sports music that Fox uses for all their sports shows, but it just made me feel like I was watching football instead of MMA.

The fight itself went how most Junior Dos Santos fans predicted it might; with Junior ending things with strikes in the first round. I was a little disappointed the fight didn't go longer, but I wasn't up in arms over the matter. Like the Dalai Lama is fond of saying; sometimes shit happens.

I do want to address some of the criticisms that the show has received. Many people were upset the Clay Guida/Ben Henderson fight wasn't shown on TV, and while I was a little disappointed too, I knew from the beginning that the show was only going to have one fight. In light of that announcement, I wasn't overly upset. From what I understand, this was Fox's decision, so the UFC went with it. Folks that were upset obviously didn't believe the UFC or Fox when they announced they would only have one fight on the show.

People have also criticized Dana White over the post-fight comments he made. First and foremost, I think Dana merely echoed what many fans were thinking, which was "Why did Cain try to stand and trade with Junior." Obviously it doesn't take a genius (or the UFC President) to point out that Cain should have at least tried some wrestling within the first minute of the fight. The other statement Dana made was that Dos Santos typically gets tired in the later rounds of a fight. Well, don't most fighters get tired as the fight progresses? Is this really news? I understand that a lot of people thought Dana White buried Junior Dos Santos and was upset that Cain Velasquez lost, but I think he was just trying to be dispassionate as an analyst. Obviously, he needs to walk a fine line when doing so, because he's only an analyst on the show but afterwards he's the UFC President and those are his fighters and Champions he is criticizing. While I thought the comments were a tad harsh, I don't think he stepped over the line when he made them. Dana White is in the unenviable position where people will always try to overanalyze the things he says and decide for themselves what he really meant, so unless he utters something particularly heinous, I take him with a grain of salt.


---

This weekend we have UFC 139 coming to us live from San Jose, CA. The main event features a long-awaited meeting of Mauricio 'Shogun' Rua and Dan Henderson. The current belief is that the winner of this fight will get the next shot at the UFC Light Heavyweight title and face the winner of the Jon Jones/Lyoto Machida fight at UFC 140.

Dan Henderson is on a three fight winning streak and actually dropped the Strikeforce Light Heavyweight Title to sign with the UFC. Shogun is coming off a win over Forrest Griffin, which means he's now avenged 3 of his 5 career losses. Who will win this epic encounter? That's what I want to find out. We'll start with Shogun.






Mauricio Rua (#4 in LHW Rankings) vs. Lyoto Machida (#1 in LHW Rankings)



The Outcome: On May 8, 2010, at UFC 113: Machida vs. Shogun 2, Mauricio Rua defeated Lyoto Machida via KO (punches) in the first round.
The Action: This was a continuation of their 5 round war from UFC 104. Machida scored two takedowns early in the round, but Shogun was able to sweep him and get back to the feet each time. Shogun was more aggressive in this bout, and eventually caught Machida with a punch that put him down. From there Shogun mounted Machida and rained down punches to score the knockout victory.
What it told me: This Shogun looked more confident than he did in their first encounter and appeared more aggressive because of it. While Machida wanted to control the distance, Shogun didn't allow him to do that, which eventually allowed Shogun to land the big punch he needed. Unfortunately, another injury forced Shogun to sit on the shelf for almost a year afterwards.






Mauricio Rua (#1 in LHW Rankings) vs. Jon Jones (#5 in LHW Rankings)



The Outcome: On March 19, 2011, at UFC 128: Shogun vs. Jones, Mauricio Rua lost to Jon Jones via TKO (punches and knees) in the third round.
The Action: This fight belonged to Jon Jones from the start to the finish. Shogun wasn't able to overcome Jones' reach or his speed, wasn't able to win any of the exchanges in the clinch, and couldn't do anything to Jones on the ground. Jones was able to takedown Shogun at will and outstruck him with relative ease in the exchanges. As the fight progressed, Shogun was visibly tired while Jones looked fairly fresh.
What it told me: Knee surgery followed by a near-year long layoff didn't do Shogun any favors. The layoff no doubt affected his cardio and his timing was absent during the entire bout. Despite all that, I am not sure if Shogun at his best could defeat Jon Jones.






Mauricio Rua (#5 in LHW Rankings) vs. Forrest Griffin (#7 in LHW Rankings)



The Outcome: On August 27, 2011, at UFC 134: Silva vs. Okami, Mauricio Rua defeated Forrest Griffin via KO (punches) in the first round.
The Action: They circled for a few minutes and exchanged a few shots back and forth before Shogun caught Griffin with a punch that put him down. From there it was Shogun pounding on Griffin until the ref stopped the fight.
What it told me: This was a nice win for Shogun to avenge one of his losses, but Griffin didn't look like he belonged in that octagon at all. I understand Griffin's wife was about to go into labor so he probably wasn't as mentally in the fight as he should have been, but that's not really an excuse. Shogun did what he needed to do to win and capitalized when he had the opportunity.


And now that we've looked at Shogun's last three fights, let's take a look at Henderson's last three matchups.







Dan Henderson (#6 in MW Rankings) vs. Renato Sobral (#13 in LHW Rankings)



The Outcome: On December 4, 2010, at Strikeforce: St. Louis, Dan Henderson defeated Renato Sobral via KO (punches) in the first round.
The Action: They stood and traded for the first few minutes, with Sobral throwing kicks to keep Henderson at bay. Henderson eventually closed the distance and landed a couple of shots which put Sobral down. From there Henderson rained down right hands and put Sobral to sleep.
What it told me: Henderson needed this win after his somewhat embarrassing defeat at the hands of Jake Shields. Sobral wanted to stay on the outside and out of range of Hendo's right hand, but Dan didn't allow him to do that. Henderson wisely stayed calm and waited for the right moment to strike.






Dan Henderson (#6 in LHW Rankings) vs. Rafael Cavalcante (#11 in LHW Rankings)



The Outcome: On March 5, 2011, at Strikeforce: Feijao vs. Henderson, Dan Henderson defeated Rafael Cavalcante via KO (punches) in the third round.
The Action: The first round was pretty slow. Cavalcante dropped Henderson with a right hand, but Henderson took him down and used that time to recover. The second round saw Henderson clinch with Cavalcante against the cage and eventually get a takedown. Cavalcante reversed position but failed to do anything before the ref stood them up. The round ended after Henderson scored another takedown. Things picked up in the third round when Henderson dropped Cavalcante with a right hand and finished him with strikes on the ground.
What it told me: Cavalcante was the bigger and presumably stronger fighter, but he couldn't do anything in Henderson's clinch. Cavalcante scored with some good strikes on the feet, but he couldn't do it consistently enough to hurt him. Henderson's right hand proved once again to be an equalizer in any situation. This was a great win for Henderson as he added another title to his already crowded mantle.






Dan Henderson (#6 in LHW Rankings) vs. Fedor Emelianenko (#9 in HW Rankings)



The Outcome: On July 30, 2011, at Strikeforce: Fedor vs. Henderson, Dan Henderson defeated Fedor Emelianenko via KO (punches) in the first round.
The Action: Both guys came out wild at the start. Henderson eventually clinched with Fedor against the cage and delivered knees to Fedor's thighs. Fedor eventually rocked Henderson and put him down, but upon trying to capitalize, Henderson hit a switch and was able to land an uppercut from behind Fedor that put him to sleep.
What it told me: This was a tough fight against a legend at a weight class above his own, yet Henderson emerged victorious. Henderson demonstrated the wherewithal to recover from a bad position and catch the Last Emperor when he would least expect it.


So, who wins this matchup?

On the feet, I think things are pretty even. Shogun has some great kicks and punches but Henderson's right hand is dynamite. If Shogun can deliver knees to Henderson like Anderson Silva did, then he could hurt him and put him in trouble. Henderson will no doubt look to use his right hand to put Shogun to sleep, but Shogun has proven he can take a punch.

In the clinch, I have to give the edge to Henderson. Shogun has used the Muay Thai clinch previously, but I think Henderson's Greco-Roman skills will allow him to control Shogun if they clinch against the cage. However, like I stated above, if Shogun can deliver knees to Henderson's face, he could put him in trouble.

On the ground, I think things are even. Henderson has tremendous wrestling experience, but Shogun isn't any slouch on the ground either. If they do go to the ground, it will probably be off a Henderson trip, in which case Dan will want to land in a dominant position. Shogun though is very good at half-guard sweeps, so look for him to use those to get things back on the feet.
Cardio is somewhat of a toss-up, so I'm going to declare this even too. Shogun has shown up to fight out of shape previously, but those were instances where he came off a long layoff and surgery. Shogun's cardio looked great in his first bout with Lytoto Machida and fine in his last bout with Griffin (although it was very short), so it may be fine for this fight. Henderson has only really fatigued when he's fought at 185, so unless old age starts catching up with him, he should be good to go.

I think Henderson is going to want to clinch and use his wrestling to avoid Rua's strikes. Meanwhile, Rua is going to need to maintain the distance to where he can land strikes but stay out of Hendo's clinch. If Rua comes into this fight in shape and relatively healthy, he should be able to use his striking and footwork to keep Henderson off him. If Henderson can dictate where this fight goes, and especially if he can land his overhand right, he should be able to take this. I see Henderson using his clinch and wrestling to take each round and the decision win.

That's all for now; thanks for reading.

Credit Fight Matrix for historical rankings.
comments powered by