SPOTLIGHTS
The View from the Cheap Seats 11.23.11: The UFC 139 Scorecard
Posted by Scott Kuczkowski on 11.23.2011

Should Wanderlei Silva hang up his gloves despite scoring a win? Did Dan Henderson truly earn a title shot? Who are the real winners and losers from UFC 139, and where do they go from here? 411's Scott Kuczkowski takes a look!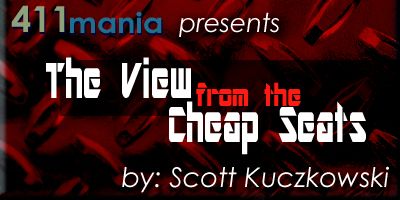 Hello, fight fans, and welcome to another edition of The View from the Cheap Seats. I am your host, Scott Kuczkowski, and today we will be taking a look at the winners and losers from UFC 139: Shogun vs. Henderson.

I thought UFC 139 came off very well and that all the fights delivered. The Facebook prelims were pretty good, the SpikeTV prelims were all stoppages, and the main card fights were all really good. What more could a fight fan ask for? All the fights unfolded pretty much how I expected and even though there wasn't a title fight on the card, the main event between Mauricio Rua and Dan Henderson had that "big fight" feel to it, as did Cung Le vs. Wanderlei and Faber vs. Bowles.

Without further adieu, let's take a look at the fights.

The Matchup:
VS.



Michael McDonald vs. Alex Soto



My Pick: Michael McDonald, TKO, Round 1.

The Action: Alex Soto came out very aggressive and McDonald made him pay dearly for it. The first punch McDonald dropped Soto with was a thing of beauty; the killer instinct he showed when he finished him against the cage was just awesome. Michael McDonald is a beast and he's not even old enough to buy a beer yet.

The Winner: Michael McDonald, KO, Round 1.

The Way Ahead for Alex Soto: McDonald is a tough opponent for even a seasoned fighter, much less for someone making their octagon debut. Since this was his first UFC bout and he took it on about two weeks notice, Soto will probably get another chance inside the octagon. I'd like to see Soto matched up with someone like Nick Pace or even Damacio Page.

The Way Ahead for Michael McDonald: McDonald is a potential future champion and I think he's ready for an opponent that will really test him. I'd like to see him matched up with Miguel Torres next, since I think it is a winnable fight for McDonald that would really elevate him onto the main card. Takeya Mizugaki or Brian Bowles would be good opponents for him too.


The Matchup:
VS.



Ryan Bader vs. Jason Brilz



My Pick: Ryan Bader, KO, Round 1.

The Action: Ryan Bader did exactly what I suspected he would, and that was go out there and outstrike Brilzs to win via KO.

The Winner: Ryan Bader, KO, Round 1.

The Way Ahead for Jason Brilz: While his performance against Lil Nog might have earned him a lot of praise, subsequent losses to Vladimir Matyushenko and now to Ryan Bader have demonstrated that Brilz has some serious holes in his game. Brilz has no standup game to speak of, and that was exploited by his last two opponents. He also looks like he could probably cut to 185 without killing himself. Brilz is in a must-win position if he stays at 205, so I would pair him up with Luis Cane or Kyle Kingsbury to see if any of them can get back on track.

The Way Ahead for Ryan Bader: This was the type of performance Bader needed to get back on track. His timing looked really good and he appeared relaxed as he fought. I'd like to see him matched up with either Brandon Vera or Forrest Griffin next, if only to get him back on the main card and perhaps back into title contention.


The Matchup:
VS.



Stephan Bonnar vs. Kyle Kingsbury



My Pick: Kyle Kingsbury, Decision.

The Action: There is an old saying that age and treachery will always trump youth and exuberance, and Bonnar proved that saying true in his performance. Things were sort of close in the first round on the feet, but Bonnar easily pulled ahead on the judge's score cards when he took Kingsbury down and was able to maintain dominant positions for nearly 10 minutes. I guess the counter argument is that Bonnar should have been able to finish Kingsbury with that much time and opportunity, but the fight didn't play out that way.

The Winner: Stephan Bonnar, Unanimous Decision.

The Way Ahead for Kyle Kingsbury: This loss particularly hurt Kingsbury because it exposed that he's weak off his back. Granted, Stephan Bonnar has very underappreciated jiu-jitsu skills, but Kingsbury was basically reduced to just laying there and surviving for the second and third rounds. I'd match Kingsbury up with Jason Brilz next or perhaps even Luis Cane.

The Way Ahead for Stephan Bonnar: The rumor is that Bonnar might face Quinton 'Rampage' Jackson next, but I don't really understand that fight. Jackson is considered a top contender despite losing to Jon Jones, so I don't understand how beating Kyle Kingsbury rockets Bonnar into a position where he could become a title contender. Fights that would make more sense for Bonnar would be Ryan Bader, Rich Franklin, or Phil Davis.


The Matchup:
VS.



Martin Kampmann vs. Rick Story



My Pick: Rick Story, Decision.

The Action: Story came out swinging for the fences and threw nothing but hard shots to Kampmann's body. Kampmann stayed very technical and began to pick Story apart on the feet and even scored a few takedowns that allowed him to gain dominant positions. Story looked to slow down as the fight progressed while Kampmann stayed sharp and composed. Similar to his bout with Paulo Thago, Kampmann demonstrated that sharp technique will win over brute force every time.

The Winner: Martin Kampmann, Split Decision.

The Way Ahead for Rick Story: This was Story's second loss in a row and it has effectively removed him from the Welterweight Top 15. While Story is a good fighter with great raw skills, he's not going to become a title contender until he can refine his game and gain some consistency. A fight with Mike Kyle or Dong Hyun Kim would tell us exactly where he is in the grand scheme of the Welterweight Division.

The Way Ahead for Martin Kampmann: This was a good win for Kampmann even though the split decision probably made him nervous for a few moments. Unfortunately, every fighter ranked above him is already scheduled for a future bout, which leaves him Rory MacDonald when he returns from injury or perhaps Thiago Alves. Either way, it was good to see Kampmann get back on the winning track.


The Matchup:
VS.



Urijah Faber vs. Brian Bowles



My Pick: Urijah Faber, Decision.

The Action: The first round saw Faber winning most of the standup exchanges although the action was close. Faber scored a takedown and finished the round on top of Bowles. Faber rocked Bowles with an uppercut in the second and swarmed him, eventually finishing him with a guillotine.

The Winner: Urijah Faber, Submission, Round 2.

The Way Ahead for Brian Bowles: This was a tough loss for Bowles, who just didn't seem to have anything in his arsenal to counter Faber's speed and athleticism. Fortunately, there aren't a lot of title contenders in the Bantamweight Division just yet, so while this loss puts him a few wins away from a title shot, he can make this up with three wins. Demetrious Johnson or Eddie Wineland would be logical next opponents.

The Way Ahead for Urijah Faber: This win earned the California Kid another crack at Dominick Cruz's title. Faber looked absolutely dominant in this bout and finished a fighter who'd only previously been beaten by Cruz. Smart money would be to make Cruz and Faber opposing coaches on The Ultimate Fighter and allow them to build more anticipation for their trilogy.


The Matchup:
VS.



Wanderlei Silva vs. Cung Le



My Pick: Cung Le, KO, Round 1.

The Action: I've never been so happy to be wrong. The first round was pretty close, but I think Cung Le landed the better kicks and seemed to control the action. He also appeared to hurt Wanderlei with a spinning back-fist. The second round saw Wanderlei come out and stalk Cung Le, forcing him to retreat and cutting off the age. Wanderlei eventually swarmed Cung Le and delivered knees and punches to Cung's face until the ref sopped the action.

The Winner: Wanderlei Silva, KO, Round 2.

The Way Ahead for Cung Le: This could have been "one and done" for Cung Le in the UFC. He's 39 years old and is pursuing an acting career, which makes me doubt he wants to get his face and nose smashed in more times than he has to. Plus, he looked a little soft, almost to the point that he could have dropped to Welterweight with just a little dieting. If Cung Le sticks around it would only make sense to book him in showcase bouts on the West coast where he has the biggest following. If Cung Le decides he just wants to be another fighter, he needs to be booked against guys like Riki Fukuda and Nick Ring in order to work his way back onto the main card.

The Way Ahead for Wanderlei Silva: While this was a great win for Wanderlei, I can't help but think this would be the perfect time for him to announce his retirement and go out with a win. If Wanderlei decides he wants to stick around and the UFC lets him fight, Alan Belcher or Brian Stann are guys he'll need to beat in order to climb up the rankings. I don't favor him in either of those matchups though, so unless he decides he just wants showcase fights, I unfortunately don't see Wandy ever rising to the point of being a title contender.


The Matchup:
VS.



Dan Henderson vs. Mauricio 'Shogun' Rua



My Pick: Dan Henderson, Decision

The Action: This was one of the best fights I've seen in a while. I can't begin to describe all the action, but I will say that I am fine with the overall judge's decision despite my initial expectation that it would be ruled a DRAW. While Henderson easily won rounds 1, 2, and 3, Shogun's dominance in rounds 4 and 5 was equally impressive but difficult to score 10-8 without also scoring round three 10-8 in favor of Hendo. While I understand some people's disappointment, I thought the fight delivered and actually validated that both guys are still tremendous fighters. While Rua came out on the losing end, I do not think there were any losers in this bout.

The Winner: Dan Henderson, Decision

The Way Ahead for Mauricio 'Shogun' Rua: I think it is time for Shogun to face Rashad Evans, if only to see who should get a title shot after Dan Henderson. A fight with Quinton Jackson might also be a possibility for UFC Japan, but Jackson just challenged for the title whereas Rashad hasn't fought anyone of note (sorry Tito) in a while and is without an upcoming fight after he is cleared from his injury. The only other challengers at that level are Lyoto Machida and Forrest Griffin, both of whom fell to Rua in their last encounters. Phil Davis is on the cusp of being a title contender, but I'd like to see him win one more before he faces anyone in the Top 5 of this division.

The Way Ahead for Dan Henderson: Apparently Jon Jones, if he successfully defends his belt from Lyoto Machida, will be Henderson's next opponent. Henderson looked very good in this bout despite gassing out in the championship rounds (he was reportedly sick going into the bout) and certainly earned a title shot. Given he's won four fights in a row over Sobral, Cavalcante, Fedor, and now Shogun, how can you deny he is deserving? I don't give Hendo much of a chance against Jones, but I'm certainly not opposed to him getting a title shot.


And that wraps up this edition of The View from the Cheap Seats. Thank you all for reading and be sure to catch the 411 Ground and Pound Radio show on Sunday mornings. The shows are getting quite good and many of the discussion becoming quite involved; I think you'd all like it.

That's all for now; thanks for reading.
comments powered by