SPOTLIGHTS
The View from the Cheap Seats 11.29.11: The Ultimate Fighter Finale Breakdown
Posted by Scott Kuczkowski on 11.29.2011

Will Jason "Mayhem" Miller submit Michael Bisping? Or can "The Count" knockout his Ultimate Fighter adversary and have the last laugh? 411's Scott Kuczkowski breaks down this matchup and tells us who should walk away with the win!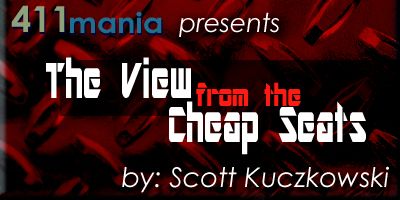 Hello again fight fans, and welcome to another edition of The View from the Cheap Seats.

We've finally got a weekend or two without multiple MMA events sprinkled throughout them, and I must admit that am not complaining. Don't get me wrong – I'm a huge MMA fan, but sometimes I do like to relax and watching MMA doesn't really allow me to do that.

This Saturday night we have The Ultimate Fighter 14 Finale, which is special for a couple of reasons. One reason is that this will mark the final episode of The Ultimate Fighter that will be shown on SpikeTV. Subsequent seasons will be shown on FX (potentially live) and with a different format, so that should be different. The other interesting piece is that this will be one of the few times when the opposing coaches will fight at the finale; the only other time this has happened was for the Season 5, when BJ Penn fought Jens Pulver.

This season's coaches (as if you didn't know) are Michael Bisping and Jason Miller, and they have had some interesting moments during the show. While neither coach has significantly outperformed the other, Miller has probably been the consistent fan favorite due to his easygoing nature and appeal. But how do these two match up in the cage? Bisping is a veteran of 14 fights in the octagon whereas Miller has only fought in the UFC on one occasion at UFC 52 when he faced a rising star named Georges St. Pierre. So how do they match up now? That's what we're here to find out. Let's start with "The Count."






Michael Bisping (#15 in MW Rankings) vs. Dan Miller (#34 in MW Rankings)



The Outcome: On May 29, 2010, at UFC 114: Rampage vs. Evans, Michael Bisping defeated Dan Miller via Unanimous Decision.
The Action: The majority of the this fight was contested on the feet, with Bisping working his jab and outstriking Miller. Miller landed a number of leg kicks, but Bisping easily outpointed him on the feet to take the decision win
What it told me: This was Bisping's first fight after being defeated by Wanderlei Silva, and it was plain he was determined to push the pace and win every round. His striking looked solid and he was too fast for Miller to try and counter-punch against. Bisping's takedown defense kept this fight on the feet for the majority of the time.






Michael Bisping (#11 in MW Rankings) vs. Yoshihiro Akiyama (#29 in MW Rankings)



The Outcome: On October 16, 2010, at UFC 120: Bisping vs. Akiyama, Michael Bisping defeated Yoshihiro Akiyama via Unanimous Decision.
The Action: This fight was a standup battle which Bisping handily won. As the fight wore on, Akiyama became wilder with his punches and stationary in his stance, allowing Bisping to move in and out of range and score at will. Ayiyama tired considerably as the fight progressed while Bisping appeared fresh throughout.
What it told me: This was a good win for Bisping as he once again got to headline a show in the UK. Bisping's striking looked crisp and his cardio was very good. Akiyama on the other hand looked like he gassed as the fight went on and appeared too small for the Middleweight Division.






Michael Bisping (#9 in MW Rankings) vs. Jorge Rivera (#31 in MW Rankings)



The Outcome: On February 27, 2011, at UFC 127: Penn vs. Fitch, Michael Bisping defeated Jorge Rivera via TKO (punches).
The Action: This fight was fought with a lot of emotion by both guys due to some pre-fight trash talking. Rivera tried to land his big right hand throughout this bout, but Bisping was able to avoid it and score his own punches. Bisping also controlled things on the ground and took Rivera down somewhat easily. Bisping ended things with a flurry in the second round.
What it told me: Rivera is a tough fighter with a lot of power in his hands, but Bisping managed to avoid those big shots and take things to the ground when necessary to exploit his grappling advantage. Despite some shenanigans, to include an illegal knee in the first round and some unfortunate conduct post-fight, this was a good win over a tough opponent.


And now that we've looked at Bisping's last three fights, let's take a look at Miller's last three matchups.






Jason Miller (#43 in MW Rankings) vs. Jake Shields (#6 in MW Rankings)



The Outcome: On November 7, 2009, at Strikeforce: Fedor vs. Rogers, Jason Miller lost to Jake Shields via Unanimous Decision.
The Action: This was for the vacant Strikeforce Middleweight Title. The story of this bout was Shields' ability to outgrapple Miller and force him to defend himself whenever they went to the ground. Miller had some takedowns of his own and was able to gain a few dominant positions to include a rear naked choke at the end of the third round, but more often than not Shields was on top of him and forcing him to defend. Miller was the better striker, but he didn't use any takedown defense to keep the fight on the feet.
What it told me: Miller's plan was to tire Jake Shields out and try to takeover in the later rounds, but both guys appeared to tire equally. Miller appeared bemused by most of Jake's ground attacks, but they still forced him to defend and allowed Jake to dictate the pace and position of the fight. Miller wanted a rematch, probably because he knows what he did wrong and figures he could adjust to do better, but he never received one






Jason Miller (#45 in MW Rankings) vs. Tim Stout (Unranked in MW Rankings)



The Outcome: On April 17, 2010, at Strikeforce: Nashville, Jason Miller defeated Tim Stout via TKO (punches).
The Action: There wasn't much to this fight. They traded for a few minutes on the feet until Miller took Stout down against the cage. Stout had nothing from that position and Miller was able to punch away until the ref stopped the fight.
What it told me: Nothing. Stout wasn't even a ranked fighter and it was evident from this fight that he was woefully overmatched. Fights like this do little for someone like Miller, who was clearly much better.






Jason Miller (#38 in MW Rankings) vs. Kazushi Sakuraba (#111 in MW Rankings)



The Outcome: On September 25, 2010, at DREAM 16, Jason Miller defeated Kazushi Sakuraba via submission (arm-triangle choke).
The Action: They traded shots on the feet until Sakuraba shot in for a single, which Miller stuffed and turned into his own takedown. Sakuraba attacked Miller's leg, which Miller defended by punching Sakuraba in the face. Sakuraba eventually rolled and Miller caught him in a head and arm choke and put him to sleep.
What it told me: Miller was the bigger, younger, and stronger fighter. Granted, he was fighting his hero, but here was no way someone of Miller's caliber should ever lose this fight.


So, who wins this fight? On the feet, I have to give the striking edge to Bisping. Miller has very good Muay Thai striking, but Bisping uses his jab well and crisp punches to move in and out of his opponent's range. If Miller can close the distance without taking a lot of punishment, he might be able to clinch, but Bisping's foot work is very good.

On the round I have to give the edge to Miller due to his unorthodox grappling and submission skills. Despite that edge, Bisping is an accomplished wrestler in his own right and has very good takedown defense. If Miller can turn this into a grappling match and gain a dominant position, he may be able to finish Bising.

I have to give the cardio edge to Bisping. While Miller only appeared to tire in the later rounds of his five round bout with Jake Shields, I haven't ever seen Bisping appear gassed.

In regards to the quality of their recent opponents, I have to give the edge to Bisping. Miller's level of competition has been severely lacking in his last two bouts, and I think it affects how hard a fighter will push himself to improve. While Bisping hasn't been fighting anyone at the top of the division, he has consistently faced better competition.

I see the majority of his fight being contested on the feet. I think Bisping will use his speed and footwork to outpoint Miller and force him to get sloppy with his striking. Miller may try to take things to the ground, but I think Bisping's takedown defense is good enough to keep this fight on the feet. The only finish I can predict would be Miller submitting Bisping, and since I don't see that happening, I think Bisping will take the unanimous decision.

That's all for this week; thanks for reading.

Credit Fight Matrix for historical rankings.
comments powered by