SPOTLIGHTS
The View from the Cheap Seats 12.14.11: The UFC 140 Scorecard
Posted by Scott Kuczkowski on 12.14.2011

Is Frank Mir on the cusp of a title shot after his win at UFC 140? Is anyone a serious threat to Jon Jones? Should Antonio Rodrigo Noguiera call it quits after having his arm broken? 411's Scott Kuczkowski answers these questions and more!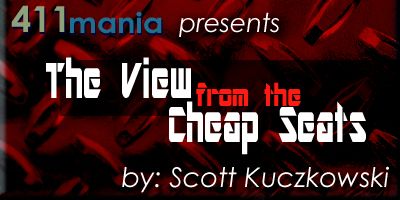 Hello fight fans, and welcome to another edition of the View from the Cheap Seats. UFC 140: Jones vs. Machida happened over the weekend and there is a lot of fallout from that show, so let's get right down to business.

The Matchup:
VS.



Chang Sung Jung vs. Mark Hominick



My Pick: Mark Hominick, Decision.

The Action: Chang caught Hominick with a right hand on his jaw that put him down and followed up with punches to put him out in 7 seconds.

The Winner: Chang Sung Jung, KO, Round 1.

The Way Ahead for Mark Hominick: Hominick came forward to touch gloves with Chang, and after touching immediately threw a left hook. Normally when fighters touch gloves, they allow each other to set their stances after they touch, but Hominick tried to sneak in a punch before Chang was ready. Where I come from that is considered a cheap shot and karma kicked Mark Hominick's ass for it. I know a number of readers will say that the fighters should protect themselves at all times, but I think the touching of the gloves falls outside that rule (at least it should). This was two losses in a row for Hominick, which puts him in a must-win situation. I'd have him face Tyson Griffin or Javier Vazquez next.

The Way Ahead for Chang Sung Jung: This was a good and probably unexpected win for Chang. A rematch with George Roop might tell us whether his new, calculating style is paying off. Ricardo Lamas or Robert Peralta would also be good tests for him.


The Matchup:
VS.



Brian Ebersole vs. Claude Patrick



My Pick: Brian Ebersole, Decision.

The Action: Imagine two turtles, both tired from swimming across the ocean, on the beach and trying to mate. Or perhaps imagine two fighters, both experienced grapplers but deficient strikers, spending 15 minutes waiting for the other to make a mistake. A mistake by the way, that never came. This bout was terrible for the PPV card and seemed to kill the crowd. While it was unfortunate that both guys were so evenly matched, it was even more unfortunate that neither really did anything to try and impress the fans or the UFC brass.

The Winner: Brian Ebersole, Split Decision

The Way Ahead for Claude Patrick: This performance probably has Claude fighting on Facebook for his next trip into the octagon. John Hathaway would probably be a good next opponent.

The Way Ahead for Brian Ebersole: The only thing of note from Ebersole's performance was that he shaved the Tapout emblem in his chest hair. That's it. I think the UFC should match him up with Thiago Alves.



The Matchup:
VS.



Antonio Rogerio Nogueira vs. Tito Ortiz



My Pick: Antonio Rogerio Nogueira, Decision.

The Action: Tito came out fast and strong and really tried to take the fight to Rogerio, but Rogerio's striking was too accurate. A knee to Tito's body and some body shots on the ground ended Tito's night and sent him to the hospital.

The Winner: Antonio Rogerio Nogueira, TKO, Round 1.

The Way Ahead for Tito Ortiz: Possibly retirement, but I have a feeling the UFC will give him another fight and let him finish out his fighting career and his current contract. The only two opponents that I've heard mentioned for his next bout are Rich Franklin and Forrest Griffin, but I know Tito really wants to finish his trilogy with Forrest. Of course, allowing Franklin to retire both Liddell and Ortiz would be neat too.

The Way Ahead for Antonio Rogerio Nogueira: This was a good in for Lil Nog, who was on sort of a skid after some shaky performances. Two possible next opponents for him are Mauricio 'Shogun' Rua, to rematch their bout from Critical Countdown 2005, or Dan Henderson in a rematch of their bout from Total Elimination 2005. It has been said that the winner of Rashad Evans/Phil Davis will get the next title shot, which means Dan Henderson won't have a fight until after that. I think he and Lil Nog would put on a pretty good scrap.



The Matchup:
VS.



Antonio Rodrigo Nogueira vs. Frank Mir



My Pick: Frank Mir, TKO, Round 1.

The Action: Big Nog came out and got the better of Mir on the feet, even rocking him and putting him in trouble. Big Nog then tried submitting Mir, which turned the bout into a grappling contest. After a few scrambles, Mir had Big Nog in a kimura, which he used to break his right arm and win the fight.

The Winner: Frank Mir, Submission, Round 1.

The Way Ahead for Antonio Rodrigo Nogueira: A broken humerus isn't very humorous (I went there), but that's something Big Nog is going to have to allow to heal up before he can get back in the game. Frankly, at 35 years of age and with 42 fights under his belt, many of which were wars, I wonder if it might be time for Big Nog to call it quits. He's climbed to the top of the mountain in both of the world's largest MMA promotions, so I don't know what more he feels he has to prove. I'm certain the competitive juices will keep him wanting to fight, but this might be the right time to walk away.

The Way Ahead for Frank Mir: This was a great win for Mir, who finally silenced the critics that his previous win over Noguiera was due to illness. This win however puts Mir in a strange place. It probably doesn't put him in line for a title shot, which means he's going to have to win another fight before he's granted that. Cain Velasquez has been mentioned as a potential opponent, but I think that is a terrible matchup for Mir. Cain won't make the mistake Nogueira did; he'll finish Mir with strikes on the ground. The only other two guys ahead of him in the rankings are Overeem and Lesnar, and they are already fighting each other for a title shot. Mir could face the loser of that bout, but that might not get him a title shot either. Everyone below him in the rankings hasn't earned the right to step up yet, which means he either has to fight Cain or sit and wait.



The Matchup:
VS.



Jon Jones vs. Lyoto Machida



My Pick: Jon Jones, TKO, Round 3.

The Action: The first round saw Machida stifling most of Jones' offense by timing his punches and kicks just before Jones threw his own. Machida landed some good shots that appeared to surprise Jones, but Jones was able to dictate the pace. Jones took Machida down in the second round and opened up a huge gash on his forehead with an elbow. As Machida stood up, Jones sunk in a standing guillotine that put Machida to sleep.

The Winner: Jon Jones, Submission, Round 2.

The Way Ahead for Lyoto Machida: Machida's gameplan in the first round was great, but he unfortunately couldn't keep Jones off him once they started wrestling. While this loss might appear embarrassing and one-sided, I think many of Jones' future opponents will meet the same fate. A bout with Forrest Griffin would be a good matchup or perhaps the loser of the Rampage/Bader or Evans/Davis fight.

The Way Ahead for Jon Jones: This was a great performance over a very difficult opponent, but Jones made most of it look easy. I was a little concerned that Jones would try to play the point-fighting game that Machida uses, but he thankfully went to his wrestling when the opportunity presented itself. The UFC once again finds themselves with a divisional champion who appears to be several levels above the rest of the competition, which can get tiresome given a long enough timeline. Thankfully, the Light Heavyweight Division has a lot of competitors, so there are still plenty of challengers for the young champion.






And that is a wrap for UFC 140. I thought the show was great overall, and I was especially stoked that all of the fights made it to TV.

That's all for this week; thanks for reading.
comments powered by