SPOTLIGHTS
The View from the Cheap Seats 12.21.11: The Year-End Awards
Posted by Scott Kuczkowski on 12.21.2011

From George St. Pierre winning the Missing Champion Award to Dan Henderson earning the Not Bad For an Old Man Award and more, 411's Scott Kuczkowski hands out his Year-End Awards for 2011!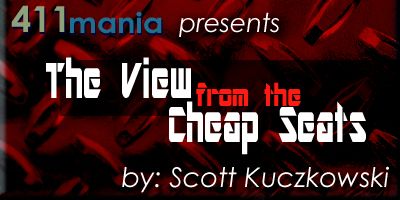 Hello fight fans, and welcome to another edition of The View from the Cheap Seats. As the title indicates, this week's topic will deal with my own year-end awards.

I should first clarify that these won't be your normal run of the mill awards, in that I'm not covering the best fight, best fighter, or the biggest story. Those topics will be covered in greater detail by other writers on this site, many of whom take great pride in their picks. These awards are for the stories that won't be on those lists; they're the little things that happened that either made me roll my eyes of just had me shaking my head in wonder. I've tried to keep most of this stuff light hearted (hey - it's the Holidays) but I did get snarky on some of them. If that bothers you, then drink some eggnog and get over it. Without further delay, let's get to the awards…



The "Here's Your Title Shot…NOT!" Award – Anthony Pettis. When the WEC was folded into the UFC, the plan was to have the final WEC Lightweight Champion, Pettis, face the winner of the Frankie Edgar/Gray Maynard bout at UFC 125 to challenge for the UFC Lightweight Title. Unfortunately, that bout ended in a Split Draw and injuries delayed their rematch until UFC 136 in October, meaning Pettis would have to sit out for over a year if he wanted to keep his title shot. Well, "Showtime" decided to take a gamble and accept a fight with Clay Guida in the meantime, which he lost, also subsequently losing his title shot. Shucks.


The "Maybe I Shouldn't Have Said That" Award – Jacob Volkmann. Following his win at UFC 125, Volkmann challenged the President of the United States to a fight, and stated "Someone needs to knock some sense into that idiot." Well, apparently the US Secret Service considered Volkmann more of a threat than any of the fighters on the UFC roster did, and spoke to Volkmann about his intentions. Reportedly, the "guy with the rubber glove" was surprisingly gentle.


The "Surely He'll Rebound Against Bigfoot" Award – Fedor Emelianenko. When the Last Emperor was submitted by Fabricio Werdum, most fans thought it was a lucky catch by Werdum and not a sign of Fedor's decline as a top-level fighter. Most suspected he would rebound against Antonio "Bigfoot" Silva and get back on the winning track. Well, 10 minutes and a swollen right eye later, Fedor had suffered his first back to back losses in his fighting career.




The "One and Done" Award – Antonio McKee. After going nearly 8 years undefeated in minor promotions, McKee got his big break with a four fight UFC contract. Unfortunately, his only UFC bout was a split decision loss to Jacob Volkmann that was reportedly pretty forgettable. Mr. Decision was released from his contract soon afterwards.


The "It Worked Half the Time" Award – The Ultimate Fighter. Continuing the 50% success rate at building a coaches showdown from 2009 and 2010, TUF continued the pattern in 2011 by failing to produce a showdown between Season 13 coaches Brock Lesnar and Junior Dos Santos. Still, 50% means the show had some success, as coaches Michael Bisping and Jason Miller actually fought at the Season 14 Finale.


The "You Don't Belong in the UFC" Award – Women's MMA. Despite drawing moderate numbers and interest from casual fans, UFC President Dana White has maintained the ladies would never fight under the UFC banner. What about if they could prove themselves under the Zuffa acquired Strikeforce banner? Still no.




The "Don't Know When to Quit" Award – Jens Pulver. Following 5 straight WEC losses and a sixth in a minor promotion, Pulver was still undaunted, claiming he had more fight left in him. Well, he may have been on to something, as he managed to string two wins in a row together before going 1-2 in his last three fights against what can be mostly described a low-level talent. Please hang it up, Jens.


The "You're Not Quite There Yet" Award – MMA Judging. It's a sad state of affairs when even the announce teams cringe before a judge's decision is read, particularly when they reference previous injustices headed down from those same judges. It is even worse when a PPV without a heinous decision becomes a noteworthy achievement. Perhaps the phrase "Never leave it in the hands of the judges" should instead read "Let's go baseball bat those blind assholes."


The "I Thought You Wanted to Fight in the UFC?" Award – Gilbert Melendez. For months the Strikeforce Lightweight Champ had hinted he was considering signing with the UFC in order to fight the best Lightweights in the world. However, upon renegotiating his contract, Melendez decided to stay with Strikeforce, where he would instead face challengers like Kawajiri and Masvidal. When Zuffa acquired Strikeforce, Melendez restarted his campaign to join the UFC, but this time no one seems to buy it.




The "You're Lucky You're Not Fired" Award – Brandon Vera. Upon losing his third fight in a row to Thiago Silva, the UFC cut "The Truth", who truthfully hadn't performed up to par since 2007. Luckily for Vera, Silva failed his post-fight drug test, the bout was ruled a no-contest, and the UFC brought him back in the fold. I think most people are just waiting patiently for Vera to get released again.


The "Everyone Wants to Beat You Up" Award – Michael Bisping. After his controversial UFC 127 win over Jorge Rivera that saw him deliver a knee to the head of the downed Rivera and then spit towards his corner men post-fight, a number of UFC Middleweights took umbrage with Bisping's actions. Who exactly? Vitor Belfort, Chael Sonnen, and Nate Marquardt to name a few, all spoke out that they'd gladly punch Bisping in the face for the good of mankind. Heck, Strikeforce Middleweight Tim Kennedy even helped make a video for such a cause.






The "If You Can't Beat 'em, then Buy 'em" Award – The UFC. On March 12, 2011, in an interview with Ariel Helwani, UFC President Dana White announced that Zuffa, the parent company of the UFC, had purchased Strikeforce, arguably the #2 MMA promotion in the US. With that purchase, which was rumored to be in the neighborhood of $40 million, the UFC acquired the services of nearly every Top 10 ranked fighter on the planet (at least the ones that mattered.)


The "Now That's How You Throw a Flying Knee" Award – Patricky Freire. Facing Toby Imada in the Lightweight Semi-Finals at Bellator 39, Pitbull delivered a quick flying knee that put Imada on queer street until Freire finished him with strikes.






The "Man, You Give Some Weird Interviews" Award – Nick Diaz Following his defeat of Paul Daley in what was a very exciting fight, Diaz was interviewed by Ariel Helwani. To say that Nick was a little strange and perhaps a bit paranoid was an understatement.






The "Fix My Grill" Award – Randy Couture. Captain America announced his retirement would come, win or lose, after his fight with Lyoto Machida at UFC 129. Well, Machida made it a point to send Couture out with a loss, knocking him out with a jumping front kick that also knocked out one of The Expendable's front teeth. How can Toll Road pick up the ladies with a busted grill?


The "We Won't Legalize Dog Fighting or Prostitution Either" Award – New York State. Despite being in the midst of economic hard times and actually knowing legalization of MMA would stimulate the economy to the tune of about $20 Million, The Empire state has dug in their heels in regards to the sport. Whether it is union skullduggery or just plain liberal idiocy is unknown, but it doesn't appear the UFC will be filling Madison Square Gardens anytime soon.




The "I've faded Away Faster than MySpace" Award – Nate Marquardt. Released days prior to headlining UFC on Vs 4 due to not receiving medical clearance, it was assumed Marquardt, considered a top Middleweight, would make an immediate impact wherever he landed. Rumors of him signing with Strikeforce and Bellator all proved false, and he eventually signed with the English promotion BAMMA. Unfortunately, Nate has yet to fight and is pretty much an afterthought on the minds of most MMA fans.


The "That Fight Doesn't Count On Your Record" Award - Brett Rogers. The former Strikeforce Heavyweight was released following his arrest for domestic battery against his wife, which included an endangerment charge because the assault occurred in front of the couple's children. Having gone 1-3 since November 2007, Rogers apparently thought he needed pad his record and wasn't aware spousal abuse is generally frowned upon in this day and age.


The "I Pulled My Career from the Jaws of Unemployment" Award - Tito Ortiz. Not having won a fight since October 2006, most fans thought Ryan Bader would put the final nail in the former Light Heavyweight Champion's coffin and handle him with ease. Well, a short right hand and a tight guillotine turned that all round, as the newly crowned "People's Champ" surprised the world by defeating the rising star. Does this signify a resurgence of Ortiz's career? Probably not, considering he was stopped in next two outings.




The "Surely He'll Rebound Against Henderson" Award – Fedor Emelianenko. The prospect of losing three fights in a row, especially against a career Middleweight/Light Heavyweight, was too much for some people to consider possible, so a win against Dan Henderson almost seemed like a sure thing. Unfortunately, the H-Bomb on Henderson's right hand didn't discriminate when it came to weigh classes, and put Fedor down and out cold for the first time in his career.


The "Only the Good Die Young" Award - Shawn Tompkins. On August 14, the MMA communities lost one of the most renown and beloved trainers. Fighters like Sam Stout, Mark Hominick, and Chris Horodecki credit "Coach" with being one of the main reasons they ever became involved in MMA. His love for the sport and for his fighters can never be matched.


The "How Do You Still Have a Job?" Award - Dan Hardy. With his last win coming against Mike Swick in November 2009, one has to wonder what dirt "The Outlaw" has on the UFC brass in order to still be employed. While losing to Georges St. Pierre is nothing to be ashamed of, his subsequent losses to Condit, Johnson, and Lytle were for the most part one-sided affairs that fans hoped Hardy would have been somewhat competitive in. Hardy claims he wants to reinvent himself as a fighter, but if that change doesn't include a win streak, he won't be doing it in the UFC.


The "You're Not Welcome in this Country!" Award - Chael Sonnen. After training Yushin Okami for his bout with Anderson Silva at UFC 134, many expected the outspoken Middleweight would also be in Okami's corner. Unfortunately, Praetorian, a Brazil-based MMA brand, threatened to pull their sponsorship of Okami if Sonnen showed up. Allegedly a Brazilian Police Chief also planned to arrest Sonnen on sight for disparaging comments he made against the national identity. I guess Chael's Brazilian time share is probably free for the asking.




The "Wait…Who Are You?" Award - Luke Rockhold. The newly crowned Strikeforce Middleweight Champ made an impact with his first fight in the Big Show, upsetting Ronaldo Souza and taking his title. Previously only seen on the Challengers Series and after an 18 month hiatus from fighting, Rockhold will have his work cut out for him as he tries to make himself a household name.


The "Someone is Watching Me" Award - Quinton "Rampage" Jackson. Leading up to his UFC 135 bout with Jon Jones, the challenger claimed a spy in his camp was feeding information to the Champion's manager. While this spy was never named nor was his/her existence proven, 'Spygate' became its own phenomenon and a topic covered by most journalists who spoke to the combatants.


The "Dude…Learn How to Cut Weight Already" Award - Paul Daley. Only able to make weight for 3 of his 5 fights in 2011, one has to wonder if "Semtex" is actually just charitable and loves giving his opponents a percentage of his purse before they even step in the cage. Ironically, this mimics his 2010 track record when he also only made weight for 3 of his 5 fights. Perhaps being generous just makes him feel good.




The "Stop Pretending You're Ever Going to Fight" Award - Dave Batista. The notion that a 42 year old former bodybuilder and professional wrestler with a history of injuries stemming from his use of anabolic steroids could ever successfully become a MMA fighter is difficult to fathom, but many fans are hoping it's true. Might we see him actually throw down someday with Bobby Lashley or Brock Lesnar? I highly doubt it.


The "This Time I'm Really Retired" Award – Kurt Pellegrino – "Batman" walked away from fighting at the end of May, citing conflicting priorities in his life that kept fighting from being first and foremost. While technically this might not be considered retirement, the sentiments appeared to be that Pellegrino just didn't have that spark in him anymore. Pellegrino returned at Bellator 59 where he was unceremoniously blitzed by Patricky Freire, afterwards announcing his "real" retirement.


The "I Didn't Mean to Kick You in the Balls (Even Though I Did)" Award – Thiago Santos. In his Heavyweight Tournament Finals bout with Eric Prindle, "Big Monster" stood over Prindle and threw a kick straight at his groin. Not surprisingly, this foul halted the fight and Prindle was unable to continue. Ironically, the referee determined the blow was accidental, which forces Prindle to purchase a new heavy-duty cup before their yet-to-be-scheduled rematch.


The "Not Bad for an Old Man" Award – Dan Henderson. He defeated Rafael Cavalcante to win the Strikeforce Light Heavyweight Title, knocked out Fedor Emelianenko just for fun, and beat Mauricio 'Shogun' Rua in a candidate for Fight of the Year. Is there anything else left for Hendo to do? I'd almost declare him Fighter of the Year if there wasn't some young whippersnapper named Jon Jones who already owns that title.




The "Missing Champion" Award – Georges St. Pierre. Outside of his title defense against Jake Shields at UFC 129, GSP has been MIA for the majority of 2011. A knee injury kept him from defending his belt against Nick Diaz Carlos Condit and now a decimated knee has cost him his title and any chance to see the inside of the octagon before Thanksgiving 2012. Unfortunately for the rest of the division, GSP will remain the measuring stick against which they will all be judged and found wanting.


And that's it for this year's awards. I hope you found them at least a little entertaining, if not a little amusing. Join me here next week when I break down Brock Lesnar vs. Alistair Overeem. That's all for this edition; I hope you all have a Merry Christmas.
comments powered by