SPOTLIGHTS
The View from the Cheap Seats 12.28.11: Lesnar vs. Overeem
Posted by Scott Kuczkowski on 12.28.2011

What happens when over 500 pounds of MMA fury collides in the UFC Octagon at UFC 141 in Brock Lesnar and Alistair Overeem? Who will walk away victorious and challenge Junior Dos Santos for his title? 411ís Scott Kuczkowski takes a look!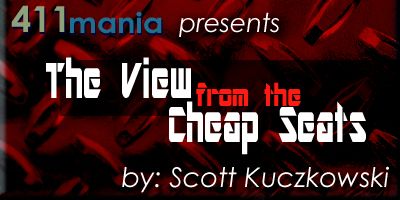 Hello fight fans, and welcome to another edition of The View from the Cheap Seats. This week we will be breaking down the main event for this weekend's UFC 141: Lesnar vs. Overeem, where former UFC Heavyweight Champ Brock Lesnar will try to work his way towards another title shot when he faces former Strikeforce Heavyweight Champ Alistair Overeem. The winner of this bout will reportedly challenge Junior Dos Santos for the UFC Heavyweight Title later this year, so the stakes are pretty high.

For Lesnar, this bout is his opportunity to prove he still belongs near the top (or at the top) of the UFC's Heavyweight Division. After losing his title to Cain Velasquez in dramatic fashion and then not being able to fight Junior Dos Santos, there are a lot of questions about Brock's ability to continue fighting at this level. While his striking probably remains in much need of improvement, one has to question whether his loss to Cain or his bouts with diverticulitis have affected his confidence as a competitor.

For Overeem, this is about redemption. After being summarily stripped of the Strikeforce Heavyweight Title, removed from the Heavyweight Grand Prix, and fired from the promotion, Overeem wants to prove he belongs in the UFC fighting against the best fighters in the world. While rumors of steroid use continue to swirl and the state athletic commission continues to force him to jump through hoops, I'm sure Overeem would just like to pick up where he left off; continuing his 7 fight winning streak.

Both of these guys are absolute monsters, but who really holds the edge? That's what I plan to find out when I review each fighter's last three bouts. Let's start out with the former Strikeforce Heavyweight Champion.






Alistair Overeem (#12 in HW Rankings) vs. Brett Rogers (#8 in HW Rankings)



The Outcome: On May 15, 2010, at Strikeforce: Heavy Artillery, Alistair Overeem defeated Brett Rogers via TKO (punches) in the first round.
The Action: Both guys looked to establish their game on the feet early; the difference being Overeem took the center of the cage and looked aggressive whereas Rogers looked intimidated and backpedaled most of the time. After throwing a couple of single punches on the feet, Rogers appeared to try to clinch, but Overeem tossed him to the ground. From that point, Roger's lack of ground game combined with Overeem's experience and ground and pound spelled a quick end to this fight.
What it told me: Rogers needed to turn this into a brawl to have a chance, but Overeem's technique was too much for him. Once this went to the ground, Overeem's top control and ground and pound was too much for Rogers, who couldn't even scramble or pull guard. While Rogers has since been exposed as fairly one-dimensional, this was an impressive win for Overeem.






Alistair Overeem (#8 in HW Rankings) vs. Todd Duffee (#58 in HW Rankings)



The Outcome: On December 31, 2010, at Dynamite!! 2010, Alistair Overeem defeated Todd Duffee via KO (knees and punches) in the first round.
The Action: Duffee came out fast and tried to land some punches, but a few punches and knees from Overeem put him down and out against the ropes.
What it told me: DREAM needed someone to lose to Overeem and Duffee was more than happy to oblige. In truth, Duffee just didn't have the skills or experience to stand and trade with Overeem, and The Demolition Man put him away with relative ease.






Alistair Overeem (#8 in HW Rankings) vs. Fabricio Werdum (#3 in HW Rankings)



The Outcome: On June 18, 2011, at Strikeforce: Overeem vs. Werdum, Alistair Overeem defeated Fabricio Werdum via Unanimous Decision.
The Action: Werdum's key to victory in this fight was to get things to the ground and Overeem's goal was to keep this fight standing. What this left the audience was 15 minutes of Werdum repeatedly pulling guard or attempting sloppy takedowns while Overeem stuffed the takedowns and motioned for Werdum to get back to his feet. Surprisingly, Werdum actually threw more and landed more punches than Overeem, but none of them had Overeem in trouble and nearly ever punch or knee Overeem landed crumpled Werdum or sent him to the canvas. All in all, this was a disappointing 15 minutes of fighting.
What it told me: Overeem was smart to not go to the ground with Werdum, but he was so concerned about the takedowns that he didn't throw the normal power punches he's traditionally used to put fighters like Werdum away. Werdum on the other hand was smart to stay active on the feet because it helped him score and set up his takedowns (despite never really getting any). Overeem stayed in control during the bout, but he also tired despite being in control. Werdum's strategy of begging Overeem to go to the ground with him was pathetic, but couldn't do much else.


And now that we've looked at Overeem's last three fights, let's take a look at Lesnar's last three matchups.






Brock Lesnar #4 vs. Frank Mir #3


The Outcome: At UFC 100, Brock Lesnar defeated Frank Mir via TKO in the second round.
The Action: Brock owned the majority of this fight and demonstrated a great deal of strength and control by nullifying Mir's offense and landing a lot of big shots. Brock played the ground game with Mir and was able to tie him up and use some good ground and pound. Mir landed a good jumping knee on Brock, which looked like it dazed him, but Brock stayed composed and finished Mir on the ground with strikes.
What it told me: Brock can stay on the ground with a great jiu-jitsu practitioner and overpower him to avoid his submissions. Brock should probably work on his striking defense, as he looked like he got caught and rocked with that knee. His standup skills still looked rudimentary, but it appeared Brock learned from his loss to Mir and didn't over-commit or depart from his gameplan. Mir looked like he wanted to turn this into a grappling match, but he had no answer for Brock's strength or top control.






Brock Lesnar #2 vs. Shane Carwin #4


The Outcome: At UFC 116: Lesnar vs. Carwin, Brock Lesnar submitted Shane Carwin in the second round with a head and arm choke.
The Action: The first round saw Carwin absolutely smash Lesnar, pounding him mercilessly against the cage and probably take the round 10-8. The fight was very close to being stopped, but Lesnar kept defending himself and made it to the bell. The second round saw Carwin lose steam and eventually succumb to a takedown and submission.
What it told me: Brock can take a beating, get put in a bad position, and still survive. In my opinion, being able to overcome an adverse situation is probably the greatest skill any fighter can have. Brock needs to work on his standup, as he didn't have the head movement to avoid Carwin's punches and he didn't have the speed to counterpunch. Still, this was a good submission win from someone who's still basically just a big wrestler. Carwin's downfall was his lack of cardio, which had been questionable considering none of his previous fights ever went past the first round.






Brock Lesnar (#1 in HW Rankings) vs. Cain Velasquez (#4 in HW Rankings)



The Outcome: On October 23, 2010, at UFC 121: Lesnar vs. Velasquez, Brock Lesnar lost to Cain Velasquez via TKO (punches) in the first round.
The Action: Lesnar charged Velasquez out the gates and tried brawling with him, but Velasquez's punches were too accurate. Brock scored a takedown, but Velasquez quickly regained his feet and scored his own takedown. A couple of well-placed punches and knees had Brock reeling around the cage, after which Cain finished him with strikes on the ground.
What it told me: Brock looked like he was trying to rush things in this fight and everything came unraveled when Cain started landing his power punches. Brock's cardio also looked questionable, as he appeared to gas out rather quickly although that could have been the pace of the fight coupled with the punishment he sustained. Cain on the other hand looked determined and never lost his focus. Brock tried to survive much like he did against Carwin, but Velasquez was relentless and didn't give him room to breathe.


So, who wins this fight? Overeem has the advantage on the feet all day. In fact, if Lesnar can't get Overeem to the ground then he has almost no chance to win this bout. Overeem's striking is too technical and he's too good with his hands and knees, all of which can put Brock away. Overeem can win this fight by controlling the distance and using his range to hurt Brock as he moves in. Brock's striking is at best rudimentary, which means he either has to rush in for a takedown or has to wait for Overeem to over-commit or capitalize on a mistake.

Brock has the advantage on the ground with his strength and wrestling skills. Overeem is no slouch on the ground, but even a Brazilian jiu-jitsu black belt like Frank Mir was powerless when Brock was on top of him, and I don't think Overeem is anywhere near the grappler that Mir is. If Lesnar can get Overeem on the ground and gain a dominant position, Overeem is going to have to explode off his back to escape or survive the round with Brock punching him in the face.

Overeem has the advantage when it comes to submissions due to his experience, but I doubt those will come into play. I doubt Overeem will submit Brock with a standing guillotine as he's done to other, lesser opponents, but that doesn't mean he can't try. Brock will have to look for that when he shoots on him. While Brock has a submission win and presumably has a working knowledge of them, I doubt he will submit Alistair like he did Carwin.

Both guys are huge men, so cardio can and most likely will be an issue if this fight goes longer than five minutes. Brock tired in the Velasquez fight, but he also sustained a lot of punishment at the same time. Overeem tired in the third round of his fight with Werdum despite being in control the entire time. If Lesnar can force Overeem to grapple with him or at least force him to fight off his back for a while, that will slow down Overeem's striking. On the other hand, if Overeem can stuff a couple of Brock's takedowns, Brock will tire and become an easier target for Overeem's knees.

As far competition goes, Lesnar has consistently faced better competition in the UFC. Overeem on the other hand has taken a number of fights against guys who couldn't even earn a spot on the UFC roster much less earn a right to fight one of their bigger stars.

Make no mistake that Lesnar will want to get this fight to the ground while Overeem will want to keep it standing. If Lesnar cannot get a takedown then he will most likely lose any standup battle against someone with Overeem's striking prowess. If Lesnar can get this fight to the ground, then he can conceivably do to Overeem what he previously did to Mir, but all that hinges on him getting a takedown. Overeem merely needs to control the distance and score points on Brock with punches and knees. Unfortunately for Brock, he has historically reacted poorly when punched in the face, and if he hasn't overcome that then he will lose this fight within the first few minutes.

So how will this go down? I think Brock will put a lot of pressure on Overeem, but I think Overeem will respect Brock's ground game enough to not go to the ground with him. I also think Overeem will expose Brock's lack of composure when he's punched, which will be his unraveling (again). I think Ovreem will finish Brock in the first round with strikes, but I'm truly hoping that this fight is competitive enough to last more than one round and have both guys looking good afterwards. Aside from that hope, I see Overeem winning in round one and going on to face Junior Dos Santos.

That's all for this week; thanks for reading.

Credit Fight Matrix for historical rankings.
comments powered by