SPOTLIGHTS
The View from the Cheap Seats 01.04.12: New Year's Fallout
Posted by Scott Kuczkowski on 01.04.2012

From Fedor Emelianenko's latest win to Brock Lesnar's loss and subsequent retirement and more, 411's Scott Kuczkowski takes a look at the two big MMA cards from this past weekend and breaks down what's next for those involved!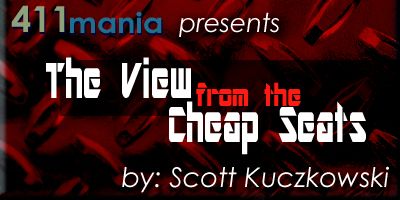 Hello fight fans, and welcome to this week's edition of The View from the Cheap Seats. We had two pretty big shows over the weekend, the first of which was UFC 141: Lesnar vs. Overeem, the second being DREAM New Year's Eve 2011. For those of you who didn't have 9 hours to commit to watching the DREAM card, I'll hit some of the highlights for you:

Yusup Saadulaev scored a really cool slam-KO against Hideo Tokoro when he dropped Tokoro square on his face, putting his lights out in the opening minute of the first round. Somewhere Gerald Harris is more than a little jealous.

Tatsuya Kawajiri made a successful second drop to Featherweight against Kazuyuki Miyata. I don't know if Kawajiri will make a huge impact in DREAM, but I think he could make a good addition to the UFC roster if Zuffa decided to sign him.

Shinya Aoki successfully defended his Lightweight Title against Satoru Kitaoka in a bout that saw Kitaoka defend against Aoki's best rear naked choke attempts. While this bout wasn't terribly exciting, the grappling and submission defense was top notch and a testament to each man's fighting spirit.

Fedor Emelianenko scored his second win this year with a KO victory over Satoshi Ishii. This bout was discussed at length during the 411 Ground and Pound Radio Show, where Mark Radulich was aghast that people classified Ishii as a "can." While the term "can" and how it applies to Ishii is disputable, the fact remains that he was brought in to lose to Fedor, which he did spectacularly. While I understand that Ishii's accomplishments as an Olympic level judoka are notable, he is still a Light Heavyweight with less than 10 professional fights. In light of that, this win does next to nothing for Fedor aside from pad his record.

All in all, I thought the DREAM card was good although I could have done without the professional wrestling bouts. Now let's take a look at the action from UFC 141.


The Matchup:
VS.



Jimy Hettes vs. Nam Phan



The Action: Hettes put an incredible beating on Phan for 15 minutes, throwing him down with ease and grounding and pounding him to the point that I expected the ref to stop the fight on more than one occasion. Phan showed he is very resilient though and survived the onslaught to lose a very one-sided decision.

The Winner: Jimy Hettes, Unanimous Decision.

The Way Ahead for Nam Phan: Aside from demonstrating he could be a human punching bag, this wasn't a very good showing for Phan. Phan's saving grace is that he's had some exciting fights in the past and fights in a division that isn't very deep. Moving forward, he might be a good test for a young fighter like Diego Brandao or perhaps a returning Josh Grispi.

The Way Ahead for Jimy Hettes: This was a great win for Hettes and allowed him to showcase all this skills despite looking like the kid from The Social Network. The UFC will probably want to bring him up slowly since he's only had 10 professional fights. Junior Assuncao or Bryan Caraway would be interesting next opponents for him.


The Matchup:
VS.



Alexander Gustafsson vs. Vladimir Matyushenko



The Action: Both guys tried to establish their standup games, but it was Gustafsson who was able to strike first and hardest, putting Matyushenko down and out.

The Winner: Alexander Gustafsson, TKO, Round 1.

The Way Ahead for Vladimir Matyushenko: Dana White referred to Matyushenko as the Light Heavyweight gatekeeper at the post-fight press conference, which although not complimentary seems to indicate his job is intact. At 40 years of age, The Janitor is on the downside of his career but still remains very popular. Luis Cane or Brandon Vera as future opponents would probably keep him on the main card.

The Way Ahead for Alexander Gustafsson: This was a great win, but Gustafsson's lack of wrestling concerns me when I match him against other guys at the top of the 205 pound division. Forrest Griffin would be a good opponent for him just because they match up stylistically, but Stanislav Nedkov would be a good opponent too if the UFC wanted put them in the main event slot of a free TV card.


The Matchup:
VS.



Jon Fitch vs. Johny Hendricks



The Action: Hendricks planted Fitch with a left hand that stiffened him up put him down for the count before either guy could even break a sweat. Post-fight, Johny Hendrick's beard gave a shout out to Chuck Norris's beard.

The Winner: Johny Hendricks, KO, Round 1.

The Way Ahead for Jon Fitch: Previously considered the #2 Welterweight in the world, a long layoff and now this loss puts Fitch way out of title contention. This may be the first time in recent memory that Fitch finds himself having to work his way back up the Welterweight ladder, but this shake up could be good for him and the rest of the division. Brian Ebersole would be a good test to help reevaluate his standings or perhaps the winner of the Jake Shields/Yoshihiro Akiyama bout.

The Way Ahead for Johny Hendricks: This was a good win for Hendricks but it didn't really tell me much. This situation is similar to when a then undefeated Paulo Thiago knocked out Josh Koscheck and was heralded as the next big thing. He was rewarded by being pushed to the top of the division where he floundered and I don't want to see the same thing happen to Hendricks. Because of this I'm not a proponent of Hendricks getting a title shot yet. Fighting the winner of the Jake Ellenberger/Diego Sanchez bout would be a good option in that it will give Hendricks another bout against a top contender.


The Matchup:
VS.



Donald Cerrone vs. Nate Diaz



The Action: Diaz owned the standup game from the opening minutes of the fight and dominated Cerrone during the majority of the exchanges. Cerrone was successful at sweeping Diaz's legs out from under him and sending him to the canvas repeatedly during the second round, but he never followed him to the ground to try and capitalize on those openings. Since the majority of the fight was contested on the feet, Diaz cruised to a somewhat easy victory.

The Winner: Nate Diaz, Unanimous Decision.

The Way Ahead for Donald Cerrone: This was a terrible and somewhat one-sided loss for Cerrone that will kill his momentum up the Lightweight ranks. For whatever reason, Cerrone continued to play Diaz's game for 15 minutes and never jumped at any of the opportunities he created during the bout. Cerone needs to get back on the winning track if he hopes to challenge for the title in 2012, and I think a bout with Gleison Tibau or Jacob Volkmann would give him the opportunity to do just that.

The Way Ahead for Nate Diaz: This was a great win for Diaz and really shoots him up the Lightweight Ranks. Unfortunately, Diaz has had trouble with wrestlers throughout his career and the top guys at 155 pounds are all good wrestlers. Rematches with Gray Maynard or Clay Guida are options given both men defeated Diaz previously and are now coming off losses. Pitting him against the winner of the Melvin Gillard/Jim Miller or Joe Lauzon/Anthony Pettis bouts are options too. Whatever the case, a win over any of the previously mentioned fighters, or perhaps a returning Kenny Florian, should be enough to earn Diaz a shot at the Lightweight Title.


The Matchup:
VS.



Alistair Overeem vs. Brock Lesnar



My Pick: Alistair Overeem, TKO, Round 1.

The Action: Lesnar opened with a few leg kicks and then tried for a takedown that Overeem shook off. From there Overeem began landing knees to Lesnar's body against the cage which Brock had no answer for. A liver kick and a few punches ended the fight.

The Winner: Alistair Overeem, TKO, Round 1.

The Way Ahead for Brock Lesnar: Lesnar announced his retirement from MMA post-fight, which I'd predicted a couple of times, especially if he lost decisively (which he did). Many fighters have spoken out against Brock calling it quits, including Overeem, all claiming that they think he has more to give to the sport, but only he knows whether or not his heart is still in it. Whatever the case, it is the Heavyweight Division that is the biggest casualty of this bout, as the UFC cannot afford to lose anyone from that division, especially someone as polarizing and marketable as Lesnar.

The Way Ahead for Alistair Overeem: This was a good win for Overeem in that he was able to take out a former UFC Champion, headline a PPV, and show up ready to put on a show. His next obvious test will be Junior Dos Santos sometime this summer, which I expect to be a heck of a fight given both men's standup skills. Can The Demolition Man become the next UFC Heavyweight Champion? I guess the world will find out.


And with that, UFC 141 is in the books. The show was pretty good in that we have rising stars at Featherweight and Light Heavyweight, new top contenders at Welterweight and Lightweight, and a new challenger for the Heavyweight Champion. Unfortunately, the UFC also lost a popular Heavyweight fighter in the process. Overall it wasn't a bad night of fights.

Tune in next week when I break down the main event from UFC 142 and tell you who is going to win the contest between Jose Aldo and Chad Mendes.

That's all for this week; thanks for reading.
comments powered by