SPOTLIGHTS
The View from the Cheap Seats 1.11.12: The UFC 142 Breakdown
Posted by Scott Kuczkowski on 01.11.2012

Will Jose Aldo be dethroned at UFC 142? Does Cyborg's positive drug test spell the end for the Women's featherweight division? Is Ronda Rousey the best challenger for Meisha Tate's title? 411's Scott Kuczkowski takes a look!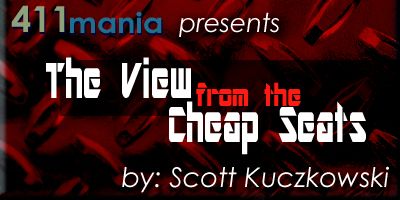 Hello fight fans, and welcome to this week's edition of The View from the Cheap Seats. This week we will break down the main event for this weekend's UFC 142: Aldo v. Mendes where Chad Mendes will look to dethrone Jose Aldo and capture his UFC Featherweight Title.

Before I get to UFC 142, I wanted to take a look at some of the news from the past week.

Dennis Siver



Following his recent loss to Donald Cerrone, the German Kickboxer is planning to move to Featherweight. I'm not certain that is the best idea, as I'd rather see him round out his game instead of changing weight classes. The problem with the Cerrone matchup wasn't that he was beaten by a bigger fighter; he was outclassed by a better striker, so I'm not certain what he hopes to accomplish by dropping to Featherweight.




Thiago Silva



Following his failed drug test at UFC 125, the Brazilian Light Heavyweight has served his entire suspension and can now reapply for fight licensing in Nevada. I've always thought Silva was an exciting fighter, so here's hoping he can stay healthy, stay off the PEDs, and not have to resort to cheating in the future.




Chael Sonnen



Categorized under News That Doesn't Make Sense, the outspoken Middleweight will reportedly be escorted to the octagon and cornered by WWE performer CM Punk during his bout with Mark Munoz. This news baffles me given a shot at the Middleweight Title is on the line and my assumption that CM Punk will probably offer nothing other than an unneeded distraction during the bout. While certainly anyone with a cornerman's license is allowed at cageside, I have to wonder if Sonnen isn't readying for a post-MMA career in professional wrestling.




Ronda Rousey



The Olympic judoka has earned a shot at Miesha Tate's Bantamweight Title this March. This announcement doesn't surprise me given Rousey's recent performance and the media frenzy which has followed her. Despite never competing at Bantamweight, she's a fresh competitor for Tate, who is currently without many marketable challengers for her title.




Sarah Kaufman



Obviously upset she was overlooked for a shot at the Bantamweight Title, the former champion lashed out at Ronda Rousey, claiming she was ducking Cristiane "Cyborg" Santos and was only given a title shot off her looks. Given there are few contenders waiting in the wings, I doubt the Canadian fighter will have to wait long for her own shot at the title.




Cristiane "Cyborg" Santos



The soon-to-be former Strikeforce Women's Featherweight Champion failed her post-fight drug test after steamrolling Hiroko Yamanaka. Anyone truly surprised by the revelation that Cyborg was on steroids should probably slap themselves silly with a book on human anatomy. This probably spells the end of Cyborg's employment by Zuffa and most likely kills the Strikeforce Women's Featherweight Division, of which she was the only steady competitor for the past several years. Gina Carano's name has popped up as someone who could fill that void, but I somehow doubt she will give up a budding movie career to return to fighting. This is probably the best opportunity to eliminate the Women's Featherweight Division and instead concentrate on the Bantamweight Division and perhaps create a Flyweight Division. Whether or not Zuffa has the urge to do such a thing it unknown, but the opportunity is there.
---

This Saturday Night, undefeated wrestler Chad Mendes will look to dethrone Featherweight Kingpin Jose Aldo. I've been critical of Aldo's performances since coming over from the WEC, as he just doesn't look like the same fighter that cut through the ranks towards winning his title. His last few fights have been a little lackluster and Aldo has looked remarkably beatable at times, which is in stark contrast from his WEC days. While he's certainly facing better competition as of late, I can't help but wonder if the stress of being the champion is getting to him or perhaps the burden of cutting and making weight is starting to wear on him.

Mendes on the other hand is a wrestling specialist, who has managed to take every opponent down at will whenever it suited him. Although his striking is improving, it is still fairly rudimentary and mostly used to set up his takedowns.

This will be the second time in recent history that the UFC will travel to Brazil to put on a PPV, and while this PPV has some intriguing fights, it lacks much of the star power boasted by UFC 134. Will that affect the buy rate? I think it might. I'm not certain Jose Aldo or Vitor Belfort can carry a PPV card like Anderson Silva or Shogun, which tells me this card could be flying under the radar of most casual fans. Still, the card appears to have some decent fights on it, so I'll most likely tune in.

Before I go any further into this analysis, let's take a look at each man's last three fights, starting with the challenger.





Chad Mendes (#11 in FW Rankings) vs. Javier Vazquez (#31 in FW Rankings)



The Outcome: On November 11, 2010, at WEC 52: Faber vs. Mizugaki, Chad Mendes defeated Javier Vazquez via Unanimous Decision.
The Action: This bout was fought primarily on the ground, with Mendes in Vazquez's guard. Although Vazquez stayed busy off his back, he wasn't able to submit Mendes or even put him in danger. Mendes on the other hand consistently delivered elbows to Vazquez's face and punches to his body. Vazquez probably outworked Mendes off his back, but Mendes won this bout with positional advantages and by controlling the pace and location of the action.
What it told me: Vazquez is an accomplished grappler whose won the majority of his fights via submission. The fact that Mendes could stay in his guard for the majority of the fight was impressive. Although not a very exciting showing for either man, Mendes did what he needed to do to control the fight and get the win.






Chad Mendes (#8 in FW Rankings) vs. Michihiro Omigawa (#4 in FW Rankings)



The Outcome: On February 5, 2011, at UFC 126: Silva vs. Belfort, Chad Mendes defeated Michihiro Omigawa via Unanimous Decision.
The Action: Mendes won most of the striking exchanges during this bout and took Omigawa down when he wanted to. Omigawa went for some submissions during the bout, but Mendes easily shook them off. Mendes was able to control this fight like he has many others, but Omigawa kept the action close and never allowed Mendes to run away with it.
What it told me: Mendes demonstrated some improved striking in this bout and even opened up a huge cut on Omigawa. Omigawa was able to secure a few dominant positions on the ground, but Mendes quickly escaped or reversed them. This was a close fight, but Mendes edged out each round.






Chad Mendes (#3 in FW Rankings) vs. Rani Yahya (#23 in FW Rankings)



The Outcome: On August 6, 2011, at UFC 133: Evans vs. Ortiz, Chad Mendes defeated Rani Yahya via Unanimous Decision. .
The Action: Yahya looked to get this fight to the ground early while Mendes wanted to keep it on the feet where he had the striking advantage. Mendes used his speed and wrestling to keep the fight standing and win the majority of the striking exchanges. On the ground, Mendes made sure he stayed on top and maintained a dominant position. Yahya was relentless throughout, but he didn't have the striking skills to put Mendes in trouble or the wrestling skills to take Mendes off his feet.
What it told me: Mendes knew Yahya would have the early advantage on the ground due to his submission skills, so he kept the fight on the feet. Mendes landed some really good shots on the feet including some good leg kicks. When the fight went to the ground, Mendes was careful to stay chest to chest with Yahya or make a hasty escape if he felt himself getting in trouble.






And now that we've looked at Mendes' last three fights, let's take a look at Aldo's last three matchups.






Jose Aldo (#1 in FW Rankings) vs. Manvel Gamburyan (#4 in FW Rankings)



The Outcome: On September 30, 2010, at WEC 51: Aldo vs. Gamburyan, Jose Aldo defeated Manvel Gamburyan via KO (punches).
The Action: Aldo came out relaxed in the first round and the action was close, with both fighters landing their shots. Gamburyan tried to get things to the ground a few times, but Aldo stuffed all attempts. Aldo knocked Gamburyan down in the second round and finished him with strikes.
What it told me: Gamburyan is a solid fighter, but Aldo owned him the minute he got going in the second round. This was a prototypical Aldo bout where he was able to pick apart his opponent before finishing him with strikes.






Jose Aldo (#1 in FW Rankings) vs. Mark Hominick (#14 in FW Rankings)



The Outcome: On April 30, 2011, at UFC 129: St. Pierre vs. Shields, Jose Aldo defeated Mark Hominick via Unanimous Decision.
The Action: Aldo narrowly outscored Hominick in the exchanges on the feet but really seemed to dominate things on the ground with takedowns and ground and pound against the cage. Aldo also had more power in his hands and was able to drop Hominick in the third and fourth rounds and secure a comfortable lead on the judge's scorecards. Aldo was completely gassed in the fifth round and Hominick swarmed him to try and finish the fight via TKO, but Aldo was able to defend himself and hold on for the decision win.
What it told me: Aldo was coming back from a long injury layoff and reportedly had a tough time cutting weight. Despite all this and a performance which clearly wasn't on par with previous outings, he was able to get the win over a tough challenger. Frankly, I think performances like this are the test of a true champion, because most champions can win when everything goes their way, but we really see how good they are when faced with adversity.






Jose Aldo (#1 in FW Rankings) vs. Kenny Florian (#2 in FW Rankings)



The Outcome: On October 8, 2011, at UFC 136: Edgar vs. Maynard III, Jose Aldo defeated Kenny Florian via Unanimous Decision.
The Action: Florian came out strong in the first round and even managed to score a takedown, but Aldo scored a takedown of his own and stuffed the rest of Florian's attempts. The striking on the feet was very even throughout the bout, with both fighters showing respect for the other's skills. Florian pressed Aldo against the cage for the majority of the fight and looked for takedowns whereas Aldo peppered Florian with kicks and punches. When the fight went to the ground, Aldo was typically on top, sometimes in mount, and never allowed Florian to gain a dominant position on him. Although a close fight, Aldo won the decision.
What it told me: Florian was a very tough opponent with a size and experience advantage, but Aldo was able to thwart everything he tried. Although this was not an exciting bout, it demonstrated that Aldo could stick with his own gameplan while simultaneously stymieing Florian's.


---

So, who wins this fight?

Despite Chad Mendes' improved striking, Jose Aldo has a definitive advantage on the feet. He has knockout power in his hands, feet, and knees, all of which Mendes will have to be wary of. In fact, if Mendes cannot neutralize Aldo with clinches or takedowns, Aldo will win a standup war handily.

The ground game is pretty even. Mendes is a wrestling specialist with great top control, but Aldo has demonstrated great takedown defense, good takedowns of his own, and is a Brazilian jiu-jitsu back belt. While Mendes will probably be able to take Aldo down, it is doubtful he will be able to do much more than control him on the ground. Whether or not Aldo can take down a wrestler like Mendes is unknown.

I have to give the cardio edge to Mendes. While Aldo has fought for 25 minutes in each of his last two bouts, he gassed out in the final round with Mark Hominick, which he was dominating, and slowed considerably in his bout with Florian, which was fought mostly on the feet or against the cage. Mendes will most likely push the pace against Aldo and force him to fight off his back or the cage, all of which will tire Aldo considerably.

When it comes to finishing opponents, Aldo is a predator while Mendes looks to control the action. This factor could be important during scrambles or if one fighter is knocked down or injured. While Mendes will probably look to gain control or improve his position after a big opening, Aldo will go for the finish.

Aldo has consistently faced better competition than Mendes, which means Aldo could conceivably have a gameplan suited specifically for a fighter like Mendes. Aldo also has the experience of fighting in the main event and headlining a fight card. Mendes has fought good strikers and good submission artists, but never anyone with Aldo's credentials.

So, how will this fight play out? I think Mendes will be foolish if he does anything other than use his striking to set up takedowns. Aldo will own all the exchanges on the feet, but if Mendes can get this fight to the ground and hold Aldo down while staying busy, then he can steal the rounds. Additionally, if Aldo begins to anticipate the takedowns, Mendes could use that to score on the feet. Aldo will have to defend the takedowns and punish Mendes each time he moves in. Aldo has great knees and will need to time Mendes moving in to make him hesitate before each subsequent takedown attempt. If Aldo can dictate the pace of the bout on the feet, he should win. Conversely, Mendes really only needs to get Aldo down and hold him down to steal three rounds, after which he could conceivably win a decision. I think the early rounds will be close, which will be when Aldo has the best chances to win. If Mendes can score takedowns while simultaneously tiring Aldo, then he should take the decision. In light of how Aldo has looked in recent bouts, I'm leaning towards Mendes taking this fight by decision and becoming the new Featherweight Champion.

That's a wrap for this week; thanks for reading.

Credit Fight Matrix for historical rankings.
comments powered by