SPOTLIGHTS
The View from the Cheap Seats 01.18.12: The UFC on FX Breakdown
Posted by Scott Kuczkowski on 01.18.2012

Will Melvin Guillard walk out of UFC on FX 1 the next lightweight title contender? Or will Jim Miller stop Guillard's hopes and claim it for himself? 411ís Scott Kuczkowski provides a preview of UFC on FX 1!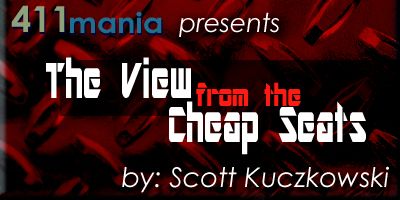 Hello gentle readers, and welcome to this week's edition of The View from the Cheap Seats. We have a ton of stuff to cover this week, so without further delay; let's get right down to business.

UFC 142: Aldo vs. Mendes on Saturday was a great show despite being one of the shortest PPVs I think I've ever purchased. All the fights on the main card were finishes, which was pretty cool, and I think all the fights delivered even if I did pick most of them incorrectly on our staff roundtable. Let's check them out.

The Matchup:
VS.



Edson Barboza vs. Terry Etim



My Pick: Terry Etim, Decision.

The Action: This fight was mostly contested on the feet, where Barboza was able to consistently land first. Etim tried to get this fight to the ground a few times, but Barboza's takedown defense was stellar. The finish came in the third round when Barboza landed a spinning heel kick that put Etim to sleep.

The Winner: Edson Barboza, KO, Round 3.

The Way Ahead for Terry Etim: Etim looked O.K. in this bout, but he just couldn't match speed with Barboza. He also couldn't get the fight to the ground, which is where I think he had the best chance to win. Right now he needs to get back on the winning track, and I think a matchup with someone like Ramsey Nijem or Spencer Fisher would allow him the opportunity to do that.

The Way Ahead for Edson Barboza: Barboza looked like a beast in his bout and was able to do whatever he wanted, wherever he wanted, which was very impressive given Terry Eitm is a tough fighter. I'd like to see him step up in competition for his next bout, perhaps against someone experienced like Sam Stout or maybe Tony Ferguson.


The Matchup:
VS.



Carlo Prater vs. Erick Silva



My Pick: Carlo Prater, Submission, Round 2.

The Action: Silva blitzed Prater, knocking him down and pounding away until referee Mario Yamasaki stopped it. It wasn't until after the fight was stopped that we learned Yamasaki had disqualified Silva for delivering punches to the back of Prater's head. The replay seemed to refute those claims, but Silva was still disqualified. While a lot of folks were upset by this call, I think it was an honest mistake on the part of Yamasaki. Mario is one of the better referees and he usually doesn't make mistakes like this. One of the referee's jobs is to protect the fighters, and I think that's what Mario was trying to do in the split second he had to make his decision. Unfortunately, this time he was wrong, but I don't think that negates every right call he's previously made. Silva still got his win bonus, so that probably took some of the sting out of the situation.

The Winner: Carlo Prater, Disqualification (punches to the back of the head).

The Way Ahead for Erick Silva: This was a tough break for Silva, who is somewhat of a rising star, but I somehow doubt this loss will affect the booking for his next bout. I won't be surprised if he faces someone who is a step up in competition from Prater, perhaps either Sean Pierson or Matt Brown if they are available.

The Way Ahead for Carlo Prater: A win is a win, but Prater didn't get a chance to showcase anything in this bout. As a veteran with over 40 fights, Prater could be a good acquisition for the Welterweight Division if he can string together some wins. I'd have him face Amir Sadollah or Seth Baczynski next.


The Matchup:
VS.



Mike Massenzio vs. Rousimar Palhares



My Pick: Rousimar Palhares, Submission, Round 1.

The Action: As expected, Palhares quickly submitted Massenzio with a heel hook before either fighter could even break a sweat. I'm not sure Massenzio even knew what happened to him.

The Winner: Rousimar Palhares, Submission, Round 1.

The Way Ahead for Mike Massenzio: Messenzio is in a tough spot in that he isn't consistent and he's barely worthy of making the main card of a PPV. His only saving graces are that he's a Middleweight, which is a rather shallow division, and he's reliable. Still, without a few wins in a row it's tough to get behind him. Tom Lawlor or Dongi Yang would be good matchups.

The Way Ahead for Rousimar Palhares: Palhares is an odd cat, but he's managed to string together a nice set of wins over his last three outings. At this point, I think the UFC needs to give him a step up in competition to see just where he stands in the Middleweight Rankings. Nick Ring or even Alan Belcher would be good opponents for him.


The Matchup:
VS.



Vitor Belfort vs. Anthony Johnson



My Pick: Anthony Johnson, Decision.

The Action: Johnson came out with guns blazing and had a few impressive moments, to include slamming Vitor to the ground and roughing him up a bit. Unfortunately, he appeared to gas out after about two and a half minutes, at which point Vitor took over, took his back, and choked him out.

The Winner: Vitor Belfort, Submission, Round 1.

The Way Ahead for Anthony Johnson: Unemployment. This was Johnson's third time missing weight, which was especially heinous given this was at a higher weight class and he was still more than 10 pounds over. Johnson will probably have to put on a couple of impressive performances somewhere else, during which he's going to have to make weight consistently before the UFC calls him back. The UFC won't bother investing time in him if he can't make weight when needed, so it might be worth it for him to hire someone like Mike Dolce to help him get control of his diet.

The Way Ahead for Vitor Belfort: Vitor's next opponent is obviously Wanderlei Silva, whom he will coach against on The Ultimate Fighter Brazil. Unfortunately for Vitor, the taping of the show and his match against Waderlei will keep him out of the title hunt for a period of time while guys like Mark Munoz, Chael Sonnen, Michael Bisping, and Demian Maia will all be making cases for their own title shots. If he defeats Wanderlei, I still doubt he will be granted a title shot, which means he's still at least two wins away from being a title challenger again.


The Matchup:
VS.



Jose Aldo vs. Chad Mendes



My Pick: Chad Mendes, Decision.

The Action: Mendes came out with some good leg kicks and tried to pressure Aldo, but despite his best efforts he could not score a takedown. In the meantime, Aldo began to land good leg kicks and find his range. Mendes tried to take Aldo's back during a short scramble against the cage, but Aldo was able to escape and deliver a knee to Mendes' face as he dove for a leg. A few punches for good measure and Mendes was out cold.

The Winner: Jose Aldo, KO, Round 1.

The Way Ahead for Chad Mendes: Mendes put on a good performance, but he just couldn't get it done against someone who is Pound for Pound one of the best fighters on the planet. I'd have Mendes face the loser of the Hioki/Palaszewski fight or perhaps someone like Diego Nunes.

The Way Ahead for Jose Aldo: This was Aldo's fifth title defense, and while he hasn't necessarily cleaned out his division, there aren't many contenders he hasn't beaten. The winner of the Hioki/Palaszewski bout seems like a logical opponent, or perhaps Yuri Alcantara. Erik Koch and Dustin Poirier are other guys working their way into title contention too.

---
---

UFC on FX: Guillard vs. Miller will come to us live, this Friday night, in what is supposed to be the first of many live fights on FX. Unfortunately, the main card only has 4 fights, meaning viewers will have to tune in to Fuel TV (if they have it) beforehand if they wants to see the prelims.

Both Guillard and Miller are two guys previously in title contention before recent losses stymied their progress. This fight will no doubt launch the winner back into the title mix while the loser will be at least three to four solid wins away, so the stakes are high in this bout. Who has the best chance to win? Let's break it down to find out.






Melvin Guillard (#41 in LW Rankings) vs. Evan Dunham (#19 in LW Rankings)



The Outcome: On January 22, 2011, at UFC: Fight for the Troops 2, Melvin Guillard defeated Evan Dunham via knockout (knees) in the first round.
The Action: Dunham tried to take Guillard down, but couldn't ever complete his takedowns. On the feet, Guillard battered Dunham, which only forced him to get desperate. Guillard stuffed another of Dunham's takedowns and finished the fight with knees.
What it told me: Dunham was thought of as a rising prospect before this fight, but Guillard stopped his train cold. Guillard demonstrated great takedown defense and tremendous power while Dunham probably underestimated Guillard.






Melvin Guillard (#13 in LW Rankings) vs. Shane Roller (#29 in LW Rankings)



The Outcome: On July 2, 2011, at UFC 132: Cruz vs. Faber, Melvin Guillard defeated Shane Roller via knockout (punches) in the first round.
The Action: Roller tried to trade blows with Guillard, but Guillard got the best of him and knocked him out cold. Roller couldn't seem to get off first to score against Guillard, who just overwhelmed him.
What it told me: If Melvin Guillard can lay his hands on you in the first round, you will be in a world of hurt. Roller is a good wrestler, so I wonder why he didn't try to take things to the ground.






Melvin Guillard (#9 in LW Rankings) vs. Joe Lauzon (#43 in LW Rankings)



The Outcome: On October 8, 2011, at UFC 136: Edgar vs. Maynard III, Melvin Guillard lost to Joe Lauzon via submission (rear naked choke) in the first round.
The Action: Guillard opened up fast and hard, delivering kicks and knees to Lauzon. Lauzon caught Guillard walking in with a jab that put him down. Lauzon jumped on his back and submitted him a few moments later.
What it told me: Guillard has stated that this loss taught him that rushing in can quickly go bad for him. I think Guillard underestimated Lauzon, particularly his submission skills, and paid the price for it. Working with Greg Jackson, he should learn from this.


And now that we've looked at Guillard's last three fights, let's take a look at Miller's last three matchups.






Jim Miller (#8 in LW Rankings) vs. Charles Oliveira (#53 in LW Rankings)



The Outcome: On December 1, 2010, at UFC 124: St. Pierre vs. Koscheck 2, Jim Miller defeated Charles Oliveira via submission (kneebar) in the first round.
The Action: Oliveira tried to get this fight to the ground, but it was Miller who scored the takedown. Oliveira tried for a triangle and then switched to a leg lock, but Miller secured his own leg lock and forced Oliveira to tap.
What it told me: Oliveira was viewed as a rising star and submission specialist, but Miller handled him quite easily. This was a good win over a young, tough opponent.






Jim Miller (#7 in LW Rankings) vs. Kamal Shalorus (#53 in LW Rankings)



The Outcome: On March 19, 2011, at UFC 128: Shogun vs. Jones, Jim Miller defeated Kamal Shalorus via TKO (punches) in the third round.
The Action: This was a very close fight with both guys pretty even on the feet for the first round. The second round was more of the same until Miller scored a takedown and locked Shalorus in a body triangle. Shalorus fought off the rear naked choke attempts, but lost the round. Miller started scoring on the feet in the third round, eventually catching Shalorus with an uppercut and knee that put him down. A few punches later and Miller scored the TKO win.
What it told me: Kamal Shalorus is notoriously tough to finish, but Miller was patient and waited for his opening. Miller demonstrated improved striking and his combinations looked smooth.






Jim Miller (#7 in LW Rankings) vs. Benson Henderson (#20 in LW Rankings)



The Outcome: On August 14, 2011, at UFC Live: Hardy vs. Lytle, Jim Miller lost to Benson Henderson via Unanimous Decision.
The Action: Henderson was able to outwrestle and outstrike Miller. Miller attempted numerous submissions, but Henderson escaped them all and made Miller pay for them. Although the action was close, Henderson landed the better punches and maintained better positions over Miller to take the win.
What it told me: Although tough and a skilled grappler, Miller had no answers when Henderson was able to thwart his offense. Miller was unable to submit Henderson while Henderson's punches quickly left their marks on Miller's face. Henderson also beat Miller on the ground, which was typically where Miller enjoyed an advantage.

---

So who wins this fight? Guillard probably has the edge in the standup game, especially when it comes to power. Miller is no slouch on his feet though as we saw in the Shalorus fight. Still, while this fight is on the feet, especially in the early rounds, Guillard has the definite advantage.

Miller has a distinct advantage on the ground with his wrestling, grappling, and submissions. Guillard is a strong wrestler with great takedown defense, but his wrestling it typically geared towards keeping the fight standing and not taking his opponent down. If Miller takes Guillard down and takes his back, Guillard will be in a lot of trouble.

The cardio edge will go to Miller. Guillard is a muscular guy who visibly slows down as the fight progresses whereas Miller seems to be able to keep up his pace consistently throughout the fight.

Both of these guys have faced roughly the same level of competition and are both experienced fighters. Of particular note is that Miller's only three losses have been at the hands of Frankie Edgar, Gray Maynard, and Ben Henderson, all of whom are arguably in the top 5 of the Lightweight Division.

I think Miller will stand and trade long enough to see an opening and take Guillard down. This will be no easy feat, but I think Miller will be successful. Once on the ground, Miller will probably work for some type of submission and try to put Guillard away quickly. If Miller cannot secure a takedown, he has to look out for Guillard's striking, which can end the fight quickly. However, whereas Guillard has only has a puncher's chance to win this fight, Miller can submit Guillard or merely outwrestle and outgrapple him for three rounds to take the decision. I think Miller will win this by submission in the first round.

Credit Fight Matrix for historical rankings.
comments powered by