SPOTLIGHTS
The Juggernaut MMA News Report 02.23.12: UFC 144: Japan Preview - Part II
Posted by Jonathan Solomon on 02.23.2012

Frankie Edgar and Ben Henderson battle for the lightweight championship, Ryan Bader tries not to get knocked out by Rampage Jackson and more! 411's Jonathan Solomon brings you part two of a UFC 144 preview! Plus, check out the latest news including Nate Marquardt's return, Spike's new MMA show and more!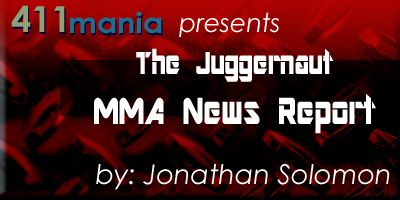 Return to the Far East, UFC 144 Preview - Part II



UFC Light Heavyweight Championship
Frankie Edgar © vs. Ben Henderson

I don't care about anyone or anything else, the best story in MMA is Frankie Edgar. An unassuming guy from New Jersey earns a fight against one of the most dominant champions of his era, lightweight B.J. Penn. With no one expecting the Hawaiian to lose (except some in Jersey), Edgar takes the five-round decision and the UFC championship. With the fight being a close affair, the UFC books an immediate rematch four months later and then, Edgar wins in decisive fashion, albeit still by a decision. Next, he defends against the one man who ever beat him, Gray Maynard. Despite being rocked and on the cusp of losing by referee stoppage or knockout, he makes it through and ends up pushing the pace later in the fight. One of the best fights of 2011 ended in a draw which resulted in another immediate rematch for Edgar. Much like he did against Penn, Edgar left no question who the best lightweight in the world was. Frankie finished Maynard in the fourth round by knockout to be the undisputed UFC champion.

There is no better story.




Edgar won the championship from Penn in Abu Dhabi and will look to make his fourth consecutive successful defense (including the draw) in Saitama, Japan this weekend. A man who went toe-to-toe with Penn for a total of 50 minutes and with Gray Maynard for nearly 44 total minutes, will meet another stiff test in the form of Ben Henderson.

Bendo is 15-2 as a professional MMA fighter and is one of the most entertaining in the sport. His classics with Donald Cerrone (WEC 43, 2009), Anthony Pettis (WEC 53, 2010) and Clay Guida (UFC on Fox, 2011) each were considered among the years best after they took place. Much like the new breed of MMA fighters who train specifically for all disciplines, Henderson is not stricken to one style.

Henderson is a strong wrestler, he has great takedown defense, he has tremendous submission defense, he's quick on his feet, he can strike with all of his opponents and he has a never-ending motor pushing him. At lightweight, he has only lost once and that came against Anthony Pettis about a year and a half ago. Against Pettis, he fought a man who could match his motor, his speed and his abilities standing and on the ground. When it was over, it was just one round that decided that fight (the final round) and Henderson was ripped apart over it.

Now, Henderson is on a three-fight winning streak, all in the UFC and has emerged as one of the best in the world. The only difference between now and his time as WEC champion is people have no argument against him because he's "not fighting in the major leagues." We have seen him dominate Jim Miller and go directly against Clay Guida's manic fighting style and come out on top .




Henderson has knocked out just one fighter since his days in WEC, Shane Roller. Conversely, Edgar has never been finished, while Henderson lost a catchweight bout by submission in his third professional bout. Odds are this fight goes deep into the championship rounds, especially because neither man's style gives for overwhelming their opponents early. This isn't Anderson Silva making a fool of his opponent and knocking him out short of ten minutes. Both Edgar and Henderson work using a pace that they do not expect their opponents to be able to follow.

Edgar's stick and move style has done wonders for him so far and I don't believe he'll look to change it now. It will be up to Henderson to cut off his angles and not allow him to continue moving around the cage. Both men are good wrestlers so I can't see either having much success with takedowns, ground and pound or submissions. If Edgar can freely move around the cage, it's his fight to lose. Otherwise, if Henderson can force Edgar to carry his weight via the clinch or working against the cage, he has the advantage.

I will be surprised if Edgar or Henderson can finish this fight because both have proven to be cat-like with nine lives in their fights on a consistent basis. On Sunday, someone has to lose and the other walks away with a gold belt on their waist.






Quinton Jackson vs. Ryan Bader

I think this is a terrible match-up for Ryan Bader. But, after losing to Jon Jones and Tito Ortiz last year, if you're offered a co-main event spot against Rampage, you take it.

The story of this fight is all about the man with the dog chain around his neck. Jackson so badly wanted to fight on this card, in Japan, he more or less forced the UFC's hand into booking him even though there wasn't another star (in name) available. Hence, Bader's presence.

Jackson (32-9) holds a special place in his fighting heart for the Japanese people and perhaps no place for Pride executives, who he's criticized over the years for all sorts of issues. Like many others, Jackson believes the Pride style of fighting gives for more entertaining fights and he remembers is days of knocking guys out, slamming anything under the sun and overall, being a dynamic fighter. When he made his Pride debut (on short notice, against Kazushi Sakuraba of all people), he was 23-years old. The fight ended with Jackson losing by rear naked choke, but he was solid enough (whether as a fighter or in entertaining the crowd) they brought him back later in 2001 and the rest is history.

Less than 11 years later from his Japanese debut, Jackson returns for what will almost definitely be his final fight in the country (unless he has a split with the UFC down the road and there's still a Japanese promotion to go to).

Rampage heads into this fight not with a ton of momentum, or even an elite skill set in the division. Today, he's 33-years old and seen as nothing more than a headhunter in the cage. Gone are the days of him shooting for takedowns so he could either slam or punch his opponent into oblivion. However, even his headhunting style has not paid humungous dividends of late because the last time he knocked anyone out was Wanderlei Silva in 2008. Fighters who are disciplined enough to avoid taking one of his huge punches and work around that have found success (as Forrest Griffin, Rashad Evans and Jon Jones have done, the only men to beat Rampage in the UFC).

With all that said then, why is Ryan Bader such an underdog? After all, he's a strong wrestler with some power of his own. Well, none of that will help him take a bing punch which he's almost certainly going to take at some point in 15 minutes.

It seems like almost a decade ago, but the start of 2011 saw Ryan Bader with a 12-0 record and if not for Jon Jones, he would have been considered the number one prospect in the division. He had beaten Antonio Rogerio Nogueira the previous September and was picking up steam for a potential title shot. Then he ran into Jon Jones in the octagon. At UFC 126, Bader gave up way too much size and (granted, like many other opponents for Bones) could do nearly nothing offensively. Jones finished him in the second round with a guillotine choke and earned a shot at then-champion Shogun Rua with the win. Bader followed that up last summer against Tito Ortiz, a fight everyone and their mother expected him to waltz through. Remember, Tito had not won a fight since the dark ages and was always hurt. Unfortunately for Bader, he'll forever be remembered for being the guy Tito beat. Ortiz rocked him with a right hand and choked him out not even two minutes into the fight.

Bader bounced back in November to knock out Jason Brilz in just over a minute, but what can he do against Rampage? If the clock reaches two or three minutes into the first round and Bader has not attempted a shot, you may as well begin counting down the seconds until he's knocked out. Bader can not win a striking battle with Jackson and his best bet to then win, is take him down and keep him down.

Otherwise, for one night only, the Rampage of old may reach the surface again.



Jackson's last knockout saw Wanderlei Silva play victim.




Mark Hunt vs. Cheick Kongo

In the only heavyweight battle on the show, former kick boxers turned veteran MMA fighters will put their UFC winning streaks on the line. 36-year old Cheick Kongo (17-6-2) is unbeaten in his last four fights, including a draw to Travis Browne in 2010 (Kongo would have won the decision had he not been deducted a point for holding Browne's shorts). Since his losses to Cain Velasquez and Frank Mir, he has made life difficult for midlevel heavyweights in Paul Buentello, Pat Barry and Matt Mitrione. Of course, the Barry fight on Versus was as back and forth a two-minute-plus fight can be. Kongo was rocked but wouldn't go out and had enough wits about him to land a knockout blow and win the fight. Kongo is a physical fighter who uses all of his 82-inch reach and if necessary, take the fight to the ground and wear out his opponent.

Mark Hunt is the 37-year old New Zealander that made a name for himself in Australia and Japan (beginning over a decade ago) before jumping to mixed martial arts with Pride. In his Pride run, he went 5-3 including wins over Wanderlei Silva and Cro Cop. He was submitted by Kimura against both Josh Barnett and famously, Fedor Emelianenko. After over a year off, he signed with Dream but suffered three consecutive losses to Alistair Overeem, Melvin Manhoef and Gegard Mousasi. Yes, the UFC signed him when he was on a five-fight losing streak.

Despite that, Hunt is the type of fan friendly fighter the UFC likes and people respected him for his combat sports history. Still, he was submitted in his UFC debut by Sean McCorkle before FINALLY getting a win. It was nearly five years in between them, when he knocked out Chris Tuchscherer in Australia and he followed that up with a decision win over Ben Rothwell in September.

As mentioned early, Kongo's 82-inch reach advantage will give him plenty of opportunities against Hunt's 74-inch reach. Kongo will not want to stand in front him and let the dynamite fly. If they end up in the clinch early, do not be surprised if it's Kongo acting as the aggressor. Besides his weaknesses on the ground and against submissions, Hunt's gas tank is in question. The only chance Hunt likely has to win is if he can land a big shot and hurt Kongo, otherwise, he will be worn out and the Frenchman can control the pace and ultimately the outcome.





Hunt slugs it out with Fedor Emelianenko in Pride.
---
Highlights of Rampage Jackson in PRIDE
---



- Nate Marquardt is returning to Zuffa-owned MMA promotions as it was announced he has signed to compete in Strikeforce's welterweight division. He has agreed to fight top home grown fighter Tyron Woodley.

- Undefeated lightweight Paul Sass will fight Jacob Volkmann, who will look to earn his sixth consecutive UFC win, at UFC 146 on Memorial Day weekend.

- Derek Brunson did not pass the necessary medical tests and is off next week's Strikeforce show. According to Brunson via Twitter, the Ohio Athletic Commission would not approve his use of contact lenses (Brunson says he's fought 11 times with them with no problem).

- Jacare Souza will now fight Bristol Marunde instead of Brunson on March 3. Marunde is a 29-year old Alaskan born fighter with a 15-6 record, winning his previous four fights.

- The UFC has signed 32-year old light heavyweight Glover Teixeira (17-2). The Brazilian born fighter has a black belt in Brazilian Jiu-Jitsu and has not lost since 2005 against Ed Herman. Since then, Teixeira has gone 15-0 with wins over such names as Sokoudjou, Marcio Cruz, Marvin Eastman and most recently, Ricco Rodriguez.

- Sherdog.com reports UFC 144 will air on one of Japan's terrestrial stations, TV Tokyo in a taped, 90-minute format. The show will air complete and live on the Japanese cable network, Wowow. Between the two networks, over 50 million homes in Japan will have the ability to watch the UFC 144 on their televisions this weekend.

- Spike TV's new half-hour news style show, MMA Uncensored Live premieres tonight (Thursday), February 23 at 11 p.m. eastern (following TNA Wrestling). Hosted by New York sports radio talkie Craig Carton, MMA journalist Mike Straka and former UFC fighter Nate Quarry, this will be the first new MMA programming on the network since the UFC's deal expired at the end of 2011. According to an old press release, Dan Henderson will be their first guest and they will talk about the history of Japanese MMA.

Spike has to keep MMA fans interested in the network besides showing reruns of old UFC shows because in 2013, Bellator Fighting Championships will make the switch from MTV2.

- Dan Hardy will fight Duane Ludwig at UFC 146 and his job is all but certainly on the line considering he has lost his last four fights. Ludwig is coming off a submission loss to Josh Neer this year.

- The Nevada State Athletic Commission has issued a temporary suspension of Nick Diaz's fight license. Diaz wil be able to speak to the Commission at a later date in defense of his use of marijuana. If he applies for a medicinal marijauana exemption and is denied, he will likely be suspended for a long period of time (up to one year).

- MMAJunkie.com reports Strikeforce is targeting May 19 for their next big show following next week's Miesha Tate/Ronda Rousey event. The proposed May event would take place in San Jose, the promotion's original home territory. No fights have been linked to the rumored event yet, but there is a chance the finals of the Grand Prix could take place then. Daniel Cormier's broken hand has taken longer than anticipated before he fights Josh Barnett.



---




JUGGERNAUT VIDEO OF THE WEEK



Ben Henderson is challenging for his first championship since coming to the UFC this weekend and below is a highlight reel. Is Edgar in for a world of hurt in just over 48 hours?








TWITTER

http://www.twitter.com/411mania
http://www.twitter.com/411wrestling
http://www.twitter.com/411moviestv
http://www.twitter.com/411music
http://www.twitter.com/411games
http://www.twitter.com/411mma







comments powered by