SPOTLIGHTS
411 MMA Fact or Fiction 6.06.12: Broken Hands, Florian in the Hall, MMA Death, and More!
Posted by Wyatt Beougher on 06.06.2012

Will Kenny Florian be inducted into the UFC Hall of Fame? Should Patrick Cote have been put up to fight Wanderlei Silva instead of Rich Franklin? Is the UFC's video game franchise in jeopardy? 411's Todd Vote and Stewart Lange debate these topics and more in this week's 411 Fact or Fiction: MMA!

Welcome back to another edition of 411 MMA's Fact or Fiction, and I want to thank everyone who voted in the last week's UK Podcast Edition of Fact or Fiction. Stewart and I had differing opinions on who won the fight, with Stew scoring it for Alex Watt, while I scored it in favor of Jon Butterfield. That means it came down to you, the readers, to decide who picked up the splite decision victory, and you pretty clearly agreed with Stewart, awarding the victory to Alex by a 33-16 vote (with 18 people scoring it a draw). With the win, Alex moves to 1-0-0, while Jon will be working from an 0-1-0 hole in his next appearance. On tap this week, you'll witness a battle of Games Zone alumni, as my first repeat contestant, Todd Vote, will look to climb back to .500 against last week's guest judge, Stewart Lange. And, in a role reversal that's sure to get the conspiracy theorists going, the man Stewart picked to win last week will be this week's guest judge, as we welcome Alex Watt back to Fact or Fiction duties. Yet again, I can't thank both guys enough for getting their answers back to me so quickly, and, as I'm legally contracted to do any time Stew participates in Fact or Fiction, here's a link to the latest UK podcast: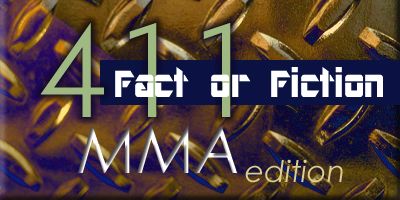 TALE OF THE TAPE



Red Corner
Todd Vote
"The Man Without a Zone"
Contributor, pretty much everywhere
0-1-0

VS

Blue Corner
Stewart Lange
"Pain in the D***"
Columnist, The MMA 5&1
0-0-0

And our special GUEST JUDGE
Alex Watt
"Axel Twat"
Columnist, Thoughts from Across the Pond

---


1.) Based on the spate of broken hands in the heavyweight division, the UFC should consider adding a few ounces to the gloves that the big guys wear. (Thanks to commenter RedCloud for this question.)

Todd Vote: FICTION - While this is in fact a great question, I have to disagree with it just for the one reason: You can't change the rules and regulations just for one specific division without doing the same across the board. If you do that, what would come next? LHW fighters are not allowed to throw elbows on downed opponents because they cause little annoying cuts on someone's face, and in turn can cause a fight to end abruptly due to the cuts?

I know that example is a bit far-fetched, but you see my point? My fiction is not based on the idea itself, it is based on the idea of changing things in one specific division, instead of doing so across the board. What next, allow one fighter a TRT exemption for a title fight? Oh wait...

Stewart Lange: FICTION - It is a great question and while I certainly see the point in principal, have to agree with Todd in summary. Sure, a lot of hands have been broken recently, but as my colleague points out, you can't really move the goal posts for one weight class. The other change here could actually be don't have 12 high profile heavyweight fighters competing within 7 days of one another. Perhaps the reason so many big guys are injured right now is that with 6 massive fights in the 265s, the probability of a couple of injuries was always going to be higher than normal.

To add something without repeating Todd's answer, if they were to entertain changing the size of the gloves used at all, it would have to be implemented across all of the divisions which would actually hinder the lower weight classes in my opinion. We wouldn't see as many finishes in those fights, which would suck.

Judge's Scorecard: All Stew had to do was make a coherent answer and he would've won this round because of Todd's veiled shot at Chael Sonnen, but he said less finishes in the lower weight classes would suck. Really, Stew? Have you seen any flyweight fights in the UFC? They don't need finishes to be amazing. Since both guys said the same thing AND messed up, this one is a Draw, 10-10.

Guest Judge's Scorecard: So after my big win last week (I did win, right?), the author of the celebrated Thoughts From Across The Pond column takes his first stab at judging. Although my UK compatriot and the host of the fantastic UK 411 radio show is involved in this week's contest, I would like to assure the readers that I will be calling this contest completely down the middle.

So, both of these guys come out swinging in the first round and I agree with each of their arguments which makes this a borderline 10-10 round. However, Todd made a good joke about TRT which sees him edge this one. 10-9 Todd Vode

---


2.) The newly-retired Kenny Florian is a UFC Hall of Famer.

Todd Vote FACT: But there is a whole long list of people who would be more deserving, and should go into the Hall of Fame first. Florian has challenged for titles in two different weight classes, has fought in four different weight classes. Florian was a key part in revamping the 155lbs division, and his only losses in the UFC have come to the best in the divisions. In addition to that, Kenny was a finalist on arguably the most important show in UFC history, the TUF 1 finale.

It can be argued that Florian was a choke artist, and unable to ever get it done when it really counted, but if your losses are to the fighters the caliber of BJ Penn, or Jose Aldo, then I don't see that so much as choking, but more as losing to the best in the world, unless you count the Stewart Lange of MMA, Sean Sherk. Besides, that is why I said there are a lot of people who should go in first.

Stewart Lange: FICTION - I mean, he probably will get inducted but I don't really think he merits inclusion at this point. I think if he improves his commentary and becomes a long term part of the UFC broadcast team, then sure, but I don't agree with his inclusion based solely on his in-cage career. He's done well with what he had, sure, but at the end of the day I still consider him to have over-achieved and that to me doesn't really merit inclusion.

With regards to the "Stewart Lange of MMA" comment, I think I need that one explained to me. If I'm like Sean Sherk, then Todd is definitely the "Matt Serra of 411." You know, in that he hasn't done anything in years and you forget he's still on the roster until he crops up in something like "fact or fiction."

Judge's Scorecard: Scoring this one for Vote because of my wording of the question. I didn't ask if Florian merited inclusion, but whether or not he'd be a UFC Hall of Famer, which I don't think there's any question he will be, because, as Todd pointed out, he's an alumni from Season 1 of The Ultimate Fighter. Vote, 10-9 (20-19 overall)

Guest Judge's Scorecard: Did you know, Kenny Florian "finish[ed] fights"? I, for one, was sad to see Kenny Florian retire from active MMA competition as I still think he had a few good years left in the sport. Nevertheless, "Ken Flo" has a promising broadcast career ahead of him and with three failed title attempts, it is likely that the TUF 1 runner-up had gone as far as he could in the sport.

It looks likely that Florian will be inducted into the UFC Hall of Fame but whether he deserves it ahead of other fighters who have won titles and had more of an influence as a whole is up for debate. Todd makes the better argument for Florian's inclusion though than Stewart does for not inducting Kenny, so this round goes to Todd. However, I will say that Todd's nonsensical Sean Sherk/Stewart Lange joke was nowhere near as good as Stewart's Matt Serra/Todd Vote comparison. That joke alone nearly convinced me to hand the vote to my UK compatriot but Todd survives the round. Todd Vote 10-9 (20-18 overall)

---


3.) You would've preferred to see Patrick Cote fight Wanderlei Silva in the wake of Vitor Belfort's injury and leave the Rich Franklin/Cung Le fight intact.

Stewart Lange: FICTION: While I was actually looking forward to the Franklin/Le fight, I'm actually pretty into the idea of both the Wanderlei and Rich rematch and the Cote/Le bout. While my regular readers will know, for those of you that don't, I'm a huge Wanderlei fan, but I feared for his life against Vitor Belfort. Franklin has still got it and is a much better fight for Silva in terms of a victory, in my opinion. Cung Le, on the other hand, I can't stand. The guy has no right to make the sort of money he does in the UFC given he's an overrated fighter with a padded record, so had he lost to a former UFC champion, it wouldn't have looked as bad for him. A loss to Cote, however, would do him no favours. Surely losing to both an over-the-hill "Axe Murderer" and a guy the UFC had to bring in specially? No, leave this one as it is and just hope we still get a Wanderlei win with a Cung Le loss.

Todd Vote: FICTION: I actually think both of these fights make more sense than bringing in Cote to fight Silva. No offense intended to Cote, but I just don't see how him stepping in against Wand would help sell the show. I know the show features the finals of TUF: Brazil, but there are a lot of fans that won't know a thing about them. Franklin vs. Silva II is a much better selling point than Cote vs Silva.

Putting Cote into the fight with Cung Le; however, offers an intriguing fight where the winner is up in the air. Adding another potentially decent fight on the 148 card is a good move. This is a card that 90% of the fans will be buying to see Silva vs. Sonnen II as it is.

Judge's Scorecard: Personally, I think the most winnable fight for Wanderlei is against Cote, so I can't see why Stew favors Franklin as the match-up. Plus, I think watering down one fight to put on a rematch of a fight that wasn't all that exciting (at least in terms of fan interest leading up to it, anyway) is a bad idea. But since these guys agreed, I'm going on the merits of their answers, and I'm giving it to Todd again, for pointing out that Franklin vs Silva II is a better selling fight than Silva vs Cote. Vote, 10-9 (30-28 overall)

Guest Judge's Scorecard: I still don't agree with Patrick Cote being drafted in to fight Cung Le as I feel the UFC could have found a much better replacement opponent for the Vietnamese striker. Nevertheless, there is no way that Cote would have been an acceptable replacement for Vitor Belfort in the main event of a card held in Brazil. I'm disappointed that we won't be seeing Franklin vs. Le now but a Rich Franklin vs. Wanderlei Silva fight is a good replacement for UFC 147 on relatively short notice. Their first fight was a good one so I think a rematch will be fun.

Both Todd and Stewart noted this in their answers and it makes for another closely contested round. Although I nearly deducted a point from Stewart for hating on Cung Le so much, I am entirely in agreement with him that I was genuinely worried for what Belfort may do to Wanderlei's diminishing chin. For that reason he edges this round. 10-9 Stewart Lange (28-29 overall)

---


4.) Once the autopsy results come back, it will be ruled that MMA had nothing to do with the death of Dustin Jenson, an amateur fighter from South Dakota.

Stewart Lange: FACT: Now, before I hit any detail on this, let me get something clear. I'm answering this question exactly as it was asked. The autopsy will rule that the MMA bout in which Jenson was choked out was not directly related to his death. Unfortunately, though, if this is taken by the anti-MMA media then the sport is going to take an absolute beating, regardless. Hell, the autopsy could say "without MMA, he wouldn't have lived as long as he did" and the fact this tragedy was caused, directly or not, in an MMA cage, there is going to be trouble.

Todd Vote: FACT: I can't help but agree with Stewart here. I think they will find something else that may have contributed to this poor man's death. But either way, sometimes the truth is irrelevant; it is more about the spin that could be put on it by the media. Even if it comes out that MMA had absolutely nothing to do with the deaths, a vague report mentioning the sport could cause plenty of problems. Perception is everything.

Judge's Scorecard: Both guys with very similar answers, so I'm giving this round to Stew for pointing out that even if the autopsy said MMA contributed to Jenson's longevity, MMA would still be blamed. Lange, 10-9 (Vote, 39-38 overall)

Guest Judge's Scorecard: Again, I agree with the points raised by both writers here. I sincerely hope that the media don't twist the tragic death of Dustin Jenson as a way to attack a sport many of them don't understand, but I fear that they will. Tough to pick one answer over the other here so I'll score this round a draw. 10-10 Draw (39-38 overall)

---


5.) Based on his performances throughout the show and at the TUF Finale, Michael Chiesa will disprove Jeremy Lambert's Roundtable prediction that he "will go on to lose within [his] first three post-TUF fights against extremely average competition".

Todd Vote: FICTION: I was tempted to say fact here, but then I remembered what happened last time I judged a book by its cover. I thought that the MMA 5&1 was a great idea, and I think we all know how that turned out. All kidding aside, I cannot recollect the last TUF winner that had an impact after winning the show. Seriously, I like the show and everything, but has any season aside from the first two (and the comeback season) given us any sort of title contender? Roy Nelson, and Ryan Bader are sometimes in the mix, but I really can't think of anyone else.

I know I am not making a case for Chiesa standing out, but my answer of FICTION is based solely on giving him the benefit of the doubt - Chiesa showed some decent skills in the house, and we don't know what he can do when he gets a full training camp, and doesn't have to fight 4 times in as many weeks. Ask me this question again after his first official fight in the UFC, and we will see if my answer changes.

Stewart Lange: FICTION - I don't see anything particularly special in Michael Chiesa, to be totally honest, if anything I think his success shows how weak this past season of TUF actually was. Did you see how the fight against Al Iaquinta finished? Al has some shit BJJ, let me tell you that much.

Look, compare Chiesa to the likes of, say, Tony Ferguson. I think Ferguson would finish Chiesa within a couple of rounds. Does he count as "average competition?" If he doesn't, we'll look at who former TUF winner Ferguson has faced since winning the show- Aaron Riley, Yves Edwards and Michael Johnson. I'd say the only one of those guys Chiesa doesn't struggle against is Riley.

Look, Chiesa seems a good guy and he certainly was the feel good winner of the show, I think the last few seasons have taught us that winning the Ultimate Fighter does not always go hand-in-hand with a decent "push" coming out of the show, let alone a successful tenure in the UFC. Right, Jonathan Brookins?

Judge's Scorecard: Stew takes this round based on his more in-depth answer. I tend to agree with both guys that Chiesa's not going to set the world on fire, but he has the heart to perhaps surprise some people. Lange, 10-9 (48-48 overall)

Guest Judge's Scorecard: Another close fought round as both writers make good points. I believe Todd slightly misread the question and meant to say FACT based on waiting to see how good Chiesa is after he's had a full training camp, etc. Todd makes a good point but I have to concur with Stewart's argument (and, of course, Jeremy Lambert's, since his comments inspired this question) and say that Chiesa will struggle in his post-TUF career.

Michael Chiesa's win made for the feel-good end to this season of The Ultimate Fighter that many were hoping for (yes, I got a little choked up okay?). However, I cannot see him causing any big waves in the UFC, particularly not if he stays in the lightweight division which is the deepest weight class talent-wise in the company. Perhaps a drop to 145lbs would serve "Maverick" well but even then, despite his good BJJ skills and incredible heart, he remains very hittable. Against a decent striker who can keep the fight standing, Chiesa will be in serious trouble. 10-9 Stewart Lange (48-48 overall)

---


Bonus) With THQ undergoing restructuring and facing an uncertain future, the improving UFC video game series looks to be in jeopardy. (Note: this question was asked last week before EA announced their partnership with the UFC on Monday afternoon at E3.)

Stewart Lange: FACT - While the gameplay itself has improved, sales have been down so it's unfortunately quite likely we see the end of this franchise as we know it. Unless THQ as a company are contractually obliged to do so, I don't think that they'll keep on what, on paper, is a "dying" franchise- which unfortunately, the Undisputed sales are showing it to be. After its first month, [UFC] "3" was the lowest selling MMA game in the same period and I don't think that will have gone up.

Now, obviously, someone else could always pick up the IP, but totally change the gameplay. I don't think we've seen the last UFC game, but we've maybe seen the last under THQ.

Todd Vote FICTION: Considering THQ doesn't actually make the games, they are just the publishers, I wouldn't say the franchise is in necessarily in jeopardy, just the publisher of the games. Like Mortal Kombat, the UFC games will find a new home if THQ was to go under. The question would be, would a new publisher wisely build off of what Yukes has created, or go in a completely different way?

Judge's Scorecard: Very close round here, as both guys had something similar in mind, but Stew went the extra distance and pointed out that the new publisher would probably change the gameplay, which one can only assume EA will do, since they've already put out an MMA game. Lange, 10-9

Guest Judge's Scorecard: Uh oh, a video game question. Outside of the Pokemon series of games, I'm somewhat limited as a gamer and thus probably not best qualified to judge this round. Nevertheless, I'm inclined to agree with Todd on this one as even if THQ does go under, another publisher is likely to pick up the franchise and simply build on the successes of the previous three UFC games. 10-9 Todd Vote (Editor's Note: Proving how out of touch he is with video games, Alex judged this on Tuesday, AFTER the EA/UFC announcement. Carry on. –Wyatt)

---


Official Scorecard

Judge Wyatt Beougher scored the bout 48-48, DRAW

Judge Alex Watt scored the bout 48-48, DRAW

Our second draw in my run as Fact or Fiction host! Again, it's up to you, the readers, to decide who won (or, if you're like Alex and myself, and you believe that it was a draw). Be sure to cast your vote and let your voice be heard.




---


And that's it for this week! Stew and Todd gave a great effort on all of these questions, and this contest could've easily gone either way! Thanks to Todd, Stew, and Alex for participating, and thanks in advance to everyone who votes. As always, I appreciate constructive feedback and I'm still curious to know how you feel about the new format and scoring system. I've gotten one response to the new judging system thus far, but I'm anxious to hear what more people have to say. You can also let me know what you thought on Twitter or.Google+. We'll see you next week and remember 411Mania for all of your MMA needs.
comments powered by