SPOTLIGHTS
411 MMA Fact or Fiction 06.27.12: Maynard/Diaz, Fedor's Retirement, Changes to the Ultimate Fighter, More
Posted by Wyatt Beougher on 06.27.2012

Is Gray Maynard closer to a lightweight title shot than Nate Diaz? Will Fedor Emelianenko stay retired? Is the UFC taking the right steps with their changes to The Ultimate Fighter? 411's Samer Kadi and Jonathan Solomon debate these topics and more in this week's 411 Fact or Fiction: MMA!

Welcome back to another edition of 411 MMA's Fact or Fiction, and I want to thank everyone who voted in last week's outstanding contest between Robert Winfree and Alex Rella. Both Stewart Lange and I scored the fight for Robert Winfree, and this time, the readers agreed with us, giving Winfree 23 votes to Rella's 10 (and 12 scoring it a draw). With the unanimous decision win, Robert now finds himself above .500 with a 2-1-0 record, while Alex drops to 0-1-0. As both Stewart and I said last week, Alex should definitely not be discouraged, as he turned in a fantastic debut, and he's more than welcome back any time he'd like to participate. On tap this week, we've got Samer Kadi putting his undefeated record on the line against Jonathan Solomon, who will be making his first appearance as a contestant in the new Fact or Fiction after doing a fantastic job of judging with me a few weeks back. My guest judge this week will be Jonathan Butterfield, and my biggest concern with Butters is that he doesn't show me up too badly. Any time Samer's involved, you know you're in for some excellent debate, and Solomon was more than happy to hold up his end, so it ended up being another great contest this week.

Before we get started, I'd like to clarify something from last week – in no way was question five, regarding the increasing interest in MMA as it relates to the decreasing interest in both boxing and the WWE, meant to imply that MMA was "killing boxing" or that both sports can't continue to exist that the same time. I appreciate the passion from all of the boxing fans who left comments last week, but all I wanted was for Robert and Alex to give their opinions on the trend reported on in the Sports Business Journal's study.

(Also, for the guy that asked, the girl in the bikini was UFC ring girl Brittney Palmer, and the picture was taken in southern Florida in the days before UFC on FX 3, hence its relevance to the discussion at hand.) Alright, with that out of the way, let's get to it, shall we?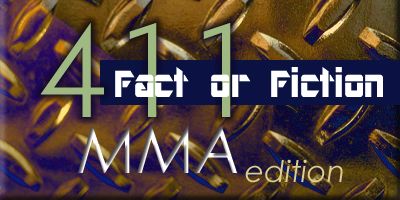 TALE OF THE TAPE



Red Corner
Samer Kadi
"The Rear Naked Columnist"
Columnist, Occupy the Throne
1-0-0

VS

Blue Corner
Jonathan Solomon
"The Juggernaut"
Rankings Compiler/Columnist, The Juggernaut MMA News Report
1-1-0

And our special GUEST JUDGE
Jonathan Butterfield
"Butters"
Columnist, MMA on Tap!

---


1.) The UFC is taking steps in the right direction to improve The Ultimate Fighter by closing the application process in favor of direct interviews and by returning to a pre-taped format.

Samer Kadi: FICTION This one is tricky, as I feel both are positive steps that might help the show on a very small scale, but ultimately, for this to be "a step in the right direction" it needs to have a chance of actually making "The Ultimate Fighter" compelling again and helping the ratings. Unfortunately, that is highly unlikely at this point. The ratings on FX have been so underwhelming that minor adjustments are not going to do the show much good. With already fifteen seasons behind us, the show has grown stale, and two seasons per year is simply way too much. Doing away with the live format might be beneficial as it allows the UFC to edit the show to where they can create certain narratives and storylines from the beginning, but neither that, nor a potential increase in the quality of the participants is going to significantly help the series. After all, the previous couple of seasons, which took place on Spike and followed the original blueprint, bore some disappointing numbers as well.

Jonathan Solomon: FACT We all know The Ultimate Fighter is as stale as can be with very little reason for viewers to tune in on a weekly basis for over three months. So, limiting the application process to fighters they already have an eye on, along with axing the live format, are baby steps. Baby steps in the positive direction. It was clear from about week three or four of season 15 that the live format handcuffed the production team from producing compelling television. Now, if the UFC and FX really wanted to beat some life into the series, there are four options for them (short of totally axing the TUF format as we know it). The most obvious is bring in huge names to coach, the next is the comeback season for past UFC fighters (they have not done this since season four). The next option would be to bring in ringers a la Roy Nelson and give these guys an enormous star making platform. There may not be any Kimbo Slices available in 2012 and beyond, but you can at least provide guys with an opportunity to come off as stars. Finally, get the hell off Friday nights. Returning to the taped format is a start and I have a feeling for season 16 in 2013, we'll see some more ideas to improve the series implemented.

Judge's Scorecard: While I tend to agree with Samer, that these steps are positive but ultimately meaningless, I have to give this round to Solomon, as he went into great detail with what the UFC could do with The Ultimate Fighter to actually improve the overall show and its ratings. Very close round, but for going the extra mile, I'm giving this round to Solomon, 10-9.

Guest Judge's Scorecard: Jonathan Solomon is right – the UFC is making 'baby steps' in the right direction by setting it's stall out to acquire better fighters and by taking back creative control by ending the live format. However, Samer is bang on the money when he says these steps have little to no chance of reinvigorating a show that already has 15 series' below its belt and has grown rather stale. My personal opinion is that the US version of The Ultimate Fighter has had its time, and the company is actually doing the right thing by taking the show abroad to markets like Brazil, Australia and the United Kingdom, where the talent pool has not been bled dry for anywhere near as long, and where the possibility of unearthing some untapped potential is (possibly) greater – and, even more importantly, where UFC-starved fans are far more likely to latch to yet another series of the same old thing (because now it belongs to them and all that). Judging these answers is tough, then, and while I admire Solomon's positivity, I just don't see the US series' being successful without MAJOR changes. Samer seems to expect a continuing downward trend in ratings for the show unless something completely unexpected happens, and so do I. Still, that seems like the answer to a question no one asked, and since Solomon acknowledges that while recapturing fans' imaginations in the United States will be difficult, the question is 'are these steps positive' (even if largely insignificant)? Solomon says yes they are, and since both writers actually agree on that score, he takes the round, 10-9.

---


2.) Fedor Emelianenko will buck the trend of nearly other MMA fighter and actually stay retired.

Samer Kadi: FACT I would be lying if I said I had confidence in my answer. In the tail end of his career, Fedor Emelianenko essentially became a puppet for M-1 Global (and I don't necessarily mean that as an insult), so there is always the possibility of them luring him into taking another fight in an effort to milk as much money as they possibly can from the great Russian. However, as far as M-1 is concerned, the future looks gloomy to say the least, and its existence is hardly guaranteed. Fedor never struck me as the type who is super passionate about the sport, so the incentive to come back is most likely going to be financial. With the Fedor/UFC sailing a long time ago, Strikeforce being on borrowed time, and the Japanese MMA scene all but dead, Emelianenko is not going to get an offer he can't refuse anytime soon. Obviously, retirements in any sport are to be taken with a grain of salt, and MMA is no exception, but for now, I'm taking "The Last Emperor" for his word.

Jonathan Solomon: FICTION Will Fedor remain retired and never fight again in MMA? At first, I would tend to agree with Samer because the Last Emperor doesn't strike you as similarly as other fighters (like Randy Couture, for one example). But, because Fedor is apparently in good health and there is nothing physically preventing him from stepping in a ring again, I will disagree. This is not like Chuck Liddell who would love to jump back in the cage if he were given the opportunity to, nor is it like Frank Shamrock who called his active career in 2010 because of the multitude of injuries he suffered. The Russian will be just 36-years old in the fall and while he may not live and breathe MMA, I find it difficult to believe there will be no serious opportunities to return to a ring. If there's a huge one-off farewell card in Japan in the future, the promoters would be nuts not to try and coax Fedor back for one night only. Similarly, do you really trust the M-1 Global folks not to get a tickle if they can make some rubles? Plus, he's been competing in some form of martial arts on a major stage since the '90s. Will that competitive drive totally shut down? I'll bet against that.

Judge's Scorecard: While I think Solomon is absolutely right that Fedor won't be too old or too broken down to compete at a reasonably high level, and that his competitive nature isn't going to simply disappear, I tend to agree with Samer that Emelianenko will be looking for the right payday if he does return, and with there being no reasonable option for that to happen, I think Fedor will stay retired. Thus, Kadi, 10-9 (19-19 overall).

Guest Judge's Scorecard: In order to survive in MMA, Fedor clearly had to dump M-1 Global. Depending on how devious he is, then, his retirement could be a perfect smokescreen to sever all connections with the Russian-based MMA/management company and return 12-24 months later free to negotiate with anyone he pleases – however, we're almost entering 'high fantasy' territory there, and so you could probably expect LOTR MMA to offer him a big money fight with Sauron as the next chapter of that story just as much as you could expect him to sign with the UFC and bury the hatchet. It's just not going to happen. Fedor has retired because he isn't getting interesting fights, he isn't getting any good offers, and probably also because he wants to go out on a mini-win streak (and why not?). His record is still one of the best of all time, his legacy will not be forgotten, and he has absolutely nothing to gain fighting the likes of Pedro Rizzo and Jeff Monson until someone of that calibre beats him. None of that is going to miraculously change anytime soon, and even if the money is good, the chances of Japan mustering up a suitable opponent are slim. I'm with Samer here. Kadi, 10-9 (19-19 overall)

---


3.) Between the strength of the ratings of TUF: Brasil and the UFC's increased focus on running shows in the country, the UFC would be better served by establishing a "minor-league" promotion (to replace Strikeforce) in Brazil, rather than in the United States.

Jonathan Solomon: FICTION. First, I don't see the reasoning behind the UFC attempting to establish a second promotion anywhere, whether it's in South America, the United States or anywhere else. They're "stuck" with Strikeforce until their relationship with Showtime comes to its merciful end. With Bellator chained to Spike TV in 2013 and beyond, the only legitimate reason to even establish anything new would be to prevent a non-Zuffa company from getting a significant television deal (the reason they purchased WEC way-back-when). There's no doubt that Brazil is a booming marketplace for the UFC at the moment with literally millions of people watching their product. However, it makes no sense at the moment to go full bore and get an exclusively Brazil-made promotion. Where's the money going to come from to make it worth their while? Pay-per-view is not a major industry which means their big revenue streams would be from whatever television contracts they can develop and then the live gates or sponsors.

Secondly, what makes you think anything without the 'UFC' name is going to be as red hot at this time? If the UFC were to establish any kind of secondary group, there would be no Vitor Belfort's, Anderson Silva's, Wanderlei Silva's or Jose Aldo's involved.

The UFC is better off making their regular runs to Brazil throughout the year (while making money on PPV in America), put on huge shows, have their seasonal television shows and cash in.

Samer Kadi: FICTION The UFC does not need a "minor league" anywhere. At this point, Strikeforce is a liability more than anything else, and from the UFC's perspective, I struggle to see the benefits of its existence. Why would the UFC need a minor league promotion in Brazil when there are tons of small Brazilian promotions like "Jungle Fights" consistently putting on shows and producing talent that the UFC can snatch at any time? Moreover, the UFC needs to avoid making the same mistakes they've done recently. The Brazilian market might be red hot, but oversaturation of the product is something that Zuffa has been guilty of in North America, and it's come back to bite them. The ratings are down and the PPV buy-rates have dropped significantly. Putting on more shows in Brazil might work at first, but eventually, they'll run across the same problem.

The strength of the UFC brand is essential, and as Jon pointed out, making significant profit off of a minor league promotion in Brazil will be extremely difficult. It simply doesn't make any financial sense for Zuffa to run more than one promotion at the time. After all, there is a reason the UFC has acquired most of Strikeforce's top fighters. Names like Nick Diaz and Alistair Overeem mean so much more when they're fighting under the UFC umbrella.

Judge's Scorecard: Both guys see eye-to-eye on this one, although neither guy acknowledged the fact that Strikeforce likely wouldn't be limping to its death if Showtime had simply agreed to whatever terms Dana White had proposed. That makes me think that the UFC at least has some interest in keeping a minor league federation, although I agree with both guys that such a venture is likely a losing proposition. Still, though, with 12 million viewers a week, the UFC could command some serious scratch from their Brazilian television partner, who would see some fairly impressive advertising revenue. Still, though, scoring this one a Draw, 10-10 (29-29 overall).

Guest Judge's Scorecard: I'm with Samer 100 % that there are 'minor' promotions already very active in Brazil and doing a great job, so why the UFC would actually need to own one I don't know. Jungle Fights, Shooto Brazil et al give ample opportunity for Brazilian MMA fighters to actively, you know, fight, whilst being unable to compete with the UFC in terms of retaining their top stars. The UFC can just wait for the Brazilian promotions to 'make' a fighter and then pinch him when he's the real deal (for example, Hacran Dias). Both writers also make solid points about the financial implications, and I think because of this we can safely assume there won't be a UFC: Brazil any time soon. A company like WEC was only really useful because it had weight divisions that the UFC didn't cater for at the time anyway – Strikeforce/A.N. Other 'Minor League' promotion in the States or anywhere else just doesn't make sense, since all it does is divide the roster across two companies. I'm tempted to give Samer the nod in this round, even though it was VERY tight, since he points out that over-saturating the market in Brazil is a legitimate potential hazard, and for acknowledging that North America really does suffer from having too many fight cards rammed down its throat, but I'm going to call this down the middle. 10-10 Draw (29-29 overall)

---


4.) Based on the fact that he holds a win over Nathan Diaz, you believe that Gray Maynard is closer to a lightweight title shot than Diaz.

Jonathan Solomon: FICTION The fan in me says hell no and I'll assume that the UFC feels the same way. This is assuming the title isn't put on ice anytime soon so hopefully either Ben Henderson or Frankie Edgar come out of their rematch as healthy as can be. Let's face it - Maynard had his opportunities for the time being to win the championship. Twice, as a matter of fact. He fell short, and, as the ol' saying goes, "To be the man, you have to beat the man". Give the other top contenders in the division a chance before retreads are back in the picture.

Nate Diaz and Anthony Pettis should be ahead of Maynard on the chopping block and if there is ever going to be a fight to determine the official number one contender this year, it should be between them. Come on, Maynard just won his first fight over the weekend since two years ago. Do not throw him right back in the title hunt, we have been there and done that.

Plus, if anyone is going to be anointed the top contender without a specific fight, Diaz has earned it. Since returning to 155, he has been unstoppable including two wins over top ten quality competition and he's the first man to finish Jim Miller! What more does a guy need to do to earn a title shot?

Samer Kadi: FICTION Maynard's win over Diaz took place two-and-a-half years ago, and he's actually gotten his title shot since then. In fact, he's had two of them. After beating Diaz, Maynard went on to cement his status as the number one contender by defeating Kenny Florian, before having two memorable fights with then champion Frankie Edgar. Therefore, because Maynard has actually had his title shot(s) after beating Diaz, his win over the Stockton native becomes somewhat irrelevant at this point in time. Maynard had two chances to capture the lightweight title and failed. In fact, before his win over Guida, Maynard was just coming off a loss to Edgar. In such a stacked division, it takes more than winning one fight on the heels of a loss in a title bout to earn another crack. Since moving back to 155, Diaz has been on a roll, and has done enough to earn a shot at the title. It is unfair for that to go in vain because of a January 2010 loss.

Judge's Scorecard: Again, both guys agree, but this time, I was able to pick a winner, as Solomon says Pettis should be above Maynard, in spite of the fact that Maynard just beat the guy who easily kept Pettis out of the UFC title picture (and Maynard would likely do the same to Pettis that Guida did, since both Pettis and Guida are exceptionally strong wrestlers). Plus, Samer rightfully points out that it's more challenging to get a title shot in the lightweight division than in other UFC divisions, and Pettis, with a loss to Guida, an uninspiring decision over Jeremy Stephens, and an impressive knockout over Joe Lauzon, just realistically isn't there. Kadi, 10-9 (39-38 overall)

Guest Judge's Scorecard: The obvious flaw with the logic of the question is, Maynard already got rewarded for his win over Nate Diaz! He doesn't need or deserve a THIRD title shot years later on account of that, since that's getting a little too close to MMAth territory for my tastes. While it's good to see both guys are in agreement, Samer hits the nail on the head for me. His answer is succinct, to the point, and accurate, which allows him to take the round! Kadi, 10-9 (39-38 overall)

(Editor's note: The question wasn't to imply that either Maynard or Diaz would be receiving the next title shot, just that Maynard would remain higher in the hypothetical rankings scenarios that they use – before injuries screw everything up – to determine who is closer to a title shot.)

---


5.) Once the Sonnen/Silva middleweight title rematch was off of the card, Zuffa should've made UFC 147 a free card on FX in the United States.

Samer Kadi: FICTION In a perfect world, yes. In reality, this is far more complicated than it sounds. The amount of shows the UFC is going to put on FX is predetermined, and dates back to the signing of the FOX deal. And while things can always be adjusted during the course of the year, it is a difficult process, especially on relatively short notice. The UFC can't simply ask FX to free up three hours of air time just because a string of unfortunate injuries struck a card. So while this would have been the ideal scenario, as UFC 147 was not a card worth shedding out $60 on, it was never a very feasible one.

Jonathan Solomon: FACT. From a purely selfish standpoint, hell yes this card does not belong on PPV. Even if the Vitor Belfort/Wanderlei Silva fight was to happen as expected, it's a glorified Fight Night card. Then, when you get to the most recent change to Rich Franklin, there isn't any debate. Whether the UFC was able to change the plan or whether they are forced to fulfill a contract with PPV providers, I don't know, but they should have done right by their fans. As was the case last week, they provided an opportunity for fans who purchased live tickets to gain full refunds. So, that tells you they understand the mudslide this show has been on since April.

They will gain nothing from this show being on PPV. The unanimous belief is UFC 147 will be the first pay-per-view with under 200,000 buys in about six years. The lowest buyrate among June PPVs the past three years was last year's UFC 131 (JDS vs. Carwin) with about 325,000 buys. So, assuming sub-200,000 buys for this card, there's absolutely no momentum heading into the big July 7 show in Vegas for Anderson Silva and Chael Sonnen.

Judge's Scorecard: Both guys point out that it isn't as simple as simply shifting the fight to FX, but Solomon went ahead and pointed out the reasoning why the UFC should've made a stronger attempt to do so (as they had done in the past with overseas Spike cards). He also points out that UFC 147 will likely feature one of the UFC's lowest buyrate in the past six years, and that it didn't help to build momentum for the huge July 7th show (which, it could be argued, doesn't need the momentum based on the strength of the Silva/Sonnen rematch). Still, though, I'm giving this round to Solomon, 10-9 (48-48 overall)

Guest Judge's Scorecard: I'm going to disagree with Solomon about his last point. While 147 was indeed a Fight Night card (it was a TUF Finale, basically, and they aren't PPVs), saying there is 'no momentum' for the Silva-Sonnen card doesn't make sense. If there is one fight this year that genuinely DOES have momentum, it's that main event – and while I think I'm right in saying that Jon was actually referring to momentum in terms of PPV buys, I just don't see that as a real issue. UFC 99 did just 360,000 buys – UFC 100 did 1,600,000. It's impossible for me to draw on that and say 'oh, UFC 100 would have had even more if UFC 99 did a little better'. If anything, I would argue the exact OPPOSITE – people only have so much money to spend on PPV TV, so a strong card following a particularly weak one that no one bought might mean more people have more money/more willingness to buy the stronger card… while that is, admittedly, just conjecture, I still don't see the point Solomon was making there. Since Samer also went ahead and pointed out all those little realisms we all like to ignore about the difficulties of scratching an already-announced PPV and moving it to free TV with just a couple of months remaining, he takes this round for me. Kadi, 10-9 (49-47 overall)

---


Official Scorecard

Judge Wyatt Beougher scored the bout a Draw, 48-48 overall

Judge Jonathan Butterfield scored the bout in favor of Samer Kadi, 49-47 overall

And so it comes down to you, the fans, to determine whether Samer takes the majority decision, whether we have a split draw, or whether we have a majority draw!




---


Bonus) Interim titles are pointless if the interim champion isn't going to defend their title between winning it and fighting for the linear championship. (Alright, normally this bonus question is something that's not related to MMA, but I wanted to pick these guys' brains.)

Jonathan Solomon: FACT. I'll one up you and say interim championships are pointless, period. The only reason they are used is for marketing purposes so if the reigning champ is out for 'x' amount of months, they can still use the prop to sell some extra tickets and pay-per-views. Clearly, fighters couldn't care less about lugging around a belt that means less than nothing. Fans don't look at the interim champions with any more affection. To get rid of the mundane interim championships, I'm a firm believer that if a fighter cannot defend his belt within a year, vacate it. If he's just injured for eight months, keep the division moving. Should Carlos Condit not want to fight for risk of losing his position as number one contender, fine, he sits on the sidelines. This is exactly what's happened now, except the UFC promotes Condit as an interim-champion as though that's suppose to make him seem more regal? We're smarter than this.

Samer Kadi: FACT Interim titles are almost always pointless, under any circumstances really. The champion never values the title too much, and he'll repeatedly make claims about wanting to go after the "real" belt and the real champion. In the past, it was at times an excuse to have a five-round main event (think GSP-Hughes III at UFC 79), but that is not a problem anymore. I understand that it is sometimes useful to create an interim title, as it is difficult to simply strip the champion of his title (imagine GSP being stripped of his title after defending it so many times), and you want to make the division seem like it is not completely handicapped. However, if the interim champion is going to wait for the champion to be back, then it is completely counterproductive. Not only is the champion out, but so the interim champion is not fighting either. Instead of "losing" one top fighter, you're losing two.

Judge's Scorecard: Both guys hit the nail on the head on this one, as the question was asked, so I'm falling back to secondary criteria to judge this one, as Samer points out that it is sometimes difficult to strip a long-standing champion of their title due to an injury, whereas Jonathan would seemingly prefer to strip any champion who can't defend their title after an arbitrary amount of time. I think there are some very specific instances when an iterim belt can mean something, and GSP's injury *should've* certainly been a good one, but Condit not defending the belt until St. Pierre returns nullified that idea. Kadi, 10-9

Guest Judge's Scorecard: Whilst I wanted to disagree with both writers based on the idea that 'interim titles' are simply only there to fool fighters into defending their number one contender spot anyway, the fact is, it hasn't worked out like that on several occasions. Nick Diaz was the number one contender at welterweight before his interim title fight with Carlos Condit, and I get the impression that he (unlike Rashad or Condit) would have been willing to defend his status with or without a paper title on the line. Conversely, neither Rashad (before his eventual fight with Jones) nor Condit (at present) seem(ed) prepared to risk losing top contender status, belt or no belt. That's just how those fighters work – they'd rather play it safe and bank the big fight than give the fans or promoters the more active schedule that they'd inevitably prefer. Sad but true. There is no point Condit having an interim title, he isn't going to defend it, and he doesn't want to fight anyone other than GSP. However, waiting around is still pretty painful, but injuries happen and they're nobody's fault. On that note, I disagree with Solomon that fighters should be stripped of their hard-earned belts as readily as he wants, because it would be nothing short of outrageous to strip guys like GSP when they're clearly not only champions, but divisional kingpins. Instead, we all (including the UFC's marketing department) just need to show a little patience. 10-9 Kadi

---


And that's it for this week! As always, I appreciate constructive feedback, so you can let me know what you thought in the comments, on Twitter, or on Google+. We'll see you next week and remember 411Mania for all of your MMA needs.
comments powered by