SPOTLIGHTS
Locked in the Guillotine MMA News Report 6.29.12 Thank You Fedor Edition
Posted by Robert Winfree on 06.29.2012

Thoughts on Fedor Emelianenko's retirement, plus news on Anderson Silva losing his cool on Chael Sonnen, the title fight between Cain Velasquez and Junior dos Santos being pushed back, Alistair Overeem claiming he's clean and more!

Welcome one and all. If you're a return reader, a first timer, or just a random clicker, I hope you'll enjoy what's to come this week. Two big shows to review, though neither of them turned out to be terribly memorable. There's also news, including Anderson Silva losing his cool, and the retirement of the greatest heavyweight in history Fedor Emelianenko. This is gonna be a long one, good thing I've been working my technique, because I've got you Locked in the Guillotine again. Better start reading or risk becoming unconscious.



Feedback



Only one comment last week.
TimE said he was looking forward to the Guida/Maynard fight and that there was no interest in UFC 147. It seemed plenty of people had that same outlook, then Guida and Maynard actually fought, but more on that below. As for UFC 147, yeah it lacked star power and too many relevant fights, and certainly wasn't worth what the UFC was charging. Again more on that below.



News



Title fight delayed: The UFC had penciled in the rematch between Cain Velasquez and heavyweight champion Junior dos Santos to headline UFC 152 in Toronto. Dana White said after UFC 147 that fight is unlikely to take place in Toronto, but will definitely happen. No word on what exactly caused the delay, but I see no reason to panic about another injury. Hopefully the fight still happens this year, which is really all I'm hoping for at this point in time.

Anderson Silva is pissed: The UFC 148 media call took place early this week, and in a startling break from tradition UFC middleweight champion Anderson Silva had some rather shocking things to say to challenger Chael Sonnen. I'll simply let the quotes tell you everything you need to know:

Anderson Silva: "First of all, Chael is a criminal. He's been convicted of crimes. He doesn't deserve to be inside of the octagon. When the time comes and the time is right, I'm going to break his face and break every one of the teeth in his mouth."

"I'm going to beat Chael like he's never been beaten before. The joke is over. There's no more talking. I know he's on the line listening, and the game is over. I'm going to beat his ass out of the UFC. He's never going to want to fight again after I'm done with him."

"What I'm going to do inside the octagon is something that's going to change the image of the sport. I'm going to beat his ass like he's never been beaten before. I'm going to make sure that every one of his teeth are broken, his arms are broken, his legs are broken. He's not going to be able to walk out of the octagon by himself. I can guarantee that."

"The first time we fought he stepped out the loser. And he's going to step out losing again this time. The only difference is this time, he's going to have to go see a plastic surgeon after the fight."

I'm not going to lie, the thought of Anderson Silva actually this angry at anyone is a scary thought. Silva is the greatest fighter in the short history of our sport. Of course there is a flip side to that, often when a fighter is angry, or there's tons of insults thrown back and forth, the fight itself is rather lackluster. There's a long history of fights with anger and, to use a pro-wrestling term, heat that wind up under performing. I'm still very much looking forward to the fight, though now I'm wondering if Silva can do what he's claiming he will.

Oh those wacky Featherweights: Dana White spoke a bit about the featherweight division after previously number two ranked Hatsu Hioki lost on the prelims of the UFC on F/X card. He hinted that after the injury to Jose Aldo it's possible that Erik Koch wont be getting the next shot. After Chan-Sung Jung's victory over Dustin Poirier it wouldn't be too outrageous to have Koch and the Korean Zombie fight for the next title shot. Or just give it to the Zombie and have Koch fight someone like Ricardo Lamas or Cub Swanson. Aldo's injury didn't really screw up the division, it just threw off some of the timing for fights that the UFC will now have to deal with.

Overeem claims he's a clean fighter... again: I really try not to be too cynical when it comes to stuff like this as there's more than enough cynicism and negativity around the internet, I know, shocking right? That said, I'm struggling to believe Overeem here. He went on UFC Tonight and essentially repeated what he told the Nevada State Athletic Commission, blaming some anti-inflammatory medication for the spike up to 14:1 in his testosterone to epitestosterone ratio. While it remains possible since several anti-inflammatory medications have steroids as part of their makeup, I'm not sure what circumstances would have to be to create a 14:1 ratio. So I'll be a bit of a cynic here and say I still don't really buy this, but hopefully this incident gets Overeem to stop "juicing" and discourages other fighters from doing so.




Split decision to start the night: Ken Stone defeated Dustin Pague by split decision to open the night. The fight wasn't very exciting, but I think Stone should have won. Pague is the first victim of the 411mma unanimous pick curse of the evening, let's see if it strikes again. Not a terribly relevant or memorable fight.

Dan Miller wins: Dan Miller submitted Ricardo Funch in the third round with a guillotine choke. The first two rounds were close, but neither guy was extremely active and we got what amounted to a prolonged feeling out process. Funch landed a good takedown in the second round and initially showed some good striking in the first, but as time went on his technique got sloppy and Miller started avoiding his strikes. In the third Miller landed a nice straight right hand that dropped Funch, and when the staggered Brazilian went for a takedown he left his neck exposed and Miller sunk in a nice choke. Good win for Miller in his welterweight debut. As for Funch, the guy has never won in the UFC, I have no idea why they keep bringing him back.

Brown breaks Lamas: Matt Brown stopped Ricardo Lamas with strikes in the second round and remains undefeated in 2012. The first round was more grappling heavy with Lamas trying to keep Brown against the fence and work his ground game. In the second round Brown stepped up his pace and began landing good strikes, especially from the clinch and forced the referee to stop the fight. Brown will never challenge for a title, but he'll also never have to look for a job outside of the UFC as long as he keeps fighting like he does. Good fight to kick off the Fuel TV prelims.

Camozzi cuts Catone: Chris Camozzi stopped Nick Catone with a cut over Catone's left eye following a knee in the third round. After seeing the cut I was skeptical about how warranted the stoppage was, but if it was bleeding into his eyes the location plays as big a role as the depth and length of the cut. Camozzi looked ok in the third round when he turned up the pressure, and his wrestling looked very improved. Not the worst fight to keep things going with, and the Fuel TV card hasn't needed the judges at all yet.

Siler is no joke boys and girls: Stephen Siler defeated Joey Gambino by submission with a guillotine choke in the first round. Siler's striking looked great tonight, his strikes in the clinch especially stood out, including an early knee that cut open Gambino. Siler improves to three wins with no losses inside the UFC and has looked better with each fight, the guy could use a step up in competition. More finishes are always good.

Judges are needed: Rick Story defeated Brock Jardine by unanimous decision in what was a typical Rick Story fight. He was able to secure the clinch and get takedowns on Jardine consistently through the entire fight. Jardine looked over-reliant on his striking and threw himself off balance whenever he punched and Story took advantage of it. Story gets a win and gets back on track, but it wasn't a great fight.

Nijem plays spoiler: Ramsay Nijem spoiled the UFC debut of CJ Keith, stopping him in the first round with strikes from the mount. Keith looked decent at times, but Nijem was more competent on the ground and once he got on top of Keith it took no time to get the mount and to land enough strikes to stop the fight. First round finishes are good, and this is no exception. Good fight for Nijem who keeps carving out a niche for himself in the UFC.

This is why you should take the title shot: Ricardo Lamas defeated Hatsu Hioki by unanimous decision. I had Lamas taking rounds two and three, Hioki just wasn't effective in rounds two and three and found himself in a few tight guillotine attempts. Great win for Lamas who made full advantage of the opportunity given to him on this night. For Hioki, he needs to improve his striking a lot and his wrestling could use improvement, but his submissions remain some of the best in the division.

Pearson falls to the curse: Cub Swanson defeated Ross Pearson by TKO in the second round as Pearson fell to the 411mma unanimous pick curse. Both guys looked pretty good in this fight, but Cub displayed superior movement and speed in the cage. Pearson looked good when he was on top of Swanson on the ground, but he wasn't able to keep him there. Very good win for Swanson who seems to finally be finding his groove as a fighter.

Ebersole gets a gift: Brian Ebersole defeated TJ Waldburger by unanimous decision in a fight that I personally scored for Waldburger. Ebersole remains undefeated inside the UFC and could use a step up in competition at this point. Waldburger looked pretty good in this fight except the third round and I'm a bit more interested in his fights than Ebersole's at this point. After the fight Ebersole mentioned he plans on cutting to lightweight, something I'm not sure he can do physically, but if he can he'll be a huge lightweight.

The trilogy ends: Sam Stout defeated Spencer Fisher by unanimous decision, based mostly on his successful takedowns. Spencer Fisher looked very crisp and on point with his striking, but Sam Stout came with a variety of techniques, standing and grappling, and was able to out point Fisher. Fun fight for the most part, mostly pure nostalgia but I'm not complaining.

Much ado about Nothing: Gray Maynard defeated Clay Guida by split decision in a fight that should wake people up to Guida not being as exciting as they think he is. Guida showed good movement, but he didn't do anything with it. He didn't counter Maynard's attacks, he didn't change levels and shoot when Maynard got off balance, he just bounced and moved while doing almost nothing very effective. In fact Guida was warned in the last round about running away with referee Dan Miragliotta threatening to take one or even two points. This wasn't an exciting fight, and while I'd love to say "I told you so" with respect to my opinion on Guida not being an exciting fighter, I'm going to take the high road. Maynard got a much needed win and asked for another fight with Frankie Edgar after Edgar fights Benson Henderson. As much as we've seen of Frankie and Gray in the cage together, the reality is that between them they're 1-1-1. I'd like each guy to have at least one more fight before a possible fourth though. Not the best way to end the night, but here's hoping UFC 147 is better.




I got to do live coverage for UFC 147, which is always an interesting experience for me and a resounding disappointment for those who have to read it. Anyway let's take a look at what went down in Brazil.

Draw to start: Milton Vieira and Felipe Arantes fought to a draw. I personally scored the fight 29-28 for Arantes, but the third round remained in question. I thought Milton easily had the first with his grappling and Felipe had the second with superior striking. The final scores were 29-28, 28-29, and 28-28. Odd end to a decent little fight. Vieira looked good on the ground, but his striking really need work.

Comeback time: Marcos Vinicius overcame a two round deficit to TKO Wagner Campos in the third round. Both the first and second rounds were controlled by Campos on the ground, and he clearly had an edge there. In the third Vinicius landed a couple big knees to the body that got Campos against the fence and then he proceeded to tee off and force the stoppage. Good comeback considering how far he was down. Neither guy is going to make any waves though.

Third round finishes abound: Thiago Perpeteuo defeated Leonardo Mafra by TKO in the third round. Mafra looked good in the first, but his striking was just too wild and Perpeteuo picked up on that. Perpeteuo landed some good ground and pound in the second, then hit a beautiful right hand and followed it up to get the stoppage in the third. Good win for Perpeteuo, even if the fight itself wasn't the most exciting.

Sadly this fight set the tone for the night: Hugo Viana defeated John Teixeira by split decision in a really lackluster affair. Following a pretty intense grappling exchange in the first Viana just didn't have the same speed in his arms that he did before. I scored the fight for Teixeira, but really there wasn't much of a winner here.

Trinaldo really wanted it: Francisco Trinaldo defeated Delson Heleno by TKO near the end of the first round. Most of the round was Heleno fighting hard for a takedown from the clinch while Trinaldo landed knees and punches to the body when he wasn't defending the takedown. Eventually he hurt Heleno and when Heleno pulled into half guard he was hurt and Trinaldo swarmed him with punches until the fight was stopped. Great takedown defense from Trinaldo, but Heleno isn't known for powerful wrestling either. Trinaldo indicated after the fight he'd like to drop down to 170 pounds, which would be an interesting move on his part. Heleno really underperformed here. Decent win for Trinaldo, but I'm not sure how far he goes.

Damm, that was quick: Rodigo Damm submitted Anistavio Medeiros in the first round with a rear naked choke. Damm looked solid in this fight, he rocked Medeiros with a left and followed up with a nice choke to force the submission. Damm actually has a decent resume and might make something of a name for himself at featherweight.

And the boredom resumes: Harcan Dias defeated Yuri Alcantara by unanimous decision in a really uninspired fight. Alcantara just had no answer for the takedowns or top control of Dias, who used that to grind out a win. All you really need to watch from this fight is the first round, because it was really just more of the same after that. Next please.

The word Overmatched springs to mind: Fabricio Werdum displayed his improved striking and stopped Mike Russow in the first round with strikes. Werdum landed a nice lead uppercut that rocked Russow and followed it up with punches and hammerfists until the fight was stopped. After the fight he called out Junior dos Santos. I still don't think he'd beat dos Santos, but Werdum has improved as a fighter enough to generate a bit of interest.

"Jason" he was not: Rony "Jason" Mariano defeated Godofedo "Pepey" Oliviera by unanimous decision in another lackluster fight. Oliviera pulled guard multiple times, but never got any kind of offense going from it while Mariano landed the better strikes and controlled the cage more. For all the emotion behind these finals, neither of them were very good fights.

Well that was kind of there: Cezar Ferreira defeated Sergio Moraes by unanimous decision. The fight was contested entirely on the feet, much to the chagrin of the submission oriented Moraes, and Ferreira just landed better shots over the fifteen minute fight. While there were certainly moments of excitement, and the third round seemed to wake both guys up, I didn't take anything memorable away from this fight, except that it was close and a little odd to score. I just need to point out that all of these Brazilian fighters really lack in wrestling, which you absolutely need if you want to compete at the highest level.

Second verse same as the first: Rich Franklin defeated Wanderlei Silva by unanimous decision in what was awarded the fight of the night. Silva rocked Franklin in the second and really swarmed on him, but apparently gassed himself out in the process because he wasn't nearly as active or effective in the following rounds. Franklin landed plenty of jabs and straight lefts and scored a comfortable decision win. I was holding out hope for Silva, but if anything this fight reinforced in my own mind why I stopped caring about individual fighters. Decent win for Franklin who said he's hoping to move back to middleweight and make a last run at the title. Hey, I'd pay to see Anderson Silva rearrange his face again.

The whole Friday and Saturday double header wound up having a bunch of uninspired fights. Injuries really sucked the life out of the UFC's summer lineup this year, so here's hoping their fall schedule remains as is.




Well, it had to happen eventually. The greatest heavyweight in the history of MMA announced his retirement. Fedor Emelianenko's first round knock out of Pedro Rizzo could easily be the last time we ever see the Last Emperor fight. Patrick Mullin devoted time to discussing Fedor's retirement in the last edition of 411's Ground and Pound radio show, and 411 luminaries Jeremy Lambert and Samer Kadi devoted their weekly column to looking back at the great Russian. I guess that means it's my turn to look back at the career of one of the all time greatest fighters in our sport.




There are so many different things I could talk about when it comes to Fedor, being undefeated for ten years, his great fights with Antonio Rodrigo Nogueira and Mirko Cro Cop, his being one of the first heavyweights ever consistently discussed near the top of pound for pound rankings, or several other things that have and will be discussed. I could spend an entire column looking back at the fights over his career and discussing them. So I'll do something of an abridged version of all of the above.

From his MMA debut way back in May of 2000 until his fight with Fabricio Werdum in June of 2010 there was a single blemish on the record of Emelinakeno, and that came because of an illegal elbow strike that opened up a cut, but given they were in the semi-finals of a one night tournament someone had to advance. Under any other circumstance the fight would have been either a No Contest or a disqualification win for Fedor. I'm not going to pretend everyone Fedor fought was a world beater, there were more than a few freak show fights when he fought in PRIDE, but Fedor dismantled them in dominant fashion. The reality, when talking about PRIDE, is that every successful fighter to come from that organization had freak show wins or wins over over matched competition. While the likes of Zuluzhino and Gary Goodridge were never in the same league as Emelianenko, he also fought Big Nog three times, and fought Mirko Cro Cop when Cro Cop was possibly at his most dangerous. Fedor dominated everyone who was put in front of him, and really that's all any fighter can do.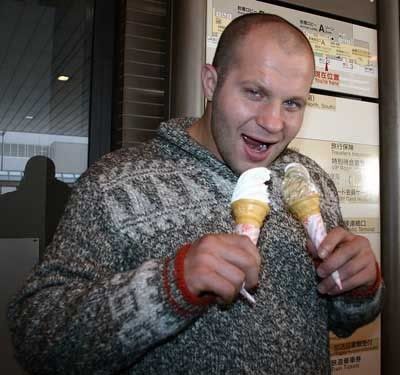 The biggest knock on Fedor has been that he's never fought for the UFC. I think by and large that's an unfair criticism. When Fedor was at his best the UFC had no heavyweight division to speak of. Dana White has said of the heavyweights during that time frame that it was basically Tim Sylvia and Andre Arlovski fighting each other every other week. Fedor was fighting, and destroying, a much higher level of competition than the UFC could boast up until the short lived and poorly run Affliction MMA promotion closed shop. While in Affliction Fedor choked out Tim Sylvia in the first round, then knocked out Andre Arlovski in mid air, and was set to face Josh Barnett, the only heavyweight from PRIDE he hadn't beaten, before Barnett tested positive for steroids. Now this was sometime in late 2008 or early 2009, and it's easy for us to say Fedor should have gone to the UFC, but in terms of top level opponents the UFC didn't have the number they do today. In 2009 Junior dos Santos had only just made his UFC debut by knocking out Fabricio Werdum, and Cain Velasquez's biggest win in that year was over Ben Rothwell and there were still some questions as his fight with Rothwell was after his fight with Cheick Kongo. In 2009 the top of the UFC's heavyweight division was "the new breed" of heavyweight who weighed close to 265, like Shane Carwin, the much inflated Frank Mir, and Brock Lesnar. Now that isn't to say I wasn't severely disappointed when Fedor signed with Strikeforce, but in terms of top competition Strikeforce had some good fighters at heavyweight. Of course this meant we'd never see two huge fights for Fedor in the UFC, a fight with Brock Lesnar that would have done some insane numbers and the always speculated fight with Randy Couture.

We all have our stories about how we got interested in MMA, the first fighters to really capture our imaginations. I discovered Fedor Emelianenko almost by accident. When the UFC signed Mirko Cro Cop and began hyping him as a killer I wasn't too familiar with PRIDE, or MMA for that matter, but I was intrigued and looked up Cro Cop highlights on YouTube. After seeing a few I definitely knew what all the hype was about Cro Cop, but I also saw a bit of video that was used to hype the fight between Fedor and Cro Cop where PRIDE fighters broke down the fight, and they all gave the edge to Fedor. After I'd seen Cro Cop's takedown defense and striking I wanted to know more about Fedor. A few highlight videos and after watching his fights with Heath Herring and his first with Big Nog, I was hooked. It wasn't just that Fedor won, it was how he moved, the skill he possessed. I still vividly remember my reaction when Kevin Randleman slammed him on his head, and a few seconds later Fedor reversed position and forced "The Monster" to tap out. The more educated I became about MMA, the more impressive Fedor became. Sure there were little things to pick on, his punches weren't straight, against a powerful wrestler he could be taken down, but he was one of the most complete fighters I'd ever seen. As time has gone on I think Georges St-Pierre has become the most complete fighter in MMA, and Anderson Silva has surpassed him in terms of overall greatness and spectacular moments. I do think no one has captured the intangible that Fedor had though, whenever Fedor fought it was a big deal. A Fedor fight was big, it tugged at your gut because win or lose you knew you were seeing something worth seeing.

For all the greatness of Anderson Silva, I doubt too many people were really excited when he fought Thales Leites, James Irvin, Travis Lutter, or Demian Maia. While Georges St-Pierre seems incapable of giving up more than one round against anyone, his last few fights have featured a sense of inevitability, we all know that Georges is going to fight where he has the biggest advantage and he's so good that no one can really take him where he's at risk. It didn't matter who Fedor Emelianenko fought, there was always excitement, and when he fought another good fighter no one could generate a big fight atmosphere like the incredible Russian. In terms of that intangible excitement I think the only guy to come close on a regular basis was Brock Lesnar. The upcoming rematch between Anderson Silva and Chael Sonnen has it, but Silva doesn't generate that excitement and anticipation consistently. Sure we all watch him, likely because he's going to destroy his opponent in spectacular fashion, but he's laid enough eggs over his UFC career to make us hesitant to get truly excited every time he steps into the octagon. Georges has been so good and so dominant for so long we tend to take him for granted. The last time Georges really had buzz going into a fight was his UFC 100 fight with Thiago Alves, and his rematch with BJ Penn before that. Even after two straight losses, when Fedor fought Dan Henderson there was that sense of excitement and anticipation.

While I know retirements in MMA already have started getting a reputation like retirements in professional wrestling, thanks Randy Couture, BJ Penn, Rampage Jackson, and Nick Diaz for that, I think Fedor really is done. He sighted the desire to be with his children, who he feels are growing up without him. Fedor has always struck me as a God fearing family man, and if he feels he should be with his family then he will be with his family. Fedor has said he'll remain involved in MMA, specifically as the President of the Russian MMA Union. I'd like to thank Fedor for all the incredible fights, the great memories, and the way he carried himself outside of the ring. More fighters should learn from his example as far as how they present themselves to the rest of the world. The MMA world lost an all time great, and I for one will miss Fedor and his fights.

All I can say is thank you.




There's some strong language at times, so be aware of that when watching




That does it for me this week. Next week I'll finally be bringing back the Going Deeper segment, specifically I'll be taking a look at the super rematch between Anderson Silva and Chael Sonnen. And of course all the news you're used to getting from me. You've survived long enough to escape the Guillotine again, catch you again next Friday.
comments powered by