SPOTLIGHTS
Occupy The Throne 7.04.12: Silva vs. Sonnen -- The Money Fight
Posted by Jeremy Lambert on 07.04.2012

At UFC 148 Anderson Silva defends his middleweight title against Chael Sonnen in the biggest rematch in UFC history. 411's Samer Kadi and Jeremy Lambert take a look at the fight from all angles in this week's Occupy The Throne!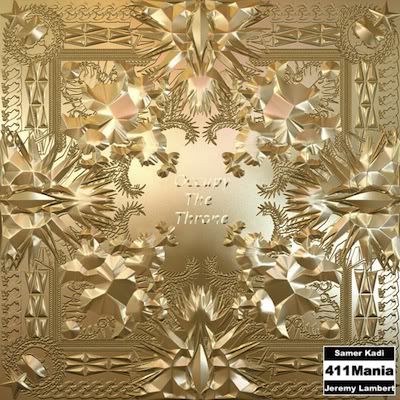 Silva vs. Sonnen 2



Jeremy Lambert: Money fights don't come along very often. By my definition, a money fight is a fight that is going to draw well over the average on PPV and a fight that, on paper, should be close and competitive where fans are split on who they think will win.

This Saturday, UFC has their first money fight of the year when Anderson Silva once again defends his UFC middleweight title against Chael Sonnen.

I shouldn't need to remind fans of what happened the first time these two men squared off at UFC 117 because I like to think that our readers are the smartest readers on 411, but in case anyone accidentally clicked this column instead of The MMA 5&1, here's your recap: For over four and a half rounds, Sonnen beat Silva from link to link in the cage. He rocked him standing, took him down at will, and only stopped punching him when the round ended. Then, with less than two minutes remaining, Silva locked on a triangle choke and Sonnen gave one tap, indicating he wanted out of the fight. Silva retained his title and Sonnen went home in second place.

At UFC 148, they meet again. Silva is still the champion, Sonnen is still the challenger, but the stakes feel so much higher.

Samer Kadi: In an era of product oversaturation, main events falling through to injury with alarming regularity, sidelined champions, and Brandon Vera headlining a card on FOX, authentic mega-fights are an absolute rarity. Stars are not going to frequently align in order to get a fight with long, unforced build-up, a backstory, true hatred, high stakes, and most importantly, two highly skilled mixed martial artists.

In a time of manufactured feuds, a legitimately rivalry is a welcomed sight in and of itself. When said rivalry features the greatest fighter this sport has ever seen, complimented by a walking quote machine ľ who happens to be a phenomenal fighter to boot ľ you get one of the most anticipated fights of the year. And when both fighters have already engaged in one of MMA's all-time classics, the two-year in the making rematch becomes one of the biggest fights in MMA history. For once, that statement is not marred by hyperbole.

One week ago, the buzz for the biggest fight of 2012 had yet to peak. Then, something happened. The world's greatest fighter was unleashed. Except this time, quite unusually, it wasn't through matrix elbows, front kicks to the face, and jab knockouts. Instead, it was through this:

"When the time comes and the time is right, I'm going to break his face and break every one of the teeth in his mouth."

"What I'm going to do inside the octagon is something that's going to change the image of the sport. I'm going to beat his ass like he's never been beaten before. I'm going to make sure that every one of his teeth are broken, his arms are broken, his legs are broken. He's not going to be able to walk out of the octagon by himself. I can guarantee that."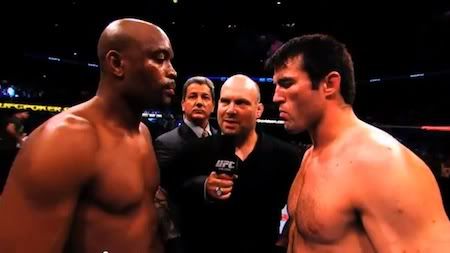 Jeremy Lambert: Silva's out of character words shocked pretty much everyone who has covered this rivalry since it started when Chael Sonnen beat Nate Marquardt and earned his first crack at the belt.

The war of words between the two men had always been one-sided. While Sonnen would discredit Silva's accomplishments, make fun of other Brazilian fighters who were Anderson's friends and training partners, and take countless shots at Brazil in general; Anderson would smile and laugh it off. If any verbal counter came back at Chael, it was usually courtesy of Anderson's manager Ed Soares.

So when Silva fired back at Sonnen, it left a lot of us speechless, including Sonnen. Now there are two ways of looking at this: first, Silva is so fired up about getting a chance to fight Sonnen again and had two years' worth of pent up rage that he could no longer bury, that he finally had to unleash part of it through words. Silva knows the narratives that people have put out there. He got dominated in the first fight, he was "lucky" to win, he's been ducking Sonnen because he knows the second fight would be no different, etc.... He's letting people know that this is a pissed off Anderson Silva who beats people in the cage and usually has some remorse. There will be no remorse this time. This Anderson Silva will kill Chael Sonnen.

The other way of looking at it, is that Silva is too emotional and Chael has finally gotten to him. Anderson has always been known for his calm demeanor inside and outside of the cage. He's rarely let the words of others get to him, and when he has, he usually responds in a subtle and joking manner. Not this time. After years of talk, Sonnen has finally baited Silva into playing his game before the fight, except to Anderson, this isn't a game. We've taken a game too serious before, and when we do, we make mistakes and become frustrated while our opponent just laughs and wins. Sonnen could be laughing all the way to the title on Saturday.

Samer Kadi: Under normal circumstances, it would be a waste of time to even bother to discuss Anderson Silva's state of mind. He's been the champion for almost six years, has defended his title a record nine times and barely broke a sweat in the process. However, in Chael Sonnen, Silva is not only facing the man he dislikes the most, but the fighter who had him on the brink of defeat. Nevertheless, you would have to trust Silva's experience at this level to allow him to keep his emotions in check come fight time.

Whether that will be enough however, remains to be seen. Failed drug test or not, rib injury or not, it is impossible to overlook the events of their initial encounter. Chael Sonnen took full advantage of the few holes in Silva's game, and exploited them to (near) perfection. Silva's takedown defense was never his strongest point, but the fact that he had never came up against a dominant wrestler like Chael Sonnen meant the extent of that weakness had never been fully on display.

Sonnen's historically solid chin meant he was prepared to absorb a few shots on his way in, and it allowed him to be very aggressive. While his striking has looked quite below-par in the subsequent fights against Stann and Bisping, against Silva, it never looked better. He rattled him early with a left, and it seemed to have put doubt in the champion's head. Moreover, the fact that Silva knew Sonnen could take him down at will forced him to be a little too aggressive for his own good and take quite a few risks on the feet, as he knew he had to make something happen before being inevitably planted on his back.

That however, is not the way Silva normally fights, and it showed. He wasn't his usual relaxed self. He couldn't let his creativity take over, and as a result of being aggressive, he was less technical than usual, throwing uncharacteristically wild punches. Most crucially, his distancing was all over the place. Normally, Silva is a master at fighting from a certain range and controlling the distance, yet the amount of space Sonnen is able to cover with his shot meant Silva either had to stand either too far outside, which prevented him from landing significant power strikes, or too much in the inside, which made Sonnen's task of taking him down that much easier.

As a result, Silva needs to make adjustment to his footwork and distance this time around. Abandoning some of the body kicks he threw the in their first encounter will be necessary, but most importantly, he needs to make full use of his jab.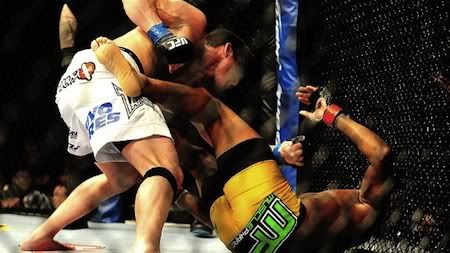 Jeremy Lambert: When it comes to rematches, usually the fighter who loses the first bout needs to make the proper adjustments in order to avoid another loss. But as my partner pointed out, it's actually Silva who needs to change things up if he hopes to defeat Sonnen for a second time.

If I had to design the perfect fighter to dethrone the long-time middleweight king, it would be Chael Sonnen. Maybe during Joe's Keys To Victory he'll only have the wrestling advantage while Silva is given the striking, submissions, and experience advantages, but his wrestling is all he needs. Sonnen himself put it best when he said, "All I need is three takedowns." If the first fight is any indication, once Chael gets a takedown in the round, unless he gets submitted, you can pretty much call the round over, because Silva likely isn't getting back up. So if he gets three takedowns, that's three rounds in his favor, and as long as he remains conscious or with his limbs attached in the other two rounds, that's a 48-47 decision for the new champion.

Chael is going to do the same thing he did in the first fight. He'll press forward, eat strikes on the way in but trust his chin to hold up, grab a hold of Silva, plant him on his back, and then punch him in the face until the round ends. He's going to do that from minute one to minute 25. If Anderson can prevent the takedown or scramble back to his feet, while Sonnen may not win the fight in that case, unlike previous opponents who then gave up and essentially let the champion clown them, Sonnen will keep moving forward and go out on his shield.

Samer Kadi: Getting back to his feet will be absolutely vital for Silva, as if the fight doesn't end early, it will be hard to envision him staying vertical the entire time by virtue of stopping Sonnen's takedowns. Unfortunately, that is an ability Silva has lacked throughout his career, as sweeping, wall-walking, shrimping and scrambling up are not things "The Spider" is particularly renowned for. With him starting to get up there in age, and injuries hampering him quite a bit in the past two years, it is unreasonable to expect him to suddenly develop those skills. Nevertheless, he shouldn't be quite as poor in that regard as he was in their first fight, where he never came close to regaining his vertical base. With him experiencing Sonnen's top control first hand, you'd have to think that it is something he's worked on diligently in training.

Meanwhile, submissions from the bottom can always be a game-changer. Silva's guard is an odd one to get a grasp on. On one hand, it is quite competent offensively. While his hips are not super dynamic and he isn't constantly transitioning from one submission attempt to the next, he is quite opportunistic at lacing up triangles, and he is extremely active when it comes to throwing strikes from the bottom; namely elbows. Conversely, he doesn't offer much defensively. Unless he's getting a body triangle and trying to control his opponent's posture, Silva is constantly struggling to get butterflies and try to push off, or avoid ground-and-pound altogether, not to mention the fact that his guard isn't that difficult to pass altogether. The nature of this particular match-up means we'll likely see both sides of Silva's guard, with him eating his fair share of punishment, but dishing out some strikes from the bottom and throwing out submission attempts as well.

From a match-up perspective, these different variables coupled with the events that transpired in their first encounter are what make the rematch so intriguing. That, coupled with the build-up leading up to the fight promise to make this a huge PPV success.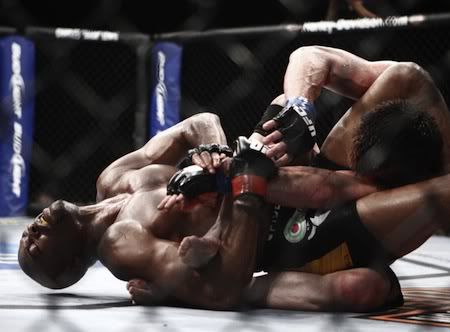 Jeremy Lambert: Dana White says that this Saturday's fight will do, "UFC 100 numbers." So I guess Dana will base jump off the Mandalay Bay twice if UFC 148 pulls 1.7 million PPV buys.

Hyperbole aside, if this rematch doesn't do a million buys on PPV, UFC has no one to blame but themselves. Sonnen did his usual excellent job building up the fight and Silva went way above what anyone expected from him. However, the UFC screwed up by not getting a three part Primetime series together for the fight to put on FX or getting a special one hour countdown show on FOX, which was rumored to be happening earlier this year. Instead they put together one episode of Primetime and aired it on FuelTV and online. So the only people who saw the show were the ones who likely bought the PPV a month ago.

It's also no secret that MMA business is down and has been for a couple of years now due to the over saturation of the sport. The last time UFC broke 1 million PPV buys was UFC 121 and Anderson Silva's best PPV number is 850,000 at UFC 101, which also had a still very relevant Forrest Griffin and BJ Penn vs. Kenny Florian in the main event. As a headliner, Silva's best number is 725,000 vs. Vitor Belfort. Even though he's the greatest fighter of all-time, he's never been a big PPV draw who can pull 500,000 buys against a broomstick like Georges St. Pierre or Brock Lesnar or Chuck Liddell.

The first fight between Silva and Sonnen did 600,000 buys, which was a big number for a Silva fight against a guy who wasn't perceived as a star and let's not forget that PPV came in the middle of a huge run for the company. 400,000 extra buys seems like a lot, but if there's one fight that can do it, it's this one.

Big fights don't come around too often nowadays, especially with all the injuries that have killed many PPVs this year. So when there is a big time fight, that is actually intriguing and compelling, people are more likely to shell out the money.

Samer Kadi: The Primetime misstep was definitely unusual, as you'd think given the magnitude of the fight, Zuffa would have it sorted out months in advance, as opposed to throwing a quickly put together last-minute show on Fuel TV. Nevertheless, while the positive relationship between Primetime and PPV numbers have been proven, the fight should do very well on PPV regardless. Anderson Silva may not pull off great numbers against anyone, but he certainly does against the right opponent, and Chael Sonnen is as right as it gets. The world has been clamoring for a rematch ever since Sonnen tapped out to that hail marry triangle, and two years later, they are getting it.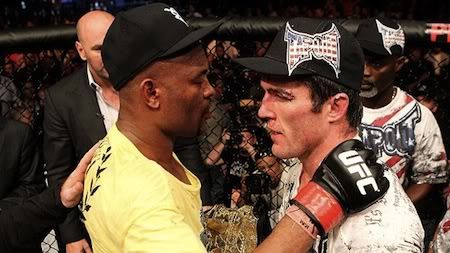 Jeremy Lambert: This fight feels almost impossible to predict, both in terms of the in-cage action and the out of cage business.

When it comes to business, I think it'll come close, but ultimately fall shy of 1 million buys. We've already laid out the factors working against it, but to add to it, the weak undercard doesn't help either. At 925,000 buys, it could still be the highest drawing PPV of the year, but Dana White will be eating crow for setting expectations so high.

As far as the fight, while I'm going with "The Spider," I haven't felt less confident in a pick since Cain Velasquez vs. Junior dos Santos. Even though there have been toss-up fights this year like Nick Diaz vs. Carlos Condit and Frankie Edgar vs. Ben Henderson, I was actually more confident in Condit and Henderson in winning than I am Silva. Of course I must note that Condit and Henderson did win, meaning I'm a genius.

This is a 50/50 fight as far as I'm concerned, but I expect Silva to make the proper adjustments from their first encounter and continue his legendary reign atop the middleweight division.

Samer Kadi: Because the UFC PPV business on the whole has been down, this fight will fall short of the lofty estimations the UFC is setting. It will likely do somewhere in the high 800,000 buys range. Call it 875,900 buys.

Meanwhile, I don't recall a fight in which I've changed my prediction so many times. I've been going back-and-forth so many times about it I've lost track of all my different predictions. As it stands, while I believe Chael Sonnen is a bad match-up for Anderson Silva, and after initially picking the man from Oregon to finally dethrone "The Spider" months ago, this is the greatest fighter in the world we're talking about, and until he actually loses in the UFC, he's earned the right to be the favorite in any fight. Silva by TKO in round 2.

For more from the Occupy The Throne duo you can follow Samer Kadi and Jeremy Lambert on twitter. You can also check out ManCaveThoughts.com for more writings and podcasts.
comments powered by