SPOTLIGHTS
Five Quick Rounds 07.17.12: Weidman Wins, Rockhold Retains, Zuffa Addresses PEDs, OneFC Continues Amassing Talent, More!
Posted by Wyatt Beougher on 07.17.2012

From results from last week's UFC on Fuel TV 4 and Strikeforce: Rockhold vs Kennedy shows and Zuffa drawing a line in the sand when it comes to PEDs to Asian MMA promotion OneFC continuing to sign new fighters and more, take a quick look back at the past week's MMA news with Five Quick Rounds!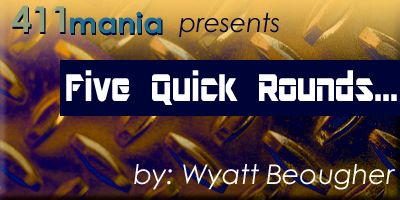 Welcome to another edition of Five Quick Rounds, 411's fastest-finishing weekly opinion column. As always, I'm your host, Wyatt Beougher, and this week has been a bit of recovery period for me, as the photos from the Ronda Rousey ESPN the Magazine "The Body Issue" photoshoot were released. It's no secret around here that I'm a fan of Ms. Rousey's talent inside the cage and both her looks and personality outside of it, so to say that the photos were a highlight of an otherwise slow news week would be a bit of an understatement. But that's more Stewart's style in The MMA 5&1, so let's get to what I do, shall we?




Round 1: UFC on FuelTV 4 – A New Challenger Emerges?

***TOUCH OF THE GLOVES***

The UFC had another one of those barely promoted Wednesday night FuelTV cards this past week, and it actually turned out to be a pretty decent show. In main card action, Rafael dos Anjos picked up a unanimous decision victory over Anthony Njokuani, TJ Dillashaw submitted Vaughan Lee in 2:33 with a rear naked choke, Francis Carmont submitted Karlos Vemola in the second round with a rear naked choke, Aaron Simpson picked up a unanimous decision over Kenny Robertson, James Te Huna scored a unanimous decision victory over Joey Beltran, and Chris Weidman destroyed Mark Munoz' face with an elbow to pick up a TKO win at 1:37 of round two of the main event.

Obviously, the biggest news coming out of this fight was Weidman picking up his second win over a top 5 middleweight (at the time that he fought them, anyway), in the form of Demian Maia back in January and Munoz last Wednesday, which arguably gives him the strongest contendership resume of any middleweight in the UFC right now. Don't let the fact that Weidman was able to break Munoz' jaw fool you, though – this is the same guy who gassed out against Maia (a guy with decidedly average stand-up) and was one-half of one of the worst third rounds of this year. Plus there's the fact that of the guys who are being thrown around as title contenders (Boetsch, Lombard, Bisping, and now Weidman), only Boetsch and Weidman have beaten former title contenders (Okami and Maia, respectively). Honestly, I think only Lombard is one win away from the title, but I certainly wouldn't be opposed to Weidman fighting Bisping or Boetsch (if he beats Lombard) in a title eliminator.

***HORN SOUNDS***




Round 2: Strikeforce: Rockhold vs Kennedy – Fighting for Respect

**TOUCH OF THE GLOVES**

And in the second barely promoted show of the week, on Saturday night two Strikeforce titles were up for grabs, and Strikeforce: Rockhold vs Kennedy proved to be a pretty decent card from what I saw (just the fights themselves, none of the in-between stuff). In preliminary action, Pat Healy defeated Mizuto Hirota via unanimous decision in the prelims to quite possibly earn himself a title shot against lightweight champion Gilbert Melendez. On the main card, Lorenz Larkin beat Robbie Lawler by unanimous decision, Roger Gracie picked up an easy unanimous decision victory over Keith Jardine, Nate Marquardt won the vacate welterweight champion by knocking out Tyron Woodley in the fourth round, and Luke Rockhold outpointed Tim Kennedy to retain his title with a unanimous decision victory.

As I said, this ended up being a very solid night of action, and at the pre-fight press conference, more than one fighter complained about the lack of media attention and promotion for the card. After seeing all the hype that went into the Rousey v Tate card and the Heavyweight Grand Prix finale, I can understand where the guys from this show were coming from, and, much to their credit, they came out and put on a night full of action that proved that they did deserve to receive a greater amount of publicity leading up to the event. Even Woodley, frequently lambasted for his boring lay-and-pray style, treated fans to a much more exciting fight than I think anyone was expecting, and I think everyone watching breathed a sigh of relief when Marquardt put him away with a nasty little combination.

**HORN SOUNDS**




Round 3: Weight Class Shake-Ups?

**TOUCH OF THE GLOVES**

In discussing trends in MMA with fellow 411 writers, we often talk about how fighters switch weight classes because they feel it will reinvigorate their careers, yet most of the time it doesn't pan out all that well for them. For every BJ Penn, who enjoyed a great deal of success after losing the welterweight title by dropping down to his more natural weight class, there's a Kenny Florian, who just couldn't win a title in any division he fought in, or a Brandon Vera, who was once going to dominate two divisions and instead finds himself almost continuously on the verge of being cut. That topic came up again this week, as two more fighters discussed changing weight classes, although one was shooting down rumors and the other was stoking them up.

As a former light heavyweight champion and the most recent challenger to Jon Jones' title, Rashad Evans has enjoyed a great deal of success in the light heavyweight division against anyone not named Jones or Lyoto Machida. As such, it should be no surprise that Evans had no intention of dropping to middleweight, in spite of tweeting that he wanted to pick a fight with the middleweight champion shortly after UFC 148. I think that's definitely the best move for Evans, as he has already dropped from heavyweight (although many fighters fight on The Ultimate Fighter at a different weight than their normal weight class), and, as I said, he's enjoyed considerable success in the light heavyweight division.

The other fighter is Chael Sonnen, who said he's considered moving up to light heavyweight after unsuccessfully contending for Anderson Silva's middleweight title a second time. Some of my colleagues have rightfully pointed out that Sonnen's biggest advantages at middleweight are his strength and wrestling ability, both of which would be minimized in the light heavyweight division, as he would be fighting taller guys with longer reach and the light heavyweight division also has quite a few more wrestlers than the middleweight division, including the likes of Ryan Bader and Jon Jones. And while Dan Henderson has done well moving between the two weight classes, Sonnen doesn't have Hendo's devastating right hand as an equalizer if he moves up in weight.

***HORN SOUNDS***




Round 4: Zuffa Fighter Summit Focuses on PEDs

***TOUCH OF THE GLOVES***

Over the past week, Zuffa held their annual fighter summit, which is open to all fighters under Zuffa payroll, and focuses on educating fighters about pertinent topics that apply to their career and also to their life outside of the cage. In addition to finally explaining their social media stance to avoid future incidents like those involving Forrest Griffin and Miguel Angel Torres, Zuffa this year announced that they've adopted a written policy on performance-enhancing drugs.

As part of the summit, Zuffa spoke to fighters regarding the dangers of PEDs and other banned substances and also laid out the official policy, which was drafted by the same law firm that advises the NFL regarding their substance abuse policy. I think this is definitely a step in the right direction for Zuffa, as it eliminates some of the confusion stemming from variation between each state's list of banned substances. By setting a unified policy, Zuffa will no longer have to deal with issues like Nick Diaz's medical marijuana card. Unfortunately, I'm of the mind that Zuffa still needs to do more in working with an outside agency like the US Anti-Doping Agency (or World Anti-Doping Agency) to institute random testing. Without some system of random testing in place, fighters will still be able to cycle banned substances out of their system prior to fight time.

***HORN SOUNDS***




Round 5: One FC Continues Talent Signings

***TOUCH OF THE GLOVES***

A few weeks back, I talked about One Fighting Championships, an Asia-based promotion that Bibiano Fernandes and Shinya Aoki in the wake of DREAM shutting down. They were back in the news again this week, signing two former UFC champions in the persons of Andrei Arlovski and Jens Pulver.

While both Arlovski and Pulver are one the downslope of their respective careers, this is still potentially a very good signing for One FC, as both guys still have more name value in the US than anyone else on their roster of talent, and, if promoted correctly, could be used to build younger fighters on their roster. Arlovski is on a two-fight winning streak, having fought twice for ProElite last year, while Pulver is coming off of a win back in April and is 4-4 since leaving Zuffa. Arlovski will face Australian Soa Palelei while Pulver will take on Filipino Eric Kelly. Both fights are slated for One FC 5 on August 31st, and is also expected to feature the promotional debuts of Aoki and Fernandes.

***HORN SOUNDS***

And that's it for another week – I had a busy weekend and it was a slow news week, other than two shows over the weekend, but I hope this column didn't suffer too much. As always, let me know what you thought about this column in the comments, on Twitter: @webeougher, or on Google+. I'll see you back here for Five Quick Rounds next Tuesday, so until then, remember 411 MMA for all of your mixed martial arts needs!

comments powered by