SPOTLIGHTS
Thoughts From Across The Pond 07.29.12. Why "The Midgets" Should Be Taken Seriously
Posted by Alex Watt on 07.29.2012

It is over seven months since UFC President Dana White announced the formation of the UFC Flyweight division. With the inaugural UFC 125lbs title fight on the horizon, 411's Alex Watt takes a closer look at the new division and whether it has been a success for the company.




Thanks to the fantastic TEK_Designs for my lovely banner.

I'm on Fact or Fiction duty this week as I go toe to toe with Todd Vote as the esteemed Wyatt Beougher and Mark Radulich form the judging panel. We debate issues including MMA judging, the continuation of Strikeforce, surprising UFC 149 performances and more. Some obscenities have already been thrown in my direction by one reader who is irony impaired so why not get involved too? Oh, and vote for me. Obviously.

So this past Saturday we were "treated" to UFC 149. The preliminary bouts were fantastic (particularly Ryan Jimmo – a seven second knockout followed by some robot style dancing) but then the main card was a massive letdown. The main event between Renan Barão and Urijah Faber was okay but not good enough to save the card after the direness of Lombard vs. Boetsch, Kongo vs. Jordan and Ebersole vs. Head. The poorness of this event is directly responsible for the lack of a UK 411 Submission podcast this week as we knew the majority of the show would be half an hour of three British guys ranting. We thought we'd save you all the trouble.

So with UFC 149 being so poor, I've decided on a rather different MMA topic to cover this week…


---
The UFC Flyweight Division: 7 Months On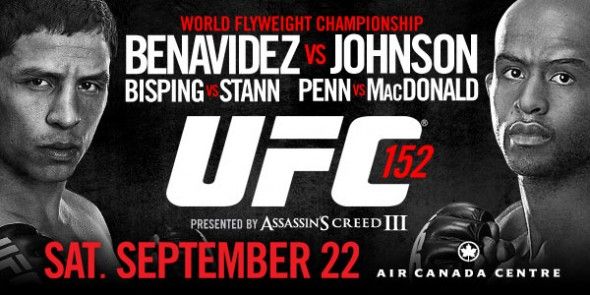 "I really have no interest in watching midgets fighting. Seriously they are f***ing too small to be taken for real. Yes they could beat up my 5 year old son but would be screwed when he grows up. I do get a laugh out of their tiny little arms swinging and running all over the place. I'm a big MMA fan so I will watch the event but come on, these little f***ers are a joke."

A few weeks ago, in response to my in-depth preview of Johnson vs. McCall II, TimE left the above comment. This, combined with a couple of other comments about the 125-ers on my column and also Michael Bisping's remarks earlier this week (see Quotes of the Week for more on that), got me thinking.

On December 11th last year, at the UFC 140 post-fight press conference, UFC President Dana White made the announcement that many had been anticipating for some time; the flyweights were coming to the Octagon in 2012.

At that time, four fighters were confirmed as being the beginning of the division; former UFC bantamweight contenders Joseph Benavidez and Demetrious Johnson making the drop to their more natural weight class, plus Tachi Palace and Shooto champs Ian McCall and Yasuhiro Urushitani making their Octagon debuts. These four would compete in a mini tournament which would determine the inaugural UFC Flyweight Champion before the end of 2012.

As we stand, it is over seven months since Dana White announced the formation of a UFC 125lbs division. So what state does the new division find itself in today?

Personally, I was hugely excited when it was announced that the flyweights were coming to the UFC (my friend who watched the press conference with me can testify to that).

The fact is, I love watching the 125-pounders compete. I don't subscribe to the notion that because they are small that this somehow makes them unworthy of competing inside the Octagon. Personally, I would much prefer to watch the speed and technique of two flyweights than struggle through a heavyweight clinching battle which features two gassed big guys clinching against the fence round after round. With the flyweights, the pace is high, the combinations are brilliant and the scrambles are rapid. Sure, there is the argument that there is less drama for the viewer because few of these fighters have the power to end a fight with one punch like the bigger men can, but I am a fan of Mixed Martial Arts and, quite frankly, I want to watch technical battles between well rounded martial artists.

It should also be noted that there are far more "characters" competing at 125lbs. Perhaps this is because the little guys realise that they have to make themselves stand out more in order to catch the attention of those focused on the heavyweights. Think about it; the moustache and tattoos of McCall, the green hair of Gaudinot, the manic cackling and backflips of Dodson, the comedic chops of Benavidez – these are men who are determined to mark themselves out as individuals and it is far more interesting to watch these guys' interviews and fights than the latest interchangeable middleweight victim rolling out the standard "I'll fight whoever the UFC puts in front of me" line.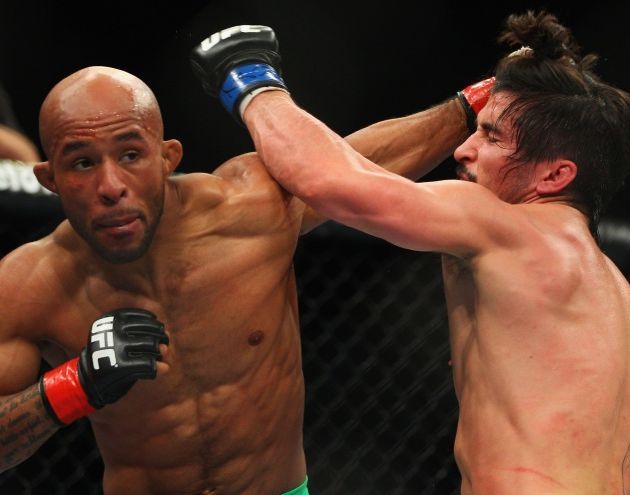 Those sceptical about the validity of the talent in the flyweight division, should have been won over by the quality of the scrap between Demetrious Johnson and Ian McCall at UFC on FX 2 in the first of the flyweight championship semi-final match-ups. This three round classic is undoubtedly one of the best fights that the UFC has had so far this year, and for it to be the first official flyweight fight in the history of the UFC and deliver, must have made UFC President Dana White very happy. Even if he was not so happy with the scoring error which saw a split draw announced as a majority win for Johnson. Still, the 125-pounders certainly made their Octagon debut with a bang.

The biggest issue for the UFC is that, with that Aussie commissioner's inability to calculate scorecards correctly, the final of the tournament has been pushed back to later than the company would have hoped for. Indeed, seven months on from the formation of the division and the flyweights still have no UFC champion at the top of the 125lbs pile. This is inconvenient for both the UFC and for the fans of the flyweights but, on September 22nd the first ever UFC Flyweight Champion will finally be crowned.

Initially many were expecting that Joseph Benavidez and Demetrious Johnson would be competing for the new belt in a co-main event under a title defence from one of the more established champs such as Jon Jones, Anderson Silva, Junior dos Santos or José Aldo, but with the current injury bug which seems to have hit the UFC in 2012 the company has been forced to schedule this as the UFC 152 headline act.

For Benavidez and Johnson, and indeed the division as a whole, this is a fantastic opportunity. Instead of being made to look inferior to another division by co-main eventing a show, or even placed on a TV event (this would have been great exposure for the division if the title fight had been placed on FOX, for example, but could have sent out the message that the 125-pounders were being deemed not good enough for a Pay Per View), the flyweights get a chance to show what they can do in a Pay Per View main event. How the fight plays out, and with "Joe B" and "Mighty Mouse" involved you would expect nothing less than a thriller, and how the audience responds to it will let us know how ready the UFC audience is for the flyweights at this level. The PPV buyrate, in particular, will be one to keep an eye on in the weeks following UFC 152.

Once the inaugural champion has been crowned, assuming of course that Benavidez vs. Johnson ends in a satisfactory manner and no immediate rematch is required, who will be next in line for a title shot? Well, it seems highly likely that Ian McCall will find himself immediately back in the title picture providing he emerges victorious from his next trip into the Octagon. That next fight was set to take place at UFC on FOX 4 next weekend, but an injury to "Uncle Creepy" has set him back. Still, you would expect him to fight again before the end of the year and, after he ran "Mighty Mouse" so close in their two fight series this year, he has to be at the head of the queue of challengers.

The Ultimate Fighter 14 competitors John Dodson and Louis Gaudinot are also right "in the mix" (as Dana White likes to say). Both have dropped down to the new weight class since competing as bantamweights on the show and looked pretty good in doing so. Gaudinot had a thrilling Fight of the Night at UFC on FOX 3 against John Lineker, finishing the Brazilian with a guillotine choke in the second round of a fight fought at a furious pace. Dodson, who was the 135lbs winner of TUF 14, has made his mark at flyweight with a hard fought win over Tim Elliott at the same event. Both men would have a very good case for a title shot should they win another fight, particularly Dodson as the UFC would no doubt love to have a TUF winner fight for a title, if only to demonstrate that the reality show can still produce genuine contenders.

Yasuhiro Urushitani came up short against Joseph Benavidez in his Octagon debut and one win could see him in with a shout of a title shot. The problem is, the UFC hasn't done the best job of marketing the former Shooto champ, and the casual MMA fan will still know little about the Japanese athlete. In choosing to focus their attention on the three U.S. competitors in the flyweight tournament, the UFC hype machine did Urushitani a bit of a disservice and it is an issue which will need to be dealt with if there continues to be an influx of Japanese flyweights to the UFC, as expected.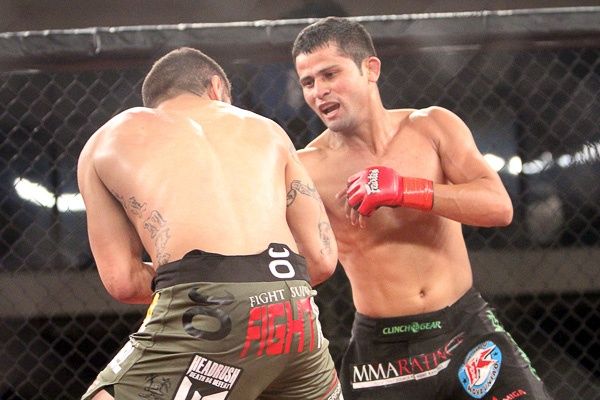 The other fighter who could well sit alongside the aforementioned four in talk of a title shot will be Jussier da Silva, should he win his UFC debut. But more on "Formiga" in a moment.

The main issue being parroted by most MMA writers and fans is that the UFC flyweight division still remains very thin in terms of contracted fighters. It is a fair point as seven months since the announcement of the division, the UFC has less than fifteen contracted 125lbs fighters at its disposal. Nevertheless, we can see that they are not short on talented flyweight fighters already and the division will continue to grow as the UFC succeeds in tying more and more 125-ers down to ZUFFA contracts.

The big omission from the new UFC division was Jussier da Silva. When the UFC announced it's implementation of the flyweight division via a four man tournament, some were shocked that the formerly No. 1 ranked 125-er was not present. Certainly, it was anticipated that the supremely talented "Formiga", whose only career loss has come to Ian McCall, would be tied down to a UFC contract sooner rather than later. Well, it took seven months but on July 14th the news broke that da Silva is now a UFC fighter.

Another welcome addition to the growing division is the brilliantly self-deprecatingly nicknamed "Useless" Ulysses Gomez. Gomez, who is not useless in the slightest, carries a 9-2 record into the UFC and steps in to replace the injured Ian McCall against fellow Octagon newcomer John Moraga next weekend at UFC on FOX 4, in what should be a cracking contest.

Nonetheless, the likes of Darrell Montague, Mamoru Yamaguchi, Nam Jin Jo, Shinichi Kojima and more Shooto and Tachi Palace talent remain strangely unlinked to ZUFFA. Whether these fighters cannot be negotiated with due to their current contracts with those promotions is unclear, but certainly the UFC should be trying their hardest to get these fighters over to the Octagon. The UFC 125lbs division will need the likes of these talented fighters in order to continue expanding the division.

And that is perhaps the biggest issue with this new division; if the UFC do not succeed in bringing Montague, Yamaguchi, Jin Jo, Kojima et al over to their fledgling division, then it is difficult to see where new fighters will continue to emerge from. The fact is that there are less fighters in the sport who compete at this low weight. It seems tough to envisage the UFC running a flyweight season of The Ultimate Fighter, for example, since relatively few men of short stature will opt to ply their trade in what is, primarily, a big man's sport.

Regardless of this issue though, the flyweight division has to be considered one of the UFC's success stories of 2012. It has given Joseph Benavidez and Demetrious Johnson, both in awkward spots in the UFC's bantamweight division, a new direction. It has made Ian McCall a star in just two UFC fights. It will introduce the UFC audience to exciting fighters like Gomez and da Silva. And, most of all, it has given the fans some of the best fights seen inside the Octagon in 2012. There will continue to be those who knock the flyweights for being too small and lacking KO power, but the 125-pounders will no doubt relish the chance to prove these naysayers wrong by continuing to demonstrate their skills at the highest level in the most exciting weight division in Mixed Martial Arts.


---
Video Interlude
---
Quotes of the Week


"In my opinion, and I think in most people's, this is the main event. This is the real main event. Two big, hard hitting guys. No one cares about little flyweights. This is the real main event, this is the real big fight. Tune in 'cause someone's getting knocked out, ain't going to be me though. This is the real main event of UFC 152 . . . I've been around the UFC since 2005, I've been consistently fighting the best guys in the world, and I've done very, very well. I was robbed in a decision when I fought Chael [Sonnen]. If I hadn't been robbed there, when I beat Brian, I'll be on a six fight win streak. I think I deserve a shot. Whoever wins this, we should get the next shot." – Michael Bisping. Oh Mike, just when I thought we could be friends...

"I will be completely honest, when I fought in Manchester, England [for UFC 105], they were very cruel to me. One fan actually spit directly in my face, and he was lucky enough where it hit my mouth. . . . To be completely honest, I don't have anything against English people, but . . . I'll go over to London, and I'll put 'em down. . . . It was my first international fight, and it was one I'll never forget. It was my first loss in the UFC [to English fighter Nick Osipczak], and ever since I've had that loss, I've never let anything like that happen to me again. All my other losses are usually 'Fight of the Night' or a decision loss, and that was the only time I was finished in my career. . . . To be disrespected like that . . . for some butter-toothed Brit to spit in my mouth, that was some bull. And honestly it's never been the same." – Matthew Riddle calls out Dan Hardy and endears himself to the British public.

"Michael Phelps kind of annoyed me a little bit. We had this club thing for the U.S. team and all the Olympians are hanging out together, all the NBA players are hanging out, and Michael Phelps needed his own private section of the club. All these NBA players are a bigger deal than this guy and they're hanging out with the rest of us. We're like, 'Hello, we're your teammates! We're not a bunch of groupies! Come hang out with us! Who are you?' . . . [When the U.S. medallists visited The Oprah Winfrey Show] Michael Phelps had to be kept separate in a different backstage area so he wouldn't be harassed by the other Olympians. I don't like being somebody's teammate and being treated like I'm their groupie. I didn't even want to go out of my way to go and say hi to that guy. Just get over yourself. All you do is swim. If somebody slapped you every single time you jumped in the pool, then I'd have a little bit more respect. But I was a swimmer before, so you can't tell me that swimming is 'oh my God' because it's not." – Ronda Rousey discusses her Olympic experience and turns her wrath to Michael Phelps.

"Why wait tell (sic) December we can see if we can get on [UFC] 151. Is this enough time to cycle off?" – Roy Nelson tweets some early trash talk to Shane Carwin.

"F***. F*** is my favourite word, period." – UFC President Dana White shocks the world.


---
Pound for Pound Rankings
Renan Barão defeated Urijah Faber to capture the UFC Interim Bantamweight Championship over the weekend. With his dominant performance, Barão jumps into the rankings at No. 13 knocking his defeated opponent out of the top 15 and his fellow Brazilian Mauricio Rua down a spot to No. 14.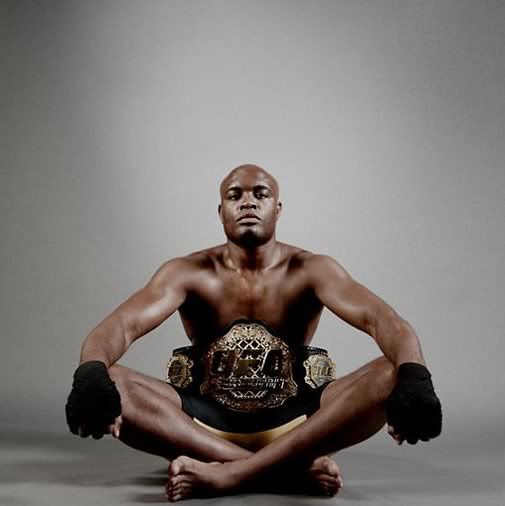 1. Anderson Silva (30-4)

2. Jon Jones (16-1)

3. José Aldo (21-1)

4. Dominick Cruz (19-1)

5. Benson Henderson (16-2)

6. Junior Dos Santos (15-1)

7. Frankie Edgar (14-2-1)

8. Joseph Benavidez (16-2)

9. Dan Henderson (29-8)

10. Carlos Condit (28-5)

11. Gilbert Melendez (21-2)

12. Rashad Evans (17-2-1)

13. Renan Barão (29-1, 1NC)

14. "Shogun" Rua (20-6)

15. Cain Velasquez (10-1)


---
And that'll do it for another week.

I'll be back next week with my preview of UFC on FOX 4 and more.

If you enjoy the column please do follow me on twitter at AlexWattMMA

Thanks for reading and if you have any comments or feedback please leave them below or message me on twitter. Cheers.
comments powered by