SPOTLIGHTS
Five Quick Rounds 08.07.12: UFC on FOX 4, MacDonald/Penn Postponed, Dana White Grab Bag, and More!
Posted by Wyatt Beougher on 08.07.2012

From the results of UFC on FOX 4 and Rory MacDonald's cut leading to some controversy to a whole slew of comments from Dana White, and more, Five Quick Rounds looks back at the past week's news!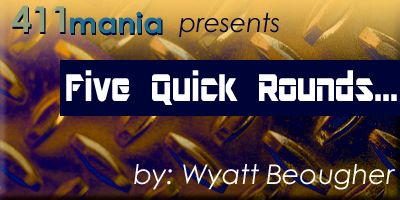 Welcome to another edition of Five Quick Rounds, 411's fastest-finishing weekly opinion column. As always, I'm your host, Wyatt Beougher, and this week has been a pretty decent one for MMA news. From a big UFC event to injuries complicating another fight to an extremely inspirational story, it was a pretty busy week, so let's get to it.




Round 1: UFC on FOX 4 – Bones' Next Victim Opponent Decided

***TOUCH OF THE GLOVES***

The UFC had their fourth show on FOX on Saturday night, and it was a great night of action, arguably their best network television show to date. Mike Swick knocked out DaMarques Johnson in 1:20 of the second round, Joe Lauzon submitted Jamie Varner in 2:44 of the third round of their fight, Lyoto Machida needed just 92 seconds of the second round to end Ryan Bader's night via knockout, and in the main event, Mauricio Rua TKO'ed Brandon Vera with 51 seconds left in the fourth round.

Swick started hot, but Johnson came back and won the first round of their fight, only for Swick to put him away in the second to make his return to the Octagon after several months fraught with injury that much more emphatic. Joe Lauzon won submission of the night for his triangle choke on Jamie Varner, and he and Varner rightfully won Fight of the Night as well for what was a back-and-forth contest right up until Lauzon locked in the triangle. As most pundits expected, Machida was able to use his footwork and movement to confound Bader, and their fight was never really close, but the biggest surprise of the evening was how much trouble Shogun Rua had with Vera, in what many believed would be an easy fight for the Brazilian. Shogun easily took the first round, but Vera wasn't without his moments, and Shogun was clearly gassed by the end of the second round, and what looked to be an easy victory for him got more and more difficult by the round. In the end, though, he was able to pull out the victory; however, Lyoto Machida was awarded the next light heavyweight title shot (after Dan Henderson next month) based on his more impressive performance and, Dana White said, because he didn't turn down any fights and was constantly asking Dana about a rematch with Jones. So not only did Shogun's refusal to fight Glover Teixeira hurt his standing amongst MMA fans, it also hurt his standing with the UFC president, and that led to him getting passed over for an opportunity to fight for the light heavyweight title.

***HORN SOUNDS***




Round 2: Rory MacDonald out of Penn Fight; Hijinks Ensue

**TOUCH OF THE GLOVES**

At the post-fight press conference on Saturday, Dana White announced that Rory MacDonald had to withdraw from his upcoming fight against BJ Penn at UFC 152 due to a cut during training and that he wasn't sure if Penn would remain on the card. In the 48 hours since then (at the time of this writing), it's become pretty clear that Penn has no intention of fighting on UFC 152, or any other show for that matter, unless his opponent is MacDonald. MacDonald revealed that he had to get three layers of stitches (38 total) over his eye, which would prevent him from receiving medical clearance to continue training for (and possibly to compete in) the Penn fight. "Ares" also stated that he wanted to fight Penn at UFC 154 on November 17th, but Penn responded with a request to have the fight on October 13th at UFC 153, while also suggesting that both men continue with their voluntary VADA drug testing (which I discussed in greater detail last week).

While I can certainly see why Penn, long noted for his lack of dedication to training, would not want to push the fight back nearly two months, I think it would be foolish for MacDonald to rush back from what is definitely a pretty severe cut, nor would it make sense for Zuffa to promote the fight for UFC 153 if there's any chance that MacDonald would be unable to fight. In the long run, a seven-week postponement should work best for all parties, but it'll be interesting to see if Penn's words are able to change MacDonald's mind about his return timetable.

**HORN SOUNDS**



Round 3: Nick Newell Is an Inspiration

**TOUCH OF THE GLOVES**

While most MMA fans were busy watching UFC on FOX 4 this weekend, another MMA show took place on Friday night, and it featured one of the more amazing feats I've seen inside a cage, as Nick Newell, shown in the video above, was able to pick up a knockout victory over his opponent, David Mays, in just over two minutes of their fight at XFC 19. Why is this so impressive? Because Newell was born with a syndrome called congenital amputeeism, and his left arm ends just below his elbow, leaving him without a left hand or a fully formed left forearm.

I'll admit to being a sucker for an inspirational story, and Newell, who owns over 300 wrestling wins between high school and college, certainly fits that bill. Newell picked up on tape study of his opponent that Mays lowered his head while throwing an overhand right, so he wisely waited for an opportunity to land an uppercut or knee and it was a pair of knees from the clinch that ended the fight for Newell. Perhaps even more impressively, five of Newell's now 8 wins are by submission, no mean feat for a man with only one hand to work with. It'll be interesting to see how far the lightweight can actually make it, and if he'll ever have a shot at the UFC.

***HORN SOUNDS***




Round 4: "The Hammer" Coming Out of Retirement

***TOUCH OF THE GLOVES***

And, speaking of differently-abled fighters who were able to make it to the UFC, it was announced over the weekend that Matt "the Hammer" Hamill would be making his return to the UFC at UFC 152 on September 22nd. Hamill, the first deaf professional mixed martial artist, initially retired last August after dropping back-to-back fights to Rampage Jackson and Alexander Gustafsson. Hamill's return was announced by the camp of his scheduled opponent, Roger Hollett, who confirmed that the first fight of Hollett's four-fight UFC deal would be against Hamill.

I, for one, am excited to see Hamill returning to the Octagon, as I think it's amazing that he's been able to compile the accomplishments that he has in spite of essentially being on his own when the cage door closes. Hamill is unable to hear his cornermen, and I can only assume that it's not good practice to be looking to your corner when your opponent is looking to knock you out or take you down, so that fact that he was able to achieve a 10-4 record, with nine of those fights coming in the UFC, and his losses only coming against top-tier talent (and if you don't count Bisping in that group – pun intended – bear in mind that most people, minus the fight's judges, saw that fight as a win for Hamill). Hamill also holds the distinction of being the only fighter to hold a victory over Jon Jones, although it came by virtue of a disqualification due to 12-6 elbows by Jones. Still, though, Hamill almost never has a bad fight, and I'd gladly watch him fight over the likes of Nick Diaz or BJ Penn, guys with all of the ability in the world who seem content to squander it.

***HORN SOUNDS***




Round 5: Grab Bag: Dana White Opinions

***TOUCH OF THE GLOVES***

The UFC president was on a bit of a tear this past week, voicing opinions on several subjects that came up at pre-event press conferences for UFC on FOX 4. White stated that he felt both Forrest Griffin and Matt Hughes needed to retire, that Nick Diaz challenging Anderson Silva was a "ridiculous" idea, that he believes there are plenty of challengers coming up for Jon Jones to face, and that a third fight between Benson Henderson and Frankie Edgar isn't likely to happen immediately, regardless of who wins their September scrap.

While I don't see the issue with Dana suggesting that Hughes and Griffin retire, it just seems odd, as both guys still want to fight, both are substantial non-main event draws, and neither has been getting knocked out for multiple fights in a row. In spite of being older, I actually think there's less reason for Hughes to retire, as Griffin just doesn't look like he's mentally into fighting, and he hasn't really since losing his title to Rashad Evans over three years ago. As for Diaz challenging Anderson Silva, just read last week's column for my thoughts on that. In terms of there being droves of potential contenders for Jon Jones, I can't agree with White there, as we're already looking at seeing Jones in a rematch against Machida, possibly only 12 months after he beat him initially. Beyond that, the only real prospect coming up is Alexander Gustafsson – assuming Bones beats him in the spring of 2013, who is left? Glover Teixeira, assuming some quality light heavyweights will actually fight him? As for the lightweight title picture, as much fun as Edgar/Henderson I was, and as much as I expect the second fight to be enjoyable, I'm ready for some fresh match-ups in the lightweight division. Frankie Edgar has been involved in all five (soon to be six) lightweight title fights since April 2010, and yet he'll have only fought three guys. As much as I dislike the Diaz brothers, Nate has earned his title shot, and if he has to fight another guy to keep it, there's always the chance he could lose and leave the UFC without a fresh, legitimate title contender.

***HORN SOUNDS***

As always, let me know what you thought about this column in the comments, on Twitter: @webeougher, or on Google+. I'll see you back here for Five Quick Rounds next Tuesday, so until then, remember 411 MMA for all of your mixed martial arts needs!

comments powered by