SPOTLIGHTS
The 411 MMA Top 5 9.07.12: Week 94 – Top 5 Things to Make Women's MMA Successful
Posted by Larry Csonka on 09.07.2012

From Ronda Rousey remaining the top star and the ladies getting on The Ultimate Fighter to Invicta FC staying around, Bellator getting their act together and more, the 411 staff counts down their top 5 things that would make women's MMA more successful!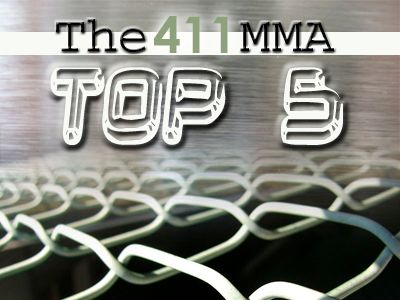 Welcome:
Welcome back to the MMA Top 5! What we are going to is take a topic each week and all the writers here on 411 MMA will have the ability to give us their Top 5 on said topic, plus up to three honorable mentions. It's highly non-official and final, like WAMMA.
And now…


TOP 5 THINGS WOMEN's MMA NEEDS TO BECOME SUCCESSFUL




Wyatt Beougher
5. Lesser-Known Women to Step Up - I'm looking at you, Liz Carmouche and Jessica Penne. There are a slew of talented ladies who could be every bit as big a star as Ronda Rousey, but they haven't really had the opportunities. With Penne slated to fight for Invicta's first title in her native Atomweight division in October, and Carmouche likely to be one of the two women contending for the Invicta bantamweight title whenever that fight takes place, they'll have the opportunity to take center stage and step up. Penne was in the co-main event of Invicta 1 and her fight stole the show, while Carmouche has finished both of her Invicta fights in impressive fashion. I think both of them are ready to take the next step on the path to stardom and hopefully Invicta gives them that opportunity.

4. More Regular Events - At this point, with Invicta and Strikeforce only running events featuring women's fights about once every 3-4 months and Bellator seeming to forget that they have a women's division, it's easy for the women to get brushed to the side when there seems to be a men's fight card nearly every weekend. I'm not saying that there needs to be a women's fight card every weekend, at least not while there's so little established women's talent; however, between Bellator, Strikeforce, and Invicta, it'd be nice if we could get one card featuring some decent women's fights every month.

3. Zuffa's Endorsement - This one almost goes without saying, but I think it's pretty readily apparent that very little fighting does well stateside without Zuffa's backing, and it certainly appears as though Strikeforce: Rousey vs Kaufman's strong ratings have started to warm the UFC president's notoriously fickle heart. If they don't want to import Strikeforce's women's divisions when that promotion meets its demise, the UFC could do worse than purchasing Invicta and negotiating them a television deal (as my colleagues Lambert and Kadi discussed in their "Occupy the Throne" column on the subject).

2. Ronda Rousey to Stay Healthy - Rousey, right now, is the Randy Couture of women's MMA - she's got a legitimate athletic background outside of fighting, she's attractive, she's got a great personality, and she interviews extremely well. She is, legitimately, an excellent ambassador for the sport, and, on top of that, she's an incredible talent inside the cage. The fact that she's headlined the two highest-drawing Strikeforce cards this year just highlights how vital she is going to continue to be the to the continued growth of women's MMA, and a serious injury that puts her on the shelf for more than twelve months could realistically lead to the death of women's fighting under the Zuffa banner, which as I've already pointed out, is going to be vital for WMMA's survival.

1. A Season of The Ultimate Fighter - This is literally the best way to "kill two birds with one stone" that I think exists in MMA. No one cares about The Ultimate Fighter anymore because it's gotten extremely stale. Meanwhile, women's MMA needs exposure badly, as evidenced by Dana White (wrongly) believing that a men's strawweight division is currently more established than a women's bantamweight division. When you put the two together, you give a group of sixteen women the opportunity to be seen weekly on television, you can actually do a decent build-up to the first women's fight in the UFC by having whoever is tabbed as Ronda Rousey's opponent for said fight coach opposite her, and you can potentially draw in a whole new demographic as female viewers should tune in, in droves to watch a group of women who will not only talk smack about one another, but will then get into the cage and back it up.


---



Jeffrey Harris
5. Bellator Needs to Wake Up Already - I think Bellator made some positive moves with women's MMA when in 2010 they actually promoted and put together an eight women tournament. The problem? It was all fought at 115 pounds. And the champion, Zoila Frausto, can't even safely make that weight anymore. It's been two years and Bellator has not been able to put another women's tournament together. They talk about doing one but do nothing. Frausto's title reign is likely null and void now as she apparently cannot safely make the 115 lb. weight cut anymore. It's disappointing how Bellator could've been the one setting a good example how to promote women's MMA and then they pretty much completely lost interest. So either do a 125 lb. or 135 lb. tournament or don't. But it also shows the flaws of Bellator's tournament model when the champions go basically years without defending their belt.

4. The Ultimate Fighter - The Females Edition - Hey why not? The format definitely needs a shot in the arm. Get Ronda Rousey in as a coach every week and more people will probably tune in. Look what happened with Rousey showing up on TUF last season. Urijah Faber got people to believe Rousey was the one that caused Dominick Cruz's injury. Maybe this is something that could happen later down the line. But with TUF already having tried going partially live every week and also trying international formats, why not give this a try as well at some point?

3. Women Need to Market Themselves Better - Now certainly Rousey would not be an undefeated champion without her discipline and amazing skills. She's been in martial arts probably since pre-school and getting a medal in the Olympics on its own is proof of how dedicated and tough she is. But at the same time she also wouldn't be where she is if she wasn't getting her name out there and marketing herself. Before her Strikeforce debut, she did this little video where she was hanging out at the beach and talked about being the new face of women's MMA. And then she basically channeled the Chael Sonnen model of fight promoting and it paid off even better for her. Before the Rousey/Kaufman fight I was reading all these nonsense articles about Kaufman being a purist, athlete, blah blah blah. Give me a break. Are you telling me Rousey isn't a purist? She isn't a true athlete? She isn't a true martial artist? Of course Rousey is. Rousey simply gets how to market herself. She knows how to play that card effectively. No one cared when Cassius Clay won an Olympic gold medal. People started caring when he formed a persona based off a professional wrestler and changed his name to Muhammed Ali. It doesn't matter where, people will always want spectacle. Women need to not be afraid of spectacle if they've got the fighting gift already. Miesha Tate I think is already figuring it out with the Cupcake nickname. For her it totally works.

2. Title Fight Between Ronda Rousey and Sara McMann - While in the last week, a speculated fight between Ronda Rousey and Cris Cyborg has been discussed, I think the better move right now would be to promote a fight between Ronda Rousey and Sara McMann. While McMann is still currently fighting Invicta, she's said before she could go to Strikeforce at any time she wanted. Well, I'd say there is no time like the presence. Rousey is already a pretty sizable draw for Showtime, so rather than start putting her in rematches against Kaufman or Tate, with Sara McMann, Rousey would have a fresh opponent to battle. McMann is another Olympic competitor and medalist so you could market it as an Olympian vs. Olympian fight. Both have won medals in their respective sports. McMann is undefeated in MMA and Rousey is undefeated in MMA. It's a license to print money and it gives Rousey a fresh challenger. It also wouldn't get all the debate and controversy for all the wrong reasons that a fight with Cyborg would. Hopefully we see this fight sooner rather than later.

1. Major Broadcaster or Play Needs to buy Invicta FC - I think Invicta FC has had some good fights so far. They went for it and they had some entertaining scraps. That being said, I'm not sure how long their current internet streaming model is sustainable especially with how hard it was to watch their first fight live on their website. I'm not saying Invicta would be the next big thing but it would certainly help a major broadcaster bought them out or made a broadcast deal to show all their fights. So I think it would be best Showtime or maybe ZUFFA to acquire Invicta and make Invicta their way of promoting female fighting like the way they used WEC to grow the featherweight and bantamweight divisions.


---



Alex Rella
5. Improved air time with Strikeforce - Now there were three women's fights at the last Strikeforce event but there weren't any at the previous two Strikeforce events and there aren't any planned at the next one in September. There's no reason why Strikeforce can't fit one women's fight at each event. Even if it were just one fight on each preliminary card it would give them more exposure. They also need to place more value on some of the women's fights. Tate vs. Kezdie was the best fight of the night and it was stuck on the preliminary card.

4. Dana White's Support - White has said that he is now warming up to women's MMA which is a huge step forward for it. A short time ago, White said that a men's straw weight division would come to the UFC before a women's division. Now he views them at the same level. White's support doesn't have to mean that he'll bring them over to the UFC but it could mean more help from Zuffa. This could be more media exposure; more money invested into the division, and possible expansion into other weight classes.

3. New Main Eventers - There isn't a lot of main event talent right now and it's going to hurt women's MMA going forward. Rousey is quickly running out of intriguing fights in Strikeforce and she's only had one title defense. Bellator's straw weight division is also fairly shallow. Fighter's need to improve and step up if women's MMA is going to become more successful.

2. Rousey Needs to Stay at the Top - Not only is Ronda Rousey the only crossover star in women's MMA but she is the biggest draw in Strikeforce right now. She needs to stay as the main representative and star of the sport for the foreseeable future if women's is going to continue to grow.

1. Rousey vs. Cyborg - This fight needs to happen. These are the two best fighters around right now and the build up has been great already. Not only is it the classic striker versus grappler but also it's the hot. Olympic medalist, and current champion Rousey vs. the very manly, steroid using, and former champion Cyborg who had been cheating for who knows how long. This fight would draw big numbers and is the only dream fight in women's MMA right now. I want to see this fight happen more than almost any other men's fight right now.


---



Jonathan Solomon
5. Invicta FC Must Last - Invicta Fighting Championship is an organization exclusive for women. They have had two shows this year with Invicta FC 3 set for October. They feature tons of women you have seen fight in EXC, Strikeforce or Bellator over the years (Michelle Waterson is fighting in October as are Tara LaRosa, Shayna Baszler and others). They also showcase women who are first establishing themselves like Olympic wrestling silver-medalist Sara McMann (6-0) who fought and defeated Baszler last month (video of the fight is below). Without the UFC promoting women's MMA and Strikeforce easing along at this stage of the promotions life, Invicta FC fills a tremendous void. Bellator has not showcased women's action in some time and we can only hope that changes with the move to Spike TV next year. In the meantime, there's Invicta giving all these women a platform to not just grow as a fighters but showcase the growing skills to their audience (granted, a small hardcore MMA fan base right now). Regardless, a lot of people are pegging McMann as Rousey's big challenger in the future (the one not named Cyborg). If Invicta FC can survive as the lifeblood, for now, of women's MMA, it's a positive.





4. Showcase Fighters Not Named Ronda Rousey - We saw it for ourselves with the last Strikeforce show. While Rousey's latest fight was back in the main event, there were two additional women's fights that were not pushed at all. One of them was the main event of the prelims, Miesha Tate and Julie Kedzie. It was arguably the best fight of 2012 and few saw it because it aired exclusively on Showtime Extreme (to the best of my knowledge, it has not reared nor has Showtime put the fight up on YouTube). To build a wider base of talent, you need to put them in situations they can succeed in. Tate, Kedzie and others like Marloes Coenen, Tara LaRosa and others could all be talent in a major division. You just have to get the word out and push them like they are great fighters with interesting stories.

3. Another Star to Develop - As with the case with all entertainment forms, success is driven by characters that reach out and grab audiences. Gina Carano did it years ago, Ronda Rousey is right smack in the middle of it as we speak. Cyborg Santos did it to a degree but cannot be relied on anymore after her positive steroid test. When the UFC broke records in 2006, it was on the backs of Tito Ortiz and Chuck Liddell. The most successful UFC show of all-time was driven because of the feud between Brock Lesnar and Frank Mir. With every gigantic star, you need another to push them. The same was the case in pro wrestling during the two biggest boom periods in that industry (1985 - Hulk Hogan and Rowdy Piper and the late 1990s with Steve Austin and Vince McMahon). Unfortunately, nobody knows when this star will come along or what they may look like. In MMA, somewhere out there, (hell, they may not even be a professional yet) will come along and be that star to push interest even more.

2. A Prominent Spot in the UFC - Finally, UFC president Dana White appears to be coming around on the subject of women's MMA. Ronda Rousey's sudden stardom and ratings success on Showtime may be the backbreaker the old school way of thinking needs. There is no reason a big fight featuring Ronda Rousey cannot main event a UFC pay-per-view. Certainly, it won't happen anytime soon because of contractual obligations with Showtime, but in theory, it would be enormous. The UFC is always struggling to fill out their massive schedule throughout the year and I am a firm believer a big women's fight could outdraw a show headlined by a fair number of men. Like a lot of situations, the public needs to see it to get behind it. Put the women on a major spot in the UFC (even a co-main event slot would work) and watch everything unfold in positive fashion.




1. Women Participating in The Ultimate Fighter - I've been suggesting this for a long time, but one of the last ways for TUF to be fresh is to have a season dedicated exclusively to female fighters. It's the most basic way to try and create some semblance of stars, focus an hour of TV time per week for three months on their personalities. Plus, if things go well, you have a handful of women who can enter the UFC right off the bat with a fan following. The number of female viewers should increase, which has to be positive for FX (at a sacrifice of males 18-35? I don't know). So, while TUF expands into international markets, the home version in America needs a women's season!

---
YOUR TURN!
List your Top Five for this week's topic on the comment section using the following format:
5. CHOICE: Explanation
4. CHOICE: Explanation
3. CHOICE: Explanation
2. CHOICE: Explanation
1. CHOICE: Explanation
TWITTER
Your heart is free. Have the courage to follow it…TO CSONKA'S TWITTER!
http://www.twitter.com/411wrestling
http://www.twitter.com/411moviestv
http://www.twitter.com/411music
http://www.twitter.com/411games
http://www.twitter.com/411mma
comments powered by