SPOTLIGHTS
Five Quick Rounds 09.04.12: Sylvia/Arlovski Controversy, Edgar/Aldo Announced, Strikeforce Poaching Invicta Talent, More
Posted by Wyatt Beougher on 09.04.2012

From the events of OneFC 5 on Friday (including the controversial ending to Sylvia/Arlovski IV) to the UFC expanding their presence in Japan, from the announcement that Frankie Edgar would be facing featherweight champ Jose Aldo at UFC 153 to Strikeforce signing Invicta's Cat Zingano, and more, 411's Wyatt Beougher tackles the biggest news of the last seven days!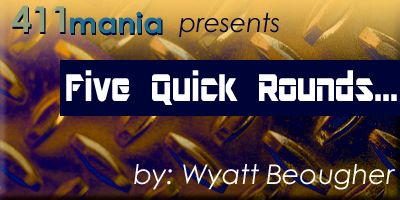 Welcome to another edition of Five Quick Rounds, 411's fastest-finishing weekly opinion column. As always, I'm your host, Wyatt Beougher, and while the last seven days haven't been nearly as eventful as the seven that came before them, there was still quite a bit to talk about. In last week's column, I mentioned that this column would see some very minor retooling; however, those changes were only superficial, and I didn't factor in it being a travel weekend (and a holiday long weekend to boot), which means I'm without my laptop and Photoshop. Ideally, you'll see those (again, minor) changes coming next week. With that admittedly weak explanation out of the way, let's get down to business.




Round 1: OneFC: Pride of a Nation Results

***TOUCH OF THE GLOVES***

OneFC held their fifth event on Friday, and it marked the debuts of former UFC heavyweight champions Andrei Arlovski and Tim Sylvia, as well as former DREAM champion Bibiano Fernandes. On the main card, Soo Chul Kim picked up a unanimous decision win over Kevin Belingon, Jung Hwan Cha TKOed Igor Gracie in the third round, Rolles Gracie submitted Tony Bonello in the third round with a rear naked choke, Eric Kelly picked up a second round TKO win over Jens Pulver, Tim Sylvia and Andrei Arlovski's fourth meeting went to a no contest, Eduard Folayang defeated Felipe Enomoto by unanimous decision, and Bibiano Fernandes won a unanimous decision over Gustavo Falciroli.

Fernandes' fight wasn't the most impressive, and I can only imagine that the UFC isn't feeling too badly about missing out on signing Fernandes after he coasted through the third round, content to ride out the decision win. Folayang was more impressive in his win, and he and Eric Kelly earned future title shots based on their performances (Folayang in the lightweight division and Kelly in the featherweight division). After the fight, Pulver said he wants "one or two more" fights before retirement, but that he'll be dropping back to bantamweight for those contests. The biggest news coming from the event though was the no contest finish of Arlovski/Sylvia, and probably the biggest surprise was that the first two rounds of the fight were actually pretty good after their legendarily boring third UFC encounter. In the second round, Arlovski landed a nice combination that put Sylvia on the canvas, following it up with soccer kicks, one to Sylvia's shoulder and then one to the head. Soccer kicks aren't strictly prohibited in OneFC unlike the UFC, but they do have to be approved by the referee based on the downed fighter's ability to defend himself from the kicks. Arlovski said he saw the official with his hand up and based on Sylvia scooting away from him, he thought he had the go-ahead. That was not the case and the fight was ruled a no contest when Sylvia couldn't continue after a five-minute recovery period. Arlovski and Sylvia have both said that they'd be up for a fifth fight, so hopefully if that happens, OneFC will have a little more standardized policy on soccer kicks.

***HORN SOUNDS***




Round 2: UFC Planning Increased Presence in Japan in 2013

**TOUCH OF THE GLOVES**

It was reported last week that the UFC would run a series of four shows in Japan in 2013, targeting smaller arenas (believed to be 5000 seats or less) and focusing on Japanese talent. These shows won't impact the traditional UFC numbering, instead using their own numbering system (not unlike what the UFC has done with their shows on Vs, FX, FuelTV, and FOX).

This, to me, is a win-win situation for the UFC – they get to grow their presence in the Japanese market, which, with DREAM having closed its doors, seems to be ripe for expansion. Also, they get to scout Japanese talent and get feelers in place to sign the cream of the crop, which should put them on at least equal footing with OneFC. It would certainly be a nice tribute for the UFC to use the PRIDE Bushido name for these shows, but I doubt we'll see that happening, although the premise isn't too terribly far removed from how PRIDE used the Bushido events (in terms of scouting/showcasing lesser-known talent – they did use fighters from all over the world).

**HORN SOUNDS**




Round 3: Strikeforce Signs Cat Zingano; Invicta Reacts

**TOUCH OF THE GLOVES**

Strikeforce signed undefeated former Invicta fighter Cat Zingano to a contract and placed her in a fight with Amanda Nunes at Strikeforce: Melendez vs Healy, currently scheduled for September 29th. Prior to signing with Strikeforce, Zingano was slated to fight Leslie Smith at Invicta 3, which will take place a week after Zingano will now make her Strikeforce debut. Invicta president Shannon Knapp said that they released Zingano because she believed that the Strikeforce fight would be a better career opportunity for Zingano.

And while that certainly sounds like a slight knock on her own promotion, Knapp's position is certainly refreshing in an industry that promotes talent hoarding. With her background in amateur wrestling and BJJ, Zingano could've certainly made a run at Invicta's eventual bantamweight championship, but instead, she will now look to put together an impressive enough resume to challenge current Strikeforce champion Ronda Rousey, while fellow undefeated prospect Kim Connor-Hamby will step in to face Smith at Invicta 3 in place of Zingano. If Strikeforce does close its doors in December, as is widely expected, and the UFC continues to maintain that they won't have women's divisions, this could aid Invicta greatly in signing Strikeforce's top talent, as the free agent fighters will know that should the UFC ever change their mind, Knapp likely wouldn't hold them back from making the jump to Zuffa. Kudos to Knapp for looking at the bigger picture and also doing her part to grow and strengthen women's MMA.

***HORN SOUNDS***




Round 4: UFC Launches Show Friendly to New Fans

***TOUCH OF THE GLOVES***

Last night, the UFC debuted a special on FuelTV titled UFC 101: The Fundamentals. Hosted by Kenny Florian and Rashad Evans, it featured a breakdown of the basics of MMA, including the different weight classes, an explanation of rules, a brief history of the different fighting styles, why fighters do certain things in certain situations, and more.

At this point, I'm not sure if this was a one-time thing, or if it will end up being the first of what could easily be several specials, but either way, it was a great move on the UFC's part. Not unlike adding stats to their broadcasts, this special was designed to make what is a very complex sport more palatable to new fans, and if they do want to continue MMA's rapid growth, this should certainly be a step in the right direction. The only real complaint I have about the show has to do with its network and time slot – 11:30 pm on a Monday on Fuel? Hopefully this was just a test run, and UFC 101: The Fundamentals will air again on FX and/or FOX before upcoming events, as I think it could be a lot more beneficial as a lead-in to an actual show.

***HORN SOUNDS***




Round 5: Edgar to Featherweight; Set to Face Jose Aldo

***TOUCH OF THE GLOVES***

Probably the biggest news of the week is that Eric Koch had to pull out of his upcoming title shot against UFC featherweight champion Jose Aldo. On its own, this wouldn't be particularly newsworthy, as it would be a sparkler compared to the bombshell that was Dan Henderson pulling out of UFC 151 and the fallout that ensued (detailed last week in this very column). The big news is that newly-minted featherweight Frankie Edgar will be stepping in to fight Aldo. Edgar, fresh off of a controversial decision loss to lightweight champion Benson Henderson, announced his intention to drop to featherweight after Dana White announced that he wouldn't be receiving an immediate rematch against Bendo, and that decision paid off in spades thanks to Koch's injury.

While I would've preferred Chan Sung Jung to step in for Koch, he's recovering from his own injury, and Edgar is by far the bigger draw of the two, so I can certainly understand the decision to place Edgar in the fight. And while Edgar wasn't a huge PPV draw, he's still arguably the biggest star in the UFC's three lightest weight classes, so this should end up being the best-drawing featherweight fight since the UFC absorbed WEC's division. Emanating from Brazil, the show will also feature Quinton Jackson, which should put some additional eyes on the card. If Aldo and Edgar put on the spectacular fight that most pundits believe they will, then this can only be a good thing for the featherweight division.

***HORN SOUNDS***

That's going to do it for this week. As expected, there continued to be significant fallout regarding the cancellation of UFC 151 and Jon Jones' attitude regarding it (including a distasteful tweet from the champion on Saturday night), but I'd already dedicated two rounds to that last week (and a round dedicated to Jones the week before, so I wanted to go in a different direction). If you're interested, it's been covered at length by my colleagues, so please make sure you check out their columns and our news section. As always, let me know what you thought about this column in the comments, on Twitter: @webeougher, or on Google+. I'll see you back here for Five Quick Rounds next Tuesday, so until then, remember 411 MMA for all of your mixed martial arts needs!

comments powered by