SPOTLIGHTS
Occupy The Throne 9.05.12: How Can UFC Create New Stars?
Posted by Jeremy Lambert on 09.05.2012

With the retirement of people like Tito Ortiz and Randy Couture, the UFC is currently in a PPV drought thanks in large part due to their lack of stars. How can the promotion create new stars? 411's Samer Kadi and Jeremy Lambert take a look!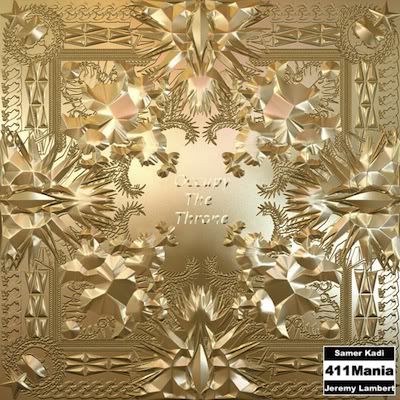 Few Stars In The Sky



Jeremy Lambert: It doesn't seem like a lot has gone right in the UFC especially in recent times. Guys seem to be dropping off cards like flies, they just canceled an event for the first time ever, PPV buys are in a major slump, etc.... There are a lot of factors that can go into a down period for a sport, but nine out of ten times, the biggest factor is a lack of interest in the actual athletes.

Right now the company is in a terrible transition period where their old stars are either retired or possibly on their last legs while their new star is a public relations nightmare. That's not to say that it's doom and gloom for the company as there are a few fighters who could be on the verge of stardom and this FOX deal should increase the profile of fighters, but as it stands, the UFC is failing to capture the general public with their promotion of fighters and events.

Samer Kadi: It would be difficult, and perhaps unfair, to criticize Zuffa and denounce their approach when they have turned to UFC to the household name it is today, but there can be no denying that MMA's dazzling rise has been drawn to a bit of a halt, and the self-proclaimed "fastest rising sport in the world" has noticeably decelerated: The PPV numbers are down on average, and the ratings for "The Ultimate Fighter" – which has played an instrumental role in the UFC's success – have dropped alarmingly.

This is hardly a disaster, and it isn't exactly unexpected. The MMA boom was never going to last forever, and dreams of continuous reaching of uninterrupted new heights were a tad far-fetched. That however, does not mean that the UFC should simply sit back passively. Anderson Silva's rematch with Chael Sonnen, which headlined UFC 148, produced a whopping one million buys, and is a testament that the interest in the sport hasn't declined, but rather that the audience is more selective about which events to tune into, and is less liberal about open up their pockets.

It is therefore up to the UFC to give them reasons to be less picky. Oversaturation of the product is certainly a factor, but it isn't the sheer number of cards that is the main problem, but rather, how underwhelming many of them are on paper. In 2010, the UFC enjoyed overwhelming success on PPV, and it wasn't for the simple reason that they put on less events, so much as it was about how stacked those cards were. From UFC 111 till UFC 118, the Ultimate Fighting Championship saw eight consecutive cards shatter the half million buys mark, with two of them producing over one million buys. If the UFC wish to recapture those days, they need to improve the quality of their fight cards.

In fairness, injuries haven't been kind to the world's leading MMA promotion, but they can only be partially blamed. Ultimately, the main issue is one of brand vs. fighters. Zuffa's belief is that the real value is in the UFC brand, and the mere sight of those three magical letters is enough to spark certain interest. That for the most part, is accurate, as is the fact that put the UFC name next to any fighter in the world, and he automatically becomes more marketable. However, while the UFC name is enough to draw a certain amount of eyeballs, it is not enough to really capture people's imagination. Ultimately, MMA is about the fighters competing in it, and that is why the audience invests in the sport.

Chuck Liddell, Brock Lesnar, Georges St-Pierre and others are as essential to the UFC's success as Dana White or Lorenzo Fertitta, and while it is somewhat overly simplistic to claim "the UFC should create more stars", they need to at least recognize this need and acknowledge it, while disposing of their "brand vs. fighters" philosophy.



<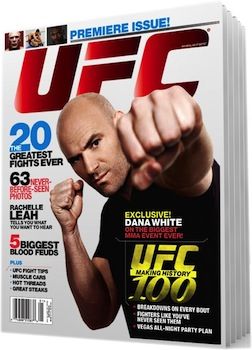 Jeremy Lambert: A big problem the UFC has is that their top star isn't a fighter, but rather the president of the company. No one can deny that Dana White, with the help of the Fertitta brothers, took the sport and the company from nothing to something, but that doesn't mean that Dana needs to be the face of the company like he is right now.

Besides Anderson Silva, who gets the majority of his followers from Brazil, Dana White is the most followed UFC personality on twitter, and it's not even close. The UFC has their own magazine. The only person to be on the cover twice? Dana White. In sponsorship commercials like Bud Light and Edge Shave Gel, Dana White is front and center. Even for commercials advertising The Ultimate Fighter, Dana White is talking about the competitors and competition, not the coaches, you know, the guys who are actually compete.

Roy Nelson recently came out and said, "Dana White wants to be a fighter, and he's not." While Dana responded with, "Nelson says a lot of stupid sh*t," I happen to agree with the crap that came out of Nelson's mouth in that instance. But Dana can't fight, unless it's an exhibition bout where you can only use your hands, yet he's still in the spotlight without taking any of the psychical damage.

Samer Kadi: Not only is it impossible to deny Dana White's behind the scenes impact on the UFC, but it is just as difficult not to recognize the importance of the huge following he has managed to amass. Simply put, Dana White has turned to a cult figure among the UFC audience. That of course, comes with its drawbacks. The topic of whether or not Dana White's persona and public image is good for the sport has been beaten to death, so it would be more appropriate, and for the purposes of this column, more relevant, to discuss his attitude towards his own fighters.

In many ways, that attitude embodies the "brand vs. fighter" philosophy. For better or worse, the UFC generally want full control over their fighters, which often makes for shaky relationships. Dan Henderson did not renew his contract in 2009 in part due to a sponsorship dispute, and many fighters landed in hot water with the company over similar issues. That, coupled with Dana White's outspokenness and no holding back attitude often results in counterproductive words directed towards his own fighters.

White's influence over the UFC fan-base makes this somewhat of a problem, as when White has something to say about a fighter, whether negative or otherwise, most of the audience bites, making this a double-edged sword. On one hand, it makes the UFC marketing machine that much more effective. Who else could have somehow fooled people into thinking Brandon Vera's performance against "Shogun" Rua was in any way impressive? Anderson Silva's greatness is undisputed and his achievements speak for themselves, but Dana White truly – and rightly – contributed to the man's reputation by declaring him to be the best in the world on virtually every occasion since 2008.

Unfortunately, White also has the power to lead people to believe that Kenny Florian is a choker, Jon Jones and Greg Jackson are disgusting sport killers – while recommending for the latter to visit a shrink – or that Cain Velasquez fought a tactically stupid fight against Junior Dos Santos despite the fact that he barely had the time to employ whatever gameplan he came in with.

That is not to say that White should be positive on every occasion, or that by pure power of words and positive propaganda, he can create a star. Creating a star is undoubtedly one of the more difficult tasks in a sport where a fighter fights no more than three times per year, and one loss can undo everything.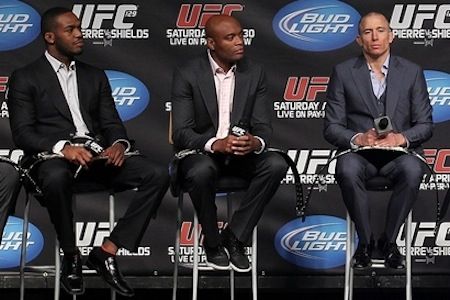 Jeremy Lambert: There's no easy way to create a star in MMA. Winning fights and doing so in impressive fashion help, but they don't necessarily mean that people are going to pay to watch you. Ben Henderson has won 10 of his last 11 fights dating back to his WEC debut, captured the WEC and UFC lightweight titles, and has never been in a boring fight, and yet less than 200,000 bought his latest offering on PPV.

Talking a big game and showing some charisma don't hurt, but in the end you still have to back it up in the cage. Few people out-duel Chael Sonnen on the microphone, but when you fall flat on your ass in big time situations, that talk is taken a little less serious the next time out.

In prior years, the company used to use The Ultimate Fighter and Countdown shows to help build their fighters, but with TUF scrapping the bottom of the barrel for talent and fans not caring about fighters breaking doors, and Countdown shows airing at random times on a channel that no one gets, those outlets are essentially out the window.

That said, the UFC has never been in a better position to create a star though thanks to this FOX deal. We've all expressed our opinions on how this FOX deal has shaken out so far, but let's not forget that this is a long term deal. In fact, while it's still a bit too early to tell, the FOX deal has already paid dividends for Junior dos Santos. He went from drawing 330,000 buys against Shane Carwin prior to FOX to 560,000 buys against Frank Mir after his 64 second TKO victory over Cain Velasquez on FOX. Granted other factors played a role in both buyrates, but JDS was the constant on both shows.

In this year's FOX Finale, the UFC not only stacked the card with big time relevant fights to appease FOX, but they're clearly also hoping to create a star or two by putting together a fight that can't possibly suck as the main event and then pitting two young lions against the old guard in the undercard bouts.

Samer Kadi: The notion of creating stars is complicated. Chuck Liddell was not exactly "created" by the UFC. They promoted him correctly, and gave him exposure, but if he didn't have the right look and attitude, and wasn't knocking people out left and right, he wouldn't have went on to transcend the sport the way he did. Georges St-Pierre's likeableness, charming charisma, skills and let's face it, nationality, allowed the UFC to turn him into the top draw he is today. For his part, Brock Lesnar came to the company as an established star, having made a name for himself in World Wrestling Entertainment.

The fact is, the UFC cannot be expected to magically develop new stars. What they should do however, is use the mediums they already have – FOX being the most notable one – to try and familiarize the audience with already established names like Junior Dos Santos, Carlos Condit, Ben Henderson, and others. Someone like Dos Santos has all the potential in the world to turn into a reliable PPV headliner if given the exposure he deserves. Airing a FOX special on their heavyweight champion would be a start, as would showing his sensational highlight reel. These things require time, effort, and resources, but will end up paying dividends on the long run.

For more from the Occupy The Throne duo you can follow Samer Kadi and Jeremy Lambert on twitter. You can also check out ManCaveThoughts.com for more writings and podcasts.
comments powered by