SPOTLIGHTS
The Juggernaut MMA News Report 09.06.12: NFL Players Become MMA Fighters
Posted by Jonathan Solomon on 09.06.2012

From Brock Lesnar and Bob Sapp to Hershel Walker, Matt Mitrione and more, 411's Jonathan Solomon lists the top 10 NFL players who became MMA fighters! Plus news on Ronda Rousey's potential next opponent and more!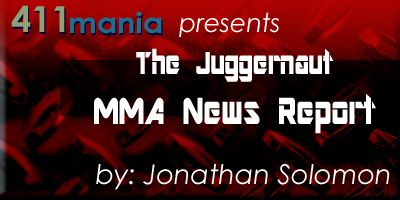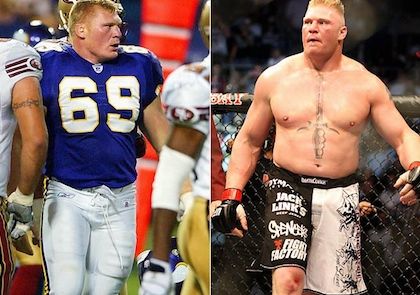 NFL Players Become MMA Fighters



In honor of the start of the 2012 NFL season, I will take a look at a list of some of the former NFL players to make the jump into mixed martial arts. Some names you may never have heard, others you've forgotten and a few can still resonate today.

One of the overlying facts, success is hard to come by for this group. I'll cover their NFL careers and how successful they were in that line of work before breaking down their successes/failures in MMA. Obviously, it takes a lot of guts and skill to make it all the way to the NFL and even more to then make the leap into MMA where the reliance on teams falls by the wayside (to a degree).


Marcus "Big Baby" Jones
NFL Career: 1996-2002
MMA Career: 2007-2009
MMA Record: 4-2

Jones was a mammoth of a man, playing his largest at 280 pounds on his 6'6 frame. He was an All-American in 1995 while breaking a lofty record at the University of North Carolina, one set by the greatest football player of all-time, Lawrence Taylor. Jones set the UNC record for sacks that year (the record has since been broken again) which set him up for a lucrative professional career in the NFL.

In the 1996 NFL Draft, Jones was selected 22nd overall (in the first round) by the Tampa Bay Buccaneers. He struggled early, starting just 4 games out of the 38 he played in his initial 3 seasons. In his next 3 seasons, he collected 23 sacks in 35 starts and signed a big contract extension. Due to a change in position and mounting injuries, his play tailed off late and the Buccaneers were dissatisfied when he missed more time following shoulder surgery and finally, a torn meniscus in the summer of 2002. He was cut by the team later on, tried to bounce back with the Buffalo Bills and ultimately failed to make their team. At the age of 29, his football career came to an end.

Jones began training in Brazilian Jiu-Jitsu in 2007 and took his first professional MMA fight in the fall on a local card in Tampa, Florida. He won his first two fights before being knocked out in 2008. He returned to win his next pair of fights before signing to participate in season 10 of The Ultimate Fighter in 2009.

While on the show, he turned 36-years old, and was depicted as having plenty of potential but not enough time to fulfill it. He was a pleasant person with fierce power, but he just didn't have "it" that he could consistently possess the killer instinct with skills in the cage. In one of the exhibition fights on the show, he was knocked out Brendan Schaub, just missing out on his opportunity to earn a spot in the finals.

In Jones' final MMA fight and first UFC contest, he was knocked out by Matt Mitrione. He realized he did not want to pursue professional MMA as vigorously and retired from the sport to spend more time with family.

Bobby Jones
NFL Career: 2002
MMA Career: 2007-08
MMA Record: 2-0

Jones was a two-time Ohio state wrestling champion in high school and played football at Penn State University under Joe Paterno. He was an undrafted free agent, signed by the New York Giants in 2002. He only played in 11 games before his NFL career ended, becoming a high school teacher in his hometown.

He trained at Evolve MMA, participating in grappling tournaments and amateur MMA fights in 2007. His only pair of professional fights listed are wins on small shows in Ohio and although reports from the time say he signed with Elite-XC, that promotion went out of business late in 2008. He apparently tried out for the TUF season 10, but did not make the cut.

Ironically, one of Jones' teammates on the 2002 Giants was Matt Mitrione.

Matt Mitrione
NFL Career: 2002-2005
MMA Career: 2009-Today
MMA Record: 5-1

"Meathead" as he became known to MMA fans has emerged as a legitimate prospect in the UFC heavyweight division. Certainly, at 34-years old, he may never be an elite heavyweight, but there can be worse than being an entertaining heavyweight who wins more than he loses.

Mitrione was a four-year starter on the Purdue University football team on defense. He was an All-Big Ten pick by the media (meaning he was picked as one of the better players in the Big Ten conference) and was a consistent force along the defensive line. Still, he lacked the elite size of better prospects and went undrafted at the 2002 NFL Draft. He signed as a free agent with the New York Giants.

He played in about 11 games, registering a handful of tackles as a back-up player and on special teams. He signed with the San Francisco 49er and Minnesota Vikings but was cut by both teams, dealing with foot injuries. He fought on amateur MMA shows (perhaps amateur may be putting it nicely) before beginning training in the sport with Chris Lytle in Indiana.

He tried out for and made the cast of TUF in 2009 without having a single professional fight. During the season, he was depicted as the villain, an idiot and a phony for milking injuries (which seems in bad taste looking back from whomever edited the footage). Since the series came to a end, he has been a much more likable character, especially considering his skills continue to improve.

His first professional fight was the win over Marcus Jones andy e followed that up by beating Kimbo Slice by TKO at UFC 113. He won his next three fights over Joey Beltran, Tim Hague and Christian Morecraft before losing a decision to Cheick Kongo last October.

Mitrione will return to the octagon at UFC 155 at the end of the year against Phil De Fries.





Alonzo Spellman
NFL Career: 1992-2001
MMA Career: 2006
MMA Record: 1-0

The New Jersey native had a successful high school athletic career which led him to being one of the major defensive players on the Ohio State University football team. He was even a team captain for the Buckeyes.

He was selected with the 22nd overall pick by the Chicago Bears in the 1992 NFL Draft. He was just 20-years old and one of the youngest players ever chosen at that point. He played six seasons for the Bears, playing in all but 10 games. He amassed 32 sacks, 1 interception and 1 fumble recovery although his highest single season tackle total was just 38. He injured his shoulder in 1997 and had severe mental problems, resulting in an episode in which he locked himself in the home of a publicist instead of submitting an NFL drug test. There was a stand off with police that ended when former Bears star Mike Singletary convinced Spellman to end the situation and go to the hospital. The Bears cut him when after being diagnosed with bipolar disorder, Spellman refused medication and relied on recreational drugs and alcohol.

He missed the 1998 season before returning with the Dallas Cowboys in 1999 and 2000, playing in every game. In 2001, he signed with the Detroit Lions but only played five games. Years away from the NFL, he was only able to make a team out of the Arena Football League.

Spellman turned his sights towards MMA, where he debuted in 2006 with a win on an XFO show in Chicago. He's never fought professionally since then.

His legal troubles plagued him throughout his adult life. In 2002, he became disruptive on a flight and the ensuing legal issues resulted in him serving 18 months in federal prison. In 2008, he drove away from police after an altercation and then refused to leave his vehicle when it was brought to a stop. He was only released from prison this June on charges stemming from that incident.

Brendan Schaub
NFL Career: 2007?
MMA Career: 2008-Today
MMA Record: 8-3

Schaub is another case of talent emerging in the crossover from football to professional fighting. He transferred to the University of Colorado as a junior and played as a fullback on their football team. He was not drafted but spent some time on the practice squad of the Buffalo Bills in the NFL. This meant that he was not officially on their roster, but was one of a select number of players who was able to practice with the team. Technically, he never played a down in the NFL.

He studied Tae Kwon Do throughout his football career before he pushed the pedal to pursue boxing and jiu-jitsu. He went on to become a Golden Gloves boxing champion in Colorado and received a purple belt in Brazilian Jiu-Jitsu. He was training with Nate Marquardt and Shane Carwin and later would move on to Greg Jackson's team.

Brendan's MMA debut came in 2008 and he reeled off four consecutive knockout wins before heading to season 10 of TUF. He made it all the way to the finals before getting knocked out by Roy Nelson. Another winning streak came his way (Chase Gormley, Chris Tuchscherer, Gabriel Gonzaga and Mirko Cro Cop) but he's lost his last two fights, both by knockout (Minotauro Nogueira and Ben Rothwell).

Schaub's next fight will be on the UFC on Fox show in December against Lavar Johnson.

Wes Shivers
NFL Career: 2000
MMA Career: 2007-2010
MMA Record: 8-1

Shivers may be the biggest man on this list not named Lesnar or Sapp, standing at 6'8 and weighing most likely closer to 300 than the 260 he fought at when playing football.

He was an offensive lineman for Mississippi State University and was drafted in the 7th round of the 2000 NFL Draft by the Tennessee Titans (237 overall of 254 picks). He found his way into three games that season before being cut and abruptly retiring from professional football.

Shivers became a police officer in Mississippi before getting the bug again to compete. He made his professional MMA debut in 2007 on the undercard of a ShoXC card in Vicksburg, Mississippi. With the exception of his time spent filming TUF 10 in Las Vegas, each of his fights took place in his home state.

He won his first six fights, all but one finished inside the first round. In 2008, he was knocked out by Brad Tidwell, but he bounced back to win his next fight. This is when he participated in TUF 10, where the received much hype from his coach Rampage Jackson because of his impressive size. Unfortunately for him, he lost in his first fight to the guy who proved to be most annoying that season, James McSwenney. Shivers returned from the experience without a pro fight in the UFC, but won one last fight by knockout on the undercard of a Strikeforce Challengers show in 2010. He has not fought since and appears to be retired from the sport.

Michael Westbrook
NFL Career: 1995-2002
MMA Career: 2005, 2009
MMA Record: 1-1, 1 No Contest

Michael Westbrook is best remembered for being the receiver who caught the hail mary pass from quarterback Kordell Stewart as a member of the Colorado University football team that beat Michigan. He was considered the best receiver in the country and was picked 4th overall by the Washington Redskins in the 1995 NFL Draft.

His career was a letdown due in large part to continuous injuries that plagued him. He only played a full 16-game season twice in his career. His best season was in 1999 when he scored 9 touchdowns. He was cut by Washington after the 2001 season ,signed with the Cincinnati Bengals the following season and only played in 9 games before retiring.

While an active NFL player, he participated in martial arts and trained in Brazilian Jiu-Jitsu following his NFL career. In 2010, he was given his black belt under Gustavo Dantas.

He first fought professionally in 2005 as a heavyweight, choking out Jarrod Bunch. Four years later, he took a fight with some new guy named Travis Browne (1-0 at the time). Browne knocked him out in the third round of their 2009 fight. In his final professional fight, Westbrook and Nick Gaston fought but it ended in 64 seconds because of an illegal groin strike (Westbrook took it).

Johnnie Morton
NFL Career: 1994-2005
MMA Career: 2007
MMA Record: 0-1

Oh, Johnnie Morton, how we love you.

He played for the Southern California Trojans and set a plethora of records as a wide receiver. In the 1994 NFL Draft, the Detroit Lions made him their 21st overall pick. With Detroit, he had many productive years (6 seasons of at least 55 catches, 4 years of 1000+ yards receiving, 35 touchdowns). Although, he later played for the Kansas City Chiefs and San Francisco 49ers, he's best known for what happened during the 2001 season in Detroit.

The Lions that year were beyond terrible, at their worst, they were 0-12 with a legit possibility of losing every game that season. In their 13th game of the season, Detroit won and Morton chose to take that opportunity to respond to The Tonight Show host Jay Leno (who berated the team for weeks), saying "Jay Leno can kiss my ass!"

Fast forward to 2007, the infamous K-1 Dynamite!! USA show with ProElite took place at the Memorial Coliseum in Los Angeles. Morton made his professional MMA debut against Bernard Ackha (1-0 at the time) with about eight weeks of training. Check out their fight below, it doesn't last long.





After the fight, Morton was suspended by the California State Athletic Commission because he refused to give them a sample to be tested for drugs.

Morton's MMA career died that night.

Herschel Walker
NFL Career: 1986-1997
MMA Career: 2010-Today
MMA Record: 2-0

I'll keep this short because Herschel Walker is a great, great man. He used football to improve himself from the young boy dealing with serious problems. He developed into the best running back in the country at the University of Georgia where he was a three-time All American and the 1982 Heisman Trophy winner (the Heisman is awarded to the best college player in the country each year). He set plenty of records, led the Georgia Bulldogs to an undefeated national championships season and is still considered one of the best of all-time.

He started as pro in the USFL and was drafted by the Dallas Cowboys in the NFL Draft of 1985 in the fifth round. In 1989, Dallas traded Walker to the Minnesota Vikings for a package of players and draft picks. He produced for them for three years before going to Philadephia, New York and Dallas to end his career in the late '90s.

Aside from football, Walker is an even more impressive man. Dealing with dissociative identity disorder, he gave a popular voice to mental health problems. He finished seventh in the 1992 Winter Olympics two-man bobsled competition. He has a fifth-degree black belt in tae kwon do and was a successful sprinter.

Fast forward to 2009, he trained out of American Kickboxing Academy and Strikeforce signed Walker to compete at the age of 47. He debuted with a TKO win over Greg Nagy and a year later, beat Scott Carson in the same fashion.

He's now 50-years old and it's believed he will fight for a third time in the future.

While Walker is strictly an attraction, the fact a man of his stature can still compete in such a grueling sport like MMA is as impressive as anything he did on the football field.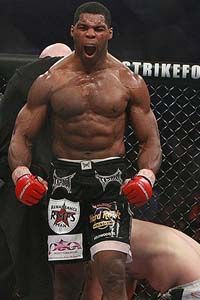 Brock Lesnar
NFL Career: 2004
MMA Career: 2007-2011
MMA Record: 5-3

By now, everyone knows Brock's story. He was a Division-I NCAA national wrestling champion at the University of Minnesota and signed to go into pro wrestling shortly thereafter. Based on financial reasons, he couldn't turn down the offer made by Vince McMahon. By 2004, he was sick of the lifestyle and did not want to become an old, physically destroyed man reliant on painkillers. He retired from WWE, letting go of a very lucrative contract to pursue a career in the NFL. He was 27-years old at the time.

Lesnar was signed by the Minnesota Vikings to participate in their training camp in 2004 to gauge where he was at. One of the interesting events in that camp was a minor fight he had with teammates on the field. Ultimately, the 6'2, 285-pound Lesnar was not prepared to make an NFL team at the time and the Vikings cut him. They offered him the opportunity to play in NFL Europe but he declined (for obvious reasons, can you imagine Brock going to another continent to be away from his family AND not get paid well?!).

In 2006, he announced his intentions to fight for the K-1 Hero's promotion in Japan. He began training in MMA under Greg Nelson in Minnesota and Marty Morgan. His MMA debut took place in June 2007 when he defeated Judo black belt Min Soo Kim with strikes in the first round.

Lesnar signed with the UFC four months later and had the famous fight with Frank Mir in 2008. I can still vividly recall the marketing campaign for that fight, with the UFC literally plastering Madison Square Garden with Brock Lesnar posters and billboards. Lesnar became UFC champion in November 2008 by beating Randy Couture, but had his first significant health problem due to diverticulitis. He beat Frank Mir and Shane Carwin before losing to Cain Velasquez. After another bout of diverticulitis, Lesnar returned to fight Alistair Overeem last December, losing by TKO in the first round.

Brock retired after the fight and returned to WWE a few months later, where he is still wrestling. That doesn't stop Dana White from teasing his return is still possible (this after saying a meeting earlier in the year went terrible with Brock).

All of this doesn't even mention Lesnar's importance as a drawing card for the UFC, being pertinent to huge PPV buy rates from 2008 through 2011.





Bob Sapp
NFL Career: 1997-98
MMA Career: 2002-Today
MMA Record: 11-15-1

The Beast has led quite the thrill ride of a career since he was on the football field. After playing for the University of Washington, he was selected 69th overall (third round) by the Chicago Bears. He didn't even make it to the regular season, because he was cut by a new Bears official beforehand. He was picked up by the Minnesota Vikings and played in one game. He ended up failing a drug test for anabolic steroids and was cut in 1998, although Sapp maintains his innocence in relation to the drug test to this day.

Instead of continuing to work "regular" jobs, Sapp went into pro wrestling and was training at the WCW Power Plant facility when that company was sold to Vince McMahon. Following this, he had a boxing match with former NFL player William "The Refrigerator" Perry (don't ask) and apparently, the right people noticed Sapp. He was signed to fight in Japan for PRIDE's MMA organization and the K-1 Kickboxing company. To this day, he's still performing in both spots simultaneously.

In PRIDE, he quickly knocked out his first two Japanese opponents before setting up the huge fight with Antonio Rodrigo Nogueira. Sapp was caught with an armbar and suffered his first loss (this proved to be his final fight with the promotion). He fought for a variety of promotions in Japan and his popularity soared well past fight fans into the mainstream.

At one point, there were talks with Mike Tyson for the two to fight in Japan.





Around 2006 or 2007, Sapp was in negotiations with WWE to return to American pro wrestling, but they could not come to an agreement. Consider the fact that Sapp is 2-13 in MMA fights since 2008 (and 1-11 in kickboxing over the past seven years), it doesn't matter in Japan because he's still a major celebrity. He hasn't meant nearly anything close to his fame in Japan in America, but he still finds people willing to pay him overseas to fight. Consider the fact that his last 12 MMA fights have taken place in 12 different countries.







---
MMA IMPERSONATIONS
---




- Strikeforce officials confirmed the top two fights for their show on November 3 in Oklahoma City. Daniel Cormier will fight UFC heavyweight Frank Mir in the main event and the second fight will feature middleweight champion Luke Rockhold defending against Lorenz Larkin. The latter fight is a surprise considering everyone under the sun assumed former champion Jacare Souza would be the next challenger following his quick knock out of Derek Brunson last month. Souza's manager Gilberto Faria told MMAJunkie.com the former champion is healthy and waiting to find out if he'll be fighting in November.

- Undefeated bantamweight Sara McMann (6-0) has signed a multiple fight deal with Strikeforce. The 31-year old won a silver medal at the 2004 Summer Olympics in freestyle wrestling. She last competed in MMA in July when she won a decision against Shayna Baszler at Invicta 2. Say hello to Ronda Rousey's next potential opponent.

- Tyson Nam, who knocked out reigning Bellator bantamweight champion Eduardo Dantas last week, told MMAJunkie.com that his managers are in the middle of a contractual dispute with Bellator. Nam reportedly signed with Bellator in March to act as a last-minute replacement in their season 6 bantamweight tournament. He was removed from the equation just before the fight because the original fighter was eligible to compete. The promotion promised him a spot in the season 7 tournament but, via e-mail, released him from his contract after canceling the tournament in June. Now (after knocking out Dantas), Bellator may sue Nam, because they want him to compete in a tournament to be held next year. Understandably, Nam does not want to wait and wants to field offers from other companies (ie. the UFC). Bellator believes it has matching rights on the contract for 18 months after its expiration, which could prohibit him from signing elsewhere. It appears he wants to fight sooner than next year which may be the driving force in the disagreement between the two sides.

- After two examples of misguided rules, the ONE FC promotion changed their policy on soccer kicks. Now, any and all variations of soccer kicks are legal at all times, just as they were in PRIDE. Previously, the rule was to allow soccer kicks only when the referee gave his approval via signal during the fight. At ONE FC 5 last week, Andrei Arlovski nailed Tim Sylvia with a soccer kick to the head when the referee did not give him the signal and the fight was stopped and ruled a no contest when Sylvia could not continue (they appear ready to fight for a fifth time in the future). In another fight, Shannon Wiratchai was awarded a TKO win due to soccer kicks against Mitch Chilson. This week, it was determined the referee wrongly stopped the fight and the result was amended to a no contest.

- Bellator CEO Bjorn Rebney is planning for lightweight champion Michael Chandler's first title defense to take place live on Spike TV next year against Rick Hawn. Based on Rebney's language, do not be surprised if the title fight is one of the first main events in January.

- UFC featherweight champion Jose Aldo was uninjured in a motorcycle accident in Brazil when he was struck by a car. He suffered only minor bruises and now his trainers have told the champion to only use car service while traveling prior to his October 13 fight with Frankie Edgar.

- WrestlingObserver.com reports Miguel Torres was released by the UFC last week was "disciplinary in nature" although the specific grievance is not known. In the past, he was cut by the UFC over an insensitive tweet about rape, and was later brought back (he ended up being knocked out by Michael McDonald).

- In a terribly sad story, former MMA fighter Wyatt Lewis was stabbed to death in Calgary last Saturday. Lewis competed in MMA regularly from 2001-2004 (he lost fights to Nick Ring and Krzysztof Soszynski) and last competed in 2008, amassing a 4-2 professional record. He trained with Ring and Jason MacDonald and remained a presence in the local Brazilian Jiu-Jitsu community. The Calgary Herald reported police were called to the location a 3 a.m. Saturday night and discovered two men with stab wounds. Witnesses told police, a friend of Lewis' was hit with a bottle and knocked unconscious when he rushed in to help. They could not identify any of the persons behind the killing and they remain at large. Lewis leaves behind a wife and three children.

- You may not have known (I did not) but The Ultimate Fighter season 16 premieres next Friday night on FX with the infamous barrage of meaningless fighters featuring fighters we do not know. Not to let FX have all the fun, Spike TV is putting on a marathon of Roy Nelson based content beginning at 8 p.m. The first hour will feature the episode from TUF 10 when Nelson fought Kimbo Slice and following will be the TUF 10 Finale.



JUGGERNAUT VIDEO OF THE WEEK



Here's footage of the complete fight between Sara McMann and Shayna Baszler from Invicta FC 2 in July. McMann now figures to be one of the candidates to fight Strikeforce champion Ronda Rousey if the fight with Cyborg Santos does not come together over the next 6 months.









TWITTER

http://www.twitter.com/411mania
http://www.twitter.com/411wrestling
http://www.twitter.com/411moviestv
http://www.twitter.com/411music
http://www.twitter.com/411games
http://www.twitter.com/411mma

comments powered by