SPOTLIGHTS
411 MMA Fact or Fiction 09.12.12: The Newest of the New Edition
Posted by Wyatt Beougher on 09.12.2012

Would Brock Lesnar vs. Fedor Emelianenko be the biggest superfight of all-time? Does TUF: Carwin vs Nelson have us excited? Is Tito Ortiz a good role model for up-and-coming fighters? Is Ronda Rousey the greatest female fighter of all time? 411's Alex Rella and Matt White debate these topics and more!

Welcome to another edition of 411's MMA Fact or Fiction, and, as you should expect by now, I'm your host, Wyatt Beougher. We had yet another close contest last week, with guest judge Mark Radulich scoring the bout in favor of Jeffrey Harris, while I scored it in favor of Todd Vote. After the polls closed, the readers also thought Todd won, so he moves to 2-3-0, while Jeffrey falls to 1-2-0. Great effort from two guys who've been around 411 seemingly forever, and from there, we move to this week, which features the two newest additions to the MMA Zone, Alex Rella and Matt White, and this week's guest judge is Robert Winfree, meaning that the only three members of the MMA Zone who have less seniority than me are involved in this week's edition. But don't let that fool you – this week's contest isn't short on quality in any way. This is all-rookie edition of Fact or Fiction, so let's get under way, shall we?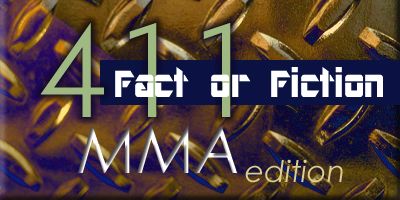 TALE OF THE TAPE



Red Corner
Alex Rella
'Cinder'
Columnist, The MMA Top 10
0-2-1

VS

Blue Corner
Matt White
'Your Nickname Here'
Columnist, MMA Top 5
1-1-0

And our special GUEST JUDGE
Robert Winfree
"The Last Rider"
Columnist, Locked in the Guillotine MMA News Report

---


1.) You're looking forward to the upcoming debut of the second season of The Ultimate Fighter: Live on FX.
Alex Rella: FACT It will be a far from groundbreaking or exciting season but I'm looking forward to it anyway. TUF does need to be restructured or something new to breathe life into it but this should still be an above average season. Roy Nelson and his Cesar Gracie camp of coaches should be entertainingly annoying and a good contrast to Shane Carwin and his more no nonsense staff. The Nelson-White drama should also be fairly entertaining even though it is kinda weak and seems somewhat forced at times. But overall I'll get to see free fighting each week which is always nice and it should help to build up to the eventual Nelson-Carwin fight. I'm curious to see if Carwin is still a top heavyweight and if he has the ability to knock out Nelson.

Matt White: FACT At this point, a lot of viewers know what to expect from the Ultimate Fighter. It's not TUF 1 or 2 anymore, we're not filling a house up with a bunch of future contenders anymore. We're filling a house up with some drama and throwing two coaches together that aren't normally too fond of one another. I am definitely looking forward to the new season, Roy Nelson and Shane Carwin are two fighters that will probably never taste another title fight but they don't like each other. You have goofy Roy who looks like he'll try to get under anyone's skin. Based on appearance alone, I would never want to get under Shane Carwin's skin, but I will most certainly watch Big Country do it. I am also curious to see Nelson's coaching style and see this 'underrated ground game' everyone talks about. This season is full of polar opposites which I think will also translate to the coach's teams as well.

Judge Wyatt Beougher's Scorecard: As usual, both guys agree on the first question, and I honestly thought I'd get at least one fiction out of this. At any rate, both Rella and White are excited for the upcoming season of TUF, yet I'm the one doing live coverage, and Chewbacca is a wookie living with a bunch of Ewoks – THIS DOES NOT MAKE SENSE! (I kid, I kid.) Alex pointed out that this will be our first time seeing Carwin after a prolonged injury which should cause some anticipation to see if he can ever contend for a title again, but Matt counted by pointing out that the potential personality clashes (besides those of the coaches) could make this season enjoyable, so I have no choice but to score this one a Draw, 10-10.

Judge Robert Winfree's Scorecard: Both guys agree here, which means I get to look for little details as to who wins. I think Rella correctly points out that the interactions between Dana White and Roy Nelson will be a bigger selling point than Nelson and Carwin. As such, I'm going 10-9 Rella, (10-9 overall)

---


2.) Tito Ortiz's role in developing amateur talent for Fight Club MMA: Rising Stars will be beneficial for the fighters involved and not just the promotion.

Matt White: FACT: I have never been a huge fan of Tito Ortiz. I think he is extremely overrated, and if it weren't for a fluke fight over Ryan Bader he'd have been out of our hair a long time ago. This guy whines at any opportunity that he is given, he has a laundry list of injuries after every fight and he also conducts every speech as if he is speaking to a group of children that are headed down a path of drugs and prostitution. He is always fighting with management about money or who he has to fight or why he isn't higher on the card, everything about this whiny fighter makes me want to scream that this is going to fail and it's a huge ploy just to throw himself into the spotlight and this is way more legal than smacking around his wife, however, the only time I liked Tito Ortiz, when he seemed genuine was watching him coach on The Ultimate Fighter, in both seasons, against Chuck Liddell and Ken Shamrock he seemed as if he was going to make some stars. He had the right people around him and with his experience he really taught the new guys some stuff. I don't think Matt Hamill would be where he is today and accomplished all that he accomplished if it wasn't for Tito Ortiz. That's why even though this is another way to keep Tito in the spotlight, but when it comes to coaching I believe Tito knows what he is doing and this will benefit the fighters more than the promotion.

Alex Rella: FACT This is fact even if you just look at it from the point of view that these young fighters now have a former champion training and mentoring them. Ortiz is one of the best fighters of all time and has a wealth of knowledge when it comes just to the training and fighting part of the role he will be taking on with the amateur fighters. But Ortiz will also be helping these young fighters in other aspects of life which may or may not be more important depending on how you look at it. Ortiz used to be a dick but he acknowledges that now and wishes he could have done things differently. Part of his being a dick was that he didn't have the right people around him when he was younger. Ortiz seems genuinely interested and dedicated in trying to help young fighters to avoid the mistakes that he made. So I don't think this is just a way to keep himself in the spotlight because there are other better ways for him to do so and he does appear to be genuinely trying to give back after years of being an asshole. Either way this will be beneficial to everyone involved.

Judge Wyatt Beougher's Scorecard: While I agree with Matt that Ortiz can be an insufferable pain, Alex rightly points out that Ortiz has changed his stripes of late, and has tried to acknowledge his faults and attempted to help those around him, so I'm giving him the nod in this round. Rella, 10-9 (20-19 overall)

Judge Robert Winfree's Scorecard: Both guys essentially make the same point here, and as such I'm going to rule this one a draw. 10-10 Draw (20-19 Rella Overall)

---


3.) With talent like Miguel Torres, Ronnys Torres, Rolles Gracie, JZ Cavalcante, and Bobby Lashley all announced, as well as a television deal with NBC Sports Network (formerly Versus) in place, the World Series of Fighting should enjoy a successful debut.

Alex Rella: FACT The World Series of Fighting is looking pretty solid so far and I do think it will have a modestly successful debut. I don't think it will get UFC type ratings in the first show but it won't take that much for it to possibly become the #3 MMA promotion behind Zuffa and Bellator. They have a deal with a national sports media outlet which is a pretty big deal. This means the average curious fan can just tune in rather than paying ten dollars on internet pay per view like they would have to do to see other smaller promotions. So far they have some decent fighters on the card as well. These are far from the best fighters in the world but they still have enough name value that I'll tune in. It also seems like they are going to be making a serious effort to go out and sign prospects as they made a big signing with Tyrone Spong. Spong has a 68 -6 record in kickboxing and has been training with the Blackzilians for over a year. My guess is we'll see more signings of free agents and prospects in the upcoming weeks. Bas Rutten and Kurt Angle commentating together will also be great. So I do think it will have a successful debut.

Matt White: FICTION I don't see this being a successful debut. I mean, we've seen things like this come and go on network television and there simply isn't enough drawing power in this organization. I have been asking all my MMA buddies that have a basic knowledge of MMA if they are interested. They'll ask me who to watch, and when I throw out names like Miguel Torres and Roger Huerta they remember the name but it's not something they're going to change their plans to see like a UFC PPV or TUF especially if they are aiming for a Nov 3rd premiere on a Saturday night. People make plans around a UFC PPV or Fight Night, they aren't going to stay in and watch this. Right now, I don't like it, I am sure I will watch it and other people that are a bit more hardcore will watch it but avid fans that just watch UFC and Bellator when they have time to catch it aren't clamoring to watch this. I think you'll get some fans that used to watch wrestling to see Bobby Lashley either kill someone or lay on them or gas out. However, there is not enough drawing power especially at the heavier weights to make a major dent and have a successful debut.

Judge Wyatt Beougher's Scorecard: This is one of those rounds where I made a statement because I wasn't sure how I felt about it, and I wanted to see how the competitors thought. Both guys offered excellent points in completely divergent directions, and I'm absolutely torn as to which one makes the better point – Rella went into better detail about WSOF making an attempt to sign prospects, but White countered with what's likely to be a valid reason why the majority of non-hardcore MMA fans probably won't bother with the WSOF. Because I'm still no clearer on how I feel about the promotion's debut, I'm scoring this one a Draw, 10-10 (Rella, 30-29 overall)

Judge Robert Winfree's Scorecard: A fairly easy round this time, as Matt White points out the issues with the debut of the promotion. They do have some names that hardcore fans will know, but at the end of the day the can't really compare with the UFC marketing machine and the market share they have. 10-9 White (39-39 overall)

---


4.) Rolling Stone magazine was correct in naming Ronda Rousey the greatest female fighter ever.

Matt White: FICTION While Ronda Rousey is certainly the best woman fighter right now. The fact that women's MMA is only documented back to the mid-90s, and I can only remember it from a few years back, that's a very bold claim in maybe only 5 years of true existence in the media world. It's very tough to name someone the best ever when even an avid watcher of MMA, someone that watches maybe just UFC, Bellator and Strikeforce, can only name a handful of women fighters. Unfortunately, this part of the sport is still coming alive and there are females out there looking at women's MMA as a profession that haven't gotten involved. I think Ronda Rousey is similar to what Royce Gracie was doing in the first few UFC's. People eventually figured it out but at the time he was the best, but by UFC 10, he wasn't the exact pinnacle that everyone was thinking. While I am sure that Ronda is going to dominate her next few opponents, it's tough to name anyone the best woman in MMA in its young existence; it's a little premature for Rolling Stone to do it.

Alex Rella: FACT Yes, women's MMA is still a young sport and it has only had media attention for a few years. But Rolling Stone was still correct in naming Rousey the greatest female fighter ever. To be fair she hasn't had much competition for that title but it doesn't really matter. Carano was the face of women's MMA for a couple years but she wasn't as good of a fighter and it doesn't seem like she's coming back anytime soon. Cyborg is just as dominant of a fighter but she gets thrown out of contention because she cheated with steroids for who knows how long. So we're left with Rousey who has been beyond awesome and dominant since she debuted in MMA, has received a lot of mainstream attention, and may actually bring women's MMA to the UFC if she keeps up her impressive run. So just as Royce Gracie was considered to be the best fighter ever in the early days of the UFC and is now only considered in the top ten or so. Ten years from now new fighters might come and blow past Rousey in the all time rankings but right now at this moment she is the greatest female fighter ever.

Judge Wyatt Beougher's Scorecard: I like that both guys invoked Royce Gracie's dominance in the early UFC days, even though I don't particularly agree with that comparison (reason being that Rousey's fought well-rounded fighters, whereas Royce largely fought one-dimensional fighters and bar brawlers). With that said, and I'll fully admit that my pro-Rousey bias is probably in play here, I'm awarding this round to Rella, 10-9 (40-38 overall) for making his own clarification ("Rousey is the best female fighter to date") rather than postulating about the future.

Judge Robert Winfree's Scorecard: The entire debate about the "greatest of all time" is kind of a stupid one in my opinion because all time hasn't passed yet. We're stuck making that judgement based purely on what has happened up to this point. Using that as the criteria, then yes Ronda Rousey is clearly the best. White correctly points out that in something only five years old claiming the greatest ever is a bit premature, but based on all time up to this point Rousey easily takes the title. 10-9 Rella (39-38 overall)

---


5.) The upcoming Chris Weidman/Tim Boetsch fight will produce the next challenger for Anderson Silva's middleweight title.

Alex Rella: FICTION This is fiction for a couple reasons. The first is that everything right now is pointing towards the Silva-GSP superfight. You have to figure that will happen about six months after GSP's fight with Condit. And after that Silva only fights about twice a year, if that, so his next title defense should be the end of 2013. I just don't see the UFC promising these guys a title shot in expectation of them waiting that long for the actual fight. Also I'd say Michael Bisping is in the best position for a title shot at this point if the UFC were to pick a number one contender in the upcoming months. Though a winner of Stann/Bisping vs winner of Weidman/Boetsch is also very possible to determine a number one contender if Silva is busy for that long with GSP. It would keep the division flowing and produce a true number one contender who would seem like more of a threat. Either way I just don't see the winner of Weidman/Boetsch producing the next number one contender.

Matt White: FICTION Who are the two hottest fighters in the division not named Anderson Silva? Chris Weidman and Tim Boetsch. However, the timing does not line up. These two will fight and Anderson will be lined up to fight Georges St. Pierre in a Super Fight at Cowboys Stadium. It's pretty amazing that this fight basically comes down to GSP/Condit on Nov 17th. If GSP beats Condit, Dana White knows that this is the time to make Anderson Silva vs. St. Pierre happen. Weidman and Boetsch will get the winner of Bisping and Stann and will probably take place on the same card in Dallas. It's unfortunate because as soon as we have a new contender at a division...the division goes on hold.

Judge Wyatt Beougher's Scorecard: Both guys agree again, and while I like the fact that Alex pointed out that it would make sense for the winner of Boetsch/Weidman to fight the winner of Bisping/Stann, I can't agree with the timeline he outlined for Silva/GSP. If they wait until six months after the GSP/Condit fight, that will have been nine months since Silva fought Sonnen, and I'd expect Dana to put Silva on the Super Bowl weekend show in February whether he's fighting GSP or not. Since Matt pinned that timing down (and pointed out that it would make sense for the Bisping/Stann winner to fight the Boetsch/Weidman winner on that same card), I'm giving him the round. White, 10-9 (48-49 overall)

Judge Robert Winfree's Scorecard: Again they agree, and pretty much on everything. That means another draw. 10-10 Draw (49-48 Rella overall)

---
Official Scorecard
Judge Wyatt Beougher scored the bout in favor of Alex Rella, 49-48.

Judge Robert Winfree scored the bout in favor of Alex Rella, 49-48.
---


This was honestly the closest Fact or Fiction contest I've judged, and I don't envy you, the readers, having to vote on it. But, since both Robert and I did, make sure you do as well!







Bonus.) A Brock Lesnar/Fedor Emelianenko super fight would draw more viewers than a Georges St. Pierre/Anderson Silva super fight.

Matt White: FACT Brock Lesnar vs. Fedor Emelianenko is THE Super Fight. Everyone knows that GSP and Anderson are far closer to their prime, but in a casual MMA fan's mind, size is far more impressive than the technical side that would be a fight with GSP and the Spider. There are still people out in the MMA world right now that think Brock Lesnar and Fedor are the two best in the world just based on size and hype alone. I'm not saying I agree, but I know people will be buzzing. I will go to work and someone will bring it up to me, I will walk in the market and people will be talking about it. That won't happen with GSP/Anderson even though the majority of fans that reads sites like this would be more interested in a GSP/Anderson super fight, day to day casual fans are going to be willing to pay money for Fedor and Brock if there was anyway Dana White could make it happen.

Alex Rella: FACT Brock Lesnar was the biggest draw during his time in the UFC and Fedor's debut fight in the UFC against anyone would produce big numbers. So the combination of the two would put GSP/Silva to shame. Also the MMA community is usually torn right down the middle on how they feel about both fighters. They either really like each fighter or passionately hate them. Also my guess is most Fedor fans are not Lesnar fans and vice versa. So fans will be tuning in to see their fighter win and the other get crap beat out of them. Of course this fight will never happen though.

Judge Wyatt Beougher's Scorecard: Both guys agree here, and I tend to agree with them, so since neither one really made any outstanding points that the other didn't, this round is another Draw, 10-10.

Judge Robert Winfree's Scorecard: White correctly hits on the casual fan interest in Brock Lesnar, and a fight with Fedor Emelianenko would be a huge money maker. 10-9, White

And that's it for this week! I hope you enjoyed reading it as much as I did putting it together, and a huge thanks to Alex, Matt, and Robert for doing such an excellent job! As always, if there's anything you'd like to see featured in next week's edition, leave your statement in the comments and I'll add it in for next week. Let us know what you thought in the comments, on Twitter, or on Google+. We'll see you next week and remember 411Mania for all of your MMA needs.
comments powered by