SPOTLIGHTS
Five Quick Rounds 09.18.12: Bisping/Benavidez Beef, DREAM Dies, Cole Konrad Retires, and More!
Posted by Wyatt Beougher on 09.18.2012

From the devastation and rebuilding that completely altered the face of UFC 153 and the retirement of Bellator heavyweight champion Cole Konrad to the bad blood between Michael Bisping and Joseph Benavidez, and more, 411's Wyatt Beougher looks at these stories and more!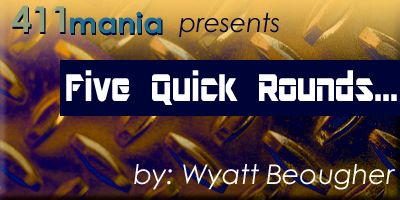 Welcome to another edition of Five Quick Rounds, 411's fastest-finishing weekly opinion column. As always, I'm your host, Wyatt Beougher, and I'm putting the finishing touches on this column on about three hours of sleep because of insane DOT construction schedules messing up my work-related travel. My apologies for any errors that slip through the editing process. It's been an interesting seven days, that's for sure, so let's get down to business.




Round 1: UFC 153 – We Can Rebuild It…We Have the Roster

***TOUCH OF THE GLOVES***

The last seven days have been tumultuous ones for the UFC's upcoming Brazilian show, as both the co-main event and main event were gutted by injuries. After original headliner Erik Koch had to withdraw from his title bout against champion Jose Aldo due to injury and was subsequently replaced by Frankie Edgar, Aldo himself was struck by a car while driving a motorcycle. And while his injuries were far less severe than they could've been, Aldo had to withdraw from the fight with Edgar due to the injuries that he sustained. On top of that, a day before Aldo's withdrawal was announced, co-main event fighter Rampage Jackson was forced to withdraw from his fight with Glover Teixeira because of an injury of his own. That left UFC 153 without a main event or a co-main event fight, but thankfully, a trio of Brazilian fighters stepped up and made sure that the show in their home country would go on. At the top of the card, Anderson Silva moves up to light heavyweight to fight Stephan Bonnar, while Antonio Rodrigo Nogueira was added to the card to face Dave Herman. Nogueira will be making his first trip into the Octagon since a brutal submission loss to Frank Mir last December that saw Mir break Big Nog's arm to conclude the fight. Fabio Maldonaldo also campaigned to join the card, requesting Jackson's spot, and his request was granted.

And while Silva/Bonnar isn't a title fight, and likely won't be as competitive as Aldo/Edgar, I'm still much more excited by that fight than the original main event. If the fight lasts five seconds or five rounds, Bonnar isn't going to be afraid to engage with Silva, so we should see the Spider at his best, while Edgar's style and quick in-and-out movement probably would've meant a decision for either the former lightweight champion or the featherweight champion (my money was on Aldo). And while the Rampage fight would've meant more to Teixeira's stock in the UFC (and consequently made it harder for fighters like Shogun to refuse a fight with him), at least Maldonado isn't quite the massive step up in name recognition that Glover would've made in fighting Jackson. I'm not trying to imply that Teixiera would've been star struck against Jackson, but at least with Maldonado, we can pretty accurately assume that won't be the case. And while I've said in the past that Big Nog should retire, if he wants to fight, I'm going to watch it, so his addition to the card means both a boost in star power and another fight that I want to see.

***HORN SOUNDS***




Round 2: Bellator's Heavyweight Division Suffers Major Blow

**TOUCH OF THE GLOVES**

Last week it was reported that Bellator's undefeated heavyweight champion, Cole Konrad, was retiring from the sport to take a job as a financial trader specializing in milk products. Konrad, who grew up on a dairy farm and was a former NCAA Division 1 champion, cited a lack of passion for MMA, saying that he never really had the same desire to do well in MMA that he had experienced in wrestling. In the wake of Konrad's retirement, it is expected that Bellator's season seven heavyweight tournament will crown a new champion, and it is slated to begin next month. The four quarterfinal fights will take place on October 5th and will feature: Mike Holata taking on Vinicius Queiroz, Richard Hale squaring off against Mike Wessel, Brett Rogers facing Alexander Volkov, and the long-awaited rematch between Eric Prindle and Thiago Santos.

Honestly, I can't blame Konrad for retiring and doing something that he actually has a passion for. MMA is the last sport you want to half-commit to, as that's a very good way to sustain a very serious injury, and if the guy didn't love what he was doing any more and had the ability to change that, more power to him. As for the potential of the heavyweight tournament crowning the new champion, clearly Bellator is doing the best they can with what they've got, but it still feels somewhat lackluster. Where's Neil Grove, who lost the first heavyweight tournament to Konrad? Where's Mike Hayes, who beat Grove in the most recent tournament before having to withdraw with an injury? It's really too bad that Blagoi Ivanov isn't far enough along in his recovery to participate, as Bellator could certainly use the Bulgarian's talent. With their luck, though, he'll return between tournaments in a meaningless fight and the potential impact of his return after being stabbed and nearly dying will be essentially wasted. But that's neither here nor there, as it's merely one of Bellator's many problems. Best of luck to Konrad in his future profession, and a speedy recovery to Ivanov, who could certainly take Konrad's place at the top of Bellator's heavyweight food chain.

**HORN SOUNDS**




Round 3: UFC Continuing Global Expansion

**TOUCH OF THE GLOVES**

This past Friday night, the sixteenth season of The Ultimate Fighter debuted (its second on FX), and that apparently is only the tip of the iceberg. In addition to TUF: The Smashes which will pit UK-based fighters against Australian ones and the second season of TUF: Brasil, it was announced that The Ultimate Fighter: India will debut in the fall of next year. The show will air on SONY SIX, the channel that airs all UFC programming in India, and UFC CEO Lorenzo Fertitta believes that now is the time for expansion into India, based on the trend of Indian youths consuming more western entertainment.

With India currently the second most populated country in the world, this expansion makes absolute sense for the UFC. With the Super Fight League's last event posting an attendance figure of 12,200 (after showings of 4,750 and 2,500 for their first two shows respectively), it would seem that Fertitta is correct, and that the interest in MMA is certainly there. By adding a season of The Ultimate Fighter that features Indian talent to the current roster of UFC programs, Zuffa is hoping to grow interest in the UFC before running a live show there, which seems to me like a solid strategy for expansion into a country where MMA is still in its infancy. One sign that points to India being a hotbed of potential talent is the response Fertitta received upon showing an MMA fight to a handful of Indian Olympic wrestlers, who stated without hesitation that they believed that they could compete in MMA. From the outside, it seems like the UFC could be getting into the Indian market at the perfect time, but I say that with no inside knowledge of the logistics, financials, or specifics of the broadcast deals, so it could just as easily end up blowing up in their face.

***HORN SOUNDS***




Round 4: A DREAM Deceased

***TOUCH OF THE GLOVES***

With the UFC having run a show in Japan already this year, having a show planned for China later in the year, and the aforementioned expansion into India, it looks as though Zuffa is finally making good on the plans that they made regarding the Asian market when they acquired PRIDE. And it's just in time, as well, as PRIDE's spiritual successor, DREAM, will officially be closing its doors with the announcement that its final remaining parent company, Real Entertainment Co, Ltd, was closing its doors. Fighting and Entertainment Group (FEG), DREAM's other parent company, officially declared bankruptcy back in May and this announcement was essentially considered a formality.

Did anyone not see this coming? Between FEG's bankruptcy and OneFC signing any remaining talent, I think the writing was pretty much on the wall for DREAM. However, they did manage to promote 23 events, which is impressive considering the shadow of yakuza corruption that was partially responsible for PRIDE's closure. It's also worth noting that DREAM's partnership Strikeforce allowed fights like Gilbert Melendez vs Shinya Aoki to happen, so that's something. And while DREAM never reached the heights of its predecessor, its passing will still leave a void in the Japanese MMA scene. I would expect OneFC to try to capitalize on that, but I don't think it's worth ruling out a future season of The Ultimate Fighter from Japan if the other overseas editions continue to do well.

***HORN SOUNDS***




Round 5: Bisping/Benavidez Beef

***TOUCH OF THE GLOVES***

In a recent video blog, Team Alpha Male figurehead Urijah Faber asked teammate (and flyweight title contender) Joseph Benavidez if he thought that he (Benavidez) hit harder than Michael Bisping. Benavidez obviously answered in the affirmative (to my knowledge, no one has ever called him pillow fists), which apparently got Bisping's goat. The Count lashed out, calling Benavidez a bunch of not-so-nice things while intimating that Bisping's 11-year-old son could handle Benavidez. Benavidez responded that he was surprised Bisping would get upset about it, especially since he had just proclaimed himself to be bigger, stronger, and tougher than Benavidez. Bisping then went on to say that no one was watching the UFC for the lighter weight classes, and, as of my deadline, that's where the verbal altercation stands.

First off, let me say that if Team Alpha Male had done more stuff like this during the last season of The Ultimate Fighter, rather than Faber constantly spouting off with unfunny third-grade insults towards Dominick Cruz and then the supremely homoerotic lubed-up "workout", maybe people outside of their team would find them as funny as they seem to find themselves. Secondly, as much as I dislike both of these guys, Benavidez has clearly gotten the better of Bisping in these exchanges, but that was still no excuse for Bisping to bury the sub-lightweight divisions, a move that he'll likely be reprimanded for (because only Dana White can bury fighters and/or divisions). This was easily the weirdest feud of the past seven days, so I felt like including it to end things on a lighter note.

***HORN SOUNDS***

And that's it for this week. Again, my apologies if this edition didn't feel up to snuff, but there were a few times where I was having an exceedingly hard time connecting coherent thoughts together. Thankfully, Fact or Fiction tomorrow more than makes up for it, and I don't have to travel this weekend, so next week's Five Quick Rounds should pass muster. If you have any feedback, leave it in the comments, email me at the link below, or let me know on Twitter: @webeougher or on Google+. I'll see you back here for Five Quick Rounds next Tuesday, so until then, remember 411 MMA for all of your mixed martial arts needs!

comments powered by