SPOTLIGHTS
Thoughts From Across The Pond 09.21.12: C4 and Midgets.
Posted by Alex Watt on 09.21.2012

Tomorrow night, the UFC will crown its first ever Flyweight Champion. But will it be Joseph Benavidez or Demetrious Johnson who becomes the inaugural 125lbs champ at UFC 152? 411's Alex Watt takes a closer look. Plus, thoughts on Rob Sinclair's win at BAMMA 10 and whether a UFC contract could be in his future.




Thanks to the fantastic TEK_Designs for my lovely banner.

This past Saturday I got the opportunity to attend a very entertaining BAMMA 10 event and report on it live from press row, alongside Jon Butterfield, for 411mania. As expected, it was a wholly enjoyable experience and a big thank you to Izzy Carnwath and BAMMA for the press pass and the opportunity. Thanks too to all the cool journalists Jon and I met on press row and, of course, to Jon Butterfield himself for being a pleasure to work with and for finally giving me the keyring he mentioned on about four episodes of the UK 411 podcast (I was convinced it didn't actually exist).

If you missed it, mine and Jon's coverage of BAMMA 10 is available to read HERE. Hopefully it comes across just how much of a blast we were having. I'll have a couple more thoughts on BAMMA and its main event later in the column.


---
UFC 152 – It's Still All About The Flyweights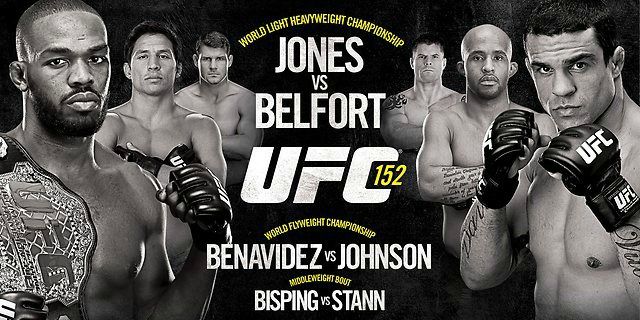 After 41 days without an event, the UFC returns to our screens tomorrow night with UFC 152. It promises to be an entertaining night of fights with Jon Jones vs. Vitor Belfort as the headline act, Michael Bisping and Brian Stann going to war for a possible UFC title shot, and featherweight entertainers Cub Swanson and Charles Oliveira battling it out.

For this writer, however, the big fight is the co-main event between Joseph Benavidez and Demetrious Johnson to crown the first ever UFC Flyweight Champion. Whatever Michael Bisping may have you believe, this fight is a hugely significant one for the UFC and for Mixed Martial Arts, for that reason alone.

Interestingly, although on the surface it appears as though the 125-ers have taken a hit by being relegated from their previous main event slot, in actual fact Benavidez, Johnson and the entire flyweight division are more likely to benefit favourably from this situation. With the addition of big star Jon Jones as a headliner, Joe B and "Mighty Mouse" will now have the opportunity to put on a show for a larger viewing audience which the UFC Light Heavyweight champ is likely to draw.

It's an opportunity which the bantamweights-turned-flyweights will surely grab with both hands and you can expect their co-main event battle to be an absolute thriller, which will open many of the casual fans' eyes to what the 125-pounders can do at the highest level.

Both Joseph Benavidez (16-2) and Demetrious Johnson (15-2-1) have benefited from the introduction of a 125lbs division in the UFC. The two fighters had found themselves in a difficult position at bantamweight as despite significant successes fighting 10lbs above their more natural weight, Joe B and "Mighty Mouse" had both fallen at the final hurdle when competing against 135lbs champ Dominick Cruz. Johnson turned in a resilient performance against"The Dominator" but was thoroughly, well, dominated by the UFC Bantamweight Champion. Benavidez faced Cruz twice in the WEC, but came up short both times despite arguably pushing the 135lbs title holder closer than any other fighter at bantamweight.

Benavidez and Johnson have travelled significantly different roads in order to reach the final of the UFC flyweight tournament. Benavidez looked comfortable in his semi-final match-up against former Shooto champ Yasuhiro Urushitani, scoring a TKO win early in the second round. Johnson, however, battled to a highly controversial draw with former Tachi Palace champ Ian McCall in one of the year's best fights, and "Mighty Mouse" may consider himself somewhat lucky that a scoring error prevented the semi-final from going to a sudden death fourth round; Johnson, drained by his first cut to 125lbs, was fading fast against the relentless "Uncle Creepy". Nevertheless, in the rematch with McCall, "Mighty Mouse" was clearly the better man, having made the correct adjustments following his disappointing performance the first time around in Australia.

Many may look at the semi-final fights then and conclude that Benavidez enters this Saturday's fight in the more favourable position. However, it should be take into account that the Team Alpha Male fighter has not stepped into the Octagon in over six months, whereas Johnson has fought three rounds against one of the best flyweights on the planet in the same period. In fact, Benavidez has enjoyed just 5 minutes, 11 seconds of cage time in 2012, compared to "Mighty Mouse's" 30 gruelling minutes. Demetrious Johnson's activity over the past half year, is something that may work to his significant advantage come Saturday night.




Not that Benavidez's conditioning could ever be called into question, of course. As we know, Team Alpha Male fighters have some of the best cardio in the entire sport. One still cannot envisage Johnson's relentless pace finding success in wearing down the team Alpha Male flyweight, as it has with so may of "Mighty Mouse's" opponents at bantamweight. But certainly, in terms of feeling comfortable in the Octagon on fight night, Johnson will have the slight advantage due to his activity in 2012.

In the striking department, expect this to be a very evenly matched contest. Johnson is the more active and accurate of the two men with his strikes, but Benavidez undoubtedly hits harder. The question is whether the busier Johnson can stick and move effectively to out-strike Joe B, or if Benavidez will be able to rock "Mighty Mouse" with his heavier punches.

Besides their mutual love of Coldplay and milkshakes, Johnson and Benavidez share many similar attributes; most notably, the speed at which both men move inside the Octagon. However, the slight edge in this area would have to be given to Demetrious Johnson. The pace at which "Mighty Mouse" moves and transitions between striking and takedowns is, at times, frightening. However, Johnson's striking style is heavily reliant on his speed and movement and Benavidez will look to negate this with clinch work and counter-striking. Benavidez proved how effective he is at countering quick fighters, with the right hook he landed flush to the chin of Urushitani in March.

Remarkably, despite fighting at his more natural weight of 125lbs, Johnson will still be the smaller man in the cage on Saturday night. Benavidez will hold the advantage in weight, but also in physical strength, and this will help him in the wrestling stakes. Both men are talented grapplers, but the edge would have to be given to Joe B who is relentless in his pursuit of the takedown and a dominant force when he secures top position. Johnson showed how effective he can be at using his speed and technique to sprawl quickly on double-leg and single-leg attempts in the rematch with McCall, but he will have a tough time of defending takedowns against a man who was able to grapple Dominick Cruz to the mat (albeit briefly). Benavidez though will have to be wary of the speed at which Johnson can transition between his strikes and his takedowns, something which fighters like Miguel Torres and "Kid" Yamamoto have already been caught out by.

Johnson, if he does end up on his back, is fantastic at quickly pushing aggressors off him, using sweeps and rapidly scrambling back to his feet. Against Benavidez, however, he will have to be more careful when doing this, lest he be caught in a trademark Team Alpha Male guillotine or rear naked choke. Benavidez will also have to be careful not to leave any openings if he does secure top position, because in the blink of an eye Johnson can capitalise on the smallest of errors to reverse the momentum in his favour.

All in all, this fight should be the most entertaining contest of the evening and, if all the pieces fall into place, could be one of the best battles we see anywhere in Mixed Martial Arts this year. The durability and toughness of both men should see this one go the full 25 minutes in a back and forth affair. If Johnson can dictate the pace of the fight from the start, and use his footwork to stay out of range of Benavidez's power strikes, then he can absolutely win this fight. Benavidez, however, is entering this fight as the bookies', fighter's and fans' favourite for a reason. Joe B is no slouch in the speed department himself and it is tough to imagine that he will not land several hard punches on Johnson's chin which will trouble "Mighty Mouse". Johnson, even if rocked will keep fighting, however. We've seen enough of the mentally strong "Mighty Mouse" to know that he is unlikely to be stopped. However, Benavidez's hard punches and superior grappling should see him take home the decision win and be crowned the inaugural UFC Flyweight Champion.


---
Video Interlude
---
A "C4" Explosion In The UFC?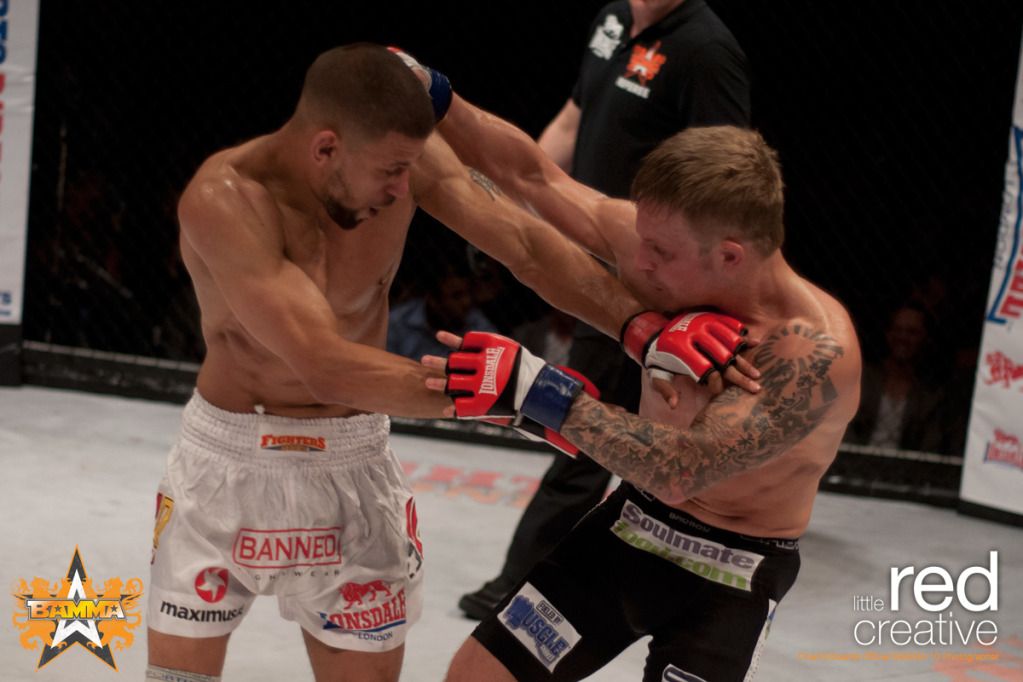 In the aftermath of Rob Sinclair's hard fought split decision win over former UFC lightweight Andre Winner, many people asked the question that those behind the scenes at BAMMA must now be coming accustomed to; is the BAMMA Lightweight Champion ZUFFA-bound?

The UK based promotion has put on some fantastic shows in recent years, including this past Saturday's BAMMA 10 event in London, but there comes a time when the big stars that they have helped to nurture, become too big for the UK and European scene. Tom "Kong" Watson and Jimi Manuwa reached a point where they had to move on – they will both make their Octagon debuts in 8 days' time in Nottingham – and it may not be long before the same happens to Rob Sinclair.

"C4" fought an intelligent fight on Saturday night against his toughest and most experienced opponent to date. Using a clever movement and counter-striking based strategy, Sinclair comfortably out-pointed the TUF 9 runner-up in the opening two rounds. A visibly frustrated Winner got more aggressive in the latter three rounds as a result of this, but despite winning the third round he was out-struck again in the fourth and Sinclair was comfortably winning the final round too, until a last gasp flurry from Winner dropped "C4" to the canvas.

It was by no means a straightforward win, but it was still an impressive performance from the 32 year old Sinclair against a fighter who was fighting under the bright lights of the UFC as recently as 14 months ago.

The UFC probably won't come knocking for the explosive "C4" just yet, however. A finish of Andre Winner certainly could have significantly helped Sinclair's cause for a ZUFFA call-up, while his being dropped by Winner's punches in the dying seconds of the last stanza will have damaged his chances somewhat. More significantly though is the fact that the UFC tend to prefer for British fighters to make their debuts on shows held in the United Kingdom. In recent years, the UFC have only ventured to British shores once per year, and tend to do so around autumn (fall) time. Logic, therefore, would dictate that the UFC will return around the same time in 2013.

In that intervening period, Sinclair will have the perfect opportunity to make his case for a UFC call-up. Hours before "C4" successfully defended his BAMMA 155lbs title, another former UFC lightweight had won a No. 1 contender fight to become the next challenger to Sinclair's belt. If Rob Sinclair could defeat the talented Curt Warburton on a future BAMMA event (perhaps BAMMA 11 in December could host this title fight?), and do so impressively, then the UFC may have their heads turned by the UK striker and "C4" could explode onto the UFC scene this time next year.

UK viewers can watch highlights from BAMMA 10 on Channel 5 this Sunday (23rd September) at 12am GMT. This will include the three fight main card which was televised live on 5*, plus the best action from the prelims (including the barnstormer of a fight between Dyson Roberts and Jeremy Petly).


---
Quotes of the Week


"I took Ronda Rousey to the Sons of Anarchy premiere the other day. And you know how Hollywood premieres are with f***ing people lined up and down the streets. . . . So we pull up and you got all the Sons guys, and all the celebrities that are there from FX TV shows. We got out of the car and the whole f***ing place started screaming 'Ronda, Ronda, Ronda,' like f***ing crazy. Like a f***ing Kardashian got out of the car. I was like holy f***ing s*** this girl is right there. . . . She's a f***ing unique individual. She's like a Diaz brother, she really is. Inside like a f***ing dude trapped in this beautiful body. The reason I got interested in women's MMA is because of her. . . . Everyone is like, it's because she's good-looking and 'Dana blah-blah.' Gina Carano is good-looking too. She's very pretty. There's f***ing something different about Ronda Rousey. . . . I think she is going to be a f***ing rock star. She's got that thing. . . . I've been around some of those girls, they're girls. But this girl is like a f***ing killer, man. And all she wants to do is get better, and better, and better; and learn more, and more, and more." – It's official. Dana White is in love with Ronda Rousey.

"She is a great grappler. The way she took out Sarah Kaufman was amazing and so unexpected to me. But she does lack balls. She judoed at 154lbs, entered Strikeforce at 145lbs and when she had to fight Cris Cyborg she dropped to 135lbs. Using me as an example, let me tell you this; I fought Cyborg, and will do so in the future again, and then was asked by Strikeforce to drop to 135lbs. Having said all this, career wise it was really smart of her and she deserves a master in PR. She doesn't care how she gets there, as long as she gets there. And she's successful at it, looking at the magazine covers like ESPN and changing Dana White's mind." – Marloes Coenen is not as convinced about Ronda Rousey as Dana White is.

"That smug-faced little t*** in a prepubescent boy's body needs to shut the f*** up because I'll take the Pepsi Challenge with that short-ass any day of the week. . . . People are going to say that I'm talking crap, but he's the one trying to start in with me. [Benavidez] needs to recognize his weight class because my 11-year-old boy will take care of him." – Michael Bisping speaks out against flyweight title contender Joseph Benavidez and again demonstrates that he can dish it out, but he can't take it.

"I absolutely 100-percent don't care [if Bisping talks trash] I really don't. Me and Mike aren't friends, merely acquaintances, so he knows nothing about me. So I don't see how we'd be insulted by anything we'd say to one another. One thing I know about Mike, he's an intelligent guy. He knows what he's doing. He gets paid very, very well to do what he does, and one of those reasons is because he generates a lot of interest in his fights. I knew that was a part of the game." – Brian Stann isn't fooled by Michael Bisping.

And a couple of gems from our BAMMA 10 experience:

"Enjoy your night, and enjoy it." – Sage advice to the BAMMA 10 audience from the preliminary ring announcer.

"Jesus Christ! . . . I'm f***ed!" – Rob Sinclair curses on live television but rather succinctly and accurately sums up a tough 25 minute title defence.


---
Pound for Pound Rankings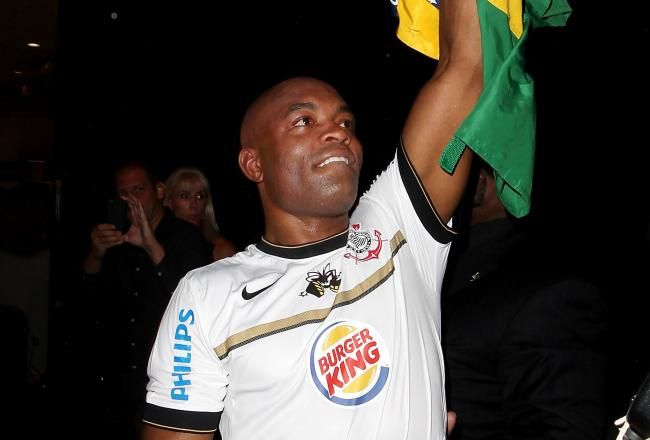 1. Anderson Silva (30-4)

2. Jon Jones (16-1)

3. José Aldo (21-1)

4. Georges St. Pierre (22-2)

5. Dominick Cruz (19-1)

6. Benson Henderson (17-2)

7. Junior Dos Santos (15-1)

8. Frankie Edgar (14-3-1)

9. Joseph Benavidez (16-2)

10. Dan Henderson (29-8)

11. Carlos Condit (28-5)

12. Gilbert Melendez (21-2)

13. Rashad Evans (17-2-1)

14. Renan Barão (29-1, 1NC)

15. Cain Velasquez (10-1)


---
And that'll do it for another week.

I'll be back next week with my thoughts on UFC 152 and my in-depth preview of UFC on FUEL TV 5 – an event which Jon Butterfield and I will also be covering live from press row in Nottingham for 411mania. Oh yes, we're big time now!

If you enjoy the column please do follow me on twitter at AlexWattMMA

Thanks for reading and if you have any comments or feedback please leave them below or message me on twitter. Cheers.
comments powered by