SPOTLIGHTS
411 MMA Fact or Fiction 09.26.12: UFC 152 Edition
Posted by Wyatt Beougher on 09.26.2012

Was Belfort lasting as long as he did more surprising than Johnson winning the flyweight title? Will Ronda Rousey face the winner of Liz Carmouche/Sara McMann next, rather than Sheborg? Did Jon Jones "get him some fans" by gutting out what might have been a very serious injury and picking up the win? 411's Mark Radulich and Robert Winfree debate these topics and more in this week's MMA Fact or Fiction!

Welcome to another edition of 411's MMA Fact or Fiction, and, as usual, I'm your host, Wyatt Beougher. Last week, we had another excellent Fact or Fiction, and I really can't commend all of the writers in the MMA Zone (plus my special guests like Todd Vote and Steve Cook) for doing such a great job week in and week out. Yes, it's my name that goes on the byline for this column, but it's the guys who compete each and every week who make it as special as it is. Last week, I favored Patrick Mullin in a very even battle, while my guest judge, the aforementioned Mr. Vote, saw it for Pat's opponent, the esteemed Jonathan Solomon. When voting closed, Patrick picked up the win by a 3-vote margin to improve his 1-0-1 record in Fact or fiction. Solomon on the other hand, fell to 1-2-0 and that's another testament to just how many talented writers we have on our roster that as impressive a writer as Jonathan holds a record under .500. Thanks to both Patrick and Jonathan for their amazing answers last week, and also to Todd for doing such an awesome job judging. This week is yet another treat, as we've got Mark Radulich making his fourth appearance in Fact or Fiction against Robert Winfree, who will be competing for the fifth time, which will tie him with Todd Vote for most trips into the ForF cage. Joining me at the judges' table will be Matt White. [Editor's Note: Again, scheduling difficulties made it impossible for Matt to get his responses to me by the deadline, so I'll edit them in as soon as I receive them. -W]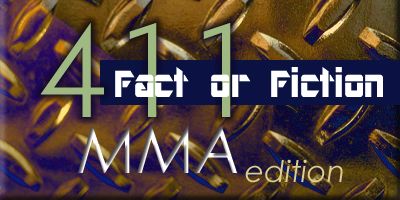 TALE OF THE TAPE



Red Corner
Mark Radulich
'Headshrinker'
Live Coverage Czar/Ground and Pound Radio Show Host
0-2-1

VS

Blue Corner
Robert Winfree
'The Last Rider'
Columnist, Locked in the Guillotine MMA News Report
2-2-0

And our special GUEST JUDGE
Matt White
"Not Shaun"
Organizer, All the Kings' Men/The 411 MMA Top 5

---


1.) The fact that Vitor Belfort was able to last into the fourth round against Jon Jones was more surprising than Demetrious Johnson's upset win over Joseph Benavidez.
Mark Radulich: FACT We had people at our house to watch the fight and celebrate my wife's 29th birthday. I was so convinced Belfort wouldn't make it out of the first round I was starting to say goodbye to my guest once the fight actually started. With Jones' reach and superior fight acumen I really didn't think Belfort would last as long as he did. Don't get me wrong, he put up a hell of a fight and nearly winning it in the first round with an armbar is my MMA moment of the year so far. However, I'd be lying if I told you I expected anything other than his swift and complete destruction inside of about 45 seconds.

To the second part of question, while I did predict that Benavidez would KO Johnson rather quickly, I also can't say I'm surprised he eked out a split decision victory either. If Benavidez had been able to plant and land one of his devastating overhand rights, I think I would have been right but that right there is the rub isn't it? Johnson is damn hard to catch, let alone land a KO shot on. McCall couldn't really do it and although he won, Cruz also went to a decision with him almost a year ago. While I'm disappointed that we didn't see the finisher that Benavidez tends to be, I'm not surprised he was taken all five rounds by Mighty Mouse either.

Robert Winfree: FICTION I'm not saying I'm not a little surprised that Belfort lasted as long as he did, because I am, but the more I think about this the less shocked I am. Jon Jones isn't the same fighter who was smashing guys in the first round en route to a title shot. Jones is a much more measured and patient fighter now than he was then. He's content to use his reach and kicks to set up safe opportunities that he can capitalize on. I predicted a swift finish for Jon Jones, but I think that's not going to be as common as it used to be. On the other hand, I don't think anyone really gave Mighty Mouse a real chance to beat Benavidez. The close submission was more surprising, but the fact that it went that deep for the light heavyweight title, it's a bit less surprising the more I think about it.

Judge Wyatt Beougher's Scorecard: I was all set to award this to Mark, but Robert makes a valid point – we haven't really seen Jones finish anyone quickly in quite some time. He won the title in the third round, beat Rampage in the fourth round, he did beat Machida in the second, and he went to a decision with Rashad. Also, considering almost no one gave Johnson or Belfort a chance, and Johnson actually won, while Belfort just delayed the inevitable, I'm giving the nod to Robert. Winfree, 10-9 (10-9 overall)

Judge Matt White's Scorecard: I am digging both answers, they provide good insight to both fights however, with all the comparisons we see to Jones and Anderson Silva, I have to give the nod to Mark on this. It's very surprising that Vitor made it to the 4th round even though he was pretty much dominated other than the armbar he had on Jones. Mighty Mouse isn't a finisher, Benavidez is and while Robert showed why he thought that was more surprising, it still doesn't change the fact everyone had Vitor losing in the first two rounds. Radulich, 10-9 (10-9 overall)

---


2.) Jon Jones fighting through potential nerve damage and still dominating Vitor Belfort was the most impressive performance of the night and should dispel any questions about his toughness inside the cage.

Robert Winfree: FACT Fighting through any type of injury is impressive, but if Jones is telling the truth about not being able to really feel his arm for the fight after that armbar, that's kind of crazy. Especially since he continued to throw punches with it, and use it effectively in grappling exchanges. In the finishing sequence he even used that elbow to land some nasty shots from the mounted crucifix before locking up the fight ending Americana. Whether you like Jones as a person or not, at this point it's impossible to question his talent and toughness inside the cage.

Mark Radulich: FACT Everything in the above sentence is true but I don't think Jones' toughness was ever in doubt. I think most people realize that Jones is a tough fighter and easily one of the most talented mixed martial artists in the world. In fact, I think a lot of what engenders such hatred of Jones is that it seems to come all too easily to him. He dominates his opponents seemingly with little effort (barring a first round feeling out process). I doubt serious-minded people believe Jones turned down the fight Sonnen because he was afraid of the guy or because he was a pansy but rather he did for what appeared to be solely political reasons. "His brand was at stake." "He needs to look out for his own career and the UFC." These were the reasons he cited for not taking the fight and they don't speak his toughness as a fighter but rather his character outside of the cage.

Judge Wyatt Beougher's Scorecard: Both guys with excellent answers here, but I'm giving the narrow nod to Mark. While I agree with everything both guys brought up, Mark expounded on the public's general perception of Jones, and while I think there was a certain segment of MMA fandom who questioned how Jones would react should a fight ever go really, really wrong for him (and it doesn't get much wrong-er than that armbar), precisely because of how easily fighting appears to come to him, those questions should certainly be answered. Radulich, 10-9 (19-19 overall)

Judge Matt White's Scorecard: Another tight round here, but with Radulich's talk about the outside cage and Winfree's talk about the physical toll it took on Jones make me give the round to Winfree. I agree I don't believe anyone questioned Jones' toughness inside of the cage and Winfree capitalized on that with his point based on the finishing sequence that Jones used to win the fight. Winfree, 10-9 (19-19 overall)

---


3.) Ronda Rousey's next challenger will be the winner of the Liz Carmouche/Sara McMann fight on Strikeforce's November 3rd event, not Cristiane Santos.

Mark Radulich: FACT Mrs. Cyborg isn't going to be available until after December due to her failed drug test and even then, it is uncertain if she'll be granted a license. Meanwhile, Rousey needs another fight, and the Liz Carmouche/Sara McMann match-up on the Cormier vs Mir Shmegeggy November 3rd card is the best option available at this time, short of Marloes Coenen. Zuffa is not likely to promote Cyborg, just like Alistair Overeem, in a fight until the license issue is resolved in a concrete manner. Meanwhile, they will seek to strike while the iron is hot and make the fight that is available to them now, Rousey vs Carmouche/McMann. And like I said, besides Coenen, Carmouche and McMann are the best of the rest at 135lbs. Carmouche is on a 2-fight win streak besting Kaitlin Young and Ashleigh Curry at the past 2 Invicta events. If she beats McMann she'll be 3-0 in her past 3 fights and 8 -2 overall. Ya can't complain about that. Meanwhile, McMann is 6-0 overall and has tons of medals from her prior wrestling career. Either woman is good enough to be arm-barred to death by Rowdy Ronda Rousey take on the champion until a proper build up can be laid out for the inevitable Rousey vs Cyborg battle.

Robert Winfree: FACT This is pretty easy to predict, because there isn't really another option. Sure a fight with Sheborg would be money, but she's still serving a suspension and Strikeforce might not be in business by the time it's up. Carmouche or McMann are the most logical options right now, unless they want to have her beat Marloes Coenen and have defeated every former champion since the title was introduced to Strikeforce. I'm perfectly happy with either Carmouche or McMann being the next fight for Rousey, even though the fight will again end by armbar in the first round.

Judge Wyatt Beougher's Scorecard: Both guys agree, and in similar fashion, so I'm scoring this one a Draw, 10-10 (29-29 overall).

Judge Matt White's Scorecard: Both guys made pretty much the exact same points. Cyborg is suspended and Rousey needs an opponent before then. Carmouche and McMann are definitely the most logical options. Neither stands out. Draw, 10-10 (29-29 overall)

---


4.) With Frank Mir injured and out of his fight with Daniel Cormier, Zuffa should take Andrei Arlovski up on his offer to step in and fight Cormier.

Robert Winfree: FICTION I think it would be a much better idea to take Fabricio Werdum up on his offer to fight Cormier. Arlovski still has a bit of name value, but his chin is shot and he's not the fighter he used to be. Werdum is a step up in competition, presents a different skill set than we've seen Cormier deal with in the past, and a win helps either guy without really hurting the loser. Yes losses always suck, but Werdum losing to Cormier is just a young hungry fighter stepping up, and if Cormier loses it's to a submission master who's on a march to the title. I wouldn't be shocked if Zuffa does go with Arlovski, but I think Werdum makes for a more compelling fight.

Mark Radulich: FICTION First let me speak to a bit of news that broke on Tuesday after I received the above statement, "A heavyweight bout between Andrei Arlovski and Devin Cole will serve as the main event of WSOF 1, officials today announced. WSOF 1 takes place Nov. 3 at Planet Hollywood Resort & Casino in Las Vegas." Clearly the answer here can be nothing but FICTION as obviously Arlovski is no longer available for the booking on November 3rd. But even if he were available, I wholeheartedly agree with Robert in his suggestion of subbing Fabricio Werdum. Robert enumerated a great many fine reasons Werdum is a good enough replacement for Mir and his arguments are compelling. If the UFC opts to go in a different direction I'd say either bring over an M -1 guy like Kenny Garner or Guram Gugenishvili or even Maxim Grishin. M -1 already has a relationship with Showtime, these guys aren't terribly busy and all of them are probably easy enough fights for Cormier. And perish the thought, maybe just maybe between Zuffa and Showtime they can pull together enough scratch to lure Fedor out of retirement for one fight. Tell me Emelianenko vs Emelianegro wouldn't be box office gold! But I'm probably just dreaming here and Zuffa will send over Ben Rothwell.

Judge Wyatt Beougher's Scorecard: Once again, Mark benefits from going second, as he expounds on Robert's answer and offers up a tantalizing platter of potential opponents. And while I don't necessarily think Garner, Gugenishvili, or Grishin would get the green light from Showtime, if they could coax Fedor out of retirement, that'd do wonders for the show. [Editor's note: Do they really call Cormier "Emelianegro"? – W] Radulich, 10-9 (39-38 overall)

Judge Matt White's Scorecard: I am a fan of the Arlovski matchup but both guys agree that this is not going to happen. However, I give the nod to Radulich because he expanded past a Werdum/Cormier matchup with the M -1 and teasing a Fedor match as well. Radulich, 10-9 (39-38 overall)

---


5.) With their Canadian shows implementing drug testing from an outside source (other than the local athletic commission) for headline fighters and other randomly selected fighters on the card, it's time for the UFC to implement that policy in the United States (and any other locale where they will hold events).

Mark Radulich: FACT Of course they should. I've been saying this for months now that the UFC should be contracting a 3rd party provider to do their drug testing for all events. The nonsense Dana White spouted a few months ago saying he didn't have time to chase guys for urine made it sound like he wasn't really interested in cleaning up MMA. Nobody expects Dana White or anyone within Zuffa to conduct drug testing. Furthermore, the local athletic commission shouldn't have to be bothered with doing either. Third party providers allow for a completely neutral and professional hand to do the job properly and consistently so that you don't have an issue like the one that defamed the California Athletic Commission a few weeks ago.

Robert Winfree: FACT This is something of a no brainer. With drug testing done only by athletic commissions there has always been some room for elements of corruption. Having a genuinely independent source do drug testing does nothing but help the legitimacy of the sport.

Judge Wyatt Beougher's Scorecard: Both guys in agreement here, and I agree with them completely. I'm giving the narrow nod to Mark in this round for going after Dana White and calling out his nonsense excuses for why the UFC doesn't do this already. Radulich, 10-9 (49-47 overall)

Judge Matt White's Scorecard: Another tough one as the guys both agree on this again. Radulich just seemed to go a little farther on the subject and gives him the slight favor in the round. Radulich, 10 -9 (49-47 overall)

---
Official Scorecard
Judge Wyatt Beougher scored the bout in favor of Mark Radulich, 49-47.

Judge Matt White scored the bout in favor of Mark Radulich, 49-47.
---


So there you have it – the end of our non-bonus competition! Who do you think won? Cast your vote and make your voice heard!







Bonus.) Jon Jones' performance at the UFC 152 pre-fight press conference (saying he forgives Dana White and saying that Zuffa brass insulted the other fighters scheduled for UFC 151 by saying the card couldn't go on without Jones/Henderson, among other comments) did nothing to endear him to his employers and will continue to alienate MMA fans.

Robert Winfree: FICTION Wait, so speaking the truth about a situation doesn't make people like you? What world are we living in?! If we live in this world then Chris Jericho is an uber heel. Oh wait... Seriously though, if this were just about Jones' relationship with Zuffa brass I'd go fact. Zuffa likes their fighters to toe the company line, and most do because angering the brass could mean a quick exit from the only big MMA promotion in the world. I also agree with Jones, I said after the event was canceled that Dana White was basically giving the finger to every other fighter on that card, saying they didn't matter and that without Jon Jones the whole event was meaningless. Will this alienate fans? I'm not sure, speaking the truth like that isn't always popular, but I'm hesitant to say it will hurt at this point.

Mark Radulich: FACT Yes his comments made him come off like an aloof douchebag. But so what? As long as he honors his contract, wins fights and shows up for press engagements while not committing any serious felonies, there isn't much they can do to him. If being a douchebag was all you needed to get you fired from the UFC, Michael Bisping would be in BAMMA right now. I didn't like Jones' decision to not fight on September 1st but ultimately that doesn't matter either. He honored his contract by fighting on the next available show and has been available to promote the show ever since he committed to it. They can't realistically fire the guy under those circumstances and since they can't realistically fire him, he can continue to "not endear" himself to the Zuffa brass all the way to the bank. As long as he's showing up, testing clean and winning, he can be all the asshole he wants to be. Dana White will just have to bite the pillow and deal with it. Hey, Jones could be worse. He could be Floyd Mayweather.

Judge Wyatt Beougher's Scorecard: This was easily the closest round of the contest, as Robert rightfully pointed out that Jones was merely stating the truth, while Mark highlighted the fact that Jones has been an otherwise model citizen for the UFC (minus the DWI) and that he's going to have to do significantly worse to get into any serious trouble. In the end, I'm giving this round to Radulich for offering up such a horrific alternative, one that will hopefully make embittered MMA fans appreciate the UFC light heavyweight champion more. Radulich, 10-9

Judge Matt White's Scorecard: I liked both answers as Winfree went one way and Radulich went the other. I am leaning toward Radulich's answer since he answers as Bones Jones would. Jones has to know he's answering these questions quite douche-like and why should he care? He's wiped out the division. Radulich, 10-9

And that's it for another week! Thanks to all three guys for participating and make sure you come back next week for what is sure to be another excellent match-up! As always, if there's anything you'd like to see featured in next week's edition, leave your statement in the comments and I'll add it in for next week. Let us know what you thought in the comments, on Twitter, or on Google+. We'll see you next week and remember 411Mania for all of your MMA needs.
comments powered by