SPOTLIGHTS
Thoughts From Across The Pond 9.28.12: Rule Britannia?
Posted by Alex Watt on 09.28.2012

Will Dan Hardy take down fellow striker Amir Sadollah? WIll Brad Pickett stop Yves Jabouin? 411's Alex Watt takes a look at the chances of the British fighters at this weekend's UFC on FUEL TV 5 with his full preview!




Thanks to the fantastic TEK_Designs for my lovely banner.

We're hot on the heels of the first UFC event in over a month and, it has to be said, it was a very good one. Jon Jones vs. Vitor Belfort turned out to be a fun main event which was largely dominated by the defending champ. However, he had to fight through a very difficult situation in the first round when Belfort locked in a very tight armbar, causing the entire MMA community to collectively wet themselves with excitement (I assume).

The co-main event between Demetrious Johnson and Joseph Benavidez was great too, whatever the uncharacteristically irritating Toronto crowd would have you believe. I was tempted to write an article this week about why the Canadian fans felt the need to boo an entertaining flyweight fight but Samer Kadi and Jeremy Lambert covered the issue comprehensively in this week's Occupy The Throne, so I felt it would be pointless to rehash the same points here. The more important issue, however, is that Demetrious Johnson became the inaugural UFC Flyweight Champion, with a fantastic performance. Johnson has had an incredible year and I will never doubt the new Lord of the Flies again.

Oh, and Michael Bisping won, which is always a good thing. In my eyes anyway...


---
Will Britannia Rule at UFC on FUEL TV?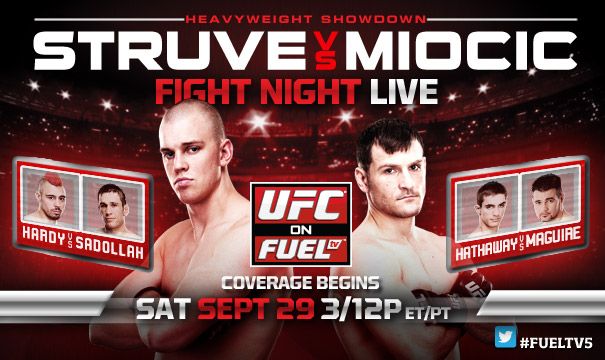 This Saturday the UFC returns to the United Kingdom to present what is, on paper, a great card for an event being shown on free TV. Jon Butterfield and I will have the distinct honour of attending the show in Nottingham and covering the event live from press row for 411mania.

The main event pitting Stefan Struve (24-5) against Stipe Miocic (9-0) promises to be an entertaining fight considering the men involved. The majority of the card, however, is made up of fights involving UK fighters, with no less than ten Brits in action tomorrow night.

The biggest crowd reaction of the evening will undoubtedly be reserved for former UFC title challenger and Nottingham born welterweight Dan Hardy (24-10, 1NC). "The Outlaw" takes on fellow striker Amir Sadollah (6-3) in the night's co-main event, in what should be a fun fight. Hardy, who readily admits he may have had the "quickest rise and quickest fall the UFC's ever seen", finally snapped a four fight losing streak in May when he knocked out Duane Ludwig. Amir Sadollah, who comes from a Muay Thai background will not be an easy fight for Hardy, but still seems like a tailor-made opponent for "the Outlaw". A super fired up Hardy (and I for one, cannot wait to see how pumped up "The Outlaw" will be when Bruce Buffer announces him to the crowd) should be able to take the knockout win in this one before the conclusion of the second round.

In an all UK clash, wrestler (yes, Brits can actually wrestle – stereotypes aren't necessarily completely accurate you know) John Hathaway (16-1) will battle with gypsy jiu-jitsu stylist John Maguire (18-3). It is easy to forget that on the back of his upset win over Diego Sanchez back in 2010, that Hathaway was being touted as one of the future stars of the 170lbs division. Injuries and a disappointing loss to Mike Pyle have slowed the momentum of "The Hitman", but he remains a dangerous fighter. Maguire has looked good since coming to the UFC, particularly with his slick armbar win over Damarques Johnson in April. If this hits the ground then it will be an interesting battle between the wrestler and the submission specialist, but it seems more likely that Hathaway will look to keep this on the feet, while mixing in the occasional takedown to score points. Hathaway's striking remains somewhat rudimentary but his reach and straight punches will definitely trouble "The One" who still looks extremely uncomfortable on the feet. A Maguire submission win will be a constant threat, but Hathaway will be favoured to take home a decision victory.

The last time Brad Pickett (21-6) fought in the United Kingdom, he was on the end of a crushing defeat to current UFC Interim Bantamweight Champion Renan Barão. However, one would expect a more triumphant showing from "One Punch" this time around. However, Yves Jabouin (18-7) is by no means an easy fight for the British 135-pounder. The Haitian-Canadian offers a more diverse striking style than Pickett, but the Brit should be able to negate the kicks and knees of Jabouin with his aggression and solid boxing skills. Pickett will maintain a ferocious pace, as always, and be more than happy to trade with "Tiger" in the pocket, a place where he will anticipate having more punching power than his opponent. With his constant pressure, Pickett should have no problem landing his trademark lead hooks and uppercuts and will prevent Jabouin from settling into any sort of rhythm in the fight. A dominant decision win for Pickett is a safe bet, but he could well drop Jabouin with punches and finish with a rear naked choke within the distance.

Joe Rogan's new favourite fighter and submission specialist Paul Sass (13-0) faces yet another American wrestler this weekend in Matt Wiman (14-6). Sass has impressed many (including the aforementioned Rogan, who will be disappointed not to be commentating on Sass' latest fight, I'm sure) with first round stoppages of Jacob Volkmann and Michael Johnson, both of whom unwisely believed they could use their wrestling skills to negate the active guard of Sass. They couldn't. Wiman, despite having good wrestling of his own, would be wise to keep this fight standing. On the feet, Sass remains largely untested but certainly does not look particularly happy exchanging strikes with opponents. "Handsome" is an aggressive fighter, but would be better served to fight intelligently against Sass and use his punches and leg kicks to keep the Brit at distance. Sass though is so confident in his grappling, that even if Wiman does want to keep the fight upright, the Brit will likely clinch with the American and pull guard. Wiman may do damage to Sass, but it is difficult at this point to expect anything else but another submission win for the Liverpudlian jiu-jitsu ace.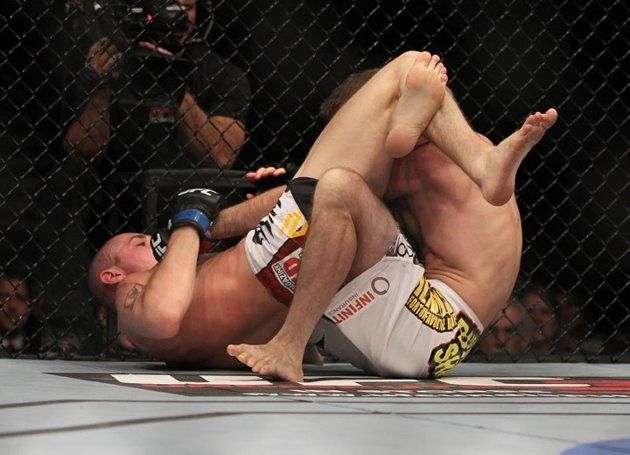 Che Mills (14-5, 1NC) was last seen being thoroughly dominated by next big thing Rory MacDonald. Unable to implement his striking game for any substantial amount of time due to "Ares'" vastly superior wrestling skills, Mills fell to a second round defeat. Fortunately for the Brit he will face no such problems against Duane Ludwig (21-13). Ludwig will be more than happy to engage in a kickboxing match with Mills and, on paper, Ludwig is the better striker of the two. However, Mills' raw knockout power does not bode well for "Bang", whose chin is clearly not what it was after 12 years in the sport. Mills takes this by KO.

The preliminary portion of the event features three Brits making their official Octagon debuts. The first, Andy Ogle (8-1), is a fighter with whom those who watched The Ultimate Fighter: Live will be very familiar with. Ogle was impressive on the show but lost in the semi-finals to eventual runner-up Al Iaquinta. When he discovered that a concussion would rule him out of fighting at the TUF: Live Finale, Ogle requested to compete in his home country and UFC President Dana White was only too happy to grant the Geordie scrapper his wish. His opponent, Akira Corassani (9-3, 1NC), is another TUF alumnus, having competed on the fourteenth season of the reality show. Injury has also prevented the entertaining Swede from making his UFC debut until now, and he will be itching to remind fans of his aggressive style in Nottingham. This one is sure to go back and forth but I fancy Ogle to take advantage of Corassani's inactivity and take home the "W" via decision.

The other two debutants, Jimi Manuwa (11-0) and Tom Watson (15-4), are fighters who have been lauded for their achievements on the UK circuit by many British journalists, including yours truly. They have both been long overdue for UFC contracts (and, indeed, have both delayed signing with the promotion in order to gain more experience before jumping into the shark tank of the UFC) and finally get their chance tomorrow night. The two talented strikers have simply become too big for the UK scene but neither will have easy UFC debuts in Nottingham.

Manuwa faces tough competitor Kyle Kingsbury (11-4) and it is the American's wrestling which could give "The Posterboy" the most trouble. On the feet, Manuwa definitely has the edge and although Kingsbury is a durable fighter, he is coming off a knockout loss to the man no-one wants to fight; Glover Teixera. Kingsbury is always a game fighter but unless he can use his wrestling to get this fight to the ground, Manuwa will have the distinct advantage. The Brit has delivered his fair share of knockout blows when tied up against the cage, so don't be shocked if the same happens to Kingsbury, who I expect will foolishly try and utilise the clinch to his advantage.

"Kong" Watson, meanwhile, faces off against Brad Tavares (8-1). The Hawaiian has decent striking, but he is primarily a brawler, which should not trouble the well drilled kickboxer Watson. Expect then, for Tavares to look to utilise his wrestling, an area where Watson has looked vulnerable in the past. Watson, however, has improved his defensive wrestling by leaps and bounds since his loss to Jesse Taylor in Canada. If Watson can keep this fight on the feet then Tavares will be in for a rough night with "Kong's" punches and kicks. Watson should take home a stoppage win here but whether it is he or Brad Pickett who will take home the unofficial "best entrance of the night" award will be another interesting thing to keep an eye on.

Kicking off the evening is a featherweight scrap between Jason Young (9-5) and Robbie Peralta (15-3). This has the potential to be one of the most closely contested fights of the entire evening and should take place almost exclusively on the feet. These men are evenly matched strikers, and although Peralta may be favoured to land with more volume, I fancy Young to up his tempo and come away with a hard fought decision win.

So, overall, UFC on FUEL TV 5 should be a rewarding night for the UK fighters and you can keep up with all the developments by following mine and Jon's live coverage of the event on 411mania tomorrow afternoon.


---
Video Interlude
---
Quotes of the Week


"It doesn't matter what we do, how many fights in a row we put on, or how these guys perform. I was reading Twitter tonight and these people were ripping on the flyweights. If you didn't like that flyweight fight, please, and I'm begging you, don't buy another UFC pay-per-view again. Don't ever buy another one again; I don't want your money. You're a moron, you don't like fighting and you don't appreciate great talent or heart if you didn't like that flyweight fight. That kid fought his ass off tonight, look at [Benavidez's] face, going after a guy who is incredibly talented and picking him apart and moving. He never gave up and went five straight rounds. When I get on Twitter and I see that stuff, I get crazy man. Please, please, please, those of you that said that, I don't want your money. I wasn't surprised, I was horrified by the booing. I tell these guys in the back that after the weigh-ins are over and the way that this relationship works is that these guys are our partners. You know, we go in and do this and that and everything else and these guys go out and they deliver. Every fight you're going to see in the UFC, two guys aren't going to run into each other and just start swinging like mad men. These two guys worked their entire life to get to this point and it's a five-round title fight. If they can get the knockout or the submission quick, sure they're going to go for it. But the guys are so talented that you have the world champion right here and the second best guy in the world. It's insane; it drives me crazy." – Dana White hits out at the fans who booed the first UFC Flyweight title fight.

"In there, I felt as if there was a point where I don't think physically he could have extended it even more. I mean, it was popping, and I felt after 25 years that I've never felt that feeling before. I just came to terms with what was going to happen, just thinking, 'Man, I can't believe I'm getting ready to lose this way. I wasn't close to tapping out at all. I was ready to face the music and get it broken if I had to get it broken. I proved a lot to myself tonight and I'm grateful for it. I haven't gotten x-rays, so I'm not going to sit here and feed into a little pain. But I'll definitely live on to fight another day. Every time I extended my right hand or tried to use an elbow on my right side, I felt it. I felt as if I really didn't have any power in my right side at all but it's a long way from my heart." – Say what you like about the man outside of the Octagon, but Jon Jones is as tough as they come inside it.

"I just don't understand where her sense of entitlement is coming from. She hasn't fought in like two years, and won a fight that's really counted. If this happened to a man - think about this - if this was the men's division, and it was someone who hadn't recorded a win in two years, then had their title stripped from them because they were caught cheating, would you expect them to come back from their suspension and be like, ' I want the biggest title fight out there, with all the considerations that I want. And, if it's not given to me, it's because they're running from me.' You know? I just don't see where she thinks she deserves to get every single thing that she wants, when she's pretty much been exposed as a fraud." – Ronda Rousey is sticking to her guns. She wants Cris Cyborg to cut to 135lbs.

"I'm not sold on Chris Weidman. I don't see what all the fuss is with Chris Weidman. I've got nothing against the guy. He beat Demian Maia in the candidate for the worst fight of the year, a lot of people are forgetting that. He looked decent against Mark Munoz, but Mark Munoz looked terrible and I was never sold on him in the first place. So I think everyone in all due respect just needs to calm down on Chris Weidman just because he's undefeated. He's undefeated because he's beaten a bunch of bums. He's only had about seven fights. I've had nearly 30 fights. I've been in the UFC when he was still in school probably. So I've got nothing against Chris Weidman, but I don't see him as the Great White Hope that's going to come in and destroy Anderson Silva. He's just another middle of the road UFC fighter as far as I'm concerned." – Michael Bisping gets the trash talking started early ahead of his surely inevitable No. 1 contender fight against Chris Weidman.


---
Pound for Pound Rankings


Jon Jones retains his No. 2 ranking as a result of his victory over Vitor Belfort this weekend. Demetrious Johnson jumps onto the list at No. 11 after beating formerly ranked Joseph Benavidez to become the first ever UFC Flyweight Champion. Benavidez, as a result of his loss, drops out of the top 15.

1. Anderson Silva (30-4)

2. Jon Jones (17-1)

3. José Aldo (21-1)

4. Georges St. Pierre (22-2)

5. Dominick Cruz (19-1)

6. Benson Henderson (17-2)

7. Junior Dos Santos (15-1)

8. Frankie Edgar (14-3-1)

9. Dan Henderson (29-8)

10. Carlos Condit (28-5)

11. Demetrious Johnson (16-2-1)

12. Gilbert Melendez (21-2)

13. Rashad Evans (17-2-1)

14. Renan Barão (29-1, 1NC)

15. Cain Velasquez (10-1)


---
And that'll do it for another week.

I'll be back next week with my thoughts on UFC on FUEL TV and a look ahead to UFC on FX: Browne vs. Bigfoot.

Don't forget to follow mine and Jon's live coverage of UFC on FUEL TV tomorrow afternoon on 411mania.

If you enjoy the column please do follow me on twitter at AlexWattMMA

Thanks for reading and if you have any comments or feedback please leave them below or message me on twitter. Cheers.
comments powered by