SPOTLIGHTS
The Juggernaut MMA News Report 01.17.13: Bellator FINALLY Hits Spike TV
Posted by Jonathan Solomon on 01.17.2013

Michael Bisping may be a step away from Anderson Silva, but can he get past Vitor Belfort in Brazil? Plus, Bellator debuts on Spike TV tonight with two championship fights. 411's Jonathan Solomon breaks down the fights and more!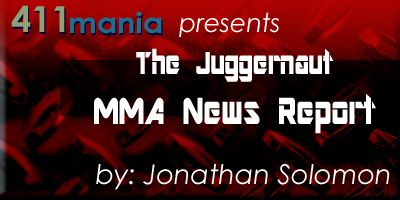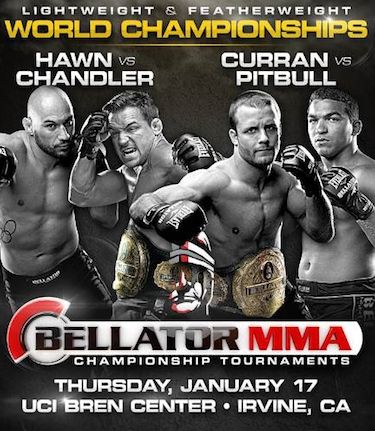 Bellator 85 Preview - The Spike TV Premiere



From tape-delays on ESPN Deportes in 2009 to preemptions on Fox Sports Net affiliates before a lack of high definition on MTV 2. It's been an unlikely road for Bellator Fighting Championships but they now have in their grasp the second best television deal for MMA in the world. For Spike TV, tonight will be their first live MMA show since December 2011 after six years of a fruitful relationship with the UFC.

Whether the new connection between Spike and Bellator will be anything as fruitful remains to be seen. All that can be said now is that fans win thanks to the wider availability of the product. By glancing at the card below is evidence that although Strikeforce is dead and buried, there is still terrific MMA out there that's not fought inside the octagon.

If you have been a faithful fan of the promotion and its fighters, checked in at various times or have never seen a show in your life, you can begin now and watch some of the top fighters in the world. A pretty good deal, indeed.

Bellator Lightweight Championship
Michael Chandler © vs. Rick Hawn

The lightweights have the main event this evening and with good reason, spectacular action is guaranteed. Bet on it.

Michael Chandler is the undefeated champion who earned the gold in one of the two best fights of 2011 when he choked out Eddie Alvarez to conclude their four-round war. Last year in his only fight, a non-title affair, he quickly finished Akihiro Gono in under a minute with strikes.

The man over ten-years the champ's elder, Rick Hawn is a beast himself. Last year after dropping to lightweight, he emerged the tournament champion with knockout wins over Ricardo Tirloni and Lloyd Woodard plus a decision against Brent Weedman. He steamrolled each of them and looked as impressive as any previous tournament winner in the division, Alvarez included.





Chandler's background as a wrestler, the prototypical modern MMA base, has served him well. He was a 2009 Division-I All-American as a senior at the University of Missouri and turned to professional mixed martial arts later that year. He debuted in Bellator in 2010 (after two fights in Strikeforce) and earned a quick pair of wins. In 2011, he entered the lightweight tournament and after a close call in the opener where Marcin Held nearly submitted him, it was never again that close. He ended up choking out Held before beating Lloyd Woodard and Patricky Freire to get the fight with Alvarez.

Hawn was an Olympic judoka in 2004 and after failing to make the U.S. team in 2008, went into MMA the following year. He was 11-0 when he fought Jay Hieron in the season four welterweight tournament finals (he beat Jim Wallhead and Lyman Good to advance). It was a split decision and he found himself on the losing side despite finishing strong.

What makes this a stylistically exciting fight is the similarities between both men despite their differing backgrounds and ages. Each man is capable of steamrolling opponents with massive knockout power or taking the fight to the ground and dropping bombs. The old MMA cliche is that great grapplers will cancel each other out and the result will be a kickboxing match and I expect to see that hold true here.

Both men are aggressive strikers, they're not the ones who attack off counters and that means there will be plenty of dynamite being thrown in the cage tonight. Scheduled for five rounds, I don't expect either man to tire at all. This fight will come down to who can land the most effective punches, exploiting the wholes in his opponents footwork.


Bellator Featherweight Championship
Pat Curran © vs. Pitbull Freire

This title fight will mark history as the first Bellator bout broadcast on Spike TV, opening up the 10 p.m. hour. The decision to do so, with the idea that you want an action packed opener to attract the viewers who float over from the preceding show (in this case, Impact Wrestling), is a smart one.

Curran is one of the many homegrown stars in Bellator and he literally has built his name from the ground up thanks to his work in their cage. Before he signed with the promotion, he was 11-3 and if anyone had heard of him, it was more than likely because he was Jeff Curran's cousin. His career with the promotion began when he brutally knocked out Mike Ricci in the opener of the season two lightweight tournament in 2010. Next, he scored a big upset when he defeated Roger Huerta and followed that with a win over Toby Imada in the finals. With $100,000 earned, he also received a title shot against champion Eddie Alvarez. Although he was soundly beaten for five rounds, it was the first time since 2007 that Eddie was taken to a decision lasting three rounds or more.

Following the loss, Curran dropped to featherweight to enter the 2011 summer tournament. He choked out Luis Palomino with a Peruvian necktie, he bested Ronnie Man in a decision and then he knocked out a top five fighter in Marlon Sandro. With his second $100,000 check behind him, he knocked out champion Joe Warren last March in his biggest achievement to date. Ever since, he's been considered arguably the best featherweight in the world not named Jose Aldo.

Patricio "Pitbull" Friere himself has a mix of failure and success in the Bellator cage. He was undefeated entering the season two featherweight tournament but that lasted until the finals when he lost to Joe Warren with the vacant belt on the line. Returning for the season four tourney nine months later, he stormed through the first two rounds before beating Daniel Straus (who himself would return to win a tournament last year) for the $100,000 prize and a guaranteed title shot.

Curran and Pitbull have been scheduled to fight twice before but injuries to both men postponed the bout. Freire broke his hand last year and then before their planned August date, Curran broke his orbital bone in training. As it works out, they're healthy and ready to kick off the Spike TV era.





As a former lightweight, Pat is bigger including a four-inch height advantage, plus Pitbull has not fought in about 18 months (he beat Straus in May 2011). Curran is comfortable fighting in any capacity although I imagine Freire will want to keep the distance close. His strength here may be based off the clinch where he can tag the champion and put him in a troubled position. Otherwise, the champ should be able to prevent the challenger from getting off combinations.

Niether man has been knocked out in their career and the only example of either being finished at all is a 2009 pre-Bellator fight where Curran was choked out by Travis Perzynski. However, since then, we've seen for ourselves Curran go up against great submission fighters and they ended up falling next to him.

Freire, a Brazilian Jiu-Jitsu black belt, has not scored a submission victory since his promotional debut in 2010 when he locked on a heel hook against William Romero. The only reason he lost to Warren was because he could not defend *all* of the elite wrestler's takedowns. Early on, he rocked Warren but could not put him away. It's a much more evenly matched fight tonight with Curran who is as confident in his striking and grappling going up against Pitbull than anyone the Brazilian has fought to date.


Season 8 Light Heavyweight Tournament Quarterfinal
Babalu Sobral vs. Mikhail Zayats

Due to timing constraints from having a pair of five-round title fights on a two-hour broadcast, only one of the light heavyweight tournament quarterfinals makes it on television. You can check out the prelims on Spike.com beginning at 7 p.m. eastern.

Renato "Babalu" Sobral is back for his first fight in the U.S. since he was knocked out by Dan Henderson over two years ago. He fought once last year for ONE FC where he submitted Tatsuya Mizuno with an armbar for his 37th professional victory.

Mikhail Zayats is a Russian fighter well accomplished in Sambo with a jiu-jitsu black belt and 19 wins as a professional fighter. He's on a five-fight winnings streak since his last loss in 2011 when he was knocked out by Vinny Magalhaes on an M-1 show. You probably don't know the majority of fighters he has beaten, perhaps with the exception of Lucio Linhares in 2008 (although Linhares avenged the loss in 2009).

The story on Zayats is that despite his impressive record (19-6), he has yet to have a win over a big name fighter. Tonight certainly provides him the opportunity to halt that criticism.

This is Babalu's fight to lose and considering he's a dangerous submission fighter himself, you don't see many ways in which he loses pending a significant punch. Even then, Zayats has only three wins by knockout or TKO, so history is not on his side.


---




Michael Bisping is One Step Away From Anderson Silva



For the second time in his 18-fight UFC career, the most famous and successful British import to the promotion is one win away from earning his first title fight against Anderson Silva. The last opportunity was almost exactly one year ago when he lost a decision to Chael Sonnen, although this writer thought beyond any doubt that Bisping was going to be named the winner. The judges disagreed that night in Chicago and perhaps not so ironically, Bisping's best shot to win this weekend is if cage side judges fall his way.

Saturday in Sao Paulo, Brazil, Bisping will meet Vitor Belfort on UFC on FX, airing on the east coast at 9 p.m. with the prelims beginning about three hours earlier on FUEL.

Belfort was last seen being the man to step up and fight light heavyweight champion Jon Jones in September and he nearly pulled off the unthinkable upset. An armbar was locked on the champion, did damage, but Belfort let up when he felt a pop and it proved to be a massive mistake. Jones regained his composure, although he lost feeling in the arm, and ended up submitting Belfort with a keylock in the fourth round.

Bisping beat Brian Stann on the same show by decision, thanks to takedowns and effective strikes. He avoided the American's power and that's going to be doubly true if he ends up winning in Brazil in 48 hours.

Vitor Belfort is one of the most powerful strikers in MMA and he can be dangerous on the ground. His problem has historically been if he cannot finish a fight early on, he loses gas and is at the mercy of his opponent. The fight this weekend is scheduled for five, five-minute rounds which can play into both mens weaknesses.

More time provides plenty of chances for the Brit to get caught with a knockout blow and we've seen him at his worst when he was knocked out in vicious fashion by Dan Henderson almost four years ago. To his credit, he hasn't been finished since that night but he's hardly fought many fighters in that span who can be described as having amazing knockout power. Only Wanderlei Silva (and I'd argue otherwise) and Stann could possibly fall into that category, so there is still that big question mark hanging in front of his his chin.

If you are one to take seriously what fighters say before a fight, Bisping insists his footwork is ever improved and Vitor will have a tough time landing big punches. He better hope so, because if he ends up standing directly in front of the man, he won't last too long.

Combining great movement, footwork with takedowns is how Anderson Silva's next challenger will grab that brass ring. Belfort's takedown defense is good, so it's no guarantee but if Britain's favorite MMA fighter is to succeed, he MUST put the Brazilian on his back and keep him worried about multiple levels. Otherwise, Michael's chin will be tested and I'm not sure how confident you are about that.

For Vitor, prior to the Jones fight last year, his previous five fights all went one-round dating back to his terribly violent knockout of Matt Lindland in Affliction. That's counting his highlight reel front kick knockout loss to Silva, by the way. For his latest UFC wins, he knocked out Rich Franklin in three minutes, Yoshihiro Akiyama in under two minutes and he choked out Rumble Johnson just shy of the five-minute mark.

With a lucrative opportunity on the line, Bisping cannot allow himself to get lazy in the cage. Move, move move! It may not be the prettiest strategy but he's always been more of a defensive-minded striker and not the aggressive kind. On paper, he would probably prefer to avoid Vitor's early flurries and then pick him apart for the next 20-minutes. Is it too much to ask for, to avoid the power for that long? Perhaps, but Michael Bisping cannot win any other way.







---



- Confirmed this week are the top two fights for UFC on FOX 7 on April 20 in San Jose, California. The championship fight in the main event will see top lightweight Benson Henderson defend against former Strikeforce champion Gilbert Melendez. In the co-main event, Daniel Cormier will take on Frank Mir.

- Despite his loss to Pat Healy last weekend, Kurt Holobaugh was offered and signed a UFC contract this week. The featherweight was previously 9-0 entering the fight on about 10-days notice.

- Bellator announced earlier in the week they have signed lightweight Will Brooks and he will compete in this season's lightweight tournament beginning in two weeks. Brooks made a name for himself on New Year's Eve when he beat Satoru Kitaoka in Japan at DREAM 18. The four match-ups in the first round of the tournament will feature: Brooks vs. Ricardo Tirloni, Patricky Pitbull vs. Guillaume DeLorenzi, Thiago Michel vs. Alexander Sarnavskiy and Lloyd Woodard vs. David Rickels.

- On FUEL's UFC Tonight, Ariel Helwani reported the names of Strikeforce lightweights signed by the UFC. They include Josh Thomson, Pat Healy, Ryan Couture, K.J. Noons and Adriano Martins. Expect the UFC to book a rematch between Couture and Noons following the controversial decision over the weekend (Couture was given the split decision despite almost universal opinion that Noons was the victor). Martins defeated Jorge Gurgel in the unaired prelims Saturday, it was his first fight in the United States after going 23-6 between Brazil and Japan.

- A more expansive list of Strikeforce fighters joining the UFC (aside from Daniel Cormier and the lightweights above) include Gegard Mousasi, Gian Villante, Roger Gracie, Jacare Souza, Luke Rockhold, Tim Kennedy, Lorenz Larkin, Roger Bowling, Jason High, Nate Marquardt, Bobby Voelker and Tarec Saffiedine.

- In a conference all this week promoting UFC on FOX 6 in nine days, Rampage Jackson confirmed he has no intentions of negotiating a new deal with the UFC following his fight with Glover Teixeira. It will be the last fight on his contract and with the belief that the UFC has not treated him well, he'll become a free agent.

---




JUGGERNAUT VIDEO OF THE WEEK



Preparing for the lightweight bout on Janaury 26, the UFC put out this highlight video featuring Anthony "Showtime" Pettis. He'll fight "Cowboy" Donald Cerrone and if he wins, he'll almost certainly need a second win considering the news about Henderson/Melendez in April. In any event, enjoy a look back.








TWITTER

http://www.twitter.com/411mania
http://www.twitter.com/411wrestling
http://www.twitter.com/411moviestv
http://www.twitter.com/411music
http://www.twitter.com/411games
http://www.twitter.com/411mma




comments powered by