SPOTLIGHTS
411's MMA Roundtable Preview - UFC on Fuel TV: Silva vs. Stann
Posted by Dan Plunkett on 03.01.2013

Wanderlei Silva battles Brian Stann in the main event of UFC on FUEL TV 8! Plus, Mark Hunt faces Stefan Struve, Diego Sanchez takes on Takanori Gomi and more! Check out the full roundtable preview for all the details and join 411 for LIVE coverage of the show Saturday night!




WELCOME:
UFC returns to Japan with Wanderlei Silva facing Brian Stann in the main event! In the co-main event, Mark Hunt squares off with Stefan Struve to move one step closer to a heavyweight title shot. At lightweight, Diego Sanchez fights Takanori Gomi. Before that, Yushin Okami battles Hector Lombard. Plus, Dong Hyun Kim goes up against Siyar Bahadurzada, Mizuto Hirota vs. Rani Yahya, and more!

THE STAFF:


From Occupy The Throne, Jeremy Lambert!


From The Blueprint, Patrick Mullin!


From MMA's 3R's, Jeffrey Harris!


From MMA on Tap!, Jon Butterfield!


From The Greatest MMA News Column, Dan Plunkett!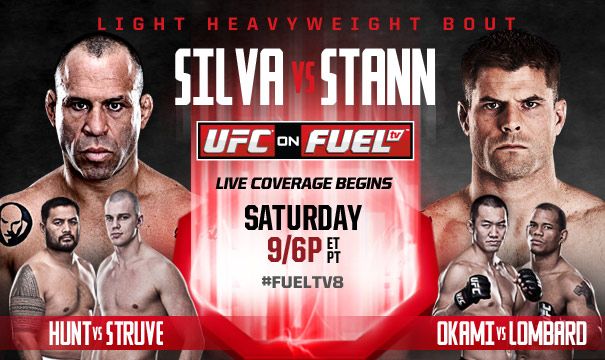 THE PRELIMINARY CARD:




All prelims air on Facebook.




Welterweight Bout: Marcelo Guimaraes vs. Hyun Gyu Lim



Jeremy Lambert: Lim, Decision
Patrick Mullin: Hyun Gyu Lim, Submission, Round 2
Jeffrey Harris: Marcelo Guimares, Decision
Jon Butterfield: Hyun Gyu Lim, TKO, Round Three
Dan Plunkett: Guimares, Decision.
The staff picks Hyun Gyu Lim, 3-2.



Bantamweight Bout: Alex Caceres vs. Kyung Ho Kang



Jeremy Lambert: Caceres, Decision
Patrick Mullin: Bruce Leeroy, TKO, Round 3
Jeffrey Harris: Bruce Leeroy, Decision
Jon Butterfield: Alex Caceres, Decision
Dan Plunkett: Caceres, Decision.
The staff picks Alex Caceres, 5-0.



Lightweight Bout: Cristiano Marcello vs. Kazuki Tokudome



Jeremy Lambert: TOKYO DOME!, TKO, Round 1
Patrick Mullin: Cristiano Marcello, Unanimous Decision
Jeffrey Harris: Cristiano Marcello, Decision
Jon Butterfield: Cristiano Marcello, Decision
Dan Plunkett: Tokudome, Decision.
The staff picks Cristiano Marcello, 3-2.



Bantamweight Bout: Takeya Mizugaki vs. Bryan Caraway



Jeremy Lambert: Mizugaki, Decision
Patrick Mullin: Takeya Mizugaki, TKO, Round 2
Jeffrey Harris: Bryan Caraway, Decision
Jon Butterfield: Takeya Mizugaki, Decision
Dan Plunkett: Mizugaki, Decision.
The staff picks Takeya Mizugaki, 3-2.



Middleweight Bout: Riki Fukuda vs. Brad Tavares



Jeremy Lambert: Fukuda, Decision
Patrick Mullin: Riki Fukuda, Unanimous Decision
Jeffrey Harris: Brad Tavares, Decision
Jon Butterfield: Riki Fukuda, Decision
Dan Plunkett: Fukuda, Decision.
The staff picks Riki Fukuda, 4-1.

---




THE MAIN CARD:




Welterweight Bout: Dong Hyun Kim vs. Siyar Bahadurzada



Jeremy Lambert: Kim is a very good grappler and definitely needs to get this fight to the ground if he hopes to win. While I don't feel that Kim is a bad striker, Bahadurzada doesn't mess around on the feet. He can put you away with one shot and he's always looking for the kill. If Kim can get this fight to the ground, he can easily out-position and control Bahadurzada, who plays it very safe on the ground. I'm rooting for violence though, so I'm going with Bahadurzada.

Winner: Bahadurzada, TKO, Round 1

Patrick Mullin: Bahadurzada finally returns to the octagon after his stunning flash KO victory of the usually durable Paulo Thiago. Speaking of Thiago the last time he was in Asia he ran into a motivated Stun Gun Kim who dominated him through three rounds for a decision victory. While Kim has shown vulnerabilities to early blitz attacks(Carlos Condit), Bahadurzada likes to play the counter game while striking. Siyar's weakness has been his submission defense as both Jorge Santiago and Kazuo Misaki have made him tap. Kim isn't as good a finisher as those guys but his grappling control is phenominal and I think he's going to surprise people with another dominant win in Asia.

Winner: Kim

Jeffrey Harris: Tough call. Kim is really good at getting a hold of guys and neutralizing them and controlling the fight. He got quickly beaten by the likes of Demian Maia and Jon Fitch. Siyar Bahadurzada has some deadly and nasty striking and kickboxing and striking is one of the areas in which Kim is weakest. I think Siyar connects with a good shot and puts Kim away.

Winner: Siyar Bahadurzada, TKO, Round 1

Jon Butterfield: I think outside of Siyar Bahadurzada winning quickly and violently, this fight favours Dong Hyun Kim. 'Stun Gun' isn't poor on the feet, but he certainly doesn't have the same power as Siyar, and would do well to avoid prolonged periods standing with Siyar early – but in the second round and on, I'd fancy that Kim could maintain distance enough to survive. His goal, however, should be to take Siyar out of his element, and given how Bahadurzada beasted Paulo Thiago, I think he'll swallow his pride, focus on his judo (he's a fourth dan black belt, not that you often see it), take Siyar down, and work him over. I see Siyar succumbing to frustration in the third round, giving Kim an easy out, and allowing 'Stun Gun' to rack up only his second career submission.

Winner: Dong Hyun Kim, Submission, Round Three

Dan Plunkett: This is a really tough test for Bahadurzada, who hasn't fought since quickly knocking out Paulo Thiago in April. Kim is a very good grappler and Siyar's most recent losses came on the ground, though his last loss was almost five years ago. If Bahadurzada gets past Kim here he's the real deal, but I'm going with the safer bet.

Winner: Kim, Decision.

The staff picks Dong Hyun Kim, 3-2.

---




Featherweight Bout: Mizuto Hirota vs. Rani Yahya



Jeremy Lambert: This has the potential to be a fun fight because each man has a definitive strength and weakness. If the fight stays standing, Yahya is screwed. And if the fight goes to the ground, Hirota is screwed. Because Yahya isn't a great wrestler, although he's willing to pull guard if it means getting the fight on the ground, and Hirota has solid takedown defense, I favor Hirota. I think he'll be able to keep the fight standing and his boxing is very good, especially when you compare it to Yahya's striking, which may as well not exist. I don't think Hirota will finish Yahya, but I think he handily out strikes him en route to a clear cut decision.

Winner: Hirota, Decision

Patrick Mullin: You'll have to forgive me if I seem down on this fight, but I'm ticked off that this makes it to the main card why Mr. Excitement Takeya Mizugaki is relegated to the prelims for his fight with Bryan Tate. That said Yahya's problems occur when he fights strong wrestlers who nullify his BJJ or strikers who can beat him up while standing. Hirota isn't that guy and I expect Yahya to have his way through three rounds.

Winner: Rani Yahya, Split Decision

Jeffrey Harris: I imagine this fight gets on the main card as Hirota is a former champion of the Sengoku promotion based in champion and probably has fought in Japan more recently than the likes of say Takeya Mizugaki who hasn't fought in Japan since 2008. Yahya is an underrated grappler and is an Abu Dhabi Combat Club world champion. Yahya will have no problem dominating Hirota and using his BJJ to take control of the fight and secure the win.

Winner: Rani Yahya, Decision

Jon Butterfield: Hirota is a good fighter most famous for getting his arm broken by Shinya Aoki. Rani Yahya is likely to have studied that tape, and will certainly fancy his chances on the ground, but I don't think getting this fight there will be easy. Aoki is like an octopus at times, wrapping people up and suffocating them, which just isn't Yahya's style. Still, with Hirota looking to defend the takedowns, Yahya should be able to keep the Japanese fighter guessing and on the back foot – Hirota can finish for sure, but if Yahya can upset his rhythm long enough, I expect him to fade, allowing the Brazilian to secure his third win in four outings.

Winner: Rani Yahya, Decision

Dan Plunkett: Yahya is certainly the better grappler and I think that gets him the win here.

Winner: Yahya, Decision.

The staff picks Rani Yahya, 4-1.

---




Middleweight Bout: Yushin Okami vs. Hector Lombard



Jeremy Lambert: I'm looking forward to this fight because it's between two high-level middleweights, one of whom could potentially earn a title shot with a victory (and don't laugh at that, you know it's true.) Even though I'm looking forward to the fight, I think it has the potential to be extremely boring. Lombard is exciting when he destroys guys in the first couple of minutes with his unmatched power, otherwise he fights safe and almost scared because he's afraid of gassing out. Okami has never been known for his exciting fights and he definitely has the skills to neutralize Lombard as he likes to play it safe on the feet and clinch up when the opportunity presents itself. Okami isn't going to bully Lombard in the clinch like he's done so many others, but I do think he'll be more active than Lombard, which, in a fight where very little could happen, a couple of knees and short punches in the clinch could be enough to sway the judges. I hope Lombard makes another big statement, but I'm going to keep my expectations low.

Winner: Okami, Decision

Patrick Mullin: Despite how he looked in his UFC debut, Hector Lombard is a good fighter. Yushin Okami has a tendency to spoil the best laid plans of guys looking to make a title run but it won't happen here. Lombard's judo background, improved wrestling, and heavy striking are a bad mix for Okami. Yushin is a tough guy and he'll last the distance but he won't have any real success until the third round when Lombard tires a bit, and even then it won't be much.

Winner: Hector Lombard, Unanimous Decision

Jeffrey Harris: Not exactly expecting fireworks here, but I'm definitely interested to see how this fight will turn out. I've always found Lombard's striking to be a little awkward. He often times looks flat flooted with his stand-up and generally waits for his opponent to do something. Okami has lost a couple fights recently to Anderson Silva and Tim Boetsch but he's still one of the better middleweights out there with 12 UFC wins. Lombard is a practitioner in judo, and I think Okami's wrestling will trump Lombard's judo game and background. I'm predicting another grinder for Okami.

Winner: Hector Lombard, Unanimous Decision

Jon Butterfield: In a great bit of middleweight match-making, we have a near-pick 'em fight between former Bellator Middleweight Champion Hector Lombard and perennial top 5 UFC MW Yushin Okami. Okami's best chance is to use his footwork and range to maintain distance in a similar strategy to that of Carlos Condit against Nick Diaz, tiring Lombard while continually testing his takedown defence (which will weaken as he tires), but outside of displaying ABSOLUTE patience (like Boetsch), he's bound to wonder in to Lombard's range sooner or later. And what's more, unlike in his fight with Boetsch, Lombard won't be injured, and won't be quite so flat-footed. Lombard will stalk and launch, and while Okami will probably avoid it for a round and a half, the cataclysmic power of the Cuban will eventually wrap this one up – quite possibly while Okami looks to take the fight down – which is near impossible given Lombard's low base of gravity and outstanding judo credentials.

Winner: Hector Lombard, KO, Round Two

Dan Plunkett: This is a really interesting bout. Lombard looked excellent in his last bout, stalking Rousimar Palhares until his finished him with strikes. Okami had a rough stretch against Anderson Silva and Tim Boetsch, but got back on track with an overmatched Buddy Roberts and contender Alan Belcher. Okami is a big, strong middleweight compared to the short, absurdly-muscled Lombard. If Lombard shows up uninjured and aggressive, he has a very good chance of winning here. Okami is an excellent fighter and probably should be the favorite, but I'm going with Lombard here.

Winner: Lombard, TKO, Round 2.

The staff picks Hector Lombard, 4-1.

---




Lightweight Bout: Takanori Gomi vs. Diego Sanchez



Jeremy Lambert: It feels like forever since Sanchez fought, and I guess that's because he's only fought twice in the last two years. Gomi looked a bit more like the Gomi of old in his last fight, and he's always one big punch away from ending your night, but Sanchez' chin is outstanding and his cardio is just as good. If Gomi is going to win, he'll have to catch Sanchez early, because the longer this fight goes, the more it favors Diego. We'll know if Gomi is on his game or not if he's throwing to the body and switching stances, but if he's just throwing wild punches then this fight won't last long. Even if Gomi is on his game, this is just a bad match-up for him because Sanchez will be relentless with his takedowns, he'll initiate scrambles, and he'll just out-work Gomi en route to finishing him late as Gomi inevitably tires.

Winner: Sanchez, Submission, Round 2

Patrick Mullin: Jon Fitch is cut but Gomi still has a job? Ok well that won't last. Gomi can only beat guys who stand directly in front of him and allow him to tee off freely without resistance. Sanchez is going to be in his face from the start of the fight and throwing heavy leather. He'll eventually bring Gomi to the ground and pound him out viciously to send Gomi packing to OneFC.

Winner: Diego Sanchez, TKO, Round 2

Jeffrey Harris: Not sure what to make of Gomi's conduct at the pre-fight press conference. I'm not sure if he was drunk or high or if he's just not taking this fight seriously. Gomi has constantly had the problem of not taking his training of fighting seriously enough and not putting the work in. Similarly, Sanchez, while a very talented fighter, has had streaks of laziness as well as issues with drug and alcohol abuse not to mention a lot of personal strife, injuries, and a host of other problems. Sanchez returns to lightweight here, and provided he did the cut right and he's in shape, I think he takes this fight no problem. Sanchez is a much better wrestler and Gomi is terrible with his takedown defense and working off his back. I'm predicting Sanchez wins this and takes Gomi down whenever he wants and submits Gomi on the ground. If Guida can submit Gomi, I think Sanchez can as well.

Winner: Diego Sanchez, Submission, Round 2

Jon Butterfield: Despite his erratic results (how can you record a win over Martin Kampmann yet not beat John Hathaway?), Diego Sanchez will have a difficult time losing to Takanori Gomi. Gomi, once one of the finest lightweight fighters on the planet, saved his neck with consecutive wins over Eiji Mitsuoka and Mac Danzig, but neither performance indicated a real return to form. Though a highlight reel KO would almost certainly have Joe Rogan proclaiming that GOMI IS BACK, chances are, Sanchez wins this pretty easily. With an iron chin, Sanchez can probably absorb anything Gomi has left, and if he feels he's in trouble, he's got a HUGE advantage in terms of his wrestling. I'm not convinced he'll need it, however, as I think Sanchez can outstrike the current incarnation of Takanori Gomi, finishing on the ground as and when he needs to.

Winner: Diego Sanchez, Submission, Round One

Dan Plunkett: Unless he gets killed by the cut to lightweight or gets clipped, I don't see any reason why Sanchez shouldn't take this one rather convincingly. Gomi is well past his prime and hasn't looked like a top level guy in years. Sanchez, on the other hand, still has something left in the tank.

Winner: Sanchez, Submission, Round 1

The staff picks Diego Sanchez, 5-0.

---




Heavyweight Bout: Mark Hunt vs. Stefan Struve



Jeremy Lambert: There's no doubt that Struve is the more complete fighter, and if he gets this fight to the ground, Hunt is pretty much screwed. But there's always a chance that Hunt catches him on the feet. And with Hunt's power and Struve's chin, it'll be lights out. And unlike Lavar Johnson, who also had a punchers chance against Strube, Hunt is actually a very good striker who doesn't over-commit on his punches or throw wild haymakers. If Struve fights smart, always a question since he still hasn't learned how to use his reach properly, then he'll keep Hunt at bay with kicks, wait for the right time to clinch up, and then drag the fight to the ground. Whether he's on top or bottom, Struve should have no problem submitting Hunt with whatever he decides to lock on.

Winner: Struve, Submission, Round 1


Patrick Mullin: For the full breakdown read this week's Blueprint. While Struve has looked improved in wins against Lavar Johnson and Stipe Miocic he's fighting a man who understands the three most important principles of fighting, distance, leverage, and timing. Struve really still doesn't understand these principles. While if he gets Hunt to the ground a win is a certainty, he has to step into Hunt's punching range to try for it and put himself in harm's way. His shaky chin against a striker the caliber of Hunt in a fight that HAS to start standing is a bad mix for him.

Winner: Mark Hunt, KO, Round 1

Jeffrey Harris: Interesting fight where both guys strengths are basically the other guy's weakness. Mark Hunt has only been knocked out once in his MMA career and that was by Melvin Manhoef in 2008. Unfortunately though, Hunt's ground game and submission defense are both terrible. Similarly, all of Struve's UFC losses have come by way of knockout. Struve doesn't always do a good job of using his length and range and he doesn't have the best striking defense. Guys are generally able to do a good job of breaking through his defense and landing shots at his head because he keeps his chin up. And at heavyweight that can be extremely dangerous and it leads to Struve getting knocked out. Still though, Struve has put together an impressive streak as of late and he's managed to get past guys who are incredibly good, hard hitting strikers but are weak in the grappling department. I'm picking Struve to avoid the barrage from Hunt who has been on the shelf way too long and he manages to get an early submission to get his fifth straight win. Now the irony will be the time I actually pick Struve to win, he will lose.

Winner: Stefan Struve, Submission, Round 1

Jon Butterfield: The feel-good story of the heavyweight division, Mark Hunt's UFC run has been beyond even his most loyal fans' wildest dreams. After being embarrassed against Sean McCorkle in his Zuffa debut, the 'Smashing Machine' chalked up back-to-back wins over Chris Tuscherer, Ben Rothwell, and Cheick Kongo. Though Tuscherer was clearly somewhat short of the UFC standard, and the fight with Rothwell was a no-cardio-high-altitude dud, his win over Kongo was an eye-opener. Hunt is, still, one of the better pure strikers competing at 265 lbs. Struve, however, is a far better fighter than McCorkle, is looking far more adept at avoiding getting hit than ever before, and should be able to seal the deal here pretty easily if it goes to the ground. Hunt isn't easy to take down in the traditional sense – but he's always looked clueless against guys who can either trip him (Fedor), run straight at him and not simply wait to get hit (Mousasi), or, presumably, pull guard against him. Struve is capable of any of these, so quite how Hunt wins, I don't know.

Winner: Stefan Struve, Submission, Round One

Dan Plunkett: If this fight goes past the first round it'll be one of those awesomely awful heavyweight fights we all love so much. Struve seems to be particularly susceptible to getting hit early in fights, so that'll be Hunt's chance here. If the bout goes to the ground, it'll be Struve's fight to lose. I'm going with the comeback story here.

Winner: Hunt, KO, Round 1

The staff picks Stefan Struve, 3-2.

---




Light Heavyweight Bout: Wanderlei Silva vs. Brian Stann



Jeremy Lambert: Wanderlei is back in Japan, which obviously means he's going to start smashing fools again. Unfortunately for him, Stann isn't a fool who is likely to be smashed. If Silva decides to use his grappling, I definitely think he can beat Stann, who is an average wrestler and grappler at best. But come on, this is "The Axe Murderer" we're talking about. Not only that, but "The Axe Murderer" returning to Japan, where he was the biggest non-Japanese star in PRIDE for many years. He will want to put on a show for the fans. And in the process of doing that, things probably won't end well for him. When he's not trying to headhunt, Stann is a solid technical striker with plenty of power. He likes to use kicks, although if Silva is still great at one thing, it's timing kicks to land a counter hook or even catching a kick to score a takedown. So if Stann is going to kick, he needs to make sure he's at a good distance. We all know what Silva is going to do. He's going to throw his typical left-right hook combo and maybe mix in some kicks of his own. Otherwise he's going to stand there, get punched in the face, and be a tad bit slow on the counter. I love Silva, but everyone knows that his best days are behind him and going up against Stann, who, if nothing else, is a heavy handed puncher spells bad news given the state of his chin. You never want to completely count out Silva, because he can always surprise you with an aggressive flurry, but walking straight at Stann isn't really the best idea given, not only Stann's power at a distance, but also his work in the clinch with knees and uppercuts. All that said, if it comes out that Silva is on Japanese TRT, then Stann will be another fool smashed.

Winner: Stann, TKO, Round 1

Patrick Mullin: Remember Jimmy Snuka from 1989-1992 in the WWF? He was a legend who became nothing more than a high profile jobber losing to any and everyone. That's Wanderlei Silva now. Stylistically this fight is all wrong for him as Stann will hit him with big right hands and not trade with him. Wand's chin is about as durable as paper mache so don't expect this one to last very long. Its a massacre of a main event.

Winner: Brian Stann, KO, Round 1

Jeffrey Harris: On paper, this looks like a very bad match-up for Wanderlei Silva. Stann is a hard puncher, and Silva's chin is all but shot. I'll be very surprised if this even goes to the second round. If Silva tries to make this a brawl with Stann, it will be a very short night and he will get pounded quickly just like against Chris Leben.

Winner: Brian Stann, TKO, Round 1

Jon Butterfield: Brian Stann's biggest weaknesses have been exploited in two of his last three fights. Sonnen exposed his weak ground game (though, in fairness, few are able to take him down in the same manner as Sonnen in order take advantage of that), while Bisping showed that, while powerful, his striking game is still comparatively raw. Wanderlei beat Michael Bisping according to the judges, of course, but he's never been as elusive fighter as 'The Count' – which doesn't bode well for anyone against 'The All American'. Wanderlei's chin is vastly under-rated, and I myself have made the mistake of betting against that before, but Stann has Leben-like power, and the second 'The Axe Murderer' stands in front of Stann, its boom, lights out. Wanderlei's best bet is to overwhelm Stann with voluminous strikes, but even that seems a long shot nowadays, and while Wanderlei hasn't deteriorated to quite the same extent as some seem to say, this is a good fight for Stann – and the perfect way to showcase his abilities against a big name. KO, Round Two.

Winner: Brian Stann, KO, Round Two

Dan Plunkett: Everybody loves Wanderlei Silva, but I don't like his chances here. Silva's chin has long since packed up and gone away, and Stann hits really hard. If he doesn't get tagged, Silva certainly has a puncher's (and kneer's) chance, but I just don't see it.

Winner: Stann, KO, Round 1.

The staff picks Brian Stann, 5-0.








---
---
Remember to join 411's coverage of UFC on Fuel on Saturday night!
comments powered by