SPOTLIGHTS
Occupy The Throne 3.06.13: Dissecting Fighter Quotes #1
Posted by Jeremy Lambert on 03.06.2013

From Georges St. Pierre's disdain for doing promotion and Tito Ortiz's plan for Cyborg Santos to Miesha Tate wanting a win bonus for Bryan Caraway, 411's Samer Kadi and Jeremy Lambert look at and respond to recent fighter quotes!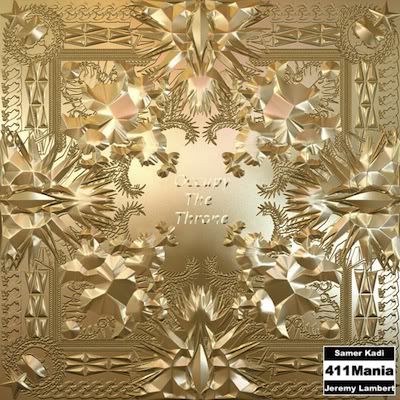 It's our first edition of dissecting fighter quotes, and unlike when we answer fake e-mails by fighters, these are all real quotes by fighters. So please do not hold us responsible for anything a fighter actually said.



Real Fighters. Real Quotes



"It does bother me, for some reason the UFC hates people that smoke weed. The whole MMA industry for some reason hates people that smoke marijuana. I don't know why, I keep to myself for the most part. I smoke weed and I fight. Usually I put on exciting fights or I dominate people, I always go out there and fight. It's stupid that I got fired over a plant, but other people think it's stupid that I just won't stop smoking. I quit three weeks before my fight and this is what works for me. If you were me or lived with me you'd understand." -- Matt Riddle

Samer Kadi: Correction: the UFC hates fighters who have a "boring" style, don't draw, happen to be dispensable, and screw up. Matt Riddle fits that description perfectly, and was therefore served his walking papers. Riddle was openly criticized by Dana White for his most recent lackluster – but victorious – performance, something that has been becoming somewhat of a trend with Riddle lately. As a result, the UFC were likely waiting for the first opportunity to release him following their huge roster cuts. Riddle messed up for the second time, and handed himself on a plate.

Riddle is absolutely naïve if he thinks smoking weed is what put him in hot water with the company, and he must have missed the part where Nick Diaz is headlining what is so far the biggest card of the year in his first fight back from suspension.

Jeremy Lambert: I think my partner is misremembering just how Riddle fights. This guy was criticized for having a semi-decent wrestling background but constantly engaging in wild brawls. His fight against Che Mills and John Maguire weren't painfully exciting, but Riddle can't help it if Mills can't defend a takedown or Maguire decided to do absolutely nothing. Riddle definitely falls into the "hitchiker fighter" category, but that implies that he usually puts on exciting fights, he's just going nowhere in the division while doing it. In fact, I think we should actually praise Riddle for improving as a fighter and becoming smarter inside the cage. Unfortunately for him, his downfall likely has to do with the fact that he failed two tests in less than a year. The UFC doesn't care if a guy fails a drug test of any sort, hell, they could even be rewarded in the process, but failing two out of three is just a level of stupidity that Dana White obviously doesn't want to deal with. So while Riddle may have smartened up in his fights, he still remains clueless before his fights.

Then again, Dave Herman has lost three straight, finished in all of them, failed for weed in his last bout, and had a bout scrapped before the losing streak due to weed. But instead of releasing him, he was sent to weed rehab, which I assume is a weekend stay at Dustin James' house. So it's not like Herman is the brightest bulb in the box. Let's just chalk this up to the UFC double standard.

"I was excited to fight Junior. I thought he was a favorable match up for me, but Zuffa was unwilling to give me something that they gave Eddie Alvarez. No disrespect to Eddie, but I felt it was fair to give it to me as well. Although things seem to be working out well for me, I feel bad for the fans. They wanted me to fight certain guys in the UFC and I really wanted to give them those fights. Once we get the deal we are working on done, the fight the fans scream for will be lost forever." -- Josh Barnett

Jeremy Lambert: So I guess Barnett is finally fighting Fedor, because if not, I have no clue what his last line is all about.

Even though it would've been nice to see Barnett in the UFC, especially in an extremely weak heavyweight division, I can understand him wanting something Eddie Alvarez got, which I'm assuming is a PPV cut. As of this writing, Barnett has 43,937 twitter followers while Alvarez only has 11,571. As we all know, twitter followers equates to popularity, so I think it's safe to say that a PPV headlined or co-headlined by Barnett would be purchased more than a PPV headlined or co-headlined by Alvarez.

On the bright side, with Barnett opting to fight in Japan or do pro wrestling or whatever, we'll be treated to more awesome fights featuring the likes of Ben Rothwell, Mark Hunt, Stefan Struve, and any other mediocre heavyweight that you can name, which is pretty much all of them except the last two UFC champions.

Samer Kadi: On one hand, Barnett is on to something as the UFC's offer to Eddie Alvarez was ludicrous and absolutely not worth what they were getting in return. That is hardly a knock on Alvarez, who is a tremendous fighter, but an immediate title shot + a cut of PPV revenue seems a touch dubious given his name value, or lack thereof. After all, drawing decent ratings for Bellator and drawing on PPV are two completely different things.

On the other hand, Barnett still isn't making a lot of sense. While it wouldn't quite be the offer Alvarez is receiving, Barnett is giving up on what likely was a financially rewarding deal and more importantly, relevance. Perhaps he'll be satisfied doing pro wrestling in Japan and taking on the occasional fight against a mediocre fighter, but his last statement screams nonsense.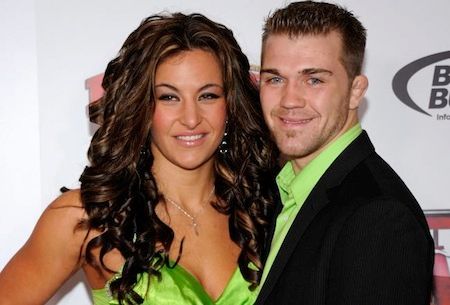 "@danawhite I still think @Bryancaraway should get his win bonus what a BS decision did you see that garbage? -- Miesha Tate

Jeremy Lambert: Oh Miesha, you only have yourself to blame for your lover's loss. If you didn't tell him to "coast to victory" before the third round of a close fight, it's possible that Caraway would've actually won the fight. Instead, you told him to play it safe, and like any man in love, he listened to you. Dana White hates a lot of things, but if there's one thing he hates above all, it's paying top ten fighters what they're worth. The second thing he hates the most though is fighters who go out there and don't leave it all in the cage and try to finish. So asking for Caraway to get his win bonus is a romantic gesture on the part of Miesha, but Brian will be lucky if he isn't served a pink slip for losing and not putting on an entertaining fight.

Samer Kadi: And this is why you don't let your girlfriend/boyfriend corner you. Advising any fighter to take his foot off the gas is a bad idea. Asking your fighter to "coast to victory" in a fight that, up until that point, was even at best, sets a new gold standard for bad cornering, overtaking the Wolfslair during any Quinton Jackson fight and any time BJ Penn's corner says anything.

"I know the UFC are getting rid of a bunch of guys. And I know that they are disappointed with the way that people are stepping into the Octagon. Maybe it's just a shake-up, maybe they are just trying to show people that we are in the entertainment industry as well as a professional sport. When people pay a lot of money for a ticket they want to see a performance, and some people are coming to get a pay check and it's kinda disappointing." -- Dan Hardy

Samer Kadi: Dan Hardy has had some cringe-worthy takes on some top fighters' past performances (Jon Jones' fights with Rashad Evans and Vitor Belfort, GSP's fights with everyone…). When it comes to his understanding of what constitutes excitement, or general interpretation of individual performances, "The Outlaw" is hardly someone to take for face value.

Fortunately, his above comment is rather level-headed and sensible. That however, does not make it entirely accurate. Hardy is right that fans, both in attendance and at home, wish to see good outings. However, the fact is, there can be no guarantees, and like any other sport, bad showings come with the territory.

Yes, it has become somewhat of a given that this is a business as well as a sport, meaning that entertainment value counts for a significant amount. Unfortunately, with the way the UFC is doing business, this is quickly becoming business/entertainment more than a sport, which is the real problem. At the end of the day, the UFC is a business that promotes a sport, with extra emphasis on the latter. Iffy title shots -- among other things -- might be tolerated, but when world class fighters start getting undeservedly released for a non-fan friendly style, a dangerous precedent is being set. Let's see what becomes of the vastly overpaid Hector Lombard.

Jeremy Lambert: We all rag on Dan Hardy for losing four straight fights, two of which were boring, one was a quick KO, and the other was an awesome fight with Chris Lytle, who can't have a terrible fight with anyone. In Hardy's defense, it's not like he controls whether or not he gets released and he even said he would've released himself before Jon Fitch was released. So say what you will about Hardy, but he gets it.

Now the UFC is making sure that everyone gets it with their latest round of releases and publicly stating that 100 more guys need to be cut. You can be boring and win, but you better keep winning, because the second you lose, you're going to be released. But if you're exciting and lose, you can keep losing.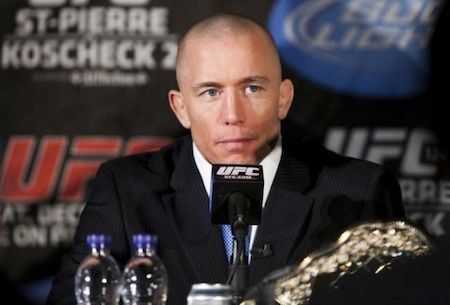 "I lose my time doing this, I don't like doing this. I'm talking to you guys, like seriously I despise it. You know, like I like you guys, but I don't like doing this. It's not you that I don't like - basically the people that know me I've been repeating the same thing 50 times every week, you know? It's like a computer in my head and I don't like, but I have to do it's part of my job. Every job is not perfect and perfect and I have to do it. So he have to do the same or otherwise it's not fair." -- Georges St. Pierre

Samer Kadi: At this point, I'm totally ready for UFC 158 to be history. It is not that a title bout between Georges St-Pierre and Nick Diaz isn't appealing -- shady match-making aside -- as it absolutely is, but the build-up has been more irritating than hype-inducing. The disingenuous "GSP is angry" marketing of the fight, when the UFC couldn't find a single sound-bite of their welterweight champion expressing his disdain for the challenger, and had to rely on Dana White assuring us that St-Pierre does in fact, hate Diaz, has fell horribly flat. Meanwhile, St-Pierre's odd logic as to why he chose Diaz over Johny Hendricks hasn't done him any favors.

Most aggravating however, has been the endless saga of Diaz's no-showing media work. Unprofessional as the Stockton native is, one must wonder what exactly it is the UFC thought would happen after Diaz acted in a similar manner when the fight was originally scheduled to go down in late 2011. Dana White keeps providing empty threats about pulling Diaz out despite the fact that everyone knows there is no realistic way of this happening with the event so close, at least not unless the UFC likes bleeding money.

St-Pierre feels slighted that Diaz is not doing his part as far as media work is concerned, and is expressing his frustration a little too vocally. Dana White feels slighted by Diaz's unprofessionalism, Johny Hendricks feels slighted by GSP, and Nick Diaz feels slighted by everything for no apparent reason. Can we just get these two elite fighters in the cage already?

Jeremy Lambert: Georges knows he only has himself to blame for this whole mess, right? Nick Diaz was pulled from their UFC 136 bout because of his failure to attend media obligations. So when GSP has his chance to pick his opponent and Johny Hendricks is out there with a legitimate claim, GSP instead decides to fight Nick Diaz because he wanted the biggest money fight. Now I don't fault GSP for wanting the bigger fight, but what he think was going to happen when he signed on to fight Diaz again? Did he think that Diaz would all of a sudden become a model citizen and do interviews and attend the press conferences? If he honestly thought that, then for all his brilliance inside the octagon, he's pretty stupid outside of it.

"If he (Aldo) moves to 155, he stays at 155 and he holds that belt. If Pettis wins the fight, Pettis is going to have to stay at 145 and defend that belt a couple of times." -- Dana White

Jeremy Lambert: If Jose Aldo beats Pettis, moves to 155, and beats Henderson or Melendez, then he should unify the featherweight and lightweight titles and only fight at 150. Better yet, let's bring it back to the old school, and have every fight be an openweight fight. Just get rid of weight classes altogether and let guys fight whoever they want at whatever weight they want. If BJ Penn wants to fight "Shogun" Rua then fine. Rua can show up at 210 pounds, BJ can show up at 168 pounds and they can still throw down.

We all know Dana is lying with this quote anyway, because if Pettis beats Aldo, he's not staying at 145 to defend the title against the likes of Ricardo Lamas and Cub Swanson. He's going to immediately ask for a lightweight title shot, and if Ben Henderson is still the champion, he's going to get it. And why is he going to get it? Because Pettis vs. Henderson 2 (or even Pettis vs. Melendez) is going to make the company 10 times more money than Pettis vs. Lamas or Swanson.

Samer Kadi: Can't fault Dana for his logic here, provided he ends up sticking to his guns. The UFC's ever increasing desire for big fights means some divisions risk finding themselves in a state of chaos. As appealing as it is, a champion holding two different belts is a headache the UFC can do without. Essentially, this means two titles will be defended no more than one time per year, without taking into account the effect of potential injuries. If Aldo beats Pettis, vacating the title and moving up in weight would actually make sense, and it is likely something Aldo will be in favor of. Getting Pettis to stay at featherweight should he win the title though, will be the bigger challenge.




"The fight is good for Chris Weidman, not for me. He's a boy, he's the kid...It's good for Chris Weidman." -- Anderson Silva

Jeremy Lambert: What a fantastic quote by Anderson. I don't think he's on the top of any interview list because he rarely speaks English, but if you look at his track record, he's one of the best quote machines in MMA.

I'm sure people will be up in arms about Anderson calling Weidman "a boy" and "the kid" but take that out of the equation for a second and you'll see that he's absolutely right. Silva vs. Weidman is a good fight for Weidman, but not for Silva. Not because it's stylistically a tough fight for him (it is, but so was Chael Sonnen) and he's afraid of losing, but because he's afraid of not making money. How many people actually know who the hell Chris Weidman is? He had an absolutely terrible fight on FOX and then followed that up with a nice victory against an overrated Mark Munoz on Fuel. His name value is no higher than Thales Leities or Patrick Cote when they fought Anderson, and if it weren't for Chuck Liddell being in the co-main event of the Leites fight, those PPV's would've bombed.

Anderson is 37-years old, he doesn't have many fights left and despite being the greatest fighter of all-time, he can't draw against a broomstick like Georges St. Pierre can or like Liddell could. He needs fights against guys who people know and are interested in seeing. No one, except MMA media who stupidly believe that Silva is ducking Weidman, is interested in seeing Weidman fight. And thus, Anderson isn't interested in fighting him.

Samer Kadi: He might have chosen some unflattering words, but is Anderson wrong here? His comments would merit more criticism if Weidman was the undisputed number one contender who has done more than enough to earn a title shot, but with his best wins coming over Maia and Munoz – the former being painful to watch – Weidman's claim to a title shot is hardly as bulletproof as many are making it out to be.

In fairness, he is doing better than most middleweights, and a title shot wouldn't exactly be unwarranted, but let's face it, Anderson Silva is not your average champion. In other words, he is at a point in his career where he can call his own shots, and if it is money fights he is seeking, then so be it. A fight with Weidman wouldn't do much for him – both financially and in terms of legacy. However, with St-Pierre fighting Diaz, Jones squaring off against Sonnen, and Bisping falling to Belfort, it looks like Anderson will have to wait a little longer, and a fight with Weidman will likely be on the cards in the meantime.

"Our deal right now is to fight the No. 2 contender at 145 pounds (Ediane Gomes), who she's fighting, and then she'll fight for the [Invicta] world title. She wins the world title, and after she wins the title, she'll defend it once. After she defends it once, let's get New Year's Eve, Ronda Rousey vs. Cris 'Cyborg' at 140 pounds. Champ vs. champ. Let's forget about the title. Throw away the title. Let's get one of the biggest pay-per-views in the history of mixed martial arts and history of women's MMA." -- Tito Ortiz

Samer Kadi: Tito Ortiz's master-plan consists of having Cyborg Santos fight four more times this year, including a bout that will likely require months of arduous (read: annoying) negotiations, without anything possibly going wrong throughout this ten-months span? This seems realistic…

Jeremy Lambert: Tito spends his entire quote talking about winning the title, defending the title, doing a champion vs. champion fight, and then just says, "Throw the title away." This the guy handling Cris Santos' career and Dana White is handling Ronda Rousey and the UFC's booking. Can you imagine putting these two in the same room and having them negotiate a fight contract? They should put that on FX because it'll probably draw better ratings than the current season of The Ultimate Fighter.

For more from the Occupy The Throne duo you can follow Samer Kadi and Jeremy Lambert on twitter. You can also check out ManCaveThoughts.com for more writings and podcasts.
comments powered by