SPOTLIGHTS
411 MMA Fact or Fiction 03.06.13: Rousey's Pound-for-Pound Worthiness, Mark Hunt's Future, Daniel Straus, More
Posted by Wyatt Beougher on 03.06.2013

Does Ronda Rousey belong on pound-for-pound rankings lists? Should Mark Hunt be facing top-tier heavyweight competition? Does Daniel Straus' recent arrest hurt the momentum of Bellator's featherweight division? 411's Jonathan Butterfield and Mark Radulich debate these topics and more in this week's MMA Fact or Fiction!

Welcome to another edition of 411's MMA Fact or Fiction, and as you should expect by now, I'm your host, Wyatt Beougher. Last week saw Robert Winfree return to action against the seemingly ever-present Todd Vote in a battle of two guys looking to bring their records up to .500, and while I scored the fight in favor of Vote, because we had no guest judge last week, the reader vote was going to count double. Robert jumped out to an early lead, but when the polls closed, Todd was triumphant, picking up the unanimous decision victory. This week, Jonathan Butterfield makes his long-awaited return to Fact or Fiction, and he'll be facing off against Mark Radulich. With no guest judge again this week, the reader vote will again count double.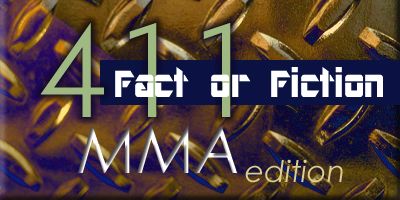 TALE OF THE TAPE



Red Corner
Jonathan Butterfield
'Butters'
Interviewer, 411 MMA Zone
1-2-0

VS

Blue Corner
Mark Radulich
'Headshrinker'
Host, 411 Ground and Pound Radio Show/Live Coverage Guru
4-3-1

---

Mark Hunt's story would make an awesome movie or ESPN special

1.) With successive wins over Cheick Kongo and Stefan Struve, it's time for Mark Hunt to move up in heavyweight competition.

Jon Butterfield: FACT Sure. Mark Hunt savaged Cheick Kongo, and negotiated a very tough fight with Stefan Struve. He didn't look great against Struve, and his cardio is always going to be an issue, but Hunt's power is unquestionable, and his unerring ability to find his opponent's jaw when he's exhausted is particularly impressive. Either way, Hunt has now earned a top five opponent in my eyes, though he'd do well to avoid a bout with Junior dos Santos, who would make him look pedestrian. With all the significant heavyweights already scheduled to fight, it could be a long wait before Hunt fights next, but I'd certainly savour a fight with Antonio Silva or Fabricio Werdum should the pieces fall into place. Here, Hunt would be the underdog once again, and yet in a similar position where you just know if he landed flush, he'd win – but there's no doubt that if he wound up beneath either of those guys, he'd be toast… but a lot of us said that against Struve, as I recall.

Mark Radulich: FACT Absolutely it is time for him to move up in competition. On the 411 Ground and Pound Show (Sundays at 9:00 PM EST) we talked about matching Hunt up with Roy Nelson if he should beat Kongo in April. A potential Hunt-Nelson fight would be a barrel of monkeys and in the end, another contender for the title might be created. Hunt stated that after a year-long layoff he wants to be active in 2013 so his best chance at top tier competition in the near future is Roy Nelson (who fights in April). If he wants to wait for the winners and losers of the May PPV featuring all 4 top heavyweights to sort itself out then I wouldn't be opposed to that either. Fabricio Werdum or even Big Nog would be fine except that their fight isn't until +June 8, making September the earliest either of them would be able to fight Hunt. I don't think that's in the cards right now. One wildcard that still exists is Shane Carwin. His last three fights were title fights, however 2 of them were losses (Lesnar and JDS). If his knee is healed and he wants to fight I would match him with Hunt at the next available opportunity. Otherwise, as I stated above, Roy Nelson would be my top choice assuming he moves past Kongo.

Judge Wyatt Beougher's Scorecard: How can you not love Mark Hunt? The guy was offered a buyout of his contract when the UFC acquired PRIDE, meaning he could've gotten paid to sit at home, but he insisted on coming to the UFC and he's been on quite a tear, winning four straight fights. Not bad for a guy who dropped his first UFC fight to fall to 5-7. Both guys in agreement here, but I'm giving the narrow edge to Mark for listing all of the potential options for Hunt's next opponent, including two fights that would surely be fun, against either Shane Carwin or Roy Nelson. Radulich, 10-9

---

Out the door?

2.) After receiving a great deal of fanfare prior to their debuts and then losing to middle-of-the-road competition, both Siyar Bahadurzada and Hector Lombard could find themselves on the chopping block as part of the UFC's stated 100-fighter purge.

Mark Radulich: FACT When the number 2 welterweight in the world in terms of pure skill is cut then all bets are off aren't they? Yes, both Bahadurzada and Lombard could face being cut in the near future after being exposed as one-dimensional fighters not up to the challenge in the UFC. Bahadurzada is in the worse position of the 2. The UFC has more welterweights than they need and he apparently has no ground game so he'll never get anywhere the rest of the guys they have in the top 10. With the amount of TUF fighters they've cultivated at 170lbs he's completely expendable. Lombard is a bit of different story. They've invested a lot of money in him and I would imagine they'd like to get some kind of return on that investment. Lombard is completely outsized at middleweight and if he agrees to drop to welterweight he might have a bit more success. If he balks and demands to stay at 185 then I'd say his UFC days are numbered.

Jon Butterfield: FICTION - While I can understand calling Dong Hyun Kim 'middle of the road' at this point of his career despite his potential, I think it's very harsh to label Yushin Okami the same. Okami, aside from being KO'd in spectacular fashion in a come-from-behind blitz by Tim Boetsch, is one of the most consistent 185 lb fighters in the game. He's also been a perennial top five middleweight in the biggest, best company in the world, and so losing to him is hardly a disgrace.

Also, I take exception with the idea that Siyar Bahadurzada received a great deal of fanfare prior to his debut. He certainly did AFTER his first round KO of Paulo Thiago, but before that? I'm not so sure.

Either way, the question is 'will they be cut' – and the answer for both, as far as I'm concerned, is no. The UFC isn't in the habit of firing potentially exciting fighters, particularly when they've simply been stifled. On this basis, Siyar is probably safer than Lombard, yet Lombard has the option of cutting to 170 lbs and re-embarking on a good run of form. Either could fight, say, Robbie Lawler or Martin Kampmann and have a hell of a fight, and such prospective bouts will save their skin until they at least lose two in a row.

Judge Wyatt Beougher's Scorecard: Initially, I awarded this round to Mark; however, Butterfield was able to convince me that Bahadurzada and Lombard will both likely receive at least one more chance inside the Octagon based on their exciting fighting style (and Lombard's ability to drop to 170, something Mark even alluded to in his answer). Butterfield, 10-9

---

Bad for business?

3.) Daniel Straus' recent arrest on traffic and drug charges severely hurts what is arguably Bellator's strongest division.

Jon Butterfield: FICTION On one hand, yes it does –Straus is one of Bellator's best featherweight fighters, so for the company to lose him for a prolonged period is obviously a big negative. But on the other hand, Straus just isn't the man to elevate either the division or the company in my opinion, with his hard-working, grinding style less easy on the eye than some of the flashier participants Bellator currently possesses. For me, a fan tuning in to see a blood-and-guts battle between 'Pitbull' Freire and Pat Curran is always going to be more impressed than he would seeing Straus leaning on or dominating a guy, but then Curran/Freire is a fight we've already seen, and there's always something to be said for fresh match ups. Step forward KO artist Shahbulat Shamalaev. While Shamalaev certainly isn't the most memorable name for fight fans to hold on to, his string of KO's has been highly impressive, and he looks much more likely to produce fireworks against Curran.

In a sense, then, the increased frequency of Bellator tournaments has ensured that, even with a challenger out of the equation, there's still at least one or two very intriguing fights to make – fights that should hold people's attention and interest a little better than Straus might have.

Mark Radulich: FICTION If he'd been their champion I would have said FACT but let's face it; both the UFC and Bellator have made it a point to promote their individual brands above all else. There's always a short-term pain if a fighter falls (injury, failed drug test, unexpected loss, arrest, etc.) but the reason both are successful is that there's always another fighter or two to step up and replace them. Bellator has been especially good at getting the fans to identify with the brand while also promoting individual fighters. However, unlike other MMA promotions, they haven't hitched their success to any one person. In this case, yes Straus was set for a title shot but the whole organization isn't sent into chaos now that he won't be around to take advantage of it. Instead they just put the next guy in line in his spot. Voila! I also think many people tune into Bellator to see fun fights but don't necessarily tune in to see specific fighters. That being said, I don't think his arrest makes much of a difference in terms of the promotions featherweight division.

Judge Wyatt Beougher's Scorecard: Mark makes a very valid point (that the brand is bigger than the fighters, especially in Bellator's case), but Butterfield rightly points out that Bellator already has a challenger lined up in the form of Shamalaev. With good points from both guys, I've got no choice but to score this a Draw, 10-10.

---

No love for Android? It's not like they have 2/3rds of the smartphone market share or anything.

4.) SpikeTV and Bellator's new co-viewing app is an excellent idea and will help the promotion retain newer viewers.

Mark Radulich: FACT Sure! The app seems like a fun thing and it made watching Bellator a more interactive experience. I think younger viewers who are more savvy with regards to portable technology and social media will be likely to keep tuning into Bellator as they appear to be targeting them for viewership.

Jon Butterfield: FACT Yes, to a degree. Viewers who are new to MMA will probably find the statistics bamboozling and somewhat meaningless, but MMA fans who know what they're watching but are new to the promotion will probably be able to have some fun with it – and that's really the kind of audience a company like Bellator needs. Like TNA in wrestling, the idea isn't to try and 'create' fans, but rather to siphon off those who already exist and yet crave something a bit different. Geekware like this can only be effective in such a market.

On the other hand, if the UFC introduced this to their wider fanbase, you can imagine what kinds of hilarity would ensue with the scoring facility!

Judge Wyatt Beougher's Scorecard: Mark thinks that Bellator is targeting a new, younger audience with the app, while Jonathan believes they're trying to lure in UFC fans who are looking for more. I think they're both probably right, so I'm scoring this round another Draw, 10-10.

---

P4P worthy?

5.) Ronda Rousey does not belong on Pound-for-Pound rankings lists.

Jon Butterfield: FACT Absolutely not. The Pound-for-Pound list is a measure of the greatest fighters in Mixed Martial Arts today – the guys (or girls) who either have a tremendous legacy under their belts that is beyond question as well as tremendous form, OR fighters that have been systematically knocking off other fighters with tremendous legacies with some regularity. There is no place in P4P lists for 'feel good' fighters, posterboys (or girls), or relatively untested rookies. All these labels apply, to some extent, to Ronda Rousey.

Let me reiterate - outside of the dominant champions like Jon Jones, Anderson Silva and GSP, who have each beaten a plethora of top, top names, the P4P list is also occupied by guys like Frankie Edgar, who have beaten numerous big names, never lost comprehensively, and have several title bouts under their belts, guys like Lyoto Machida, who are insanely talented and have faced (and in many cases, beaten) a who's who of modern day mixed martial artists, and fighters like Daniel Cormier, who have literally ruined legends on their meteoric rise, whilst still awaiting a serious challenge.

Now Cormier is the closest thing to a male Ronda Rousey on that list – but there are two key differences between Cormier and Rousey. First of all, Cormier satisfies the unspoken rule of P4P listings, and that is that his skillset is so good that a smaller version of himself would compete very handily in ANY weight class. His wrestling is his base, that's true, and what a damn fine wrestler he is, but he's also mastering kickboxing with the kind of terrifying ease of a legit prodigy. He's a monster from top control, and I don't think we've even seen him mounted – and he's even faced the likes of Josh Barnett and Bigfoot Silva. Speaking of Barnett and Silva, these are two guys that could easily make the P4P list themselves given a run of three or four consecutive wins inside the UFC. They have their weaknesses, obviously, but they're world class fighters with world class skill sets, and both are easily top ten in their division. Now Ronda hasn't beaten ANYONE that would come remotely close to the P4P list, and there is no question that Meisha Tate and Liz Carmouche fall some way short of being 'world class' in any field in particular. Ronda Rousey IS world class at Judo, but so weak is the women's division that it doesn't even look like she'll need to do what Cormier has done, and that's master a second martial art. Women's MMA is so poor, by comparison to their elite male counterparts, that she can coast along doing one thing and winning easily. Is somebody going to try to tell me Rousey is a better submission artist than Roger Gracie? Because even Roger Gracie, quite possibly the best ground fighter in the world, has been unable to ride roughshod over the competition beyond a certain point. In women's MMA, there ARE no King Mo Lawal's to stand Rousey up and make her fight on the feet, and that's the point – King Mo, who made Gracie look one-dimensional before knocking him out, is nowhere near the P4P list, and still wasn't even before his loss to Emmanuel Newton – and yet, in the women's division, there isn't even anyone remotely close to his standard.

We also haven't even started on the other significant thread of thought on the subject – Rousey is the torch bearer elect of women's MMA. She has taken that mantle from Gina Carano and Cyborg Santos by popular opinion ONLY – THEY are the two women with halfway legitimate legacies in MMA, and Rousey hasn't fought or beaten either. I know these women aren't all in the same weight class, but facts like that haven't stopped Dan Henderson concreting his position as a top P4P fighter by beating world class middleweights, light heavyweights, AND heavyweights, and yet even Dan isn't in the P4P list at this moment in time. Let's get a grip on this situation… Rousey shouldn't qualify, and she shouldn't even come close. Until she satisfies ANY of the criteria I have mentioned (showing a rounded skillset to theoretically compete with other P4P fighters, beating a legend or two, or actually beating other potential P4P opposition), then her inclusion is a joke. A 7-fight joke who hasn't beaten anyone she wasn't 100 % expected to beat. What was the line on her wins over Carmouche again? -1,000,000? Yeah, that says it all.

Mark Radulich: FICTION First of all, the P-4-P list is such an abstract concept I'm not sure there is such a thing as, "does not belong." Says who? What's the criteria we're talking about? What makes a fighter eligible for pound-4-pound status? Nobody on our site or anywhere has been able to lay out a concrete criteria other than that they have to be active. From what I've been led to believe the p-4-p list is completely subjective and it's made of a mish-mash of variables that nobody agrees on. Great. That being said, with no objective criteria to go by and only a theory that if height, weight and (ostensibly) gender were not considered, who are the best fighters in MMA, why wouldn't Rousey be among them? She's finished all the best competitors available to her in her weight class in the first round. Nobody else is doing that currently and those that did do it in the past made this list. She's the champion in her division as are half the people on this list. What's her big negative, she's a terrible striker? And so I'm led to believe that everybody else on this fakakta list is perfect in all facets of MMA? We all know that isn't true. I think the notion she doesn't belong is yet 1 of a million example of sexism that has creept up since her and Carmouche were afforded the opportunity to headline a PPV. She doesn't belong on the p-4-p list like she didn't deserve to headline a PPV (which did about 450K, better than Aldo-Edgar from earlier in the month).

Judge Wyatt Beougher's Scorecard: While I tend to agree with Mark that MMA is still a very chauvinistic sport and that a fair amount of unchecked misogyny infects the MMA media (and WMMA's new biggest fan, Dana White), Butterfield's arguments are hard to disagree with. While I don't necessarily agree with his utter dismissal of Rousey's opponents (and I personally think Jose Aldo, a dominant champion in a weak division, is a better "male Rousey"), he does have a solid point, that Rousey hasn't beaten an opponent anywhere near the top ten pound-for-pound at any point in her career. However, Mark's counterpoint, that these lists are so subjective that it's impossible to outright disqualify a dominant champion (which Rousey certainly has been), forces me to score this round a Draw, 10-10.

---
Official Scorecard
Judge Wyatt Beougher scored the bout a Draw, 49-49.
---


So I was unable to pick a winner in this week's contest, but will you be able to? Vote in the poll and make your voice heard!




---

Hollywood-bound?

Bonus) With Ronda Rousey now signed to William Morris Endeavor and rumored for the Hunger Games sequels, it's only a matter of time before she leaves fighting.

Mark Radulich: FACT - Everything dies, as Type O Negative once sang. It probably won't happen this year or even before the inevitable Rousey-Cyborg match but sure, eventually she'll give up fighting while she can safely transition into film. Rousey has even said she doesn't want to do this forever so if another door opens while she's still young and can take advantage of it, she'd be dumb not to walk through it. I'd give Rousey until 2015 and then I think she hangs it up. More power to her when she does.

Jon Butterfield: FICTION - I wouldn't say so. Ronda Rousey IS a martial artist, and not just a Mixed Martial Artist, but an Olympic-calibre judoka. When training is so ingrained in you, when it's in your blood, the media spotlight alone just isn't going to satisfy you. Ask Quinton 'Mr T' Jackson. Rousey is in the fortunate position where she is the golden girl of martial arts (and not just MMA), is very attractive, and has a lot of charisma. Theoretically, she could be a big star at most things she tries her hand at – but like I say, she's a martial artist first and foremost, and the spotlight she's basking in is as a result of years in the gym, and on the mat, and in the ring, and in the cage. She doesn't look ready to retire, and she looks a lot more committed to her sporting pursuits than, say, Gina Carano – and now that she's in the UFC, she's got far more opportunity than Carano ever had to make some serious money, as well as forge a major legacy, at her chosen sport.

Films are a cool pursuit, but she ain't gonna become Al Pacino overnight, so she's best off doing what she's doing full time – and that's making bitches tap!

Judge Wyatt Beougher's Scorecard: While I think Jon is right, that Rousey is dedicated to the sport right now, I think Mark hit the nail on the head, that her days are numbered. With such an open-ended statement to respond to, it's hard to definitively say that it's FICTION. I will say that I think Rousey's smarter than Rampage, Roger Huerta, or Gina, though, in that I don't believe she'll abandon fighting until she's got a legitimate career in acting in the cards. Sure, it's largely on semantics, but I'm giving this round to Mark. Radulich, 10-9

---


And that's it for this week! Normally, I'd simply sign off and that'd be the end of the column, but I do have a special announcement this week. Starting next week, you're going to get an overload of Fact or Fiction, as we'll be starting our own Fact or Fiction tournament, which will put sixteen competitors into action against one another to determine who is the best! Look for more details in the coming days, including brackets, and be sure to keep your eyes open for FOUR editions of Fact or Fiction next week! Again, make sure you sign up for the new comments system, so that you can let us know what you thought about this week's contest! As always, if there's anything you'd like to see featured in next week's edition, leave your statement in the comments and I'll add it in for next week. Let us know what you thought in the comments, on Twitter, or on Google+.
comments powered by