SPOTLIGHTS
The 411 MMA Top 5 3.08.13: Week 101 - The Top 5 Hottest MMA Chicks
Posted by Larry Csonka on 03.08.2013

From Brittney Palmer, Ronda Rousey and Rachelle Leah to Logan Stanton, Arianny Celeste, Michelle Waterson and more, the 411 staff counts down the top 5 hottest women in MMA!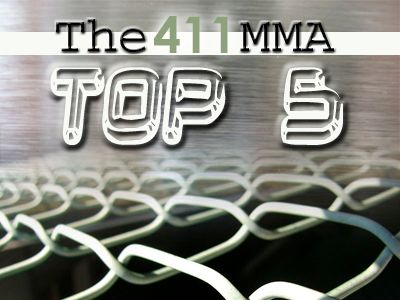 Welcome:
Welcome back to the MMA Top 5! What we are going to is take a topic each week and all the writers here on 411 MMA will have the ability to give us their Top 5 on said topic, plus up to three honorable mentions. It's highly non-official and final, like WAMMA.
TOP 5 HOTTEST MMA CHICKS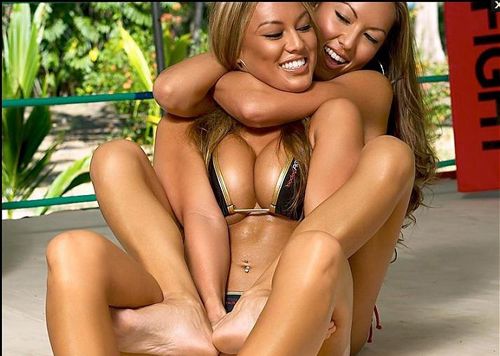 Wyatt Beougher
5. Edith LaBelle - Edith was MMA's Francine Fournier, right down to the Canadian heritage and slightly elongated face. Still, though, she was my favorite ring girl for quite some time (post-Rachelle Leah and pre-Brittney Palmer, both of whom make this list later on), so I have to give her some love on this list.

4. Kelli Hutcherson - Long, lean, and with legs that just don't end, if you haven't seen Kelli Hutcherson's Maxim photoshoot, which was my introduction to her as anything more than the "cute blonde Strikeforce ring girl", avail yourself of those photos, post-haste.

3. Ronda Rousey - I realize that, as arguably the biggest proponent of female MMA in 411's MMA Zone, only including one fighter on my list is probably counterproductive, and while I considered Michelle Waterson, Miesha Tate, Cat Zingano, and Gina Carano for the list, ultimately, Rousey is the only one that really resonates with me (Carano would've had a spot on this list if "Haywire" hadn't exposed her as being a hot fish in MMA's relatively small pond), and I think I can probably chalk that up to growing up in the 90's and seeing Julia Stiles dancing on a table to "Hypnotize". Ronda looks like Julia's hyper-athletic younger sister, and I'm into that.

2. Brittney Palmer - Beautiful, artistic, a breathtaking smile - she'd be at the top of this list if there wasn't something about the shape of her jaw that is subtly off-putting to me. Still, the fact that she's second should tell you just how little it actually bothers me.




1. Rachelle Leah - Rachelle Leah was the first ring girl that I really noticed, and she's the reason I still think the first Undisputed game was better than the second. She's absolutely gorgeous, her Twitter shows that she's not afraid to be goofy, and you could get lost in those big brown eyes.


---



Jeffrey Harris
5. Arianny Celeste - Celeste is an exotic beauty so she definitely makes this list. She has been with the UFC as a ring girl the longest. Arianny eventually took the plunge and posed for Playboy for props to her for that.

4. Miesha Tate - Tate might still have a bit of an ego and she's still got a bit of a sore loser complex after the loss to Rousey, but that's what makes her more appealing. She's got flaws and she isn't perfect. She is the perfect foil to someone like Rousey. Tate's best risqué photos are the ones she did for Fight! Magazine. The most famous one from behind clinches Tate on this list for me.

3. Curly Baker - Just check out her amazing spread with Zoo Magazine. Baker is the first ever British ring girl and it's about time. Some of my favorite models in the world are British glam models. Baker's model photos are amazing and she's got a great voice and bubbly personality. I hope we see her at more European events soon. She's amazingly fit and gorgeous. But why does Carly make the list more than anything? British women have that amazing accent.




2. Rachelle Leah - Leah is like a total package of hotness. She's gorgeous. She's funny and has a great personality. And finally she's an MMA fan which makes her a near perfect dream woman. Rachelle left the UFC but still came back from time to time to do some ring card girl work and even hosted her own MMA-themed TV show called MMAthletics on Fox Sports. Rachelle's Playboy work was also equally awesome, and I wish she could get some type of show on Fuel TV where she goes around to fighter camps and trains and hangs out with them similar to her early UFC Countdown show appearances.

1. Ronda Rousey - It's not just her impressive and toned body that is hot, but her strong personality as well. Rousey's outspokenness rubs some people the wrong way. Personally I find her personality really appealing and attractive. She always says what is on her mind and is completely blunt. She's clearly in shape and does the ripped look really well while not looking scary and masculine like a certain someone. And she loves Fifth Element, one of my favorite movies.


---



Patrick Mullin
5. Miesha Tate - While she is guilty of habitually making stupid comments we begin with Miesha Tate. Cupcake has a really cute bottom on her and a nice smile. She needs to drop about 135 pounds though. That 135 pounds she needs to drop is named Bryan Caraway.

4. Natasha Wicks - You have to be pretty sexy to win a contest sponsored by Maxim to become a UFC ring girl. The best way I can describe Wicks is that she's like Kate Upton's slightly less attractive older sister. She doesn't have quite the balcony but the garage is built to please.

3. Gina Carano - At one time female MMA revolved around Ms. Carano. She hasn't officially announced her retirement though a budding film career seems likely to make that end. However Ms. Carano is an absolute knockout culminating with her appearance on the cover of ESPN the magazine's first "Bodies" issue. She's got a great smile and while athletically toned still has a nice bubble butt on her and the balcony provides a great view.

2. Logan Stanton - Of the many reasons I hate Josh Koscheck the firing of Logan Stanton for calling him out on his Ric Flair emulations in his fight with Rumble Johnson tops the list. Logan was a strikingly beautiful girl with eyes you could get lost in, a gorgeous athletic figure, and the prettiest smile of any woman associated with MMA. I was actually disappointed to see Logan had gone under the knife for enhancements. There's just something wrong when you know something is no longer au naturale.




1. Michelle Waterson - When you're going to call yourself "The Karate Hottie" you'd better be pretty hot. Thankfully for the MMA universe Michelle Waterson is absolutely worthy of that title. The part-time model and full time fighter and mother has the best body of any woman in MMA walking the perfect line between lean muscle and soft in the right places. Her exotic features and gorgeous face make her top my list as the hottest woman associated with MMA.


---



Jonathan Solomon
5. Kyra Gracie - On the internet, the most famous female Gracie family member is none other than the 27-year-old BJJ black belt (of course), Kyra. There seems to always be someone asking when the Abu Dhabi grappling gold medallist (three times!) will debut in MMA, and there is never a definite answer. In the meantime, she's recently been training at Team Nogueira, and the legend beats on.





4. Brittney Palmer - Awesome lightweight, featherweight and bantamweight fighters were not the only additions to the UFC from World Extreme Cagefighting. Brittney Palmer took the UFC by storm and if I do say so myself, has become the numero uno UFC ring card girl today. Aside from Zuffa, she's a burlesque dancer and is an artist creating paintings, but who's kidding? All you really care about is Playboy.

3. Logan Stanton - Don't look into her eyes, they're like a trance. It's been a few years since her regular gig as ring card girl with the UFC ended, but her (apparent one-time only) return last year at UFC 149 is perhaps the most memorable part of that weekend.

2. Michelle Waterson - After giving birth to her daughter, she returned to fighting last year and in one month's time, she'll have the opportunity to become the best 105-pounder in the world. The Invicta championship fight with Jessica Penne, her modeling career, and motherhood, what is there theKaratie Hottie CAN'T do?

1. Gina Carano - The original 'IT' girl in MMA may have given up fighting but she remains the top of the mountain when the topic comes to women in the sport. Her featured role in Haywire was bad ass and she's acting alongside The Rock in Fast and Furious 6 coming out in May, a kick ass combination if there ever was one. Forget anything that happened inside the cage in Strikeforce, Carano's bashfulness always stoke the show.





---



Alex Rella
5. Arianny Celeste - The UFC's longest running ring girl is one of the more attractive girls out there. She's also been in a dozen magazines or so over the years.




4. Brittany Palmer - The newer UFC ring girl is more attractive in my opinion. Palmer came over with the lighter weight classes in the WEC and has been one of the better additions. She also has stuff going on outside of the UFC like painting and a clothing line. Not bad even though she did date Donald Cerrone.

3. Miesha Tate - Miesha Tate has almost lost her mind in recent interviews and trash talk since losing the title to Ronda Rousey, but that has kinda added to her crazy hotness. I cant even imagine how insane she'll get if she loses the rematch. Now if she only dump the tool Bryan Caraway, she could probably beat him in a fight too.




2. Gina Carano - The first real star of women's MMA. She hasn't fought since her title fight in Strikeforce back in 2009 so who knows if she'll ever return to the cage. Her acting career has gotten off to a pretty good start though. It would be cool if she could come back since it's in the UFC now, but no way she would make 135 lbs, so it would have to be a catchweight. Though we all know we enjoyed it when she would have trouble making weight back in EliteXC.

1. Ronda Rousey - I would let Ronda Rousey dislocate my elbow. Rousey is my dream girl. She's cute, ripped in a non-masculine way, has a great personality, and talks trash. I've liked women's MMA over in Strikeforce for years and I'm glad she helped bring it over to the UFC. Rousey really has potential to become one of the UFC's top draws. Some people have complained that women's division might end up being the Ronda Rousey show and I'm ok with that as the division gets started.






YOUR TURN KNOW IT ALLS
List your Top Five for this week's topic in the comment section using the following format:

5. CHOICE: Explanation
4. CHOICE: Explanation
3. CHOICE: Explanation
2. CHOICE: Explanation
1. CHOICE: Explanation






TWITTER

Your heart is free. Have the courage to follow it…TO CSONKA'S TWITTER!

http://www.twitter.com/411wrestling
http://www.twitter.com/411moviestv
http://www.twitter.com/411music
http://www.twitter.com/411games
http://www.twitter.com/411mma




comments powered by