SPOTLIGHTS
411 MMA Fact or Fiction 03.11.13: Tournament Play-In Edition - GSP vs. Diaz, Hunt vs. JDS, More
Posted by Wyatt Beougher on 03.11.2013

Will GSP vs. Nick Diaz be a good fight? Will taking a fight with JDS be good for Mark Hunt's career? 411's Jack McGee and Trent Howell debate these topics and more as the 411 Fact or Fiction: MMA spring tournament begins!

Welcome to another edition of 411's MMA Fact or Fiction, and this marks not only the first edition of the 411 MMA Fact or Fiction spring tournament, but also the first daily edition of Fact or Fiction, which is going to run all five week days this week! In last week's contest, which proved pivotal for determining seeding in the tournament, Jonathan Butterfield and Mark Radulich battled it out, and reader voting went back and forth between the two guys. Because I scored the fight a draw and because we had no guest judge last week, it all came down to that reader vote, and when the polls closed, Mark eked out the narrowest of victories, 28-27, with 11 readers scoring the bout as I did. With the win, Mark not only improved his seeding by one spot, but he also switched divisions and he'll be in action again later this week. With the loss, Jonathan dropped a seed, although he remained in the same division. If Mark gets past Robert Winfree in his preliminary match-up and Butterfield can get past the first MMA Fact or Fiction champion, Steve Cook, in his, they will meet in a rematch in the quarterfinal round. Today, though, we've got the play-in contest for the 8th seed in the East Bracket, between MMA Fact or Fiction newcomers Jack McGee and Trent Howell.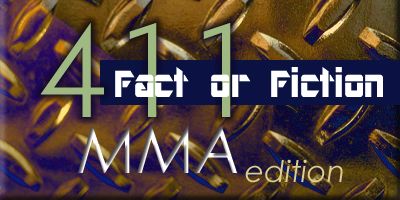 Before we get to the fighter introductions, though, let's take a look at the brackets, shall we? Entrants were seeded based on Fact or Fiction record under my tenure as host, using a mathematical formula that accounted two points for wins, zero points for losses, and one point for draws. To ensure that the seeding wasn't weighted in favor of those who compete more frequently, I divided each entrant's total points by twice the number of times they've competed in order to derive a success percentage based on the total number of points that they could've earned. Confused yet? If so, don't worry - all that matters is that the seeding is done, it's as fair as I could possibly make it, and we've got some great match-ups to look forward to in the coming weeks!




TALE OF THE TAPE



Red Corner
Jack McGee
'Duck'
Columnist, The MMA 5&1
0-0-0

VS

Blue Corner
Trent Howell
'Penguin'
Co-Host, Various Podcasts (with Steve Cook)/Wrestling Fact or Fiction Regular
0-0-0

---





The makings of an awesome fight?



1.) Unlike any grudge match involving Rashad Evans, the bad blood between GSP and Nick Diaz will actually translate into an exciting fight.

Jack McGee: FACT I say fact because I think that Diaz will work to make it exciting. Georges St-Pierre will be coming there to work, he says he's in a dark place and pissed, but that is all promo bullshit. Georges St-Pierre comes to fight, he comes to work his plan and he does it well. Diaz does what he does; he Stockton slap boxes, he throw up the middle finger, he talks shit and he entertains himself and the crowd. I think if Diaz actually shows up in is superhero costume to save us from the "bullshit that MMA has become" that would be pretty funny. But yeah, Rashad talks shit and then delivers jack and shit in grudge fights; I say Diaz does a lot of work to make this a spectacle. Whether that is good or not is another question altogether.

Trent Howell: FICTION Everything about the build says this will be an entertaining fight. Diaz has talked his usual trash, and has hit so close to home he actually got GSP to trash talk back on the UFC158 conference call. Further, it's a fight in Montreal and you know GSP will want to put on a show for his home fans, and Diaz would love to play the heel spoiler for those fans. Finally both need an entertaining and convincing finish as GSP is trying to shake the stigma of not finishing fights and Diaz needs to look like more than just a bad boy. Unfortunately recent history is the best indicator of future events; and we have to go all the way back to January of 2009 for the last time GSP actually finished a fight. I expect the first couple of rounds will be entertaining, but as soon as GSP gets caught with anything he'll revert to his tried and true method of wrestling Diaz to the ground and making sure he stays there. It's effective. No one can get away from it. I'm watching the fight for sure. But if that's what we get, it's not exciting.

---

Movin on up...



2.) Mark Hunt taking Alistair Overeem's slot in a fight against Junior dos Santos at UFC 160 will be a boon to his career, win, lose, or draw.

Trent Howell: FACT We've seen UFC fighters increase their stock in losses before, but certain events all have to come together for it to happen. Mainly, we need an entertaining competitive fight that the fans can get interested in. The Super Samoan is riding the popularity wave right now with a social media surge advocating he get this fight. Further, the kerfuffle with Dana White originally saying Hunt wasn't going to fight turning into Hunt saying that he never turns down a fight has probably endeared him further to the UFC's faithful fans who get tired of White's nonsense. JDS could easily win this fight with his superior BJJ skills, but (luckily for Hunt) JDS also loves to stand and bang. I predict at UFC 160 we get two heavyweights slugging it out, and a fight that ends with a potential knockout of the night candidate. That's the type of fights that gets fans talking and gets both fighters lined up for future UFC ppv matches, and thus I see the fight as being a boon to his career no matter the outcome.

Jack McGee: FACT It will be a BOOM to JDS's career, because Mark Hunt is about to go all BOOM goes the dynamite on his ass. But for real, this will be great for Hunt, because right now the man is more popular than ever. People love the guy, he has been winning fights, knocking guys out and breaking jaws; and now he will step in there with the former world champion. Mark Hunt is a Rocky story, mediocre record, mediocre overall skills, but he is winning. At this point in his career, what the hell does he have to lose? He is 38 years old, he will be rewarded either way by the UFC for taking the fight, and if he wins, if he wins, that would be five in a row including a win over a former world champion. Mark Hunt would be a real title contender, and that is a hell of a story.

---

Surprising?



3.) Jon Fitch opting to sign with World Series of Fighting over Bellator is surprising.

Jack McGee: FICTION It doesn't surprise me at all. First of all, World Series of Fighting looks to be throwing more money around per fight, which a guy like Fitch will want at his age, And that brings me to point two, Jon Fitch is 35 years old, not a young man. He wants to make good money per fight, and at that age wants no part of the tournament format. If he stayed injury free he would likely roll through the Belllator field of welterweights, but the fact is that when guys start to hit the mid-30s, you always hear about taking longer to recover; which makes the tournament format not the best for him. Add in the fact that Bjorn seemingly wanted nothing to do with Fitch, and the fact that Bellator has been pissing off Dana and Fitch likely wants back in the UFC; no, I am not surprised at all that he opted for World Series of Fighting. They are on NBC Sport for Christ sake; it isn't like they are on the Youtube like that Indian promotion that Bob Sapp jobs for.

Trent Howell: FICTION With a 24-5-1 MMA record (including 14-3-1 in the UFC), Fitch will be able to step into the World Series of Fighting with only Andre Arlovski and Josh Burkman as real challengers to being the face of the organization. In other words, he's going to be the face of the organization. WSOF has a pretty good deal struck with NBC Sports Network, and while they aren't a big deal now, NBC has shown they are willing to spend to become a name in American sports. Compare that to the King Mo, Spike TV, TNA shenanigans going on in Bellator and we see a situation where Fitch can not only be the big fish in a small pond but possibly also get in on the ground floor of an exciting new brand of televised MMA. Worst case scenario is he probably goes 4-0 for WSOF and gets a shot at UFC redemption. On the whole, a smart move, and not a surprising one.

---

C'mon...no one's surprised, are they?



4.) Alistair Overeem's quadriceps injury shouldn't be surprising, considering the rumors floating around him.

Trent Howell: FICTION I assume the rumors in question would be potential PED use, which have haunted him since well back before his UFC141 matchup with Brock Lesnar. The implication being that he would have cycled off the juice in preparation for the UFC 160 drug test, which would lead to muscle recovery time taking longer and the likelihood of injuries more severe. I get the idea here but to me Occam's Razor applies. The simplest answer is usually the most correct. And the simplest answer is that the mere act of training for an MMA fight at this level sees a significant risk of injury. Recent history shows multiple UFC cards being decimated by this simple truth. So while it's a possibility, to me it seems most likely that the small tear in the quad suffered by Overeem has more to do with his training schedule and less to do with cycling off any "supplements".

Jack McGee: FACT Seriously, after years of steroid rumors Alistair Overeem suffers some form of muscle tear? Not shocked, surprised or anything related to those terms at all. It was only a matter of time until he suffered a major or in this case a minor muscle tear like this. I better throw an "allegedly" in there, don't want to piss off Captain Horse Meat.

---

Big enough for Independence Day weekend?



5.) The UFC's early July card is shaping up nicely with Silva/Weidman and Munoz/Boetsch, but it still needs at least one more big fight to continue the string of strong cards around Independence Day.

Jack McGee: FACT That looks solid, but yes, I feel that they do need to add something else to the card to give it that big card feel. The rumor is Rousey's next title defense, and if that is the case, when added to Anderson fighting, fits the bill. Anderson is the greatest fighter in the history of the sport, and is great for us die hard fans; but to put it over the top, Rousey will work perfectly. She'll bring in more mainstream attention on one of the bigger shows of the year, and for those thinking that her media presence will slow down, I highly doubt it. She is hot right now, got a ton of attention for her UFC debut, and is still doing more media, like the recent appearance on the Dan Patrick show. Dan doesn't do a lot of MMA guests, and really likes to focus on guests with a story. He loved having Rousey on and has already stated that he wants to have her on again. If you add her fight to the show, then we're talking.

Trent Howell: FACT Shaping up nicely is a good way to put it. It has my interest and looks like the type I would watch. But this asks to compare to past events. In the past three years we've seen Silva vs Sonnen II and Griffin vs Ortiz III (2012), An injury shifted card featuring Cruz vs Faber with Wandy and Ortiz on it (2011). And Lesnar vs Carwin (2010). Names. Big fights. Casual fans leaving their BBQs outside and coming inside for a PPV. This is a card with talent that appeals to someone like me, and people who are likely to read this on line. But previously we've seen big name fights that draw in casual fans who are already gathered together for the festivities of the weekend. I don't see anyone with Anderson Silva on that card that has that potential. Every other show has had 2+. So by comparison, one more name (even fighting a tomato can) makes this much more similar to past events around the holiday weekend.

---


So it's all on you guys now, and draws are off of the table, as there must be a winner in these tournament bouts! In the event of a draw in voting, I will cast the deciding vote.




---


And that's it for today! I'll be back again tomorrow with the first of the preliminary bouts, and I can't stress to you enough how important it is that you vote! Voting will remain open until midnight on the third day after the bout took place. And if you haven't done so, make sure you sign up for the new comments system, so that you can let us know what you think about the tournament thus far! As always, if there's anything you'd like to see featured in a future edition, leave your statement in the comments and I'll add it in. Let us know what you thought in the comments, on Twitter, or on Google+.
comments powered by