SPOTLIGHTS
411 MMA Fact or Fiction 03.12.13: Tournament Preliminary Bout 1 - Johnson/Benavidez II, Gustafsson Calling Out Jones, More!
Posted by Wyatt Beougher on 03.12.2013

Will Demetrious Johnson and Joseph Benavidez meet in a rematch before the year is out? Is the NSAC right to not grant TUE exemptions for fighters who have failed PED tests in the past? 411's Dan Plunkett and Todd Vote debate these topics and more in the opening round of 411's MMA Fact or Fiction spring tournament!

Welcome to another edition of 411's MMA Fact or Fiction, and we're back with our second edition of Fact or Fiction in as many days! In yesterday's contest, newcomers Jack McGee and Trent Howell squared off for the final spot in the East Bracket, and it was a close contest from start to finish. Voting doesn't close for a couple more days, so I don't know who will be squaring off with Kuch yet, but I think he's in for a tough fight no matter who comes out on top. Today we've got our first preliminary match-up in the West Bracket, featuring #4 seed Dan Plunkett taking on #5 seed Todd Vote.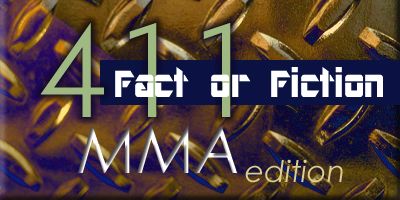 And again, here are the brackets, which will be updated as voting closes on each individual contest. It's not too late to vote in yesterday's contest, which you can find here.




TALE OF THE TAPE



Red Corner
Dan Plunkett (#4 seed, West)
'Greatest'
Columnist, The Greatest MMA News Column/Roundtable Coordinator
1-1-0

VS

Blue Corner
Todd Vote (#5 seed, West)
'The Man Without a Zone'
Contributor, All of 411/MMA Fact or Fiction Regular
6-6-0

---

Will we see a rematch in 2013?



1.) Demetrious Johnson and Joseph Benavidez will rematch for the UFC flyweight title later this year.

Dan Plunkett: FACT The first thing to look at here is timing to make sure both Johnson and Benavidez can get two more fights in before the end of 2013. Benavidez is slated to take on Darren Uyenoyama on the FX prelims for UFC on FOX 7 on April 20, so he could feasibly fight two more times after that before 2013 comes to a close. Johnson was supposed to defend his title against John Moraga in April, but suffered a torn labrum and had to pull out of the fight. According to The Wrestling Observer Newsletter, Johnson won't be able to train at full strength for three months. Assuming he favors an eight week training camp for fights, we're looking at about five months from now as a best case scenario for Johnson to fight again. If Johnson comes back in August, there's no guarantee the little-known Moraga will remain the top contender as was the case in the featherweight division when champion Jose Aldo got hurt. But, considering Benavidez wouldn't be a big step up in drawing power from Moraga, barring a spectacular performance in April, I wouldn't bet on a switch taking place. Another thing to consider is that both Johnson and Benavidez are active fighters. Before he got injured, Johnson was looking to return just two-and-a-half months after his most recent title defense. Benavidez will make a similar turnaround in April. So assuming both keep winning, the rematch is a very real possibility for December.

Finally, we have to look at who can throw a monkey wrench between Johnson and Benavidez to prevent a rematch this year. Obviously, Moraga and Uyenoyama can derail plans, but if I thought they stood a good chance of doing so I wouldn't have typed such a long-winded response. The only outside force would be John Dodson, who came closer to beating the champ than Benavidez did in their respective bouts. It's possible that Dodson can win a fight or two and jump ahead of Benavidez, and it's also possible that the two could be matched up should Benavidez beat Uyenoyama. Right now, I'd pick Benavidez in that fight, but it's a close match-up. So in short, I think we'll see Johnson vs. Benavidez II around December.

Todd Vote: FACT Honestly, what other match at flyweight do they have for the title? You can't very well run Johnson/McCall III, especially with McCall recently dropping a fight to Benavidez. Maybe they could run Dodson vs. Benavidez, with the winner getting the next shot, but outside of that, I don't see a scenario where we don't see the rematch between the two best guys at 125 right now.

I actually had to look up a list of flyweights that the UFC had under contract just to see how they stacked up to Johnson. Sadly, I think a rematch with Dodson or Benavidez is really their only option after the potential fight with Moraga.

---

Should TRT be allowed for fighters with PED failures?



2.) The NSAC's policy of not granting Vitor Belfort a TRT exemption based on a 2006 PED-related drug test failure is a policy that more athletic commissions should put in place.

Todd Vote: FICTION I'm of the mind that TRT exemptions should not be granted to anybody. I just can't get past the feeling that this is basically just legalized cheating. I don't get how one can be allowed to have elevated testosterone through medicine. I know you can probably point to plenty of fighters who use steroids or whatever, and just know when to cycle off in order to not be caught, but that is a whole different question.

Dan Plunkett: FACT 100% fact. All commissions should deny testosterone exemptions to known past steroid users. I don't know much about the recently-established athletic commission in Brazil, but granting Vitor Belfort a therapeutic use exemption for testosterone shows them to be significantly more incompetent than the Nevada Athletic Commission, which is really saying something. It's well-known that long-term use of synthetic testosterone and other anabolic steroids can slow down or halt the body's natural production of testosterone, which leads to the low levels that make people candidates for testosterone replacement therapy. I don't know that Vitor Belfort or any other fighter on TRT has low testosterone as a result of steroid use, but one has to be very suspicious of a fighter seeking a TRT exemption with a past steroid failure like Belfort. It comes down to why a fighter should be given a free pass to use testosterone, albeit under supposed moderation, to combat a condition there's valid evidence they may have brought upon his or herself? Low testosterone is a very real consequence of steroid use, and ignoring that when a known past steroid user applies for a testosterone TUE is absurd.

---

Has Barao cleaned out the division?



3.) Should Renan Barao defeat Eddie Wineland at UFC 161, he will have cleaned out the division of legitimate challengers and will be forced to wait until Dominick Cruz can make his return.

Dan Plunkett: FACT It's tough to say a guy has cleaned out a division after only two title defenses, but that will be the case with Barao if he gets past Eddie Wineland in June. Raphael Assuncao is on a streak and it wouldn't be ridiculous to give Scott Jorgensen a shot with a win over Urijah Faber in April, but I don't see either of those guys posing a "legitimate challenge" to Barao. Regardless of that, I think this is all dependent on when Dominick Cruz is ready to return. If Cruz isn't on track to return by the end of this year, I think Barao will defend his title simply because UFC has a certain number of main events to fill and UFC likes headlining cards with title fights. But, if Cruz can return by the end of the year, I think they hold Barao off after the June bout. Cruz had surgery in early January and recovery time was estimated at six to nine months. In Cruz's case, I imagine recovery is looking to be closer to the latter, considering UFC didn't hold off on booking Barao and rehab in theory would take him longer as it was his second surgery since June. While I can't say I think he'll return as the same fighter, I think Cruz will be back by the end of the year, which means Barao won't fight someone else after Wineland.

Todd Vote: FICTION While he may have indeed cleaned out the division if he gets past Wineland, I don't think waiting is something Barao will be wanting to do, nor do I think it is anything that Dana and company would try to force on Renan. If it so happens that Cruz is going to end up being out long enough for Barao to take another fight after the Wineland fight, he is more than likely going to do it, like a bad-ass interim champ should do.

---

Refreshing honesty, or more pre-fight bluster?



4.) Alan Belcher's recent admission that he respects Michael Bisping's skill, but thinks the Count is a jerk and that he's going into the fight with the mindset that he's going to try to hurt Bisping is the kind of honesty that would benefit fighters who aren't able to sell fights based on their mouths.

Todd Vote: FACT Well, I suppose it would make sense, I have nothing wrong with seeing a grudge match in MMA occasionally. That being said, the talking doesn't usually sell me on fights... Okay, I loved seeing Tito Ortiz continually beat down Ken Shamrock, but what usually makes me decide if I am getting a fight or not is the fights themselves. I'm not against these guys doing what they can to get more people into their fights. I know selling fights is absolutely important. Chael Sonnen has made a career doing just that.

Dan Plunkett: FACT There's no question that calling your opponent a jerk will draw more attention to the fight than complimenting them on a great personality. That alone makes this statement a fact. Now, opening up in the way Belcher did isn't necessarily going to sell fights in the literal sense that it puts butts in the seats and in front of the TV, but it can help in many cases. It can also create a situation where perhaps the talk added a negligible amount of viewers, but it can make the viewers already watching more excited for the bout, which only makes both fighters come across as bigger stars and is the first step towards drawing real money in the future.

---

Smart move for the Mauler?



5.) Alexander Gustafsson has said that if he wins his fight with Gegard Mousasi, he will take the microphone and call out the light heavyweight champion. This should ensure that Gustafsson's next fight will be for the light heavyweight title and not in another title eliminator fight.

Dan Plunkett: FICTION Just like the last statement, calling out Jones after the bout can't hurt, but that's not going to guarantee Gustafasson gets the next title match. Including Gustafsson, there are three, perhaps four, potential challengers for Jon Jones after the Chael Sonnen bout. The first is Lyoto Machida, who was called the next contender after beating Dan Henderson, but just ask Jon Fitch was promised title shots in the UFC mean. A few weeks after Gustafsson fights Mousasi, Daniel Cormier will step into the cage against Frank Mir. Cormier called out both Mir and Jones after his last fight, and will surely call out Jones again with a win over Mir. The major advantage Cormier has over Gustafsson is his fight is on FOX against a big name while Gustafsson is on Fuel TV against a relatively small name. Cormier's audience on FOX may be ten times the audience Gustafsson draws, which means Cormier's call-out will be more effective. The other potential contender is Anderson Silva, who would unquestionably leapfrog the other three contenders should the match with Jones be made next. Even assuming that doesn't happen, I think a strong Gustafsson promo far from ensures he's the next guy in line for a title match. A lot will depend on his performance compared to Cormier's and Machida's, and again, he's already at a disadvantage with the smaller audience. Ultimately, the UFC is probably going to choose the guy that's going to make the most money because you really can't go wrong with any contender. A Gustafsson call out is step towards drawing money, but it certainly doesn't mean he's the guy that will draw the most money against Jones compared to Cormier and Machida.

Todd Vote: FICTION If you would have asked me that two years ago, I would have absolutely agreed. But seeing how many fights being made just leave a lot of us scratching our heads, I wouldn't be surprised to see them give Wanderlei the shot. Does it make sense? Absolutely not! Have stranger things happened? You bet your ass it does. A more likely scenario would be Cormier declaring himself as wanting to drop down and challenge Jones. Gustafsson has a very good case for being the #1 contender, but these days, is that enough?

---


So it's all on you guys now, and draws are off of the table, as there must be a winner in these tournament bouts! In the event of a draw in voting, I will cast the deciding vote.




---


And that's it for day 2! I'll be back again tomorrow with another preliminary bout, and I can't stress to you enough how important it is that you vote! Voting will remain open until midnight on the third day after the bout took place. And if you haven't done so, make sure you sign up for the new comments system, so that you can let us know what you think about the tournament thus far! As always, if there's anything you'd like to see featured in a future edition, leave your statement in the comments and I'll add it in. Let us know what you thought in the comments, on Twitter, or on Google+.
comments powered by