SPOTLIGHTS
411 MMA Fact or Fiction 03.13.13: Nick Diaz to Lightweight, Fallon Fox, Hendricks vs GSP, More
Posted by Wyatt Beougher on 03.13.2013

Is a potential Nick Diaz move to lightweight ridiculous? Will Johny Hendricks try to outwrestle GSP? Can Benson Henderson break Anderson Silva's title defense record? 411's Mark Radulich and Robert Winfree debate these topics and more in the latest Fact or Fiction: MMA!

Welcome to another edition of 411's MMA Fact or Fiction, and it's day 3 of our five-day run! Yesterday, and for the rest of this week, we'll be seeing West bracket action, and it started with #4 seed Dan Plunkett taking on #5 seed Todd Vote. Today we've got #3 seed Mark Radulich (who's actually on a cruise right now) taking on #6 seed Robert Winfree.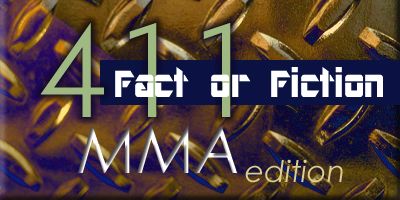 And again, here are the brackets, which will be updated as voting closes on each individual contest. It's not too late to vote in Monday's play-in contest between Jack McGee and Trent Howell, which you can find here, or in yesterday's bout, which is located here. Too bad some MMA betting sites aren't taking bets!




TALE OF THE TAPE



Red Corner
Mark Radulich (#3 seed, West)
'Headshrinker'
Host, 411 Ground and Pound Radio Show/Live Coverage Guru
5-3-1

VS

Blue Corner
Robert Winfree (#6 seed, West)
'The Last Rider'
Columnist, Locked in the Guillotine MMA New Report
2-4-0

---

If he couldn't make lightweight half a decade ago, why would he be able to now?



1.) Nick Diaz saying he would consider a move to lightweight is ludicrous, considering Gary Shaw made EliteXC's lightweight division 160-pound limit expressly because Diaz couldn't make weight.

Mark Radulich: FACT It's not likely he could make the weight if he tried, though Kenny Florian once made 145lbs, so stranger things have happened. No, the real reason it is ludicrous is that his intention to move to lightweight is to challenge for the lightweight title. Diaz claimed that he wanted to win the belts at lightweight, welterweight and middleweight. There's no way Dana White lets that happen. As it is, he won't let either Jose Aldo or Anthony Pettis potentially hold two belts or for that matter, GSP and Silva. Dana White, and ostensibly the Fertitta brothers, don't want their fighters jumping willy nilly in and out of different weight classes. People have to remember that the reason Aldo vs Edgar happened is that Dana White really really wanted Edgar to drop to featherweight and needed to wait until he started losing at lightweight. Also, his exception for GSP moving up to middleweight or having a catchweight fight with Anderson Silva was solely for the purpose of having a stadium-ready superfight between the world's 2 arguably best fighters. I can't foresee Dana White giving Nick Diaz carte blanche to fight for multiple titles in different weight classes without demanding he stay in one set class for at least a few fights.

Robert Winfree: FACT though the qualification about Gary Shaw is unnecessary. Gary Shaw is a bigger MMA punchline than Ken Shamrock. Diaz claiming he'd consider moving to lightweight is ludicrous simple because it came out of Nick Diaz's mouth. Diaz doesn't have the frame to make 155 safely or consistently. This is mostly Nick Diaz talking, and possibly looking for an advantage. Consider this, when GSP defeats Diaz he'll have dropped his last two fights, both title fights, at welterweight to better fighters. If Diaz can make lightweight he'll be looking to use his size to help him win fights at that weight class rather than work on his weaknesses when it comes to fighting.

---

Bad decision?



2.) Poor/questionable decisions (like the two at Bellator 92) hurt Bellator more than the UFC because of their tournament format.

Robert Winfree: FICTION No one hates bad decisions more than me, but at this point do they really hurt a promotion? Yes they hurt fighters, and yes they are beyond exasperating for fans to watch, but Bellator will continue on just fine. Yes it is unfortunate that bad decisions happen in a tournament format but really there's nothing that you can do about it. As a promoter there's big money in rematches, especially one where someone was robbed in a decision.

Mark Radulich: FACT Poor judging hurts both organizations to be certain but let's compare what happens in each different organization. In the case of Gomi vs Sanchez Dana White believed Gomi won the fight despite 2 judges (and me) scoring it for Sanchez. Dana White has the authority to award Gomi his win bonus if he so chooses and can match him up with another top contender if that is what he desires. The loss still stands on his record but the UFC can basically make it seem like it never happened in terms of financial gain and position in the organization. You can't do that in Bellator when your whole gimmick is tournaments. Sultan Aliev lost on the judges score card to Doug Marshall and so ends his attempt at winning the 100K prize along with a title shot. Oh they could give him extra cash if they really wanted to but he has to start all over again in vying for a title shot. By contrast, the UFC could make Gomi vs Ben Henderson and at this point nobody would bat an eye. Look at last year's Diaz vs Condit decision win. Many thought that Diaz won and was wrongfully screwed out of his fight with GSP. A year later Diaz gets a title shot anyway without having won another fight at all. There is no such special dispensation for poor Sultan Aliev in Bellator thus making the whole experience that much more painful.

---

Ready for the big leagues of WMMA?



3.) Shannon Knapp is right to bide her time before signing an Invicta Fight for Fallon Fox, the first transgender women's fighter in MMA.

Mark Radulich: FACT First of all, before I get into of the specifics of the Fallon Fox controversy, let me say that the woman (and she is a woman at this point) is committed to S. Florida regional promotion Championship Fighting Alliance for the near future due to winning the quarterfinals of their 145lbs women's tournament. Even if there were no controversy regarding Fallon, I would assume Knapp would have to wait until this business with CFA concluded before signing her. In fact, it's probably a good thing that Fallon is tied up with CFA because that gives Knapp ample time to consider all of the variables before making a decision to sign Fallon in the future. For the record, Knapp has already stated that she is open to signing Fallon down the road if a majority of other fighters on the roster are willing to fight her as well, which makes sense (Liz Carmouche has already publicly stated she'd be honored to fight Fallon). There's no point in signing somebody who nobody or hardly anybody else wants to fight.

Now let's talk a little bit about what the controversy actually is. By all accounts of experts in the field of transgender surgery and transgender female athletes, Fallon Fox is a woman. She's living as a woman, has so for a number of years now, and, according to the foremost experts on the subject, biologically is as equal to any other female athlete as those that are born female. Transgender athletes are allowed to compete in the Olympics provided they meet certain criteria. The world of MMA is just now trying to figure out how it will handle transgender fighters and most likely they will mirror the IOC criteria. However, Board certified orthopedic surgeon and MMA enthusiast, Dr. Johnny Benjamin stated on BloodyElbow.com that the jury is still out on whether or not transgender females truly do or do not have a biological advantage over their born female counterparts. While there is certainly expert opinion and advocacy on the subject, there is also a complete lack of concrete data on whether or not hormone therapy reduces bone density as the experts in SRS say it does. That's the bottom line really. Men are physically superior to woman in that they have denser bones, thicker skin, etc. If hormone therapy directly changes those things then there can be no gender-based advantage. If hormone therapy doesn't affect those things, then there is, and the whole issue is turned on its head. At this time, according to Dr. Benjamin, we have no real way of knowing if there was a substantial decrease in Fallon Fox's bone density after SRS. Now if the Florida Boxing Commission or the Nevada State Athletic Commission or any other mainstream MMA sanctioning body do decide to mirror the IOC and ignore this lack of data then any promoter hiring Fallon is within their right to do so and any fighter that opts to fight her willingly takes the risks that accompany this decision. That being said, Knapp is right to wait until said commissions come to a conclusion regarding transgender fighters before putting ink to paper. For what it's worth, the CFA has committed to Fallon 100% and have postponed their tournament until she can fight again.

Lastly, if Fallon is allowed to continue fighting as a woman and the planets align properly, Cyborg vs Fallon on PPV is going to do gangbusters for Invicta!

Robert Winfree: FACT Men and women are physiologically different, no two ways about it. Shannon Knapp is certainly in the right to hold off making a fight for a transgender woman until elements of it are investigated. Going into a fight like that where one fighter could possibly have a big advantage without having elements looked into is just stupid, and unfair. The levels of certain hormones are different for men and women; Fallon would have to be tested to make sure those hormones are within range for a female fighter, and would also have to be very specific about which hormone therapies she's taking so that they don't get flagged as foreign substances when their entire purpose is to keep her body in balance with being a female. The reality is that it's a complicated situation and one that needs further looking into, and Knapp is certainly within her rights to make sure there's nothing obviously off kilter before signing a fight like that.

---

Hendricks (in orange) is a great wrestler, but I don't think that's how he's going to gameplan for GSP



4.) Johny Hendricks, should he get past Carlos Condit at UFC 158, will not try to outwrestle GSP if they do meet in a title fight.

Robert Winfree: FACT No one can outwrestle GSP at this point, plain and simple. Hendricks just managed to outwrestle Josh Koscheck, and we all saw what GSP was able to do to Koscheck, not once but twice. The recent winning streak of Hendricks is predicated on him being able to land a big left hand and hurt his opponent. This hasn't been lost on Hendricks; he knows what's been giving him success and he'll be looking to land a big punch on GSP should they fight. Hendricks can't win by outwrestling GSP, and he knows it, so in order to win, he'll be looking to land his big left hand and knock out GSP. Trying to outwrestle him would be foolish, Hendricks will be headhunting if he gets to fight GSP, not looking for a decision.

Mark Radulich: FACT Well at least he be really dumb to try. Hendricks' best bet is to use his wrestling to block the double leg and look for openings in which to pummel GSP. It's not likely he'll get a flash KO over GSP like he did with Martin Kampman or Jon Fitch and he'd also be dumb to think otherwise. What he needs to do is keep this thing on the feet and pressure GSP with a variety of strikes. If he does some damage like Shields did in his fight with GSP and he keeps up the pressure (unlike Shields who stopped attacking for some strange reason) I think he can break the GSP and win the fight, maybe even by TKO!

---

Will Bendo pass the Spider?



5.) Benson Henderson will not achieve his goal of besting Anderson Silva's consecutive title defense record.

Mark Radulich: FACT Middleweight is and has been for a number of years, a shallow division especially compared to light and welterweight. Not to take anything away from Anderson Silva but beating Patrick Cote, Damian Maia (at 185), Chael Sonnen, Vitor Belfort and Yushin Okami is not exactly an impossible feat. They are all fairly flawed fighters and someone as good as he is should have beaten those people. However, Ben Henderson is the champion of one of the most stacked divisions in the UFC. It's entirely possible he'll lose to Melendez in April and if he doesn't there's stiffer challenges out there for him. As much as I love me some Black Jesus, it's only a matter of time before he loses the title and it will be before he's beaten Silva's record.

Robert Winfree: FACT All records are made to be broken - let's get that out of the way right now. Assuming Anderson Silva defeats Chris Weidman, and I have no reason to pick against Silva in that fight, he will have successfully defended his title eleven times. Think about that, eleven times he's fought guys right at the top of his division and defeated them. Now middleweight isn't lightweight. Lightweight is a much more stacked and competitive division, much more prone to title changes and features fighters much closer together in terms of skill. At the moment for Henderson to break that record he'd have to get by Gilbert Melendez and then eight other fighters just to draw even with Silva. In a division that stacked, I don't think anyone will break Silva's record there. To beat that record you're going to have to be a cut above everyone in your division, and your division is going to have to lack depth. If either Cain Velasquez or Junior dos Santos leaves the division, then the other has a legitimate chance, if Jon Jones can beat Daniel Cormier at 205 and stays there, he could do it, but in a talent stacked division like lightweight I don't see it happening.

---


So it's all on you guys now, and draws are off of the table, as there must be a winner in these tournament bouts! In the event of a draw in voting, I will cast the deciding vote.








---


And that's it for day 3! I'll be back again tomorrow with another preliminary bout, and I can't stress to you enough how important it is that you vote! Voting will remain open until midnight on the third day after the bout took place. And if you haven't done so, make sure you sign up for the new comments system, so that you can let us know what you think about the tournament thus far! As always, if there's anything you'd like to see featured in a future edition, leave your statement in the comments and I'll add it in. Let us know what you thought in the comments, on Twitter, or on Google+.
comments powered by