SPOTLIGHTS
411 MMA Fact or Fiction 03.14.13: Tournament Preliminary Bout 3 - Josh Barnett, TUF to Fox Sports 1, Team Lloyd Irvin, and more!
Posted by Wyatt Beougher on 03.14.2013

Should the UFC be willing to make Josh Barnett the same deal they made Mark Hunt to get him to sign? Would moving The Ultimate Fighter to Fox Sports 1 hurt the show? In the wake of sexual abuse scandals, should Team Lloyd Irvin shut down? 411's Steve Cook and Jonathan Butterfield debate these topics and more in the latest MMA Fact or Fiction!

Welcome to another edition of 411's MMA Fact or Fiction, and it's day 4 of our five-day run! As I've mentioned previously, all four preliminary round bouts this week will feature action from the West bracket, and today we've got #2 seed (or the original Fact or Fiction tournament champion) Steve Cook taking on #7 seed Jonathan Butterfield.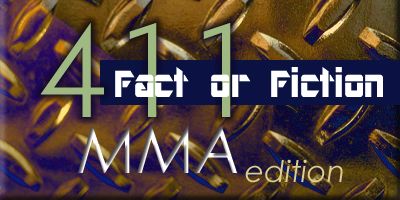 Once again, here are the brackets, which will be updated as voting closes on each individual contest. Voting has closed on Monday's play-in contest between Jack McGee and Trent Howell, but Tuesday's bout will be open until midnight tonight, which you can find here, or in yesterday's bout, which is located here. Because today's edition went up a little late, you'll actually have until noon Sunday to make up your minds and get your votes in before the poll officially closes.




TALE OF THE TAPE



Red Corner
Steve Cook (#2 seed, West)
'Last of a Dying Breed'
Host, 411 Wrestling Fact or Fiction (and the Ocho Sports Podcast)
2-0-1

VS

Blue Corner
Jonathan Butterfield (#7 seed, West)
'Butters'
Interviewer/UK Live Coverage, MMA Zone
1-3-0

---

Will we see a UFC reunion?



1.) If the UFC was willing to offer Mark Hunt PPV points to fight JDS, they should do the same for Josh Barnett, as that's reportedly where negotiations with Barnett stalled.

Steve Cook: FACT Why not? I know Barnett's last stint with UFC didn't end under the best of circumstances, but it was eleven years ago. That's well past the date that anybody should hold a grudge that prevents money being made, and money can certainly be made with the Warmaster. Barnett's a skilled fighter, and more importantly than that, he's skilled at generating interest in his fights. His return to UFC might not mean much to the casual UFC fan that wasn't watching when Barnett was UFC Heavyweight Champion, but if Barnett's given a microphone on a show to build it up they'll be interested pretty quickly. The knock against Barnett is his drug usage, but the more I listen to Dana White the less I'm convinced that's an issue with him. I think if UFC had their way fighters would be using anything they wanted, but those pesky athletic commissions keep getting in the way.

Mark Hunt is now 9-7. I know the "Rally For Hunt" thing is a lot of fun, but giving a 9-7 fighter "PPV points" instead of somebody that beat him in 2 minutes in PRIDE is pretty laughable.

Jon Butterfield: FACT I know that Eddie Alvarez and Hector Lombard were offered Pay-Per-View points as part of their proposed deals to entice them away from Bellator, and I'm not overly surprised Mark Hunt has been offered them as well. Remember, Dana White tweeted that Mark Hunt had turned DOWN a fight with Junior dos Santos once Alistair Overeem was injured, so it stands to reason that the UFC would up their offer to get that fight done. I guess you could always argue that Josh Barnett doesn't need to be enticed away from anywhere, because there's no promotion currently in existence in MMA that can match a standard Zuffa offer, and Barnett's last employers are now a distant memory – and you could also argue that Barnett hasn't earned this incentive by making the UFC money in the same way as Mark Hunt – but Josh Barnett is Josh Barnett. He's a great talker, he's a long-time top 15 heavyweight, and he's a serious threat to anyone in the UFC. If Alvarez is worth PPV points, surely Josh Barnett is too.

---

Is it because of these guys, or because Tuesdays aren't Fridays?



2.) The fact that The Ultimate Fighter has maintained solid ratings in spite of little to no animosity between the coaches and almost no drama in the house is a testament to how important the change in nights was to the show's continued existence.

Jon Butterfield: FICTION You know, I would have guessed that moving TUF from a very visible, yet very competitive Friday night slot, and moving it to a far more open Tuesday night billing would actually INCREASE viewers. The fact that it hasn't is a bad sign, and I don't think you can offset that disappointment just because the coaches get along and aren't making for 'entertaining' TV. Chael Sonnen, if you listen to some, could sell snake oil with his free and easy charisma, and Jon Jones is the defending UFC Champion and a bonafide prodigy who could possess the longevity to outstrip the achievements of Anderson Silva and GSP. At the end, we get a title fight that is of more importance than your average post-TUF blowout in terms of importance, so you'd have also thought that would be attractive to viewers as well. Sadly, it hasn't worked out that way, for whatever reason – but the wording of the question seems to imply that while the move to Tuesday night has been GOOD for ratings, this has been offset by the lack of interest in the show because there isn't any animosity. If I was to answer 'FACT', then, that's a pretty damning indictment of the show anyway. Do people watch for the competitive element, or do they watch to see people squabble and waste time, to paraphrase a famous Simpsons episode? Hell, what do I care – I don't watch it anyway.

Steve Cook: FACT I haven't watched TUF since Season 4. I'm surely in a minority among MMA aficionados, but I don't give a rip about a bunch of wannabe UFC fighters living in a house and having "drama" with each other. I'm not hating on people that watch the show. IIf TUF is your thing and you tune in every season no matter what, more power to you. It's just not for me. I don't need to watch the show to know that Tuesday is a better television night than Friday, especially for UFC's target demographic.

On a typical Friday night, UFC Fan is at an establishment that serves alcohol wearing a super-tight Affliction t-shirt trying to do one of two things: get laid or get in a fight. He ain't staying home to watch a bunch of fighters he's never heard of go at it while two UFC fighters do a lot of talking. He's gonna go create his own action.

Tuesday night is a different beast. It's a good bar night because it's when they run their wing specials, but usually folks are going to be home semi-early because they have to work the next day. After UFC Fan drinks a couple of pops and gets his wing on, he heads on home and looks for something to watch until he falls asleep.

Another important factor in the ratings being up has to be the star status of both Jon Jones & Chael Sonnen. Even if they aren't talking smack, both fighters have their fans that will tune in to see them…and their detractors that will tune in to bitch & moan about whatever's said. Last season featured Shane Carwin & Roy Nelson, two guys whose Q ratings aren't at the level that Jones or Sonnen's are.

---

Will the UFC be hurt by a TUF move?



3.) The UFC would benefit greatly from The Ultimate Fighter remaining on FX, rather than shifting over to Fox Sports 1 with most of their other programming.

Steve Cook: FICTION FX is a powerful cable station, but the availability of Fox Sports 1 on its launch won't be too far behind. 95 million homes will have access to the latest competitor to ESPN, and UFC is being promoted as one of the flagship sports that will be aired, along with Major League Baseball, NASCAR & the World Cup. Fox is separating their sports & entertainment properties onto separate networks, and it wouldn't make much sense to keep TUF on FX post-separation. Oftentimes we'll see shows lose audiences when they switch from channel to channel, but since both channels are owned by Fox I imagine they'll be sure to promote the change so much that everybody knows about it.

Jon Butterfield: FACT The Ultimate Fighter is a TV show with a sports element – it's not a sporting event, like the UFC's in-arena product – so anyone tuning in to a SPORTS channel to see what basically amounts to a reality show with fighting will be sorely disappointed. In the UK, it used to be that TUF had a completely different channel to the rest of the UFC stuff, and that made a lot of sense to me, because the bottom line is TUF wasn't competing against the events for the viewers' attentions on the same channel. It was separate, different, and hell, it reached a DIFFERENT group of people who were more inclined to tune in to a DIFFERENT channel. Yes there are those people who will watch anything with the word 'Ultimate' and 'Fight' in it, but there are others who don't necessarily set their lives (or indeed their DVR's) around MMA – and those are the people that The Ultimate Fighter should hope to pick up from the FX demographic.

---

Should Team Lloyd Irvin shut down?



4.) Between sexual abuse allegations and the defection of top prospects due to an "unbearable" atmosphere, it's time for Team Lloyd Irvin to close its doors.

Jon Butterfield: FACT Matthew Maldonado and Nicholas Schultz were basically caught on camera repeatedly raping a female training partner. Then, Lloyd Irvin himself was excused (and not for the first time) of sexual indecency with a female student. Now any time it becomes apparent quite how rotten an establishment is, it's usually due course that that establishment bites the dust, preferably with people serving jail time or losing certain privileges. The same applies, hopefully to Team Lloyd Irvin, irrespective of how many great fighters they've trained (I'm not sure Brandon Vera qualifies as 'great', but Dominick Cruz certainly does) – although while Maldonado and Schultz are bang to rights, it's worth noting that the accusations made to Irvin are just that… accusations. If they're proven to be accurate, let's hope the law takes care of the rest – which would probably mean the closure of the camp – however, if Irvin is cleared, I see no reason why he shouldn't continue to train people. Either way, he may wish to do so in a different State or under a different banner, because what the public eye sees, it tends to remember, and the queue to train with Team Lloyd Irvin may be shorter than ever before…

Steve Cook: FACT It doesn't seem like they're going to have much of a choice but to shut it down, and Irvin's already shut down his affiliate system due to the uproar. I didn't know much about this guy before Wyatt sent me this question, and the more I read the more disgusted I got. If you're a young MMA fighter looking for a group to train with, are you going to go somewhere that's mostly known these days for enabling a culture of sexual abuse? Unless you're a sick son of a bitch I'm guessing the answer is "no". Nobody's going to want to train with Irvin anytime soon and the best thing he could do is close his business and keep his mouth shut. Unfortunately for him, he doesn't seem ready to do that anytime soon, and all he's doing is reminding people of some of the sick stuff he's been involved with in the past.

---

Will he finally cave and put the legalization of MMA to a vote?



5.) In spite of again passing the state Senate and several Senators imploring Speaker of the House Sheldon Silver to bring the bill to a vote in the Assembly, MMA will still not be legalized in New York by the end of 2013.

Steve Cook: FACT I have a little bit of experience in the political world, and if there's two things I know about politics it's that everything takes forever and everything takes a ton of money. I also know that if one powerful person decides he's going to muck up the works, the works are going to be mucked up for quite some time. Apparently Silver is a very powerful man in New York, some even say he has more power than the governor. So if he doesn't feel like legalizing MMA (even though the ban is pretty ridiculous), it ain't gonna happen. The best hope UFC has is that Ronda Rousey can convince him otherwise. I get the feeling she can be very persuasive if she wants to be.

I'm talking about her being persuasive with an armbar. Get your minds out of the gutter!

Jon Butterfield: FACT Let's be honest, there's something grossly unfair when it comes to MMA being illegal in New York state – to put it frankly, it's fucking bullshit – and no, I'm not doing my best Dana White impression. As far as I'm aware, the boxing gentry have no time for MMA muscling in on a very lucrative live events market, and are prepared to collectively punch below the belt in order to stay on top (nice metaphor, eh?). There's a chance sanity will prevail, and all the shitty excuses that bribed officials and terrified politicians make will be steamrolled by the MMA hype train, but we're already a third of the way through 2013, and the issue still hasn't been properly addressed. The banging of the drums is getting louder – the battle horns are getting closer – but the gates of New York state will probably hold out just a little longer.

---


So it's all on you guys now, and draws are off of the table, as there must be a winner in these tournament bouts! In the event of a draw in voting, I will cast the deciding vote.










---


And that's it for another day! I'll be back again tomorrow with the final west bracket preliminary bout, and I can't stress to you enough how important it is that you vote! Voting will remain open until midnight on the third day after the bout took place (except for this contest, which, as mentioned, has received an extra twelve hours to accommodate how late it was posted). And if you haven't done so, make sure you sign up for the new comments system, so that you can let us know what you think about the tournament thus far! As always, if there's anything you'd like to see featured in a future edition, leave your statement in the comments and I'll add it in. Let us know what you thought in the comments, on Twitter, or on Google+.
comments powered by