SPOTLIGHTS
411's MMA Roundtable Preview - UFC 158: St-Pierre vs. Diaz
Posted by Dan Plunkett on 03.15.2013

Georges St-Pierre fights Nick Diaz for the welterweight title in the main event of UFC 158! Plus, Carlos Condit battles Johny Hendricks, Nate Marquardt takes on Jake Ellenberger and more! Check out the full roundtable for all the details and join 411 for LIVE coverage of the event Saturday night!




WELCOME:
Georges St-Pierre defends the welterweight championship against Nick Diaz in the main event of UFC 158! The next title contender will be determined in the co-main event when Carlos Condit battles Johny Hendricks. Also at welterweight, Nate Marquardt steps in on short notice to face Jake Ellenberger. Plus, Chris Camozzi fights Nick Ring, Mike Riccie vs. Colin Fletcher, and more!

THE STAFF:


From MMA's 3R's, Jeffrey Harris!


From Occupy the Throne, Jeremy Lambert!


From The Blueprint, Patrick Mullin!


From the 411 MMA Top 10, Alex Rella!


From MMA on Tap!, Jon Butterfield!


From Locked in the Guillotine MMA News Report, Robert Winfree!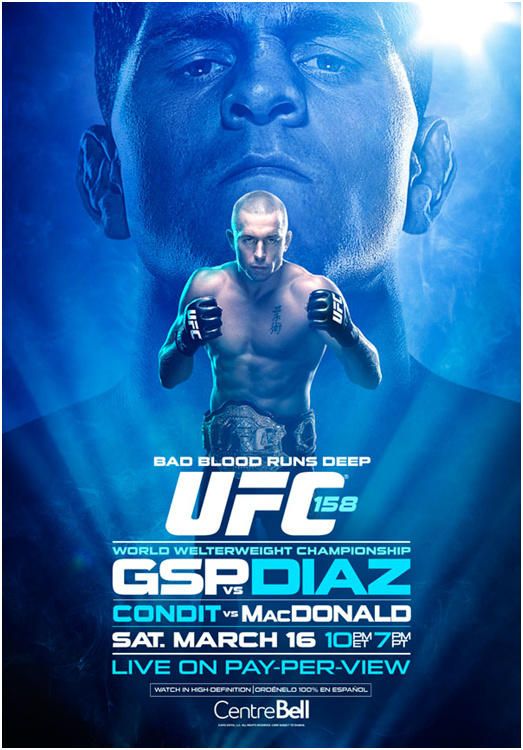 THE PRELIMINARY CARD:




First three prelims to air on Facebook.com, rest on FX




Bantamweight Bout: George Roop vs. Reuben Duran



Jeffrey Harris: George Roop, TKO, Round 1
Jeremy Lambert: Roop, TKO, Round 1
Patrick Mullin: George Roop, TKO, Round 2
Alex Rella: George Roop, TKO, Round 2
Jon Butterfield: George Roop, Decision
Robert Winfree: George Roop, Decision
The staff picks George Roop, 6-0.



Bantamweight Bout: TJ Dillashaw vs. Issei Tamura



Jeffrey Harris: TJ Dillashaw, Decision
Jeremy Lambert: Dillashaw, Submission, Round 1
Patrick Mullin: TJ Dillashaw, Submission, Round 1
Alex Rella: TJ Dillashaw, Submission, Round 1
Jon Butterfield: TJ Dillashaw, Decision
Robert Winfree: Issei Tamura, TKO Round 1
The staff picks TJ Dillashaw, 5-1.



Welterweight Bout: Rick Story vs. Quinn Mulhern



Jeffrey Harris: Rick Story, Decision
Jeremy Lambert: Story, Decision
Patrick Mullin: Rick Story, Unanimous Decision
Alex Rella: Rick Story, Decision
Jon Butterfield: Rick Story, Decision
Robert Winfree: Rick Story, Decision
The staff picks Rick Story, 6-0.



Lightweight Bout: Daron Cruickshank vs. John Makdessi



Jeffrey Harris: John Makdessi, Decision
Jeremy Lambert: Makdessi, TKO, Round 2
Patrick Mullin: Daron Cruickshank, UD
Alex Rella: John Makdessi, Decision
Jon Butterfield: John Makdessi, KO, Round Two
Robert Winfree: John Makdessi, Decision
The staff picks John Makdessi, 5-1.



Welterweight Bout: Dan Miller vs. Jordan Mein



Jeffrey Harris: Dan Miller, Submission, Round 2
Jeremy Lambert: Miller, Decision
Patrick Mullin: Jordan Mein, TKO, Round 3
Alex Rella: Jordan Mein, TKO, Round 3
Jon Butterfield: Jordan Mein, Decision
Robert Winfree: Dan Miller, Decision
The staff calls it a draw, 3-3.



Featherweight Bout: Darren Elkins vs. Antonio Carvalho



Jeffrey Harris: Darren Elkins, Decision
Jeremy Lambert: Elkins, Decision
Patrick Mullin: Darren Elkins, Unanimous Decision
Alex Rella: Darren Elkins, Decision
Jon Butterfield: Darren Elkins, Decision
Robert Winfree: Darren Elkins, Decision
The staff picks Darren Elkins, 6-0.



Welterweight Bout: Patrick Cote vs. Bobby Voelker



Jeffrey Harris Patrick Cote, Decision
Jeremy Lambert: Cote, TKO, Round 2
Patrick Mullin: Patrick Cote, TKO, Round 2
Alex Rella: Patrick Cote, Decision
Jon Butterfield: Bobby Voelker, Decision
Robert Winfree: Patrick Cote, Decision
The staff picks Patrick Cote, 5-1.

---




THE MAIN CARD:




Lightweight Bout: Mike Ricci vs. Colin Fletcher



Jeffrey Harris: A fight between the two loser finalists of TUF 16 and TUF Smashes. Fletcher is a grappling specialist though all of his wins are over in the UK where the grappling is not as good. I was impressed with Ricci's work on TUF, so hopefully his move down to lightweight will be beneficial to him here, and I think he picks up the win.

Winner: Mike Ricci, Decision

Jeremy Lambert: It's a battle of Ultimate Fighter losers. If that doesn't get you excited then I don't know what will. Fletcher is a good grappler with not much stand up and Ricci is just a guy who is only in this position because Rory MacDonald threatened UFC management. I think Ricci will be able to keep the fight standing and get the better of the minimal exchanges while we all wonder why exactly these two guys have a job in the UFC.

Winner: Ricci, Decision

Patrick Mullin: Its the battle of the TUF losers. Fletcher really didn't show anything while Ricci showed he's able to handle himself a bit everywhere while not specializing in anything. I guess I'll pick Ricci here because he's the better stand up fighter of the two and Fletcher's size makes it tough for him to bring things to the ground. Couldn't care less about this though.

Winner: Mike Ricci, Unanimous Decision

Alex Rella: I actually picked both of these guys to win their seasons of TUF. The fight itself actually isn't a bad idea by the UFC. It makes sense to put the two runner ups from last year's TUF seasons up against each other to see which one might be worth something. That being said, I don't really care about this fight and I think every FX fight and even Rick Story deserve to be on the main card more than these two. Fletcher is huge and is an above average grappler, but I think Ricci is the better striker and he'll do better now that he's in his natural weight class. The difference of size and styles might hopefully make for a solid fight.

Winner: Ricci, Decision

Jon Butterfield: I was disappointed with 'Freakshow' in his UFC debut, and no doubt many Canadian writers were disappointed with Ricci losing his fight with Colton Smith – and now we've got, essentially, a 'loser leaves town' fight, as neither has the reputation to absorb a second successive defeat. Fletcher is certainly a marketable fighter, but he looked one-paced against Norman Parke, but I expect him to right a good number of those wrongs with a workmanlike performance that will see him fall back on a solid wrestling and ground game should his unorthodox striking fail him. Those facets should earn him the points to win here.

Winner: Colin Fletcher, Decision

Robert Winfree: Why exactly is this fight on the main card? I don't care for either fighter, both guys lost in their last appearances, and neither guy is really going anywhere in the talent right lightweight division. That said, Ricci doesn't have to worry about being out grappled by Fletcher so he's more likely to win here.

Winner: Mike Ricci, Decision

The staff picks Mike Ricci, 5-1.

---




Middleweight Bout: Chris Camozzi vs. Nick Ring



Jeffrey Harris: Nick Ring has generally been a mediocre fighter in the UFC. Two of his wins in Canada against Riki Fukuda and Court McGee were horrible decision wins that he did not deserve. Camozzi has won his last three fights in the Octagon and has looked pretty good as of late. Camozzi is the better, more experienced, and more well rounded fighter here. And I think even in Canada he will be able to deal with Ring.

Winner: Chris Camozzi, TKO, Round 2

Jeremy Lambert: It seemed like Ring had a good amount of talent, but then he got injured and still doesn't seem fully recovered. Camozzi is just a guy who was cut a few years ago, returned, lost, but has since put together a decent little streak. I except this to be contested on the feet with both guys getting their licks in and no one giving a lick about them. I'm going with Camozzi just because I think he's the more polished fighter and if he's losing the striking battle, can potentially put Ring on his back.

Winner: Camozzi, Decision

Patrick Mullin: This isn't really much of a fight. Both of these men are TUF alums with Ring being hailed as the best man on his season which was ended via injury. Since then Ring has failed to impress, though I agree with Jeremy Lambert in his belief that a lot of it has to do with Ring returning too soon from a very severe injury. Camozzi is spectacularly unspectacular and is prone to submission losses. I think Ring finds his cage legs in this one and gets Camozzi to tap.

Winner: Nick Ring, Submission, Round 2

Alex Rella: This is another fight that isn't terrible, but I'm still like eh about. This fight has a decent impact on the middleweight division as well. Nick Ring is 13-1 and Camozzi is on a three fight win streak. I'm going with Ring in this one, as I think he still has some potential and he stopped a group mugging/assault last year which I thought was cool.

Winner: Ring, Decision

Jon Butterfield: Even diehard MMA fans will struggle to get amped for this fight, which has 'decision' written all over it. Ring is a solid all-rounder with no razor sharp edges but no blatant flaws, while Camozzi is a guy who has posted some solid wins and has, in my eyes, overachieved to date. That's not a bad thing, but at least in terms of individual martial arts, Ring has the better resume, and I can't see him dropping this fight save for getting unlucky.

Winner: Nick Ring, Decision

Robert Winfree: Another fight I don't care about, boy the UFC is really trying to open this thing slowly isn't it? Nick Ring has the Leonard Garica effect, judges think he wins fights no matter what. Chris Camozzi is actually on a nice little win streak, but he'll be combating Ring, Canadian judges, and likely crowd apathy. I think that's just a bit too much for him to overcome.

Winner: Nick Ring, Decision

The staff picks Nick Ring, 4-2.

---




Welterweight Bout: Jake Ellenberger vs. Nate Marquardt



Jeffrey Harris: Interesting fight here. Both guys are solid strikers with a good amount of power. Marquardt's striking I think is a little more versatile and dynamic, but at the same time he's been very inconsistent especially in his biggest fights where he has a lot on the line. He tried to coast and play it smart in a title eliminator fight with Yushin Okami. He apparently didn't follow the game plan against Sonnen, whatever that means. Ellenberger's wrestling skills though I think give him the edge here and will carry him to his eighth UFC victory.

Winner: Jake Ellenberger, Decision

Jeremy Lambert: This is a good fight that I just can't seem to get excited for thanks in large part due to Marquardt's terrible performance in the final Strikeforce fight. Even though I think Marquardt might be the better and more well-rounded fighter, I can't feel confident in picking him given the number of eggs he's laid over the course of his career. Ellenberger has heavy hands and is one of the better counter punchers in the division. Marquardt's best asset is his aggressiveness, but if he gets aggressive against Ellenberger, he runs the risk of eating a big right hand. Ellenberger is the better wrestler, but Marquardt's takedown defense is good and I don't think Ellenberger will be able to get him down, which could lead to a lot of stalemate clinch situations. If Marquardt shows up to fight, he could definitely win with his aggressiveness, but I just can't trust him right now. I don't think this fight will be pretty, but I do think Ellenberger will do enough to have his hand raised.

Winner: Ellenberger, Decision

Patrick Mullin: Where to begin. Nate Marquardt is the biggest choke artist in MMA history. He's blown major opportunities against Anderson Silva, Chael Sonnen, Yushin Okami, and Tarec Saffedine. Jake Ellenberger was living up to his juggernaut nickname until he ran into Martin Kampmann and followed that up with a terrible performance against Jay Hieron. I think Ellenberger seems to have lost confidence and while Marquardt is a choke artist I think the amount of people counting him out will help him. Marquardt is a more educated striker, hits harder, and can negate the wrestling of Ellenberger who is very easy to hit. I think Marquardt wins here only to break hearts in his next fight.

Winner: Nate Marquardt, TKO, Round 2

Alex Rella: This is one of those fights where it could end up being the Fight of the Night or it could end up being atrocious. Marquardt looked like complete trash in the final Strikeforce fight and Ellenberger was on a great run until Kampmann killed him and he won his last fight, but it was far from good. This one will mostly be spent standing up as Ellenberger is a good wrestler, but Marquardt has better take down defense. Marquardt is the superior striker when he's on, but I'm taking Ellenberger because of his nice counter striking and Marquardt's likelihood to choke once again.

Winner: Ellenberger, Decision

Jon Butterfield: Nate Marquardt loses to Tarec Saffiedine, then gets a move up the ladder? Hmmm… As good as Nate is, I don't really see any area where he has a clear advantage. Ellenberger packs more power, though his striking is not as diverse, and he has a solid wrestling game to fall back on, with his takedown defence being absolutely watertight. His jaw is made of iron, though the same can be said for Marquardt, who always seems to pull through his fights even when taking a beating. The question is, can Marquardt get started fast enough to out-point Ellenberger over three rounds? I say no – and I can see his propensity to bleed coming back to haunt him to boot. If Ellenberger can cut Marquardt open early with either strikes on the feet or elbows on the mat or against the fence, this could APPEAR to be far more one-sided than it actually might be – but if that doesn't happen, I still see Ellenberger rocking Marquardt more often than Marquardt rocks him, and that should be the deciding factor. He who scores the most major damage will win, because this will be a war to the final bell.

Winner: Jake Ellenberger, Decision

Robert Winfree: You know, I want to be excited about this fight. Both guys have the skills to have an exciting fight, both guys are coming off of less than impressive performances, and both should be looking to make an impact here. That said, both men have proven capable of startling stupidity. Marquardt is going to have to impress here after his one sided beating against Tarec Saffiedine, and he actually offers some interesting matchups at welterweight. If Marquardt avoids a big blitz early from Ellenberger and picks up the pace in the second and third rounds he could finish him because Ellenberger has questionable cardio. I'm just not sold on Ellenberger if you can survive a round against him.

Winner: Nate Marquardt, Decision

The staff picks Jake Ellenberger, 4-2.








---




Welterweight Bout: Johny Hendricks vs. Carlos Condit



Jeffrey Harris: A very tough fight to call. Hendricks is incredibly talented but he seems to alternate his impressive knockouts with some close grind 'em out decisions. Condit is a great striker. He's very technical, and he has knockout power. At the same time, takedowns and wrestling have been one of his bigger weaknesses throughout his career. Hendricks brings great wrestling credentials to the table, so if he's not able to hurt or knock out Condit, I think he will be able to use his wrestling to take Condit to the ground and dominate him there.

Winner: Johny Hendricks, Decision

Jeremy Lambert: I'm not as high on Hendricks as a lot of people are, but there's no denying his resumé. And if he catches Condit with either hand, he could definitely put him down and out. But Condit isn't the same fighter that he used to be. He's not going to get into a firefight with Hendricks, because that's potentially a losing battle. I think he'll get on his bike and keep Hendricks at bay with kicks, picking his shots when he needs to. Even though Hendricks has a ton of power, he doesn't exactly set up things well, usually just moving forward and throwing. Condit isn't above being hit though, and while his chin is good, he doesn't want to eat a Hendricks left. Hendricks will be hyped as this amazing wrestler, and his amateur credentials speak from themselves, but it hasn't translated to MMA. Condit doesn't have great takedown defense, but if he does end up on his back, he does have great sweeps and is active with elbows. Don't be shocked if Condit puts Hendricks on his back either. He has solid trips from the clinch, and as mentioned, his sweeps lead him to gaining a dominate position. And if Condit is on top, he'll put a beating on Hendricks, who is rather defenseless on his back. The clinch will be an interesting position in this fight given Hendrick's compact build and Condit's lankiness. Condit might be able to do a lot of damage in the clinch with knees. In fact, I think Condit hurts Hendricks with a knee late in the fight, leading to a submission or stoppage by strikes victory.

Winner: Condit, Submission, Round 3

Patrick Mullin: The full breakdown of this fight can be read in this week's Blueprint. Ultimately I feel Condit's strengths are better suited to exploit the weaker points of Hendricks than vice versa. Much the way he succeeded against Nick Diaz via exploiting his reach via kicks and using lots of lateral movement, I see him doing it to Hendricks as well. Johny hits very hard but lacks the technical prowess of Condit, is very easy to hit, and has suspect stamina while Condit can cut an incredible pace for even twenty five minutes, let alone fifteen. I think Condit rebounds nicely here from his loss to GSP and Hendricks kicks himself for taking this fight.

Winner: Carlos Condit, Unanimous Decision

Alex Rella: Hendricks is the rightful number one contender and it looked like he had a next to guaranteed title shot next as Jake Ellenberger would have been no match for him, but now he has a much tougher opponent in Carlos Condit. Hendricks is such a powerful striker, but he lacks technique and Condit should capitalize on this. Condit is a different kind of striker, but is just as dangerous and he'll use his never ending stamina, lateral movement, and leg kicks to come out on top. Hendricks would have a better chance if he were to mix in a lot of his wrestling, but I don't see it happening.

Winner: Condit, TKO, Round 3

Jon Butterfield: Johny Hendricks is one of those fighters who is reliant on only a few elements of his game. His wrestling background ensures he rarely has to win a grappling-heavy affair, and his HUGE left hand ensures he has the chance to put anyone to sleep. His problem in this fight, however, is that Condit has shown he is a fine strategist, is just as capable at finishing on the deck as he is on the feet, and is very elusive and hard to pin down. While Hendricks' fights have a tendency to go one of two ways (either a sub-two minute blitz, or a narrow decision), few fighters he has faced have held the tools to make him work as hard as Carlos Condit will. While Carlos isn't so likely to drag Hendricks to the floor, he will certainly take advantage of any over-eagerness Hendricks might show, and will pounce on any slip or telegraphed strike. He will maintain distance extremely well, test the mettle of Hendricks' lead leg, and throw head strikes when Hendricks least expects it. And if Hendricks DOES go down, he's in real trouble! While this could easily be another split decision (and that might be a worthwhile bet if you can find reasonable odds!), I think Condit will win this match up more often than not.

Winner: Carlos Condit, Decision

Robert Winfree: Well, if Johny Hendricks wins here I wonder what excuse Dana White will come up with to keep him from getting a title shot. This is an interesting fight though, both men have power in their hands but Condit is by far the more diverse striker. Hendricks is a much better wrestler though, and while both have power I think Hendricks has more power than anyone at welterweight. I think in this fight Hendricks looks to use his wrestling to help secure the victory, but make no mistake about it, a well time knee from Carlos Condit could end this one. I just feel more confident in Hendricks right now than Condit.

Winner: Johny Hendricks, TKO, Round 2

The staff picks Carlos Condit, 4-2.








---
---




UFC Welterweight Championship Bout: Georges St-Pierre vs. Nick Diaz



Jeffrey Harris: Anything is possible in a fight. Could we see an upset with Diaz winning here? Yeah, I'm sure we could. But am I betting on it happening here and Diaz beating the greatest welterweight fighter and champion of all time? No I don't think so. What GSP might lack in in pure punching power he makes up with incredible speed and "ape" technique. Diaz has tremendous cardio, a creepy jab, and some impressive striking volume. At the same time he tends to stand in one place and gets frustrated if a fighter doesn't do what he wants. For another thing, he doesn't check legkicks which I think is dangerous against a guy like GSP. Diaz's wrestling and takedown defense has always been poor. And his biggest, most recent wins were not against high-level wrestlers or grapplers. GSP wins this by five round decision.

Winner: Georges St-Pierre, Decision

Jeremy Lambert: Stylistically, this is a perfect fight for St. Pierre. Diaz is a volume striker with almost no defense, weak takedown defense, and an active grappler with no chance of submitting GSP. If GSP wants to stand with Diaz, he can likely outstrike him the same way Carlos Condit did, which is by using a lot of movement and frustrating Diaz with quick kicks and jabs. The guys who Diaz beats up on the feet are guys who stand in front of him and can't handle his pace. GSP isn't going to stand in front of him and he won't allow him to establish his typical pace. And for some reason, if Diaz is able to get the better of the striking exchanges, GSP will change levels and have little trouble putting Diaz on his back. Even though Diaz has an active guard, it's highly unlikely that he submits someone with the defensive knowledge of St. Pierre. In fact, Diaz's active guard will just lead to St. Pierre briefly passing before Diaz regains full guard and the process is repeated. GSP won't just lay on Diaz either, which is the popular opinion on what he seems to do, he'll beat him up the same way he beat up Condit. He'll use elbows, posture up and rain down punches, and possibly throw some knees to the body if given the chance. While Diaz isn't in the head of St. Pierre, like I'm sure some will claim, it's clear that GSP finds Diaz disrespectful and has a certain disdain for him, which puts Diaz in the Matt Serra and BJ Penn category. I'm not saying GSP will finish Diaz, but I do think he'll put a beating on him. He won't finish him though, maybe not for a lack of trying, but because Diaz is extremely durable and has cardio for days. I do think he'll bust and cut Diaz up pretty badly though en route to a five round domination.

Winner: St. Pierre, Decision

Patrick Mullin: I say this in all seriousness, I really don't think Nick Diaz is a bad person. I think he has problems with anxiety that are extremely tough to deal with, especially when you're in a business that tends to constantly thrust you into situations you aren't comfortable in and all you want to do is get to the fight. For all the bad decisions he seems to make, the guy is who he is. This isn't a character, this is a guy who loves the sport of MMA and hates the business of MMA. I'm rooting for him here. Why? Because GSP has come off as disengenuous, a bully, and to be honest this fight is happening because GSP didn't want to fight the guy who really earned the title shot.

I'm generally not entertained by GSP anymore. I have no issue with him fighting intelligently and not taking risks, this is a game where winning is what matters at the top level. I just don't enjoy watching him maintain top position and not doing anything with it other than feigning guard passes to avoid getting stood up. I don't enjoy him throwing nothing but jabs and not putting Josh Koscheck away when he's clearly ready to go. Unfortunately none of this matters. GSP is just too good of a wrestler and too aware of what Diaz is going to try with him to fall prey to what Nick does well.

This is going to be twenty five arduous minutes of GSP on top of Nick Diaz. Its not going to be fun. Its going to be very one sided. I will probably fall asleep during it.

Winner: Georges St. Pierre, Unanimous Decision

Alex Rella: I do think this will be a much better fight than a lot of people so far, but I still don't see Diaz winning here. Diaz has amazing cardio, sneaky jabs, and gets in a lot of punches, but GSP is good in almost every aspect that trouble Diaz. GSP has amazing speed, better striking than most give him credit for, and is the best wrestler at 170 lbs. I also expect GSP to fight very similar to Condit as Diaz refused to check leg kicks. I also feel that Diaz' corner fails him at times. They don't tell him to mix things up when the fight isn't going his way. There were times in the Condit fight where he should have been more aggressive and pushed the tempo more, but he didn't. And it's very unlikely Diaz submits GSP. GSP is far too good defensively and won't give him the chance when he is on top. It would be nice if GSP goes to his dark place and finishes Diaz, but it'll probably be another five rounder.

Winner: GSP, Decision

Jon Butterfield: If I've predicted this card right, I've picked ten decisions out of eleven fights. And now we come to Georges 'Rush' St Pierre, the undisputed king of five round fights! His opponent, a cardio freak and voluminous striker, is no stranger to decision himself, and so we can rule out a finish straight away in my opinion. So how will the fight go down?

Georges St Pierre gives the impression that he is EXTREMELY angry with Nick Diaz. He gives the impression that he might FIGHT like he's extremely angry with Nick Diaz. But Georges St Pierre is far, far too smart to fight angry with a man that thrives on opponents coming forward and entering his zone of 'death by accumulation'. Have no doubt GSP is a better striker than he's shown in recent years, but Nick Diaz is a far more cultured, far more practised boxer. If GSP does fight in a reckless manner, Diaz could easily shut him down. The fact that even Jake Shields caused GSP serious problems with striking (remember GSP moaning about his eye?) suggests that's a game St Pierre doesn't want to play. Instead, he should focus on his bread and butter – and that's his wrestling.

Now, Nick Diaz has a very active guard, and is no more defensive off his back than he is off his feet – but Georges St Pierre might have the best top game in all of MMA. His defence here is watertight, his control of space and non-stop pressure is a nightmare for even the greatest grapplers, and his unwillingness to get sloppy or overly aggressive means he offers very few opportunities for opponents to exploit and attack. Diaz will work for whatever he can get on the floor, but I don't expect he'll get very far. GSP will, essentially, do to Diaz on the ground what Diaz would do to GSP on the feet, and that's ensure that hundreds of small strikes land, gradually wearing his opponent down.

So the question is, will GSP, whose wrestling is far superior to Diaz's takedown defence (which is rudimentary at best), actually come out angry and look to outclass and embarrass Diaz? Or will he be satisfied frustrating the ridiculously easily-frustrated Diaz with a wash-rinse-repeat methodology? I say it will be the latter – and any hint from GSP of the former is nothing but a ruse.

Winner: Georges St Pierre, Decision

Robert Winfree: If you want an in depth break down of both guys skills and this fight check out this weeks Guillotine. Long story short, I don't think Diaz has a chance to win. His only hope is to hurt Georges standing and get him out of a rhythm, then catch him in a submission as Georges shoots in. More likely GSP uses his reach, his distance closing ability, his kicks, and his smothering top game to beat up Nick Diaz for five rounds.

Winner: Georges St-Pierre, Decision

The staff picks Georges St-Pierre, 6-0.








---
Remember to join 411's coverage of UFC 158 on Saturday night!
comments powered by