SPOTLIGHTS
411 MMA Fact or Fiction 03.18.13: Mark Hunt's Title Hopes, Diaz Getting Cut, Herschel Walker, More
Posted by Wyatt Beougher on 03.18.2013

Will Mark Hunt deserve a title shot if he can finish JDS? Should Nick Diaz be cut if he fails another drug test? Will the UFC benefit from holding Herschel Walker's final fight? 411's Alex Watt and Larry Csonka debate these topics and more!

Welcome to the second week of 411's MMA Fact or Fiction spring tournament, and this week is going to feature our East bracket competitors in action. Last week, Jack McGee and Trent Howell competed for the 8th seed in the East, and Mr. McGee now has the honor of facing top seed Scott Kuczkowski later this week. Today, we'll see 4th seed Alex Watt attempt to move on to the quarterfinals against the always-tough Larry Csonka.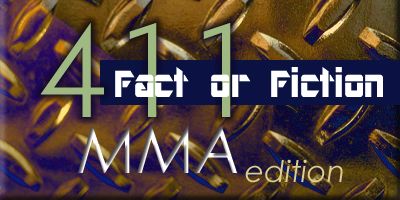 And again, here are the brackets, which have been updated to reflect the results of last week's contests. Voting has closed on all of those match-ups, and easily the most surprising result of last week's bouts was 7th seed Jonathan Butterfield unseating 2nd seed (and initial Fact or Fiction tournament champion Steve Cook). Will we see more upsets this week? Let's get to the action and find out!




TALE OF THE TAPE



Red Corner
Alex Watt (#4 seed, East)
'Axle Twat'
Columnist, Thoughts From Across the Pond
3-2-1

VS

Blue Corner
Larry Csonka (#5 seed, East)
'Bossman'
Editor, 411 MMA and 411 Wrestling
1-1-0

---

Real life Rocky?



1.) If Mark Hunt is able to (T)KO Junior dos Santos at UFC 160, he would be deserving on the title shot that Dana White has said he will conditionally receive.

Alex Watt: FACT Absolutely. If Mark Hunt were to finish Junior dos Santos, the former UFC Heavyweight Champion, how could you possibly deny him his shot at the belt? "The Super Samoan" will enter UFC 160 riding a four fight win streak, which is impressive in and of itself, but a KO win over a boxer as talented as JDS would be incredible. It is a feat which Cain Velasquez couldn't achieve when he wrested the 265lbs title back from dos Santos in December and that fact, in addition to Hunt's compelling story of rise-fall-and rise again, would make for a great sell for a Velasquez vs. Hunt title fight at the end of the year.

Larry Csonka: FACT - This is an easy fact, for a few reasons. First of all, the heavyweight division is a clusterfuck of a mess, with no one other than Hunt really putting together impressive or consistent victories. The Super Samoan is on a four fight win streak, with a RD2 KO of Chris Tuchscherer, a decision win over Ben Rothwell, the RD1 TKO win over Cheick Kongo and the RD3 TKO destruction of Stefan Struve. Four wins in a row, three finishes; that is an impressive run in the UFC Heavyweight Division. Secondly, Junior Dos Santos is a former UFC Heavyweight Champion and is pretty much guaranteed a rematch for the title if he wins here. If Hunt can impressively defeat the man, making it five in a row and defeating a former champion, yes, he deserves a title shot. Finally, and this is something that others have noted, if Hunt wins this is a real life movie, this is Rocky for MMA. The down on his luck, sub-500 fighter that the UFC didn't even want turns his career around and then could get a title shot. That is interesting, that is a great story, and yes, that is what gets the non-hardcore MMA fan to buy shows. If Mark Hunt finishes JDS, yeah, give him the shot.

---

On the chopping block with another drug test failure?



2.) The UFC will actually act on Dana White's threat to cut Nick Diaz from the UFC if he fails his post-fight drug test at UFC 158.

Larry Csonka: FACT - They should, and while the UFC and Dana White spout out a lot of bullshit that they change their minds on, they need to regardless. First of all, the statement regarding if he fails a drug test again. Yes, you drop him, because of a few reasons. #1: being suspended, Nick Diaz does you no good. #2: if you drop him, following the Riddle suspension, you are sending a message that you will not put up with this shit. Again, let me state for the record, I don't care about marijuana. If you use it for whatever reason, that is your personal business. But according to the athletic commissions that regulate the sport, it is a banned substance, so stop smoking up, Cheech. Also, add in the post fight bullshit where he cries ("WAAAAAAAAAAAAAAH GSP's shit worked and he stopped almost all of mine, I don't like this sport anymore and want to retire") and then threatens to retire AGAIN. Two fight losing streak, history of drug test failures and a constant pain in the ass? I would have simply cut him after the fight and been done with the headache that is Nick Diaz. All we ever hear is how much of a pain in the ass he is, let him go and be done with it. Because if they don't, I don't want to hear Dana crying about working with Nick Diaz ever again, the guy is just not worth it.

Alex Watt: FICTION For starters, this statement could actually be rendered obsolete if Nick Diaz actually decides to act on his latest retirement pledge (which seems unlikely, let's face it). Regardless of that, however, this is not as simple an issue as it appears on the surface. Yes, Matt Riddle was recently cut from the UFC following his second positive test for marijuana metabolites and, in the interest of fairness, Diaz should also be released if he fails his second test in the UFC (and third in MMA as a whole). However, we all know that things are not as black and white as that. The UFC, as we are constantly being reminded, is a business, first and foremost. If the build up to UFC 158, with its heated conference calls, press conferences, interviews and more, have taught us anything, it's that Diaz is "money".

Some may claim that Diaz is more trouble than he's worth, given his propensity for skipping media obligations such as press conferences and open workouts, and Dana White and co. could opt to sever ties with the troublesome Californian for that reason. However, Dana White noting that, "Nick's not as much trouble as you think he is. I've had guys who are a lot more trouble than Nick Diaz," suggests that the UFC President has a soft spot for the 209-er and, at the end of the day, Diaz is a fighter who fans are emotionally invested in – people either love him or they hate him – and he is the kind of personality who gets people talking. Consider this; Diaz was thoroughly outclassed by Georges St. Pierre on Saturday night, and yet how much of the post-fight time was spent discussing Diaz and analysing his fascinatingly baffling interviews? Dana White will no doubt be furious if Diaz were to fail another drug test, but once the red mist has ascended, the UFC President will likely realise that Diaz is too valuable a character to lose.

---

That's 50 grand well-earned



3.) The standardization of UFC Fight Night bonuses will help morale among fighters within the company.

Alex Watt: FACT The UFC's decision to set all its Fight Night bonuses at $50,000 is a smart one, in my opinion. In the past, those fighters competing on larger shows, especially the PPVs, would receive a bigger share of bonus money. Due to the larger revenue from the bigger shows, this was understandable to an extent, but ultimately it is not the fault of the fighters that they are competing on a televised event, rather than a PPV. For the fighters working their way up, those not earning the big bucks, this has to be a boost to morale. The knowledge that an exciting finish or performance could earn them $50k, regardless of which event they are fighting at or of their position on the card, has to be encouraging, especially at a time when many will fear for their job security given the threat of a myriad of UFC cuts looming on the horizon.

Larry Csonka: FACT - I went back and forth on this, but overall I do feel that this is a good thing. The biggest reason being that some guys felt as if they were always shafted by fighting on the so-called "smaller shows," and when they would win one of these awards and get all excited, they would get $25,000, $35,000 or $45,000. Whereas a guy could win the same award on a bigger show in less impressive fashion, but because he was on a bigger show he got $70,000 or $80,000. That is demoralizing to a man, especially when you FIGHT for a living. By finding a nice average ($50,000) you make it known to all that no matter who you are or what show you are on, you have a chance to win $50,000 extra for your good work. It may seem like a big thing to most people, but the fact that they have standardized the bonuses will especially help the morale of the guys that almost always work the smaller shows, as they have a consistent value to fight for. Finally, this is a big deal, because for the lower card/preliminary guys that make $8,000 and $8,000, they make the bulk of their money from sponsorships and then these bonuses. If you give them something to fight for, something that they know will be there, they will appreciate it, and they will work hard. I really like the move.

---

Is one of these men the next featherweight contender?



4.) Barring major injury to the winner of the either bout, July's Ricardo Lamas vs Chan Sung Jung contest will likely decide the next featherweight to challenge the winner of the Jose Aldo/Anthony Pettis fight.

Larry Csonka: FACT - It should. It really should, but I cannot confirm that it will. I mean, lets be fair here, how many times have we watched a fighter be promised a title shot, only for Dana White to get a hair up his ass and change direction for one reason or another. Also, make sure you're not kidding yourself about the whole "fighter rankings," because the UFC is only doing that because Fox wants it. They stated publicly that they do not matter, and they proved that when the days after the first rankings they made the above-mentioned Aldo vs. Pettis bout. But as for the fight leading to a title shot, it should. Ricardo Lamas has beaten Grice, Swanson, Hioki, and Koch all in a row, and three of those fights were finishes. Zombie defeated Garcia, Hominick, and Poirier, all finishes, one was a former title contender (Hominick) and Poirier was supposed to be the next big thing when Zombie defeated him. I will say that Cub Swanson is also laying claim to a title shot as he has really turned things around, but Lamas vs. Zombie is the right contender eliminator at this time.

Alex Watt: FACT Again, this is a no-brainer. Lamas and Jung are clearly the top two contenders in the UFC's 145lbs division at present and their fight at UFC 162 (which should be phenomenal, by the way) will finally clear up who is the true No. 1 contender at featherweight. Yes, there is always the chance that another UFC lightweight fancies his chances against Aldo and drops to featherweight to secure his immediate title shot. There is also the issue that if Pettis wins in August then Aldo would probably receive an immediate rematch. However, you have to feel that after Lamas and "The Korean Zombie" saw themselves passed over for title shots both can rightly feel they had earned, it seems unlikely that the UFC would once again kick either man to the back of the line.

---

Will the UFC host his final fight?



5.) With Herschel Walker wanting to fight one last time, the UFC would be wise to feature his final fight on one of their smaller shows.

Alex Watt: FICTION I see no real benefit for the UFC in promoting Walker's final fight. The Walker experiment worked for Strikeforce because it gave the company an added boost of more mainstream exposure, but the UFC isn't faced with the same problem. The UFC is a worldwide, renowned brand in 2013 and is consistently making ventures into new markets to increase their exposure. With the Rousey vs. Carmouche fight already bringing in so much more mainstream exposure for the company, what do they have to gain from a Herschel Walker fight?

In addition, if Walker were to defeat one of the UFC contracted heavyweights, it could possibly undermine the company's boast of hosting the best fighters in the world and leave some casual onlookers questioning the legitimacy of the sport. I think the UFC learned their lesson with the James Toney affair and, with Dana White also having flat out refused any chance of Shaquille O'Neal competing inside the Octagon, I doubt that the UFC President will alter his viewpoint on this issue now.

Larry Csonka: FACT - This is an easy fact for me. I was a big supporter of Herschel Walker fighting in Strikeforce, and I am also a fan of the man getting a UFC fight, especially with as many shows as they will be running with the new FOX SPORTS 1 network. They will be starved for main event fights and other fights to make the shows worth watching at times, and while he is not a contender by any means, using Herschel Walker one time as a special attraction is a fine idea. People have to keep in mind that this is a man that was an all American football player, won the Heisman Trophy, is in the College Football Hall of Fame; he made the Olympics and has been training in the martial arts most of his life. The man was a bright spot for Strikeforce when he fought, because he did the media appearances, and with the fact that he was Herschel Walker, he scored them a ton of attention. Finally, the man loves the sport and is a great ambassador for the sport. He knows his stuff, he respects the fighters, and he always makes it about the sport when he talks, not about him. Sure, he is a physical freak and loves to compete, which is evident by the fact that he trains at AKA. Herschel Walker getting one fight will not hurt the sport and will not take a fight away from anyone. I honestly think that him getting a fight is a good thing, and would certainly watch it. I mean, if James Toney got a UFC fight, Herschel Walker sure the hell should.

---


So it's all on you guys now, and draws are off of the table, as there must be a winner in these tournament bouts! In the event of a draw in voting, I will cast the deciding vote.










---


And that's it for the first day of week 2! I'll be back again tomorrow with another East bracket bout! Voting will remain open until midnight on the third day after each bout takes place. And if you haven't done so, make sure you sign up for the new comments system, so that you can let us know what you think about the tournament thus far! As always, if there's anything you'd like to see featured in a future edition, leave your statement in the comments and I'll add it in. Let us know what you thought in the comments, on Twitter, or on Google+.
comments powered by