SPOTLIGHTS
411 MMA Fact or Fiction 03.19.13: Dominick Cruz's Future as Champion, Dana's Send-Off of Matt Riddle, Clay Guida's Injury, and more!
Posted by Wyatt Beougher on 03.19.2013

Does Dana White having a meeting with injured bantamweight champion Dominick Cruz bode poorly for Cruz's hopes of remaining champion? Was Dana White's commentary on Matt Riddle's release out of character? Will Clay Guida's injury have a negative impact on the ratings for UFC on FOX 7? 411's Stewart Lange and Alex Rella debate these topics and more!

Welcome to the second edition of the second week of 411's MMA Fact or Fiction spring tournament, and if you missed it yesterday, this week is going to feature our East bracket competitors in action. Today, we have our second preliminary round match-up, featuring number three seed Stewart Lange taking on number six seed Alex Rella!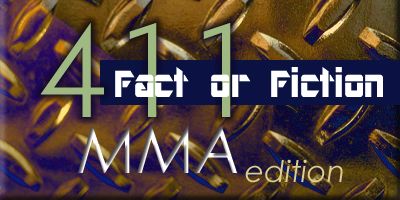 And again, here are the brackets, which have been updated to reflect the results of last week's contests. Voting has closed on all of those match-ups, but voting is still open in yesterday's match-up between Larry Csonka and Alex Watt, which you can find here. At my deadline for this column's submission, the Csonka/Watt match-up was the highest voted contest of the tournament thus far, and I believe one of the highest since I instituted reader polls shortly after I took over Fact or Fiction. I want to give a huge thank you to everyone who voted. Will we see more upsets this week? Let's get to the action and find out!




TALE OF THE TAPE



Red Corner
Stewart Lange (#3 seed, East)
'Pain in the D***'
Host, The 411 Magazine Show
3-1-1

VS

Blue Corner
Alex Rella (#6 seed, East)
'Cinder'
Columnist, The 411 MMA Top 10
2-5-2

---

Is an impending meeting with Dana a sign of things to come?



1.) The fact that Dana White's even planning a meeting with injured bantamweight champion Dominick Cruz doesn't bode well for Cruz's hopes of retaining his title until he returns from injury, at least not if there's been any additional setbacks in his recovery process since his second surgery in December.

Stewart Lange: FACT It doesn't bode well for him but the fact is that Dana and the UFC need to be dealing with this in the correct matter. If I was signed off of my work for an extended period of time, I would have to report in for meetings with my bosses to discuss my return to work and contingency plans for my absence. While it's hard to say at this point if Cruz will be stripped of the belt, the Bantamweight division is rattling along quite nicely with Barao at the top but for how long? If it looks like Cruz may be inactive through 2013 as well, then we may see the "interim" part dropped from Barao's title reign.

Alex Rella: FACT The only fighter that has been stripped of his title in the UFC due to an injury and prolonged layoff was Frank Mir after his motorcycle accident. After 14 months of inactivity, Mir was stripped and interim champion Andrei Arlovski was promoted to undisputed champion. Mir would eventually return after 18 months total. Dominick Cruz has already been on the sidelines for 17 months and the fact that Renan Barao is defending the interim title in June means that Cruz isn't anywhere close to coming back. If they're planning a meeting it at least means that they're going to sit down and discuss the situation and their options.

Whether the UFC strips Cruz of the title or he voluntarily relinquishes it, it would be the best course of action for all parties included at this point. For the UFC it gives them a chance to really promote Barao as a true champion as he takes a huge step up in main eventing a ppv against Eddie Wineland. Barao has already proved that he is a championship caliber fighter and he deserves the undisputed title. Just as importantly, it gives Cruz a chance to really take his time to recover and come back slowly. ACL injuries are no joke, especially for Cruz that relies so heavily on his speed and lateral movement to fight. He may not be the same fighter when he returns and going up against the best fighters in the division immediately might not be good for him. Cruz would be better off going against guys like Brad Pickett or Mike Easton when he returns and then building himself back up towards the title. And there's much more intrigue and build up for that eventual showdown with whoever is champion at that point. So yes, even planning a meeting with Cruz does not bode well for his hopes of retaining his title.

---

Is anyone surprised at the send-off he received from Dana? Anyone?



2.) Dana White calling Matt Riddle "a f****** moron" and saying the UFC will never ask him to return isn't surprising behavior from the UFC president in the least.

Alex Rella: FACT Dana White has said a lot of stupid things over the years and even said some this past week, so we really shouldn't be surprised by his behavior anymore. That being said, I completely agree with him this time and Matt Riddle is a f****** moron. Riddle is an above average welterweight that would be on a four fight winning streak if he didn't test positive for marijuana twice. Whether or not you think it should be legalized is irrelevant because it is currently illegal and a banned substance in MMA. One time slip ups are forgivable, but knowingly doing it twice is not. Riddle is one of the few fighters that have been lucky enough to spend their entire careers in the UFC. Riddle knowingly broke the rules and said his love for marijuana is more important than working in the top MMA promotion in the world. Riddle does not deserve to be the UFC anymore, they clearly don't need him, and there are countless fighters who are ready to take his spot. Riddle has defended his use of marijuana saying that it isn't a performance enhancing drug and he only takes it because he keeps relaxed so he doesn't beat his wife and kids. Yes you are a a f****** moron Matt Riddle, Dana White was completely justified in cutting you, and I hope he sticks to his word and never brings you back to the UFC.

Stewart Lange: FACT No, it's pretty standard stuff from the UFC president but is it bad for me to say that I totally agree with him? I've never liked Matt Riddle and frankly, I'm glad to see the back of him but it really does reek of double standards. Riddle is hardly the most high profile drug offender in the last 12 months within the UFC, let alone purely for a "gateway" drug like marijuana, not the steroid offenders and TRT users. Riddle has done himself no favours by mouthing off afterwards though, proving the moron part right. If you ever want to be let back into the biggest MMA organisation in the world, it is pretty moronic to piss them off fairly needlessly.

---

If there's a better picture of John Maguire out there, I don't want to see it



3.) If John Maguire loses his lightweight debut against Mitch Clarke, he'll be released from the UFC after an already-disappointing run at welterweight.

Stewart Lange: FACT We probably shouldn't pretend than any preliminary level fighter is safe at the moment but especially those with unimpressive records and who haven't actually shown they have any sort of drawing power. John Maguire is not a big name fighter in America and he's not got the kind of fan base here in the UK of Dan Hardy or god, even Colin Fletcher and he's terrible. All due respect to Mitch Clarke, but if he beats John Maguire, then "Gypsy Jiu-Jitsu" has no place in the UFC and he can come back and fight in UCMMA or BAMMA.

Alex Rella: FACT Unless it's an amazing Fight of the Night loss, which his highly unlikely for John Maguire, a loss will most likely be his last fight in the UFC. John Maguire started off his UFC run pretty solid with two straight wins and highlighting his gypsy jiu-jitsu with a submission of the night armbar against Damarques Johnson. Then he had a painfully boring loss to John Hathway and another to Matt Riddle. I honestly don't know who Mitch Clarke is, so it's very possible that Maguire pulls out a win in his lightweight debut. I hope he wins, but it's going to be very hard for them to keep around a fighter on a three fight losing streak when far better fighters were released last month.

---

Will he be sorely missed?



4.) With the UFC on FOX 7 card an extremely strong one, losing the Chad Mendes/Clay Guida featured preliminary bout after Guida sustained an injury will mean little to the ratings numbers.

Alex Rella: FACT I honestly don't think anybody wants to see Clay Guida fight anymore. He's had two awful fights in row and has very little name value anymore. The only reason I met have kept this fight on tv is the hope that Chad Mendes would have knocked him out. Maybe we'll actually see a slight increase in the prelim ratings since people don't have to see Guida fight. The last Fox show's prelim card was really stacked, but this one is alright. There's still enough time to find Mendes another opponent and he usually has good fights. And the rest of the prelims have Joseph Benavidez, Lorenz Larkin, and Jorge Masvidal. Not must see fighters, but I think the average MMA fan will still tune in. It would suck to lose Chad Mendes, but I don't think anybody is upset they're not going to see Clay Guida fight.

Stewart Lange: FACT As much as I like a Guida/Mendes bout, this card isn't much weaker without it, in fact, it's not weak at all. With this fight on the main card, this would be a pay per view calibre event and arguably still is. Guida has never had the chance to prove himself as a draw and recently, it's pretty hard to argue his fighting style is still enough to get people to tune in for him. The main event is still a great fight and while Ben Henderson has never proven to be a great PPV money maker, a lightweight championship bout on free TV will draw casual fans whether they've heard of Gilbert Melendez or not. Add to that the "warriors" like Dan Hardy, Nate Diaz and what will be a crazy fight between Daniel Cormier and Frank Mir on the undercard, this could be, on paper at least, an exciting card that may encourage people to put their hands in their pockets to pay for UFC 159.

---

Will this play a factor in Aldo's upcoming fight against Pettis?



5.) If Anthony Pettis manages to defeat Jose Aldo in Brazil, it will be all the more impressive due to the "home field advantage" the ultra-popular Aldo enjoys in his home country.

Stewart Lange: FICTION You know, I don't put a huge amount of stock in home advantage in MMA. Does a fighter get an extra buzz from fighting in their hometown? Of course they do, especially when it's not a new experience like this is for Aldo. He'll be used to a hot crowd but he gets that wherever he fights and the reason I say fiction to this question is that I don't think where the fight takes place will really make a difference to how impressive a Pettis win would be. Any Pettis victory will be impressive enough and forget the fight being in Brazil- the only way it's a more impressive win is if he does it with another "Showtime" move like a flying guillotine off the top of the cage or something.

Alex Rella: FACT It's impressive enough for Pettis to defeat one of the top pound for pound fighters in world, but doing it in his hometown does add to it. Jose Aldo has been the top featherweight in the world since 2009 and few fighters have been able to really push him since then. It's not easy flying to a different country while trying to cut weight and you have to deal with an entire arena booing you. It's different from an American crowd being against you, because they have like a thunderous arena shaking chant supporting their hometown hero. The volume of crowd support for Jose Aldo might only be behind Vitor Belfort when he is in Brazil. I think Pettis is enough of an experienced fighter that it wont mess up his game plan, but it might rattle him a little bit starting out. So it would be even more impressive to defeat the champion in his home country.

---


So it's all on you guys now, and draws are off of the table, as there must be a winner in these tournament bouts! In the event of a draw in voting, I will cast the deciding vote.










---


And that's it for day 2 of week 2! I'll be back again tomorrow with another East bracket bout! Voting will remain open until midnight on the third day after each bout takes place. And if you haven't done so, make sure you sign up for the new comments system, so that you can let us know what you think about the tournament thus far! As always, if there's anything you'd like to see featured in a future edition, leave your statement in the comments and I'll add it in. Let us know what you thought in the comments, on Twitter, or on Google+.


comments powered by