SPOTLIGHTS
411 MMA Fact or Fiction 03.20.13: GSP's Retirement, Condit/Hendricks FOTY, Rousey to TUF, and More!
Posted by Wyatt Beougher on 03.20.2013

Will Georges St-Pierre retire after his next two bouts? Was Carlos Condit vs. Johny Hendricks the best fight of 2013 to date? Will Ronda Rousey help The Ultimate Fighter draw big ratings? 411's Patrick Mullin and Jonathan Solomon debate these topics and more!!

Welcome to the third preliminary bout for the East bracket in 411's MMA Fact or Fiction spring tournament! This is day three of seeing our East bracket competitors in action, and our preliminary round will finish up tomorrow. Today, we've got undefeated second seed Patrick Mullin squaring off against Jonathan Solomon, who is far better than his record would lead you to believe. This was a very close contest, as all of the preliminary round bouts have been.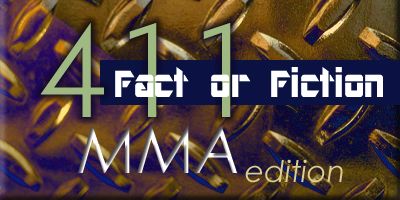 And again, here are the brackets, which have been updated to reflect the results of last week's contests. Voting is still open in Monday's match-up between Larry Csonka and Alex Watt, which you can find here, and also in yesterday bout between Stewart Lange and Alex Rella, which is here. Let's get to today's action, shall we?




TALE OF THE TAPE



Red Corner
Patrick Mullin (#2 seed, East)
'Star'
Columnist, The Blueprint/Regular, The 411 Ground and Pound Radio Show
4-0-1

VS

Blue Corner
Jonathan Solomon (#6 seed, East)
'The Juggernaut'
Columnist, The Juggernaut MMA News Report/Compiler, The 411 MMA Rankings
1-3-1

---

Best fight of the first three months of 2013?



1.) Johny Hendricks/Carlos Condit was the best fight of the first quarter of 2013.

Patrick Mullin: FICTION I had a blast watching Johny Hendricks and Carlos Condit go to battle for three rounds. However the reason I can't say this was the best fight of the first quarter is because its main competitor was non-stop action for as long as it lasted with several momentum shifts, and that was Wanderlei Silva vs. Brian Stann. Hendricks and Condit had a great fight but there were slowed down portions when Hendricks secured takedowns and top position but failed to really accomplish anything with it. Silva and Stann stood toe to toe and threw everything but the kitchen sink with each man being hurt, being dropped, and ultimately seeing a legitimate legend secure a win in his home away from home where he really made his career. Hendricks and Condit gave a hell of an effort. Silva and Stann put on the kind of fight words can't do justice.

Jonathan Solomon: FACT After nearly three months of action, we're down to two fight of the year candidates: Hendricks vs. Condit from last weekend and Bermudez vs. Grice from UFC 157. While Dennis Bermudez and Matt Grice had more of a knock down, drag out, dog fight, you could argue it did not have the same kind of meaning as the UFC 158 co-main event. After all, Hendricks was fighting for a championship bout while Condit was looking to squash that dream. They had violent exchanges including one of the most action packed opening rounds in recent memory and even in the waning minute, Condit did what he could to try and secure a finish. That's the kind of drama the Bermudez/Grice brawl just did not have.

---

Was Dana right about Cesar?



2.) Dana White's vitriol over Cesar Gracie's tweets and comments about production costs, including basically suggesting the Scrap Pack find a new manager, are not only unexpected, but also surprisingly on the mark.

Jonathan Solomon: FICTION Unless a manager is committing criminal acts, I'm always against a promoter trying to sway an athlete towards different representation. In this case, Dana is pissed at Cesar because of comments that ruffled his feathers. Was Gracie's tweet about Nick Diaz receiving coach seats on his way to do media for the UFC over the top? Perhaps, but if I'm a fighter, you can bet I want my manager doing whatever he can to get the employer to treat me better. Besides, White has beefs with other managers for a slew of reasons, so this is to be expected to a degree and rarely does it impact the athlete's ability to make a living. The ONE and ONLY question I'd have about Cesar Gracie's camp is whether they actually do get the necessary training they need to excel, based solely on Nick's comments that he wasn't satisfied with his camp heading into the GSP fight. However, anything Cesar says about Dana and his comments, chalk that up to a manager trying to stand up for his client/student.

Patrick Mullin: FACT I have two main reasons for calling this statement a fact. Because of how Wyatt worded things by saying Dana's comments were "surprisingly accurate" I'd absolutely concur. Generally when Dana opens his mouth you hear ignorance, lies, or stupidity so to hear him make an accurate assesment of a situation is indeed surprising. Cesar Gracie has a good track record as a trainer and a bad track record as a manager. Its not surprising as many great trainers fail as managers. Nacho Beristain is the trainer and manager of Juan Manuel Marquez. After Marquez fought the great Manny Pacquiao to a highly disputed draw, Nacho bargained him out of a rematch and wound up having Marquez fight for peanuts and lose a decision to Chris John in John's homeland of Indonesia.

Cesar Gracie can't keep Jake Shields off of steroids or Nick Diaz off of weed. He condones Diaz skipping out on his commitments to press conferences and public workouts. He may teach these guys some great BJJ but his business practices are laughable and he's like an indulgent father who allows his sons to get away with anything so long as they make him money. The funny thing is by giving in to this indulgent behavior he costs himself money because these guys are far from making as much money as they can due to promoters getting sick of their unprofessional behavior.

---

Two fights away from retirement?



3.) Now that he's beaten Nick Diaz, Georges St. Pierre will retire after fighting Johny Hendricks and Anderson Silva, as his former manager Stephane Patry has suggested.

Patrick Mullin: FICTION I have nothing but respect for the physical ability of Georges St. Pierre. Thus far he's the best fighter we've ever seen in the 170 pound weight class and there's not even a close second to him. I do believe he will fight and defeat Johny Hendricks. However I think its clear at this point that GSP wants absolutely nothing to do with Anderson Silva. I don't think less of him for not wanting to fight Anderson. He's a career welterweight and the best there is and he doesn't really have to fight Anderson to confirm his legacy.

GSP's big problem has always been his mental state. When he gets hurt he doesn't react well historically. GSP's fight plan is reliant upon his confidence. As soon as he sees difficulty you can see him fight much less effectively as he did with Jake Shields and was the beneficiary of Shields' lack of killer instinct. If he goes into a fight where he's scared and doubts his ability to win I doubt he can actually perform well.

Jonathan Solomon: FICTION First, this idea is not so farfetched that we can outright dismiss it immediately. Georges St-Pierre is a millionaire many times over it's safe to say when you take into account his base purse money, his bonus earnings (both public and private), his cut from pay-per-view buy rates, his sponsorships, endorsements and none of this takes into account his personal business deals away from the sport. By the end of 2014, he'll be 33-years-old and the obvious question is when was the last time one of the best of all-time chose to retire in their prime at such a young age? You would have to go to other sports where Barry Sanders (left professional football at 30-years-old while acknowledged as the best running back in the game) and Bo Jackson (forced to retire from both pro football and baseball at 31-years-old due to health reasons), both in the 1990s. This is all assuming GSP doesn't get knocked out in violent fashion by Hendricks this year and whomever he'd fight after that in 2014. Nobody wants to see a repeat of Chuck Liddell's final fights, but who believes we're there with Georges at this stage? Simply put, there's too much money (still) for him to make well into 2015 and beyond and new challenges for him to tackle including moving up to middleweight. Georges is not retiring anytime soon as long as he remains healthy.

---

Overconfident?



4.) Chris Weidman apologizing to Dana White for spoiling the UFC's superfight plans after he beats Anderson Silva is a sign that Weidman is likely overconfident going into his fight with Silva.

Jonathan Solomon: FICTION Chris Weidman better be confident, whether it's overconfidence or not, I'm pointing away from the negative connotation. Why should he not be? He's matched up against arguably the best fighter of all-time, certainly in UFC history and nobody is giving him a serious chance to do much of anything besides becoming the next knockout victim of Anderson Silva. Plus, everyone and their mother are talking about Silva's dream fights against Jon Jones or Georges St-Pierre, forgetting that he actually has a title defense coming up this summer. Athletes at this level have to have that kind of cockiness or else, what drives you to improve other than the death defying fear of failure? As for whether he has the ability, how can you say no? He was a gifted wrestler who took extremely quickly to Brazilian Jiu-Jitsu and has been improving his striking for years. Combine that with the only words about Anderson Silva being those dream fights and what kind of top level fighter wouldn't be sick of that by now? Weidman is just reminding people that he has his chance of a lifetime coming up and do not be shocked if Silva's punchcard is all tapped out on July 6.

Patrick Mullin: FICTION Chris Weidman has a Bachelor's degree from Hofstra University and even went on to attend graduate school there. He's far from a stupid person. He also trains under a guy who is one of the smarter participants I've seen in the MMA game in Matt Serra. Serra fought smart, knew how to hype a fight, and was a great interview who could engage you and make you want to buy whatever he was selling. Chris Weidman however is a virtual nobody to the general public who know very well who Anderson Silva is and have a hard time buying anyone's chances to beat him.

This is Weidman drumming up interest by making boisterous claims. If you think that Weidman isn't training as hard as possible and getting ready to give the best fight possible you don't know fighting. Chris is well aware Anderson is the king of the hill and that he's damn near impossible to beat. However Weidman wouldn't take this fight if he didn't believe he could beat Anderson. But if you believe he thinks it'll be easy I have a bridge to sell you.

---

Will we see a big ratings increase?



5.) The combination of a mixed-sex house and the first-ever female coaches will bring in big ratings for the next season of The Ultimate Fighter.

Patrick Mullin: FICTION I have absolutely no faith that TUF will ever bring in big ratings at this point. That's not to say the ratings won't improve over the current average. I do think more people will tune in to see the female fighters and how the men react to being coached by them. I do think that people will be drawn in by trash-tv angles of men and women fighters living together for weeks in isolation from the outside world and building sexual tension and Real World-esque angles amongst the cast members.

However when I hear the term "big ratings" I think of what television shows like The Big Bang Theory, Modern Family, American Idol, and those shows draw regularly as ratings. Those shows tend to be the champion of their respective timeslots with the target 18-34 year old demographic which is TUF's primary target audience. Big ratings waved bye bye to TUF a long time ago and this effort is too little too late to draw those types of numbers. Improvement? Sure. Big ratings? Not a chance.

Jonathan Solomon: FICTION I don't see how any combination of coaches can bring in big ratings without a draw among the fighters vying for a contract. The last time the series scored at least two million viewers for a single episode was back in 2010 for an episode in season 11. Only one episode that season hit the mark following a stretch where the entirety of season 10 was well over two million viewers thanks to Kimbo Slice (his only fight that season brought in north of five million people) and then the combination of Rampage Jackson and Rashad Evans. Ronda Rousey is now a proven PPV draw and a media darling, but the fact remains that the TUF format is dead. While the current season (17) is good thanks to a few production changes and less emphasis on craziness in the house, last week's episode drew only 1.12 million viewers. Considering the fighters looking for contracts will likely be bantamweights without big names, the series will be scored based solely on what Rousey's name can do for it. So, because I don't see that alone meaning consistent two million viewers each week (let alone even more), no, next season will not feature big ratings.

---


So it's all on you guys now, and draws are off of the table, as there must be a winner in these tournament bouts! In the event of a draw in voting, I will cast the deciding vote.










---


And that's it for day 3 of week 2! I'll be back again tomorrow with another East bracket bout! Voting will remain open until midnight on the third day after each bout takes place. And if you haven't done so, make sure you sign up for the new comments system, so that you can let us know what you think about the tournament thus far! As always, if there's anything you'd like to see featured in a future edition, leave your statement in the comments and I'll add it in. Let us know what you thought in the comments, on Twitter, or on Google+.


comments powered by