SPOTLIGHTS
411 MMA Fact or Fiction 03.21.13: Nick Diaz' Retirement, Jake Ellenberger's Title Hopes, Bellator's Summer Series, More
Posted by Wyatt Beougher on 03.21.2013

Should Nick Diaz retire from MMA until he can get his mind right? Will another win cement Jake Ellenberger's status as a top welterweight contender? 411's Scott Kuczkowski and Jack McGee debate these topics and more!

Welcome to the fourth and final preliminary bout for the East bracket in 411's MMA Fact or Fiction spring tournament! This is the last day of seeing our East bracket competitors in action for this week, and quarterfinal bouts will begin next week. Today, we've got top seed Scott Kuczkowski putting his undefeated record on the line against Fact or Fiction newcomer Jack McGee, whose only previous ForF appearance was in this tournament, winning a play-in contest against Trent Howell last Monday. For winning the play-in, Jack earned the "honor" of facing off against Kuch, who has been a monster in ForF competition. However, if voting closed on the three previous East bracket contests right now, all three underdogs would win. Can McGee continue the upset streak, or will Kuch's run of dominance continue?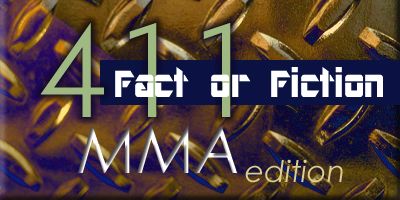 And again, here are the brackets, which have been updated to reflect the results of Monday's bout between Larry Csonka and Alex Watt. You can still vote for Tuesday's tilt between Stewart Lange and Alex Rella, which is here, and in yesterday's contest between Patrick Mullin and Jonathan Solomon, which you can find here. Let's get to today's action, shall we?




TALE OF THE TAPE



Red Corner
Scott Kuczkowski (#1 seed, East)
'Kuch'
Columnist, The MMA Rant/Regular, The 411 Ground and Pound Radio Show
1-0-0

VS

Blue Corner
Jack McGee (#8 seed, East)
'Duck'
Columnist, The MMA 5&1
1-0-0

---

Is retirement in his best interest?



1.) With pending tax issues and a traffic stop over the weekend that saw two of his companions arrested, perhaps it's best that Nick Diaz retire, at least temporarily.

Scott Kuczkowski: FICTION This "tax issue" is being blown out of proportion as far as I'm concerned. While Nick Diaz claiming he hasn't ever paid taxes was a pretty dumb thing to say at the post-fight press conference, I won't fool myself into thinking it was the dumbest thing he's ever said. Nick Diaz is a talented fighter, but he's certainly not the smartest guy in the UFC. So when he says he hasn't ever paid taxes, I just take that with a grain of salt. I'm willing to bet there is someone in Nick's life that has made sure this was taken care of for him (whether he was aware of it or not). If Nick truly owes taxes for a lifetime of fighting, it's still something that can be handled without him having to quit fighting. There is also the possibility that Nick said this for the mere attention it brings him, which is all he can hope for after not being at all competitive in a title fight and having two losses in a row for only the second time in his career.

As far as the arrest of his companions goes, I don't see how or why that should determine if Diaz continues to fight. Diaz is an adult and I doubt this was the first time he'd seen friends get arrested. One was arrested on a warrant and the other on a possession charge; it's not like they were serial killers. Everyone should take a breath and then move on.

The only reason Nick Diaz should retire (temporarily or permanently) is if he's truly done with fighting. If the motivation isn't there for him and he doesn't feel like he can compete to the best of his abilities anymore, then he should walk away.

Jack McGee: FACT Fact, the man has to go, because in my opinion he represents what is wrong with MMA. He is clearly a gifted fighter, but in my opinion may have some sort of mental condition. I do not say this as an expert or a joke, but the man seems so self-destructive. And the fact that he is surrounded by a group of enablers (and judging by the arrest of his friends, bad influences) that do nothing to help get him on the straight and narrow does him no favors. Just look at his actions at UFC 158. He openly apologized because he thinks he may fail his drug test, which means he lacks the self-control to stop smoking pot before his fights. Not shocking. And then he goes on a rant that he has to make money because he hasn't paid taxes and may go to jail for that. This man doesn't need to be fighting, this man needs help. He needs help in his personal life, to get his affairs in order, and again I strongly feel that the man needs some sort of psychiatric help to get himself balanced. As far as the UFC goes, I would simply release the man, because he is not worth the headaches that he constantly provides.

---

Does Good Ol' JR have a point?



2.) Jim Ross' sentiment, that the UFC needs to better mic their live audience, has merit, especially in light of Rogan and Goldberg trying ever-so-inadequately to describe the atmosphere of Saturday night's main event fight between GSP and Nick Diaz.

Jack McGee: FACT While this may upset some of the MMA pundits, Jim Ross is exactly right. Now I know that the MMA world doesn't like hearing suggestions from the wrestling guy in the big black hat, but the fact is that Ross has been helping to produce wrestling for well over 30 years. Wrestling is an entertainment show with a sporting aspect, and in many ways, so is the UFC. When Jim Ross comments on the things he knows about, production aesthetics and such of a major event, I listen, even if it is not about wrestling. Now, when Ross comments about the UFC, he is not discussing fighter technique and things he admits that he doesn't know about; he sticks to what is in his wheelhouse. Ross has long discussed the way the UFC presents shows, mic work, announcers, and the fact is that he is right. Mike Goldberg talks too much, they need a guy that handles the voiceovers to break things up and to give him a break. The crowd are mic'd horribly at UFC events. UFC 129 is the perfect example of this. The crowd was over 55,000 people; they were in the huge Roger's Centre, and the crowd sounded like any other show, and the UFC, for the most part, presented it like every other show. They didn't mic the crowd to reward the large crowd, they didn't take advantage of a lot of wide crowd shots to show the real scope of the event. While I know the UFC will never be PRIDE in terms of presenting an event, there is a lot that they can learn from what Ross seems to write on a regular basis. I get that he is the "pro wrestling guy," but again, he is also the guy that has been helping to produce wrestling TV for 30 years. You may just want to listen to what he has to say.

Scott Kuczkowski: FICTION Look, I can appreciate Jim Ross' point of view and recognize that he's more than just a color commentator for the WWE, but I don't agree with his opinion on this.

Georges St. Pierre was walking out to the octagon in his home town; I'm more than certain the crowd was deafening – I don't need to hear it through my TV to recognize that fact. I also don't need to hear some type of comparison to the noise that a Brazilian crowd makes when Anderson Silva walks to the octagon. I get it; the hometown crowds cheer like maniacs for their fighters – drowning out the entire commentary team with screams of rabid and drunken fans won't make the viewing audience appreciate it anymore. I don't have to hear the cheers to know they're loud.

The mistake Jim Ross is making is thinking the fan reaction plays to some sort of narrative the UFC is trying to tell for a matchup. This works well in professional wrestling, where things like entrance music and run-ins can create a crowd reaction that plays to a specific narrative. The UFC (and other promotions) don't need to do this; the story is told in the cage. The fan reaction during MMA bouts is noteworthy when the action slows down and the boos start to creep in, but I don't really think the fan reaction is something that needs to be amplified for the home-viewing audience.

---

One fight away from a title shot?



3.) With another impressive win, Jake Ellenberger should guarantee himself a welterweight title shot.

Scott Kuczkowski: FACT I was going to say FICTION to this, but after doing a little research, I think I'm going to say FACT. I was going to argue that Ellenberger hasn't been consistent enough throughout his UFC career to deserve a title shot yet, but I don't think that would be accurate.

Here is a breakdown of Ellenberger's ranking versus his opponent's rankings in his last 5 fights:

Ellenberger was #15; he beat #2 ranked Jake Shields.
Ellenberger was #3; he beat #10 ranked Diego Sanchez.
Ellenberger was #3; he lost to #8 Martin Kampmann.
Ellenberger was #6; he beat #16 Jay Hieron.
Ellenberger was #6; he beat #12 Nate Marquardt.

Arguably, Jake would have been prime for a title shot after his win over Diego Sanchez, but GSP's injury and Carlos Condit's unwillingness to defend his interim title meant Jake had to fight Kampmann, which was his only UFC loss since losing to Condit in September, 2009.

If Ellenberger were to defeat the likes of Carlos Condit, Martin Kampmann, or Demian Maia in his next bout, I think he would have a strong argument for a title shot immediately after Johny Hendricks. If he fights lesser competition, the I wouldn't consider the win as "impressive" and he therefore wouldn't be deserving of a title shot.

Jack McGee: FACT I actually discussed this in the 5&1 this week as well, cheap plug, and yes I agree that if he can get an impressive victory in his next fight, he certainly has to be in line for a title shot. Ellenberger is now 8-2 in his UFC run (dating back to 2009) only losing to Condit (in 2009) and Martin Kampman. This guy is fun to watch and is legit close to a title shot. I think trying to avenge the loss to Condit would be a great way to get even closer to that goal. Getting the revenge on Condit would be a big victory and impressive, showing the improvement he has made, and he certainly has improved since 2009. Of his eight UFC victories, the man has five by KO or TKO; and in a division that some consider the most stacked in all of MMA, that is very impressive. The man is exciting to watch, and that will only help him as the UFC isn't so much concerned with rankings and win-loss as they are choosing guys that have buzz. Ellenberger is creating his own buzz, and has all of the other stuff going for him, so yes, the man is essentially one fight away from a title shot.

---

Is the 2013 Summer Series going to be good for Bellator's weaker divisions?



4.) Bellator's 2013 Summer Series, featuring tournaments in the heavyweight, light heavyweight, and bantamweight divisions, should do well to put more emphasis on what are three of the promotion's more weakly promoted divisions.

Jack McGee: FICTION I hate to be that guy, but when it comes down to the brass tacks, Bellator simply exists. Yes they are on Spike TV now, and the ratings are not bad, but they have no buzz and for the most part they have no real stars. I hope that that will change, and I hope that I am wrong and that at the end of the summer these divisions are actually recognizable and have some buzz to them. But overall, while they have this new exposure, I do not feel that Spike TV is doing a great job of exposing the world to their new brand of MMA. And that is something they said they would do and said they knew how to do due to their UFC background. But up to this point, I am not seeing it, and that is a sad thing, because we need Bellator to be a success for the good of the overall sport of MMA. Unfortunately the sport of MMA seems to be losing steam, because all I ever hear people discuss at the gym and such is that they are "UFC" fans. Good luck to Bellator, and again, I hope I am wrong here.

Scott Kuczkowski: FACT If I were to be brutally honest; the majority of Bellator's divisions are weakly promoted. With the exception of Pat Curran, Michael Chandler, and Ben Askren, even the most devoted fans would probably have to resort to the internet to figure out who the Bellator Champions are and even fewer could name any other fighters in those divisions. While there are a number of reasons for this situation, the primary issue is that Bellator has only been on SpikeTV (their biggest platform to date) since the beginning of the year and hasn't had the chance to build their brand distinction.

As it stands now, heavyweight, light heavyweight, and bantamweight could all use some life breathed into them (though I could see an argument for trading Middleweight for Bantamweight). Both the Heavyweight and Light Heavyweight Champions are pretty unknown and Bellator hasn't been able to feature them in interviews or Bellator 360 segments that will increase their exposure to the American audience. The Bantamweight Champ is best known for losing a fight outside of Bellator, and while he is still an exciting fighter, there does not seem to be a deep pool of challengers for him in the near future. Shining the spotlight on these divisions will help.

Besides all this, Bellator also needs to sign fighters who have big names and will attract viewers to the Bellator product. The UFC recently released over a dozen fighters, yet none of the bigger-named fighters appear to be headed towards Bellator. The execs at Bellator need to jump at these chances and use some of the star-power fighters created for themselves fighting in other promotions.

---

Is he helping the cause?



5.) South Dakota's governor planning to sign a bill to create an athletic commission to oversee boxing, kickboxing, and MMA is a win for the sport, even if he has a personal dislike for MMA and is only signing the bill to stop unregulated fights from occurring in the state.

Scott Kuczkowski: FACT The legal expansion of MMA is never a bad thing. I don't care that the governor doesn't like it; the fact that a commission will oversee it and sanction it is a positive for fighters and fans alike.

The alternative to this is that MMA continues to occur at unsanctioned events where both the fighter's health and pay is not overseen in a manner beneficial to the fighters. This means fighters could fight with existing injuries and get screwed out of their paycheck. While a commission won't fix every issue, it does offer some assurances to the fighter that someone is watching their back.

Honestly, I'm not surprised that many politicians don't see the upside for MMA, particularly someplace like South Dakota where they don't have the typical atmosphere that would attract large crowds for events that generate money for the local economy. Aside from Sioux Falls and Rapid City, the state is pretty desolate which accounts for why they don't have any major sport franchises. I somehow doubt the governor thinks he can completely eliminate the existence of MMA in the state through the creation of a commission, which means he may actually be looking out for the health and safety of his constituents. I see this as a win for the growth of MMA.

Jack McGee: FACT I say yes. While the man may not like the fight game, he knows that what's worse than legalized MMA is underground and illegal MMA. Not only is underground and illegal MMA bad for the sport, if bad things happen in his state, it is bad for him as a politician. I think that when it comes down to it, while he may not like it, that legalizing the sport is the lesser of two evils. But at the end of the day, when MMA gets legalized, it is always good for the sport as a whole. Now if we can get New York in check, then we're talking.

---


So it's all on you guys now, and draws are off of the table, as there must be a winner in these tournament bouts! In the event of a draw in voting, I will cast the deciding vote.










---


And that's it for week 2! I'll see you again next week for the quarterfinal round! Voting will remain open until midnight on the third day after each bout takes place. And if you haven't done so, make sure you sign up for the new comments system, so that you can let us know what you think about the tournament thus far! As always, if there's anything you'd like to see featured in a future edition, leave your statement in the comments and I'll add it in. Let us know what you thought in the comments, on Twitter, or on Google+.
comments powered by