SPOTLIGHTS
411 MMA Fact or Fiction 03.25.13: Arlovski/Johnson, Darren Elkins' Title Hopes, Invicta's Matchmaking, More
Posted by Wyatt Beougher on 03.25.2013

Was Dana White's criticism of Andrei Arlovski vs. Anthony Johnson accurate? Is Darren Elkins improving his title hopes by replacing Clay Guida on UFC on FOX 7? 411's Mark Radulich and Jonathan Butterfield debate these topics and more!

Welcome to week 3 of 411's MMA Fact or Fiction spring tournament! Today and tomorrow will feature the West bracket quarterfinals, while Wednesday and Thursday will feature the East bracket. This will be the last week of at least four editions of Fact or Fiction, as next week will feature the two semifinal matches and the following week will be the finals. Our first week of action saw only one upset (more on that later), while the lower seeded competitor won every bout in last week's contests!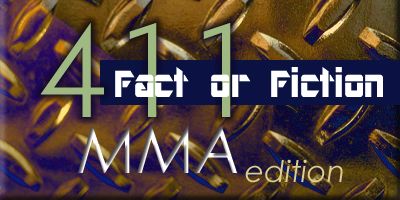 And again, here are the brackets, which have been updated to reflect every contest that's gone down to date. Today's match-up features third-seeded Mark Radulich taking on the only underdog to emerge victorious in West bracket action, seven seed Jonathan Butterfield. Let's get to today's action, shall we?




TALE OF THE TAPE



Red Corner
Mark Radulich (#3 seed, West)
'Headshrinker'
Host, The 411 Ground and Pound Radio Show & The Long Road to Ruin Podcast/Live Coverage Guru
6-3-1

VS

Blue Corner
Jonathan Butterfield (#7 seed, West)
'Jon the Giant Slayer'
Interviewer, MMA Zone/UK Live Coverage Guru
2-3-0

---

Legitimate criticism, or personal bias?



1.) Dana White's assessment, that Andrei Arlovski beating Anthony "Rumble" Johnson is not being enough to get him back into the UFC, is more prejudice against Arlovski than truth, considering the state of the UFC's heavyweight division.

Mark Radulich: FICTION I'm not one of the people claiming this fight was "not legitimate" but I also would not consider this an audition for the UFC. While the UFC's HW division is not the deepest in the universe, one does not simply walk in to the UFC, in any division, without either have a long line of wins over at least decent competition or being proven a draw in some outside organization. Arlovski has had 5 fights since his last loss in Strikeforce besides this most recent one with Rumble. He's won 4 of them sure but his toughest opponent out of all of them was Tim Sylvia and that went to a No Contest. While I'm sure White isn't really interested in having Arlovski back, it's not like he's making a compelling case with the humps he's beaten as of late. Beating Anthony Johnson doesn't help either. If Arlovski really wants back in the UFC he'd be better off winning a Bellator tournament than continuing to beat sub par competition in regional fights or taking on fighters moving up in weight class for a novelty fight.

Jon Butterfield: FACT It's easily forgotten that Andrei Arlovski was the number two heavyweight in the world a few years ago before enduring a morale-destroying four-fight losing streak. It's also easily forgotten that the only heavyweight the UFC had that could beat Andrei Arlovski circa 2002-2008 was Tim Sylvia. Another point worth noting is that, at the time, the first two guys Arlovski beat OUTSIDE the UFC were Ben Rothwell and Roy Nelson – little known at the time, but future UFC mainstays. Arlovski didn't get much credit for beating either, and continues to suffer from a weird prejudice to this day.

Part of the reason for that prejudice is the bare-faced propaganda that surfaced around 2009 trying to bury the great Fedor Emelianenko for daring to turn down Zuffa. In a concerted effort to discredit Fedor as a fraud who merely feasted on the heavyweight division's sloppy seconds, Arlovski's spectacular KO at the hands of the man, myth and legend was greeted with derisive comments about Arlovski's complete lack of chin, and an incomprehensible denial that he was ever really that good anyway. He was, some said, just another overrated can for Fedor to tear down.

Yeah right.

Even now Arlovski gets a hard time for losing the fights he lost, since none of them were UFC standard – or at least that's what people thought AT THE TIME. Aside from Brett Rogers, Arlovski only lost to credible competition like present day top five, Antonio 'Bigfoot' Silva, and the grossly underrated Sergei Kharitonov. What all this suggests is that Arlovski is being unfairly denied the credit he deserves (and has earned), while simultaneously getting bashed from all sides for being beaten by, well, world class fighters. His most recent outings have all been underwhelming in their own way, sure, and its clear 'The Pitbull' is on his way out – but Arlovski remains a big name, and a solid test for anyone – let alone a man who has jumped up no fewer than three weight classes. So now that Anthony 'Rumble' Johnson has defeated Arlovski, I see no good reason why that doesn't put him bang in line for a shot at the UFC heavies. The interesting thing about 'Rumble' is, we literally have no idea how high his ceiling is at 265 lbs – and there are a ton of fun fights awaiting him. Try Johnson vs Miocic, Johnson vs Struve, and Johnson vs Mir for starters – really think he wouldn't have a chance against those guys?! I'm not so sure…

But most damning of all, if Ben Rothwell is getting in to the UFC after a one-fight win 'streak' over Chris Guillen, and Gabriel Gonzaga only has to beat Parker Porter for another chance, how the hell is beating Andrei Arlovski (on the back of a win streak) not enough? I'll tell you how: clear, blatant, and fundamentally-flawed prejudice.

---

Double standard or business as usual?



2.) It is surprising that the UFC released Riki Fukuda but not Alex Caceres in the wake of both failing drug tests after UFC on Fuel TV 8.

Jon Butterfield: FICTION The UFC has already set a precedent on what is and what is not an 'acceptable' drug failure. Nick Diaz and Matt Riddle both got a second chance for failing due to marijuana metabolites, so it's only fair that Caceres gets the same treatment – but blatant performance-enhancers are usually cracked down upon with a termination. Fukuda failed on no fewer than three counts, none of the substances in his system being 'recreational', so he was axed, and has since been followed out the door by Lavar Johnson. If that's the way it's going to be, I find it hard to argue – though I could certainly see the logic in treating all drug failures the same. That's not how it is, though, and it's not really 'surprising', so this is an easy 'Fiction'.

Mark Radulich: FICTION The UFC has made it patently clear that they are behind Bruce LeeRoy mostly due to his look and personality. He's a young guy that they can throw on a FUEL card and they can get more mileage out of him once he gets passed this suspension. Fukuda is 2-3 in his UFC career and outside of the odd Asian fight, presents no advantage to having him on the roster. The UFC simply doesn't need and as we all know by now, they have to cut fighters. Also remember, Caceres was on a 3 fight win streak (his last win was changed to a no-contest when he failed the drug test) prior to this incident. Theoretically, the UFC would focus on fighters who have lost their last fight, not the ones that won (drug tests aside).

---

Odd bit of matchmaking?



3.) Invicta's decision to match Cyborg Santos against Fiona Muxlow after Ediane Gomes was forced off of the card, rather than the more widely known Julia Budd (who was originally scheduled to face Gomes, then Muxlow after the Santos/Gomes fight was announced), is odd.

Mark Radulich: FICTION They are feeding any broad willing to take the job to Cyborg. That's it. It makes more sense to feed Cyborg a lesser known fighter so that down the line she can kill a more widely known fighter when it actually might mean something. If all goes according to plan, Cyborg will destroy Muxlow, beat Coenen for a second time and then they'll need someone to challenge her that has a name. Julia Budd could be that girl so why waste her now?

Jon Butterfield: FACT Having just lost to Marloes Coenen in DREAM on NYE 2012, Fiona Muxlow is going through a Liz Carmouche-style gauntlet of MMA's most dangerous women. Where Carmouche has fought Coenen, Kaufman and Rousey all inside her first 11 pro fights (all of which she lost), Muxlow finds that destiny doesn't want her taking a drop in competition, so now she's got Cristiane 'Cyborg' Santos, arguably the most feared female striker on the planet. Sadly for Invicta, Muxlow continuing to fight at this level doesn't make as much sense as Carmouche getting continuous chances at the world's elite. Carmouche lasted four rounds against Coenen, winning at least half of them, before going to a decision with Kaufman. Even in a pair of losing efforts, she showed she was tough enough, resilient enough, and skilled enough to give anyone a good fight – after a couple more wins, she was gifted the opportunity of a life time, in what turned out to be a very fun fight with the UFC Bantamweight Women's Champion. Muxlow, on the other hand, was submitted inside the first round by Coenen, and has shown nothing like the same level of ability.

Still, what happens behind the scenes is anyone's guess, and it's perfectly possible that Muxlow was the only available Invicta girl willing to fight Cyborg on relatively short notice. If Budd turned down the fight, despite being a more saleable opponent, then what choice did Invicta have? And then there's always the possibility that Invicta didn't want to risk Cyborg after a long lay-off against someone who could potentially derail her when there could be many a main event for her to headline – and that's not to mention that this is a fairly low profile fight (it's not even the co-main event), and so should anyone fail to make weight or piss clean, it wouldn't damage the Invicta brand so much. There are a few possibilities, but sure, in a perfect world, this is an odd bit of matchmaking.

---

On the fast track to a title shot?



4.) By stepping in for the injured Clay Guida to face Chad Mendes at UFC on FOX 7, Darren Elkins will put himself on the fast-track to a featherweight title shot with a win.

Jon Butterfield: FACT Darren Elkins is one of those fighters who has been winning a ton of fights without getting much recognition – and part of the reason for that has to be the UFC's under-promotion of the lighter weight classes. While people can argue back and forth about whether the company has too many divisions or not, the simple fact is, most bantamweight and featherweight bouts are appearing on the preliminary portion of each and every card. What this means is, guys with four or five fight win streaks are getting little or no recognition, save for the fighters that get flashy KO or submission GIFs made for their finishes. Darren Elkins isn't that fighter, but consistency has seen him build a solid legacy after posting a surprise win over Michihiro Omigawa in 2011.

Now, Chad Mendes, a fighter with a similarly dominant style, stands in his way – and as if to further underline the chronic under-promotion of certain weight classes, this is a fighter who earned a title shot against Jose Aldo without EVER appearing on the main portion of a UFC card! At this rate, Elkins will be doing the same, but that's only IF he gets past Mendes, and possibly one other highly rated featherweight star. I just hope the next fight gets the billing it deserves…

Mark Radulich: FACT Fast being a relative term. If by fast-track you mean sometime in the middle of 2014 if he keeps winning, sure. You have to remember that Aldo is fighting Pettis on August 3rd. Once we get to that fight the UFC will have already booked up all of their through November, probably even December. That means the earliest Aldo will be defending his belt again will be January 2014 and that will be against the winner of Korean Zombie vs Ricardo Llamas. Now, if one of them opts to fight the winner of Mendes-Elkins in the interim than maybe it'll happen even sooner. With a win over Mendes Elkins could also be tapped to fight Aldo if another opponent gets injured. Either way, I would agree that win over Mendes puts Elkins, "in the mix."

---

Worth the trouble?



5.) Regardless of his performance on Saturday, WSOF officials should be leery of working with Paulo Filho in the future after he suffered a "panic attack" and missed his initial flight for the show.

Mark Radulich: FACT They should be leery of working Filho for fighting like a tackling dummy instead of a live human being. That fight was terrible and Filho should never fight again. I hope he has other skills or has saved his money because no promoter with any sense should ever hire this person again.

Jon Butterfield: FACT Paulo Filho is a mess, and it's not surprising he lost to Dave Branch. It is a bit surprising that he put up little-to-no fight, however, and if ever there was ever a performance that didn't warrant a second call, it was that one on Saturday night. Branch, a grinder, worked Filho over for pretty much fifteen entire minutes, as the hapless Brazilian (once a brilliant prospect in WEC) appeared to lack any real fire or desire. Perhaps the panic attack referenced in the question and the missed flight alluded to a disinterested or distracted Filho, but there was always the chance he found favour with the ref and get another terrible call (ala, the stoppage against 'Ninja' Rua) or, you know, actually won clean, but it wasn't to be.

Filho was awful, and not for the first time. While JZ Cavalcante is on a similar slump, at least Gesias appeared to want to fight, and at least he has a case for getting a second call up – as for Filho, well, the scrapheap awaits. To be honest, this was probably predictable even as far back as his 2011, because anyone who chooses to TATTOO THEIR FACE has clearly dabbled with too many drugs and is on the verge of a full-blown mental breakdown. I just hope Filho can find a modicum of self-respect and regain his dignity, but as long as he's phoning in performances in the cage, he'll continue to be the punchline of the post-WEC era.

---


So it's all on you guys now, and draws are off of the table, as there must be a winner in these tournament bouts! In the event of a draw in voting, I will cast the deciding vote.







---


And that's it for day 1 of week 3! I'll see you again tomorrow for another West bracket quarterfinal! Voting will remain open until midnight on the third day after each bout takes place. And if you haven't done so, make sure you sign up for the comments system, so that you can let us know what you think about the tournament thus far! As always, if there's anything you'd like to see featured in a future edition, leave your statement in the comments and I'll add it in. Let us know what you thought in the comments, on Twitter, or on Google+.

comments powered by