SPOTLIGHTS
411 MMA Fact or Fiction 03.26.13: GSP's Recovery Time, UFC's Roster Cuts, Dave Jansen's Title Hopes, and More!
Posted by Wyatt Beougher on 03.26.2013

Should GSP wait more than four months between fights to limit future injuries? Have the UFC's recent cuts been motivated by bias or roster overcrowding? Does Dave Jansen have a prayer against Michael Chandler? 411's Samer Kadi and Dan Plunkett debate these topics and more!

Welcome back to 411's MMA Fact or Fiction spring tournament! Today will feature our final West bracket bout before next week's semifinal, as the East bracket will be in quarterfinal action tomorrow and Thursday.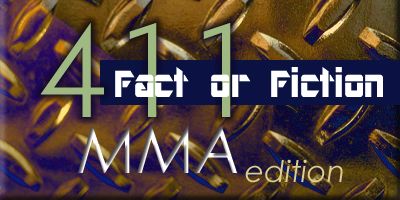 And again, here are the brackets, which have been updated to reflect all of the preliminary contests. Today's match-up features fourth-seeded Dan Plunkett looking to knock off top seed (and prohibitive favorite) Samer Kadi. As a reminder, voting is still open on yesterday's contest between Radulich and Butterfield, which you can find here, so be sure to vote if you haven't done so already. Let's get to today's action, shall we?




TALE OF THE TAPE



Red Corner
Samer Kadi (#1 seed, West)
'Immortal'
Co-columnist, Occupy the Throne/Co-host, Thoughts from the Man Cave
3-0-0

VS

Blue Corner
Dan Plunkett (#4 seed, West)
'The Greatest'
Columnist, The Greatest MMA News Column/Coordinator, MMA Roundtable Previews
2-1-0

---

A surprising move?



1.) After suspending one fighter and unceremoniously releasing another in the past few weeks for positive tests for marijuana metabolites, the UFC's push to change how the NSAC and other athletic commissions treat a positive test for marijuana is not all that surprising.

Samer Kadi: FICTION The UFC releasing Matt Riddle is hardly a surprise given their history of "making examples" out of dispensable fighters. Meanwhile, Alex Caceres' suspension is in line with the company's much-welcomed practices of conducting their own drug tests for overseas shows and suspending fighters accordingly. What is surprising however, is the UFC's willingness to – quite vocally – call for a change in a subject as sensitive as drug testing, especially given their history of reluctance to express any disagreement with the Nevada State Athletic Commissions.

Even in his criticism of no-brainer issues such as judging in MMA, Dana White has always been careful to keep it anonymous, without ever singling out a particular judge, in fear of causing any sort of dissension with the notoriously – and unreasonably – defensive Keith Kizer. In fact, Kizer has long maintained that he considers to marijuana to be a performance enhancing drug, making the UFC's stance all the more surprising. As unlikely as it is, one can only wish the UFC are successful in their push for reduced sanctions for positive marijuana tests, as no amount of logic can justify treating marijuana and other performance enhancers such as steroids equally.

Dan Plunkett: FACT This has been coming for a while. After Stephan Bonnar and Dave Herman failed drug tests at UFC 153, UFC Vice President of Regulatory Affairs Marc Ratner handed out two very different suspensions. Bonnar, on a second time steroid offense, was suspended for one year. Herman, after his second marijuana failure in a year, was suspended for six months and ordered to enter a drug rehab program. "We feel very strongly that there's a big difference between PEDs and marijuana," Ratner told MMAFighting.com at the time. "We think the commissions do a good job with PEDs, but we think with marijuana there should be some form of rehab involved, going through that kind of process and learning about it." So Ratner's stance there is clear, and given Ratner is the head of the department that handles regulation, UFC's recent move for changes in the Nevada policy was expected.

---

Making an example, or part of a larger purge?



2.) Lavar Johnson's release after a post-fight drug screen revealed a 6.6:1 T/E ratio is more a factor of the UFC's desire to cut 100 fighters, rather than another instance of the UFC having a bias/double standard towards more marketable fighters.

Dan Plunkett: FACT This is a tough one because there's only been one fighter in UFC history that's lost two in a row and failed a steroid test after. That fighter, Stephan Bonnar, was at a much different position than Johnson. Lavar Johnson is the type of fighter UFC likes: a big heavyweight that looks to go in and brawl. I don't mean to pick on Dan Hardy, because his tweet after Jon Fitch's release about everyone bringing him up as someone that should've been released was awesome, but he's a guy that was able to keep his job solely on a reputation for putting on good fights. Granted, Johnson's last fight with Brendan Schaub was bad, but his other three UFC fights were exciting. If this was two years ago and UFC was regularly keeping guys around after two losses, I think they would have given Johnson another shot. Unfortunately for Johnson, he got caught for cheating at a point when UFC has way too many fighters, so the decision was an easy one for UFC to make.

Samer Kadi: FICTION Once again, this is merely an issue of the UFC choosing to make an example of someone they can afford to lose, and they would have undoubtedly been far more lenient had a more recognizable name been involved. Moreover, despite Dana White's claims and the UFC's recent trigger-happiness in releasing fighters, it is hard to envision them cutting 100 fighters given the sheer amount of events they will be putting on. With the exception of the Jon Fitch controversy, the recent roster cuts were hardly all that surprising. However, following them with releasing 70+ fighters would most certainly be. With the string of injuries that plagued them last year, the UFC struggled mightily to stack their cards with anything other than filler, and despite the addition of a new division, the Zuffa brass can ill-afford to lose that many more fighters. Keep in mind, the heavyweight division in particular will be unaffected by roster cuts given its shallow nature, further implying that Johnson was cut due to his suspect drug test results – and the UFC's desire to send a message – rather than him being an extension of the UFC wave of mass firings.

---

Any chance against Michael Chandler?



3.) While Dave Jansen should be commended for winning the season 7 lightweight tournament, he has little chance of dethroning Bellator lightweight champion Michael Chandler.

Samer Kadi: FACT Nowadays, it is hard to be too sold on any fighter's dominance outside of the Zuffa umbrella, given the fact that the UFC is the near exclusive home of elite fighters. As such, upsets outside of the Octagon are all the more likely, and Bellator is no different. With that said, Michael Chandler's recent exploits warrant his status as a firm favorite against Dave Jansen. In fact, based on skill, as well as everything he's done inside the cage, Chandler is in my mind, a UFC caliber fighter. Wins over Patricky Freire, Ricky Hawn and Eddie Alvarez are nothing to sneeze at, and Dave Jansen simply has not looked convincing enough to see him upsetting Chandler. After all, it wasn't that long ago when he was going nip and tuck with Ricardo Tirloni, and as commendable as his efforts against Marcin Held were, he hardly showed anything to suggest he's a serious threat to the lightweight champion.

Dan Plunkett: FACT Any fighter that can win three fights against somewhat high level opponents and in high pressure situations deserves to be commended. Jansen looked good against Marcin Held and was able to win despite spending much of the fight in Held's element on the ground. But, I didn't see anything that made me think he has the tools to beat Michael Chandler. Chandler is the better wrestler, the better grappler, and brings a really fast pace that I don't see Jansen matching.

---

A worthy replacement?



4.) Jordan Mein is an excellent replacement for the ailing Dan Hardy against Matt Brown at UFC on FOX 7.

Dan Plunkett: FACT No question. Whenever you can feature a young, promising fighter on a big stage when he's not being thrust into a drawing position too soon, it's a good move. Mein, 23, has a lot of potential and I think the match with Brown will show that. Furthermore, what the UFC looks for in the Fox card openers isn't as much name value as it is excitement, and Mein vs. Brown should be an exciting fight for however long it goes. Plus, it makes the main card all UFC vs. former Strikeforce guys, which could be something to promote.

Samer Kadi: FACT "Excellent" might be a bit of a stretch, but Mein is definitely a suitable replacement. In fact, in many ways, Mein's addition provides the fight with a bit more meaning as another impressive win would create a far more compelling narrative – that of the rise of a promising fighter in the division – as opposed to merely two entertaining brawlers slugging it out with no real consequences on their weight class, not that there is anything wrong with that. Mein looked sensational against Forrest Petz and Dan Miller, and at just 23 years of age, there is plenty of room for improvement. An eye-opening showing could be in store on a platform much bigger than the one Mein is accustomed to performing on, which will undoubtedly force people to take notice.

Dan Hardy's heart condition is highly unfortunate, and one can only wish him a fast return to the Octagon, but the fact is, he's played his part in the welterweight division, and perhaps even overplayed it. For all intents and purposes, he's lucky to be employed (and I don't necessarily mean that in a negative sense). On the other hand, Jordan Mein's best days are likely still ahead of him.

---

Time to slow down?



5.) After aggravating an Achilles injury during his fight with Nick Diaz, it's best if Georges St. Pierre returns to his twice-yearly schedule for fights.

Samer Kadi: FACT Absolutely, and Georges St-Pierre himself said as much. According to the welterweight champion, he understandably wanted to take two fights with relatively little break in between in order to compensate for his long layoff. However, moving forward, this will almost assuredly change, and GSP can be expected to resort to his old schedule. Whatever the reasons, St-Pierre did not look like his dynamic self against Nick Diaz, despite a typically dominant performance. It was perhaps the first time he was visibly tired inside the cage and looked a split step slower throughout. Even his historically near unstoppable takedowns looked a touch sloppy.

An extended break followed by a late 2013 return is exactly what the Canadian needs. While St-Pierre is hardly aging, as each year passes, he will slowly start to lose some of his trademark athleticism, and be that much less explosive. A serious knee injury like the one he suffered in late 2011 cannot be overlooked, and GSP will likely need to alter his training methods and make slight tweaks to his game as time goes by. Given how intelligent, diligent, meticulous and aware he is, we should expect nothing less, but taking the right amount of time in between fights will be vital.

Dan Plunkett: FACT I don't think Georges was ever planning to move away from a two-fight per year schedule even though he had a quick turnaround for his last fight, but yeah, he should only fight two times per year. St-Pierre will turn 32 in May, he's been competing and training at a high level for almost ten years now, and his injuries are starting to pile up. At that age with that mileage in a sport that's really hard on your body, St-Pierre certainly shouldn't be trying to push himself through three training camps in a year. Judging by his performance in the final three rounds against Nick Diaz, perhaps he should haven't pushed himself to fight again just four months removed from his last bout. There's a reason guys like Anderson Silva and Floyd Mayweather don't fight all that often, and it's because they're way too rich to put their bodies through a bunch of training camps every year.

---


So it's all on you guys now, and draws are off of the table, as there must be a winner in these tournament bouts! In the event of a draw in voting, I will cast the deciding vote.









---


And that's it for day 2 of week 3! I'll see you again tomorrow for the start of the East quarterfinals! Voting will remain open until midnight on the third day after each bout takes place. And if you haven't done so, make sure you sign up for the comments system, so that you can let us know what you think about the tournament thus far! As always, if there's anything you'd like to see featured in a future edition, leave your statement in the comments and I'll add it in. Let us know what you thought in the comments, on Twitter, or on Google+.

comments powered by