SPOTLIGHTS
411 MMA Fact or Fiction 03.27.13: Fabricio Werdum, Matt Hughes, Ronda Rousey, More
Posted by Wyatt Beougher on 03.27.2013

Will Ronda Rousey be a great Ultimate Fighter coach or just a ratings ploy? Will Fabricio Werdum ever get a UFC title shot? Is Matt Hughes the right guy to be a go-between between Dana White and Zuffa's fighters? 411's Alex Rella and Jonathan Solomon debate these topics and more in this week's Fact or Fiction: MMA!

Welcome back to 411's MMA Fact or Fiction spring tournament! Today marks the start of East bracket quarterfinal action, and with an upset in all four contests last week, will the underdogs continue their streak?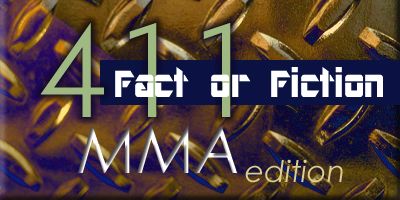 Here are the brackets, which have been updated to reflect all of the preliminary contests. Today we've got sixth-seeded Alex Rella squaring off with seventh-seeded Jonathan Solomon! As a reminder, voting is still open on yesterday's contest between Kadi and Plunkett, which you can find here, as well as Monday's bout between Radulich and Butterfield, which is here. Be sure to vote if you haven't done so already. With the formalities out of the way, let's get to today's action, shall we?




TALE OF THE TAPE



Red Corner
Alex Rella (#6 seed, East)
'Cinder'
Columnist, The 411 MMA Top 10
3-5-2

VS

Blue Corner
Jonathan Solomon (#7 seed, East)
'The Juggernaut'
Columnist, The Juggernaut MMA News Report/Coordinator, MMA Rankings
2-3-1

---

Will he ever get a title shot?



1.) Even if the stars align perfectly for him (Mark Hunt loses against JDS and Cain Velasquez retains his title against Bigfoot Silva), Fabricio Werdum still will not receive a heavyweight title shot with an impressive win over Antonio Rodrigo Nogueira.

Alex Rella: FACT So under this situation with the stars aligning, the top two heavyweight contenders are Fabricio Werdum and Junior dos Santos. Given the choice between the two, White and the rest of the UFC brass will choose JDS. There's a lot of money and intrigue with a proper build up for Velasquez-dos Santos III. It's going to be hard for them to turn down this big money fight and risk one of them losing. Also a win for Werdum likely only puts him a number one contender fight next. Werdum has had a nice return to the UFC with wins over Roy Nelson and Mike Russow, but a win over Big Nog doesn't mean what it used to. Nogueira's chin is all but gone and he's alternated wins and losses since 2008. This would be his third win in a row, but Nelson is the only real legit fighter of the three. And the UFC has shown in the past that they don't have a lot of faith in Werdum. They released him back in 2008 after he went 2-2 in two years after coming over from Pride. You also have to think they would be giving him more or higher profiled fights if they viewed him as a top contender. Werdum will have taken a year off in between fights when they fight on Fuel in June. The UFC would be giving someone they view as a contender fights far sooner than a year in between. So I think under this situation Werdum will likely end up at best in a number one contender fight or maybe even not at all.

Jonathan Solomon: FICTION Lots of scenarios can be in play involving injuries, vacations, attitudes, PPV schedules, and then some. If Fabricio Werdum can overcome Big Nog in an exciting way, he'll have done so two weeks after the UFC 160 fight between Junior dos Santos and Mark Hunt (and Cain Velasquez's title defense). It's possible Werdum would be overlooked for the JDS/Hunt winner if that person and Cain are unscathed. However, there's also a chance it's Werdum who gets what would likely be the final heavyweight title fight in 2013. How so? Perhaps, the UFC decides to give him the opportunity ahead of JDS, feeling it's too soon (and would not be as profitable) to go straight to a rematch. The point is, there are way too many variables to say definitively that Werdum will be the odd man out.

---

A good choice as a go-between?



2.) Matt Hughes is actually an excellent choice for Vice President of Athlete Development, as the position will essentially require him to act as a buffer between Dana White and Zuffa-contracted fighters.

Jonathan Solomon: FACT Sure, Matt Hughes came off like a massive pompous jerk for much of the past eight years. However, he's still one of the best UFC fighters of all-time and has experienced the peaks and valleys of MMA. Will he be able to cultivate relationships with today's group of fighters like Dana White said he would? I don't see why not. It's not like Hughes will be handling a bible study class before shows or ranting about why Dan Hardy is a fool for his anti-hunting beliefs. I'll assume this isn't just a big title with no serious responsibilities; speaking of which, what's Chuck Liddell up to these days?

Alex Rella: FACT Matt Hughes is perfect for this position. Hughes has done it all in MMA. 54 fights, 2x welterweight champion, multiple UFC records, has fought all over the world in nice arenas and really sketchy ones too. Hughes was also released by the UFC early in his career so he knows what it's like to be on that side of things too. Hughes has also run his own fight camp so he knows how to deal with young fighters. Hughes is on good terms with Dana White, but they have butted heads over the years so he isn't going to be White's puppet or anything. Hughes does have a strong personality and sticks to his morals no matter what. He has said that his position is going to be the go between guy between White and fighters when there are issues, trying to improve the judging situation, and working with the government in areas where there are problems with UFC. Hughes has done it all, he's a fairly smart guy that will be genuinely looking out for the best interests of the fighters and the UFC.

---

Wearing himself out and actually hurting his title chances?



3.) Eddie Wineland's decision to partake in a three-month camp prior to his bout with Renan Barao leaves him more open to training injuries and fight night fatigue than a traditional, 8-week camp would.

Alex Rella: FICTION Technically more training time does open you up to more possibilities of injuring yourself, but I think Wineland will be ok. He's already talked about how he is excited to have such a long training camp. This is the biggest fight of his career and most likely his last title shot; he needs all the training he can get. Renan Barao is quickly becoming one of the best fighters in the world today and Wineland is pretty much just getting a title shot because of the circumstances surrounding him. Cruz is still hurt, the UFC doesn't want to rush Faber into another title shot, and nobody else is really on a decent winning streak. Wineland is smart to take advantage of the extra training time and put everything he has into this fight. I don't think the fight night fatigue will be a problem because he can just take it easy the week before or so and he always keeps a great tempo in his fights because of his nice conditioning. Wineland is also a veteran that has been fighting for ten years, he knows how to properly train and he should acknowledge that he likely won't get another title shot if he gets injured. The only time I remember him pulling out of a fight because of an injury was last January when he was going to fight Johnny Bedford. Wineland should be alright when it comes to injuries, fatigue, and he is wise to make the most of this extra time before the fight.

Jonathan Solomon: FACT I'm not sure you can argue the contrary here. If Wineland is using 90 days to prepare for his title fight, there will be more room for an injury along the way than a 60 day camp. Eddie says this will be his longest camp for a fight and at the same time, because you cannot focus exclusively on avoiding injuries, this isn't a negative. He's been fighting professionally for nine years and has been in WEC title fights before. Clearly, Renan Barao is the best active bantamweight in the world and whatever he feels will best prepare him for the challenge, even with an extra four weeks, has to be considered a positive.

---

Will she be an excellent coach for her fighters, or just for ratings?



4.) From a technical standpoint, Ronda Rousey makes a terrible coach for The Ultimate Fighter, although from a media spotlight point of view, she makes a fantastic one.

Jonathan Solomon: FICTION Anyone who honestly believes this is ridiculous. The obvious criticism would be Rousey's very specific skill set in Judo and how little diversity she would be able to teach. When Josh Koscheck coached, did anyone criticize him because he was just a wrestler with some power? Of course not. Besides, it's not as though the big name coach is the only one teaching the TUF fighters. They bring in an entire team of their training partners or coaches or nutritionists and then some. The group of male and female bantamweights will be learning from all these people, so to criticize Rousey as a lackluster technical coach is not fair. Plus, for those wondering, she has the same number of professional fights now that Brock Lesnar had when he coached a season of The Ultimate Fighter. Now, who would argue Lesnar was the more technically sound fighter than Rousey?

Alex Rella: FICTION I won't go into how Ronda Rousey will get more media attention than any other potential coach because that should be a given. She also gives them the best chance at improving their ratings. Rousey is also going to be a good coach and mentor for the contestants. She's still fairly new to MMA, but Rousey is a highly decorated grappler and should be able to pass on her knowledge. She's trained in Judo since she was a child, an Olympic bronze medalist, won gold at the Pan American games, and a bunch of other Judo/grappling competitions. She's already been a guest trainer on two seasons of TUF and she does have a lot of knowledge and expertise to pass on. Rousey also knows what it's like to fight with a lot of pressure weighing on her. Her striking leaves something to be desired, but she'll bring in a solid coaching staff, including her striking coach Lucia Rijker. And if Miesha Tate is the other coach, there's always the hope Rousey messes up Bryan Caraway during the season.

---

Just a sad, disappointing look at the bad side of humanity



5.) Amateur fighter Charles Rowan faking his own death, accepting $1500 (through his girlfriend) from the guys who promoted his fights, and then robbing a gun store in Traverse City, Michigan, two weeks later, is easily the most disturbing MMA-related story of this year.

Alex Rella: FACT A story dealing with faking your own death and robbery is the most disturbing MMA-related story this year. This is far worse than any drug suspension, any stupid comments, Jon Fitch getting released, or even the constant train wreck known as Nick Diaz. This could happen with anyone from any profession, but it doesn't help as MMA is trying to become more mainstream. It's still fairly early in the year, but I really hope we don't see anything worse.

Jonathan Solomon: FICTION Rowan and his girlfriend, Rosalinda Martinez are both scumbag criminals (along with Michael Bowman with whom they committed armed robbery). Some people are a special kind of disgrace and this is no different. However, this story does not conjure up a controversial debate that tugs between your heart and a your brain quite like the story of 23-year-old Garrett Holeve that ESPN recently covered. Holeve lives his life with Down's Syndrome and Rheumatoid Arthritis and took so well to MMA that he's become a regular part of American Top Team in Florida. He has had three amateur fights in that state, most recently under the International Sport Karate/Kickboxing Association. On one hand, the man should have every right to pursue what makes him happy and fulfill his life. However, the idea of a person with those afflictions in an MMA fight, I'm torn. I cannot imagine doctors would agree it's in his best physical interests to participate in such a combat sport where strikes and submission grappling are allowed. It's not an easy story to get a handle on because it's not so black and white as those in the medical community may see it. "Disturbing" is too strong a word, but the Garrett Holeve story is certainly more controversial than the Fallon Fox/female transgender issue or any ridiculously stupid criminal.

---


So it's all on you guys now, and draws are off of the table, as there must be a winner in these tournament bouts! In the event of a draw in voting, I will cast the deciding vote.







---


And that's it for day 3 of week 3! I'll see you again tomorrow for the our final quarterfinal! Voting will remain open until midnight on the third day after each bout takes place. And if you haven't done so, make sure you sign up for the comments system, so that you can let us know what you think about the tournament thus far! As always, if there's anything you'd like to see featured in a future edition, leave your statement in the comments and I'll add it in. Let us know what you thought in the comments, on Twitter, or on Google+.

comments powered by